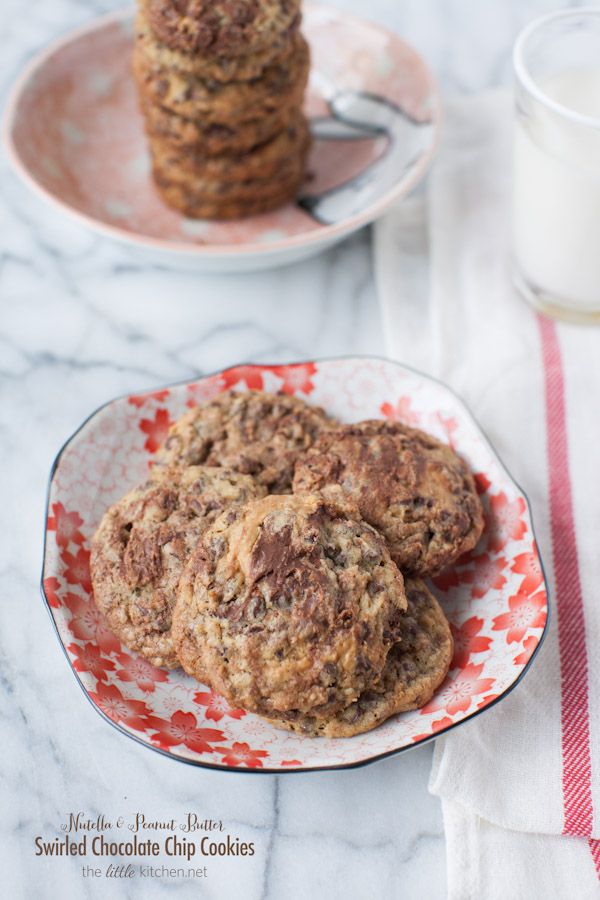 Are you sitting down? I hope you are. Let's just say these came out amazing and like always I have been so excited to share these with you. Sometimes, ideas come to me and sometimes others say maybe you should add this or that. I absolutely adore this recipe for chocolate chip cookies but I have been thinking about tweaking it and adding something to it. I kept thinking nutella and the other day a friend said, how about nutella AND peanut butter. Done. Sold. I had to try it.
After one batch, I had to tweak a little and then it was set. And then yesterday, I just had to — yes I had to make them again.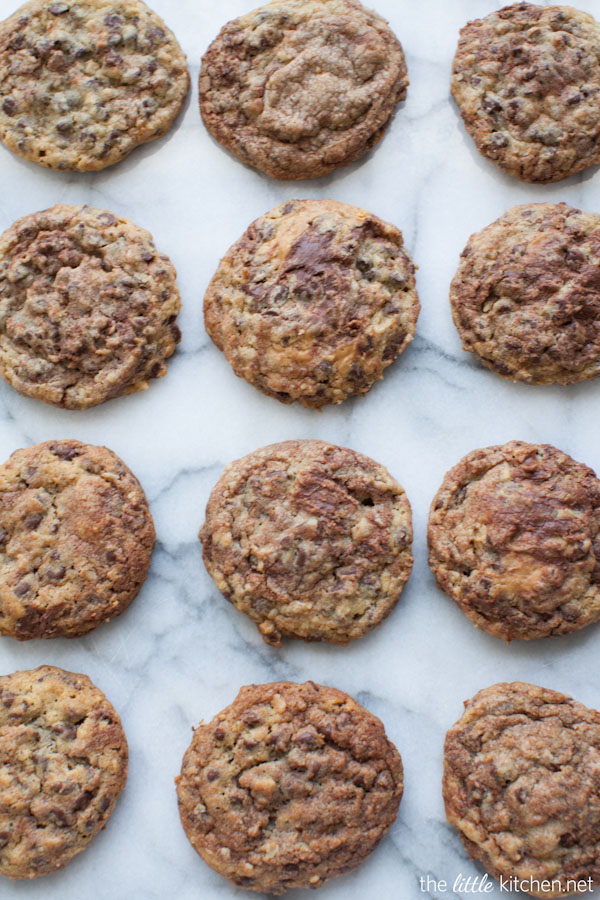 Now, don't ask me what my favorite cookies are…it would be like choosing between my two dogs and telling you which one is my favorite. Can't do it.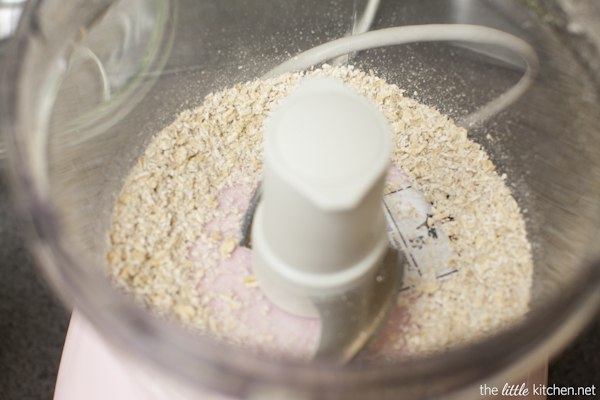 I ground the rolled oats in my food processor just like the other DoubleTree Hotel cookies. These cookies are healthy because they have oats in them, right?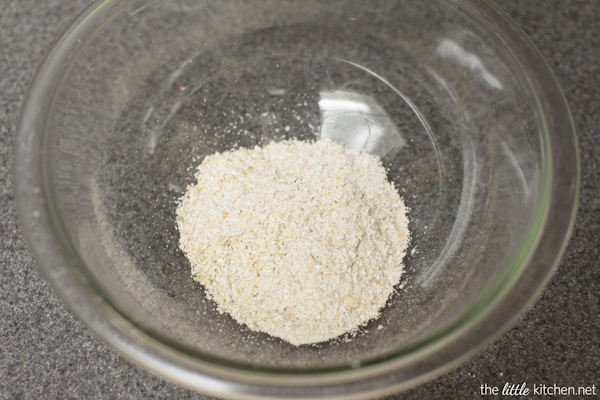 Pretty fine but not perfectly fine.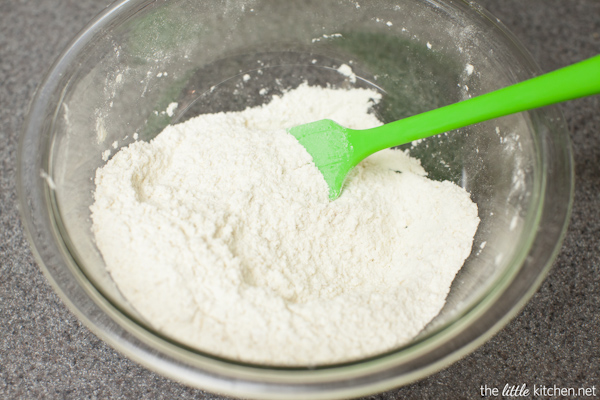 Mix all of the dry ingredients.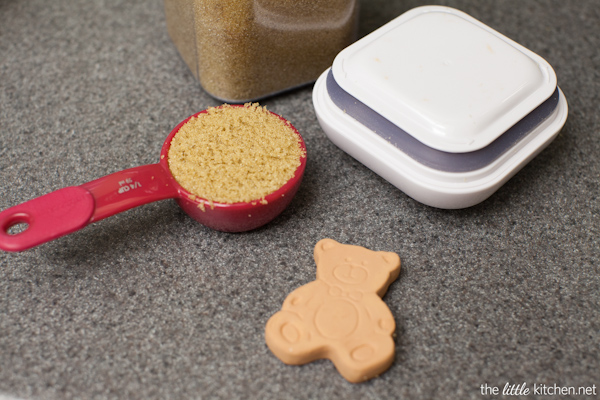 Pack the brown sugar, for this recipe I'm only using light brown sugar. I love my sugar bear, I don't even remember where I bought it. It helps keep the brown sugar from hardening.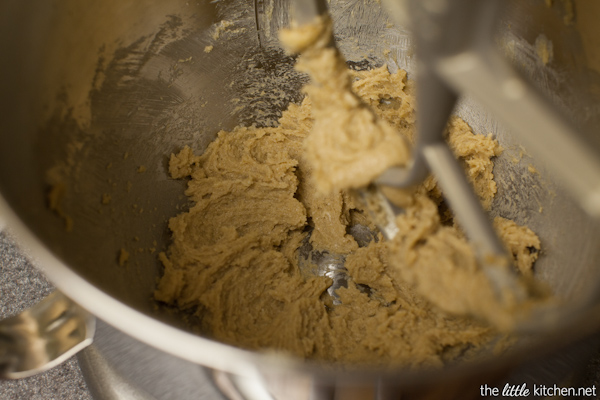 Cream the brown sugar and the butter.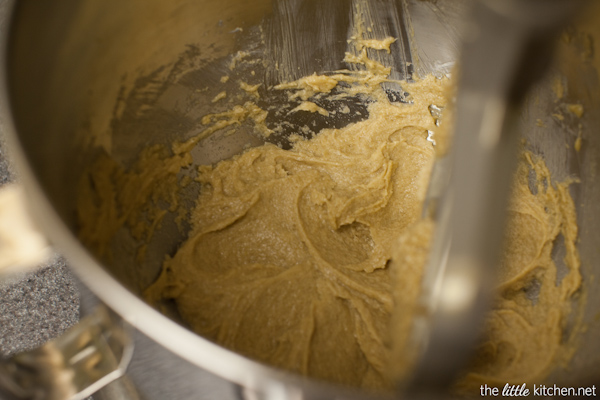 After adding the egg.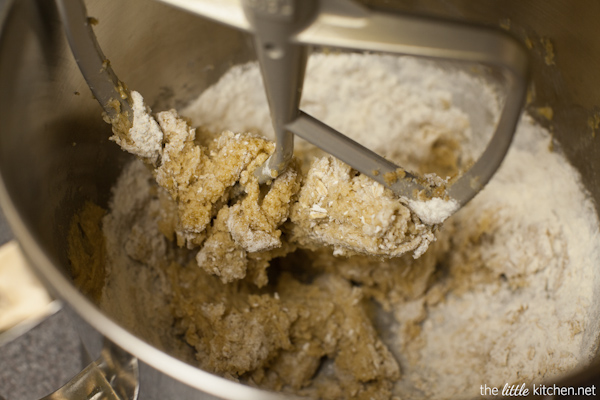 Add dry ingredients and don't overmix or your cookies will take like a cake or cakie instead of a cookie.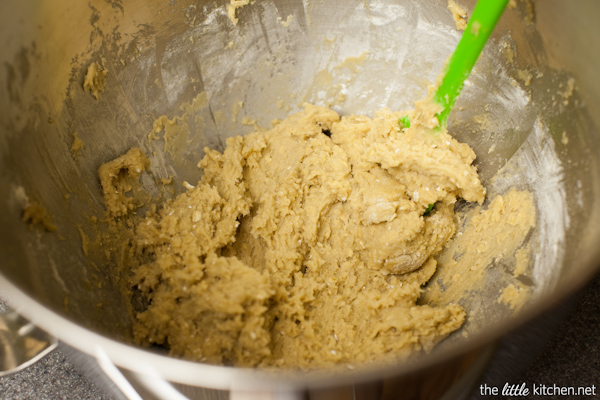 All ready…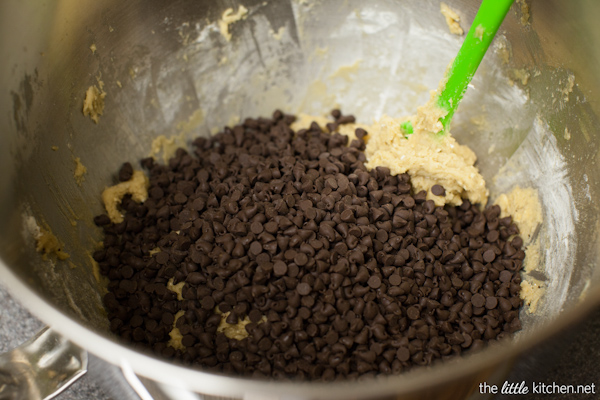 for the chocolate chips. I really like mini chocolate chips for this recipe.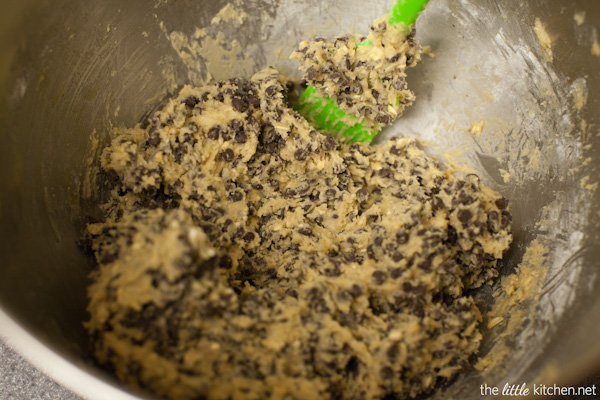 Mixed together.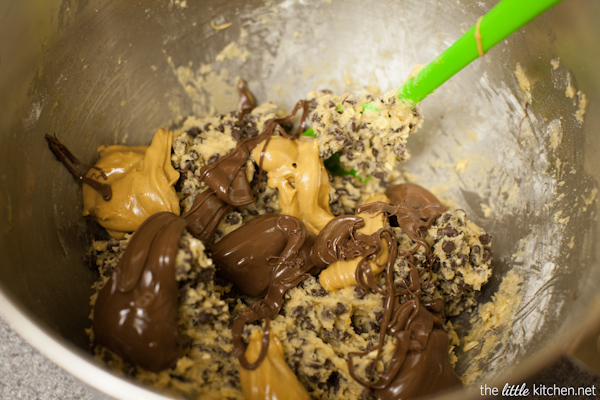 Add scoops of peanut butter and nutella into the cookie dough and carefully mix…don't overmix because you want swirls in your cookies!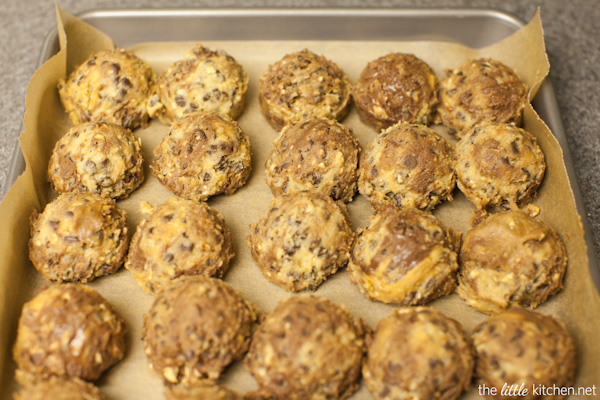 Use a medium cookie scoop to scoop out the dough onto a parchment paper lined cookie sheet. I freeze the cookie dough for at least 4 hours and then bake them!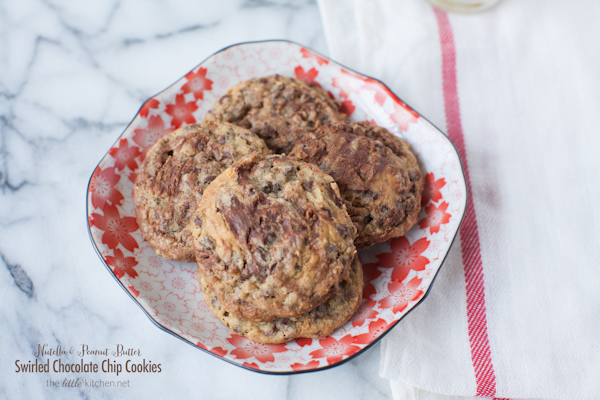 Can you see the peanut butter and the nutella?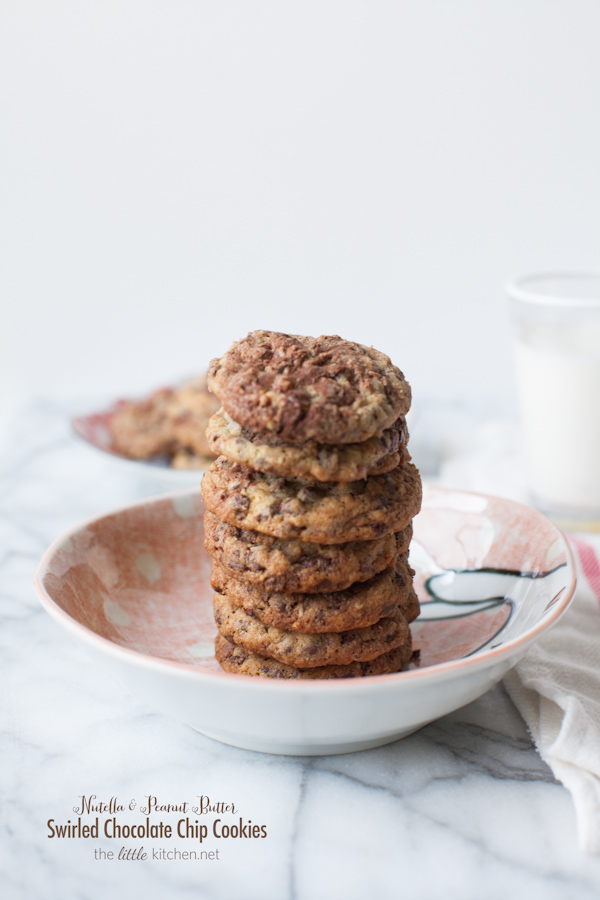 Because I also had to stack the cookies. Seriously, so in love with these cookies. The peanut butter tickles the roof of my mouth. The nutella is so smooth and nice with the pb.
Recipe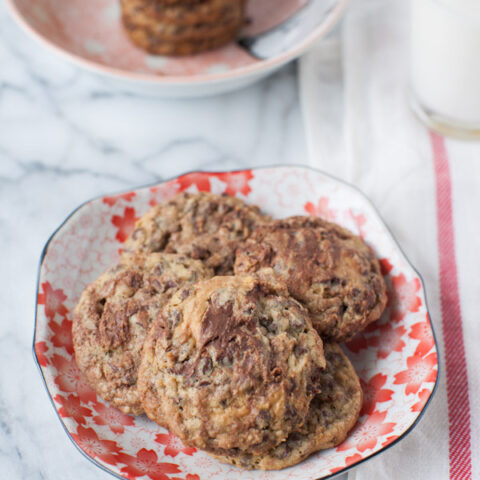 Print
Pin
Save
Nutella-Peanut Butter Swirled Chocolate Chip Cookies Recipe
Ingredients
1/3

cup

rolled oats

1

cup

plus 2 Tablespoons unbleached all-purpose flour

3/4

teaspoon

baking soda

1/4

teaspoon

salt

1/2

cup

unsalted butter

,

1 stick, softened

3/4

cup

packed light brown sugar

1 1/2

teaspoons

pure vanilla extract

1

large egg

1 3/4

cups

miniature semi-sweet chocolate chips

1/4

cup

creamy peanut butter

1/4

cup

chocolate hazelnut spread
Instructions
Pulse oats in a food processor until semi-fine. Pour into a medium-sized mixing bowl along with flour, baking soda and salt. Mix with a rubber spatula and set aside.

Add butter, brown sugar and vanilla extract to the bowl of a stand mixer. Cream together on low speed with the paddle attachment. Add egg and mix on medium until you have a smooth mixture. Be sure to scrape the bottom of the bottom of the bowl with a spatula at least once.

Add the dry ingredients to the wet ingredients and mix on low until incorporated in batches. Don't overmix. Remove bowl from stand mixer and scrape off paddle attachment. Add chocolate chips and mix with a rubber spatula.

Add drops of peanut butter and nutella chocolate hazelnut spread on top of the cookie dough. Using the rubber spatula, mix but don't overmix, you want swirls in the dough.

Using a

medium cookie scoop

(1.5 tablespoons), scoop cookie dough onto a parchment paper-lined baking sheet. Refrigerate or freeze the cookie dough for at least 3 to 4 hours or overnight even.

To bake: Place cookie dough portions onto baking sheet lined with parchment paper or a Silpat at least 1 1/2 to 2 inches apart. Bake 350 degrees F for 11-12 minutes or until desired doneness. After removing from oven, carefully place parchment paper on a cooling rack to allow to cool completely. Allow to cool completely on a cooling rack if storing. Store in a sealed container with a slice of sandwich bread to ensure softness of cookies.
Notes
Tip:
Freeze cookie dough! After scooping portions of cookie dough, place baking sheet in the freezer. When the dough is completely frozen, place dough into zippered plastic bags and label them with the date, oven temperature and baking time.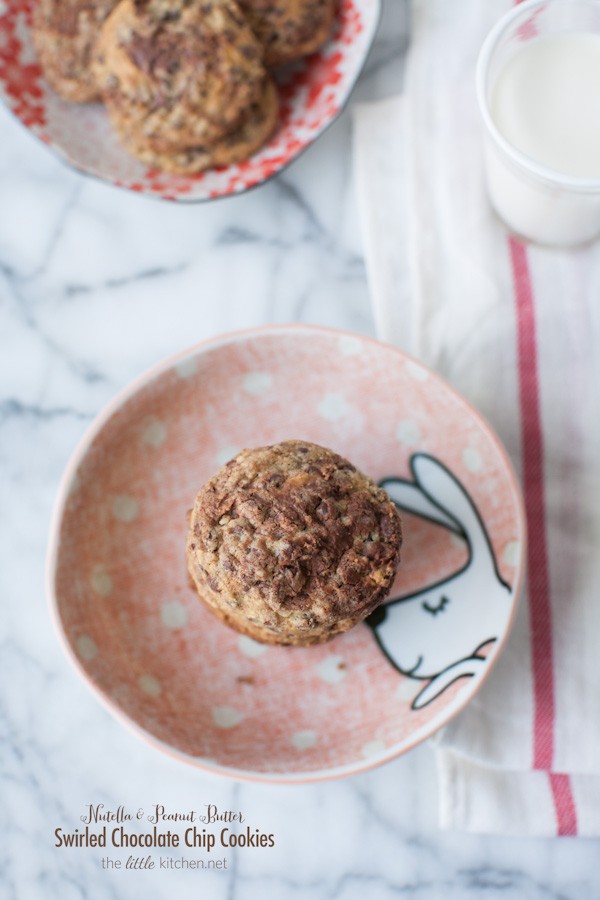 YES. Make these!
Disclosure: This post contains affiliate links.