Lasagna Roll Ups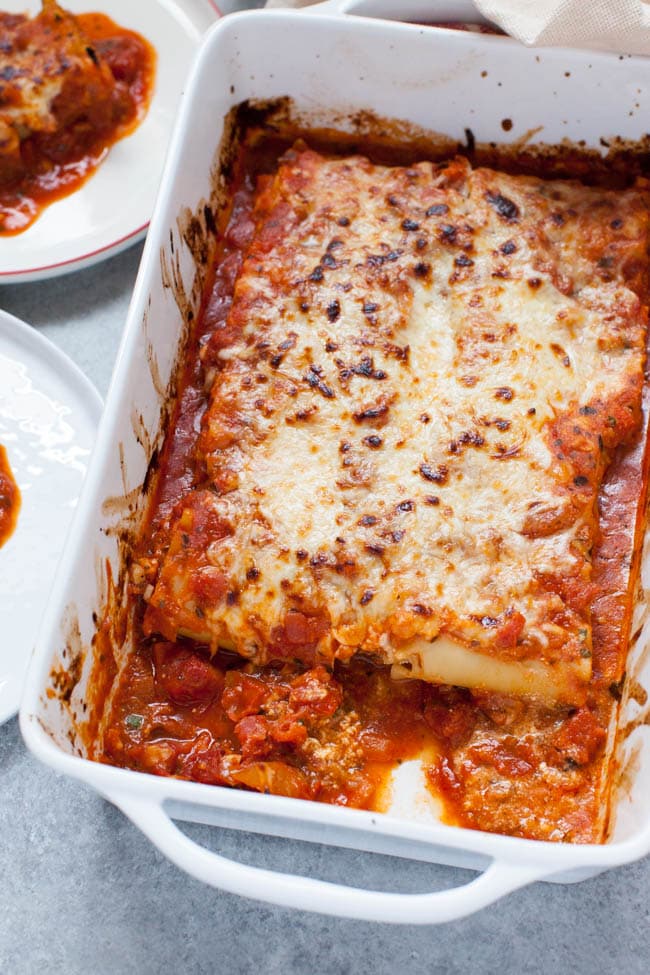 This post is sponsored by Bertolli®.
When I think about easy lasagna recipes, I think of this recipe for lasagna rolls. For Sunday Supper and even weeknight meals, this lasagna recipe will make your family so happy!
I'm excited to be working with Bertolli® to spread the news about their Rustic Cut sauces. Rustic Cut sauces have thick cuts of hearty vegetables and no artificial colors, no artificial flavors and no added sugar. Your family will love that it's delicious and that it's Tuscan-inspired! We love lasagna in our house and it's the perfect dish to enjoy for Sunday Supper. This is just another spin on how to make lasagna!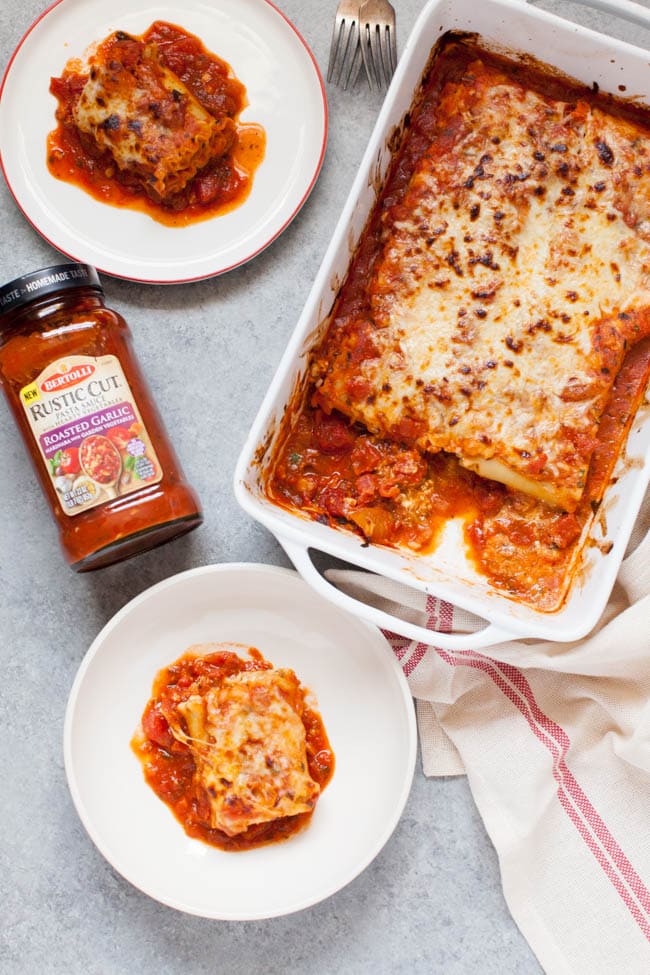 There's just something about Sunday Supper in our house, I love being able to make a wonderfully comforting meal that will start our week out nicely. We love to have family and friends over, or even if it's just us, we prep our meals together. With Bertolli Rustic Cut sauce, I know that I can make a delicious dinner full of vegetables without spending hours in the kitchen.
You know me, I love taking shortcuts when I can and cooking with Bertolli sauces actually doesn't feel like it. I love cooking with olive oil and the sauce is cooked lightly with olive oil so the flavor to me is perfect!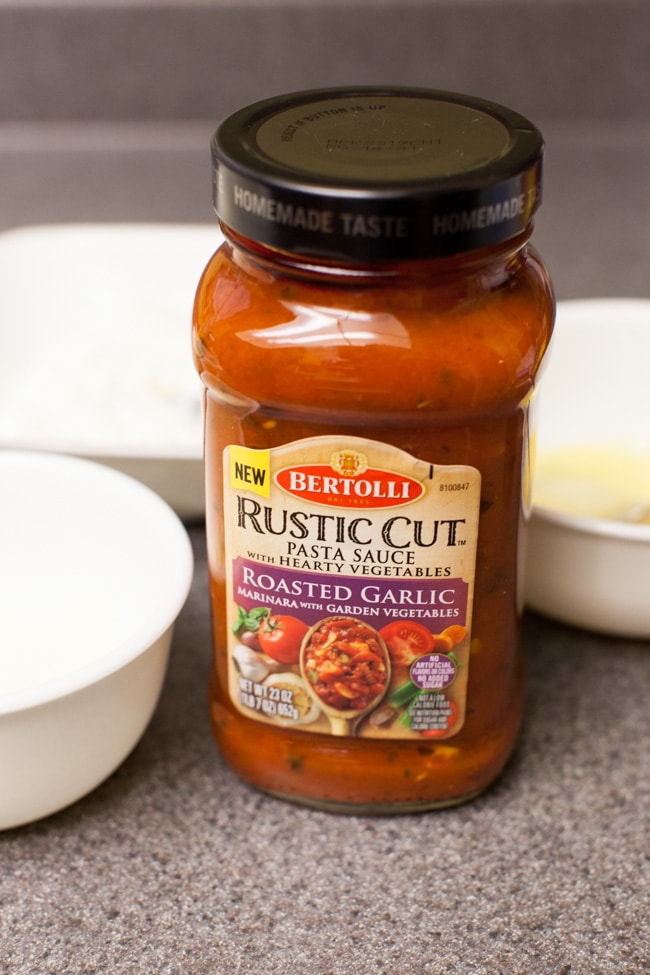 I love seeing and tasting vegetables in my pasta sauce and that's one of my favorite things about using using the Bertolli® Rustic Cut Roasted Garlic Marinara with Garden Vegetables. It's a gourmet addition to our cooking for Sunday Supper!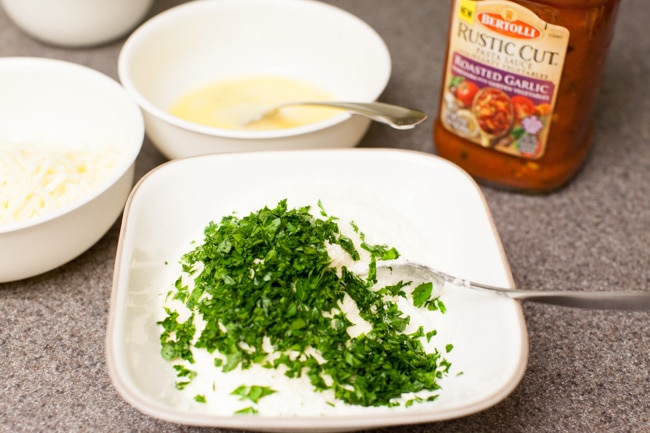 Now to prep the lasagna roll ups!
Most good lasagnas to me need to have good ricotta cheese and an amazing sauce.
I mix the ricotta cheese with salt, pepper, chopped Italian parsley and Parmesan cheese.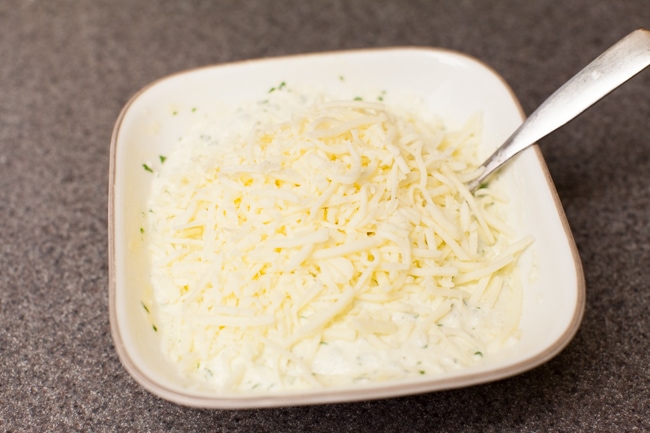 Then, add in the mozzarella cheese and mix just until it's combined.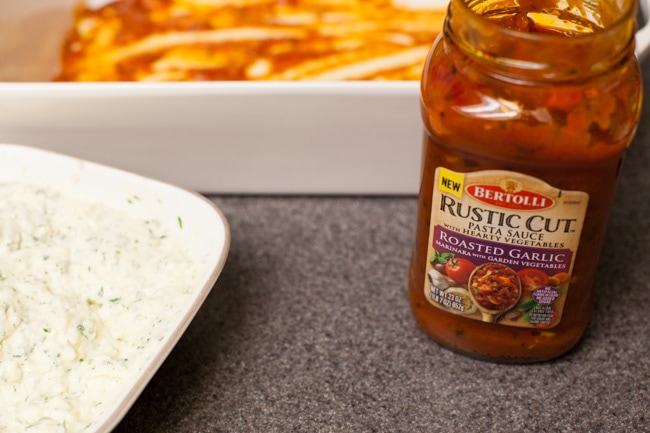 Add the Bertolli Rustic Cut Roasted Garlic Marinara with Garden Vegetables to the bottom of the baking dish…this is to make sure the lasagna pasta doesn't stick to the bottom.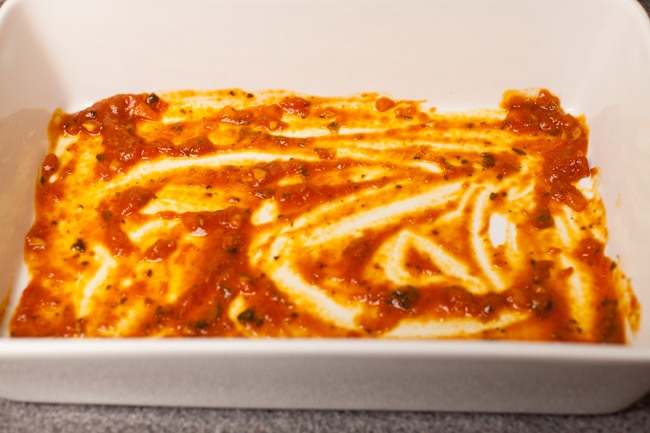 I love the chunks of garlic in this marinara sauce!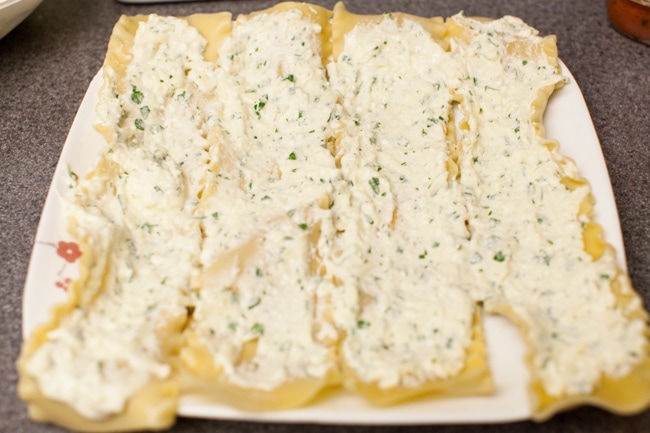 This is how I make this dish fast. Spread out four lasagna noodles at a time and spread the ricotta cheese mixture on all four noodles.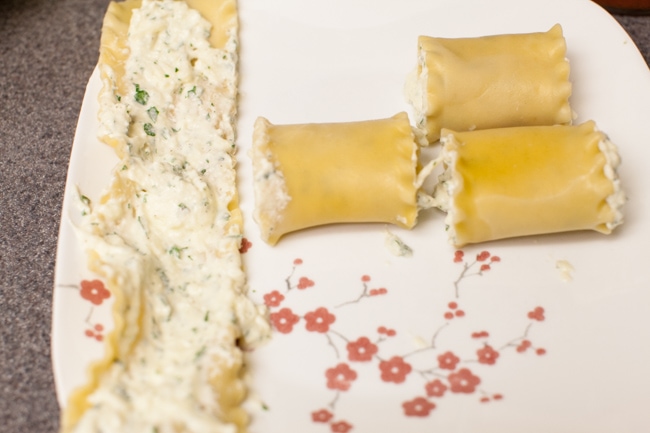 Roll them up and place in the baking dish seam side down.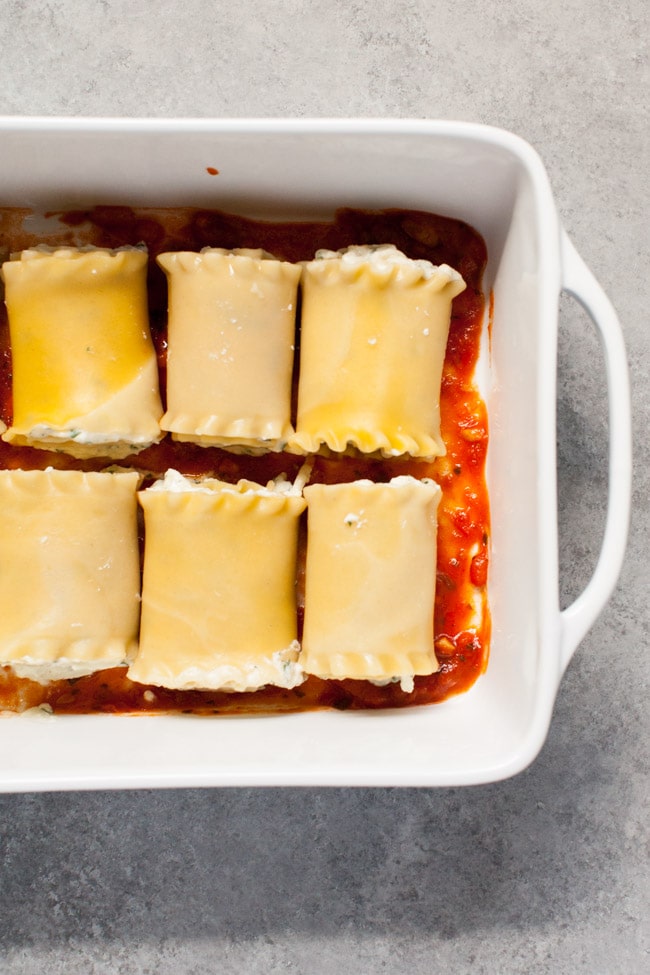 It only takes a few minutes to put this lasagna recipe together!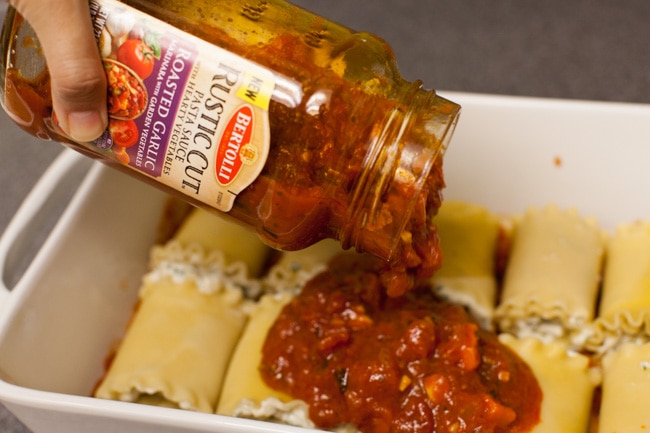 Pour the Bertolli Rustic Cut Roasted Garlic Marinara with Garden Vegetables on top of the lasagna roll ups.
This is where I fell in love with this pasta sauce. Can you see the thick cut vegetables?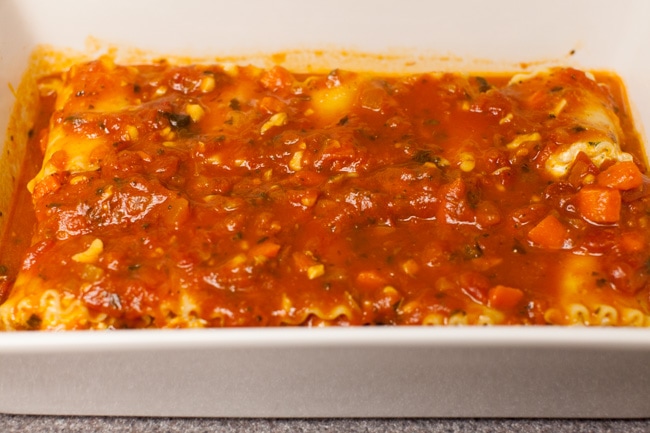 Can you see them even better in this photo?
I added a little water to the jar so I can be sure to get all of the sauce out. None of it goes to waste! Make sure all of the lasagna pasta noodles are covered.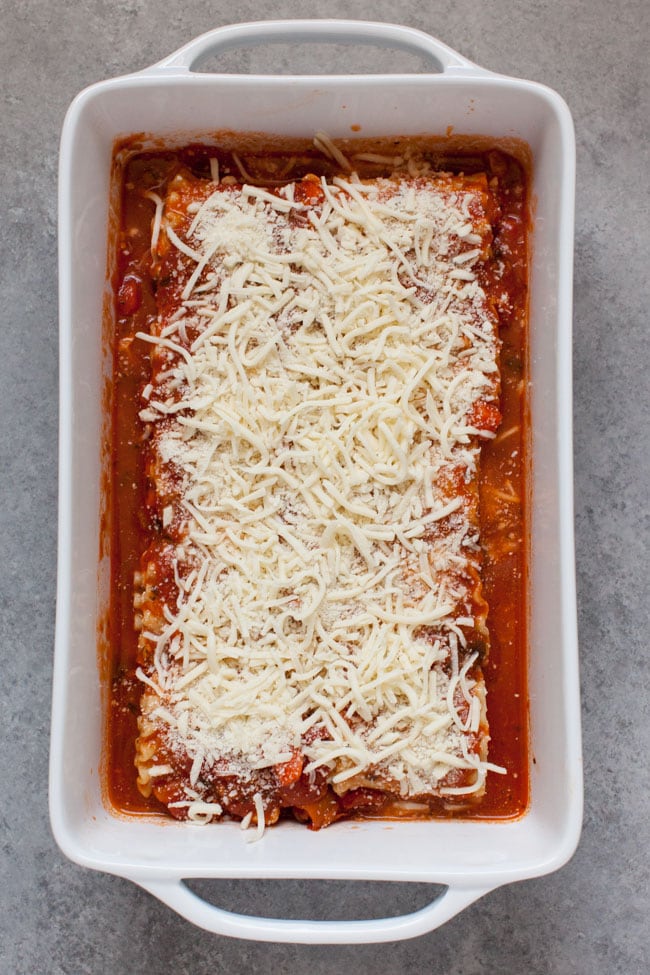 Top your lasagna rolls with more mozzarella and parmesan cheeses.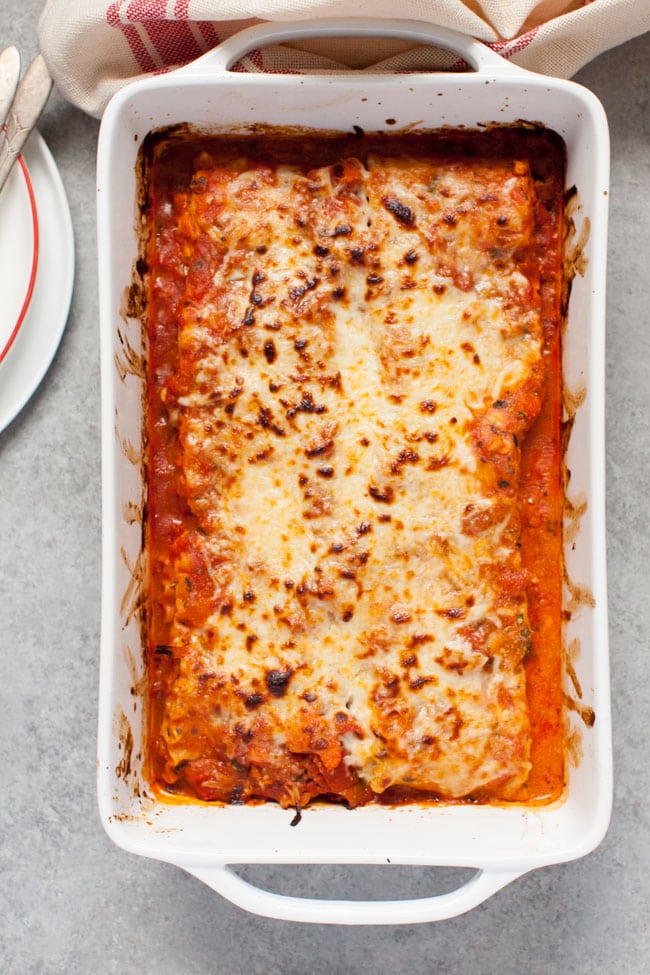 Cover the baking dish tightly with foil and bake for 25 minutes. Remove the foil and then bake another 10 to 15 minutes.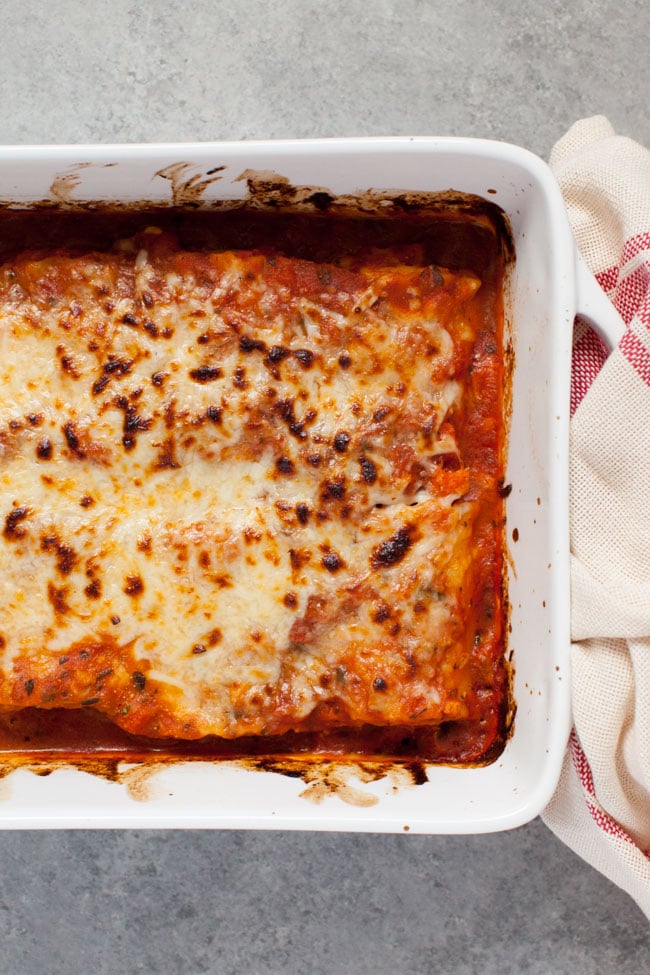 It comes out looking beautiful just like this! The Rustic Cut sauce is perfect too! I wish you could join us for Sunday Supper!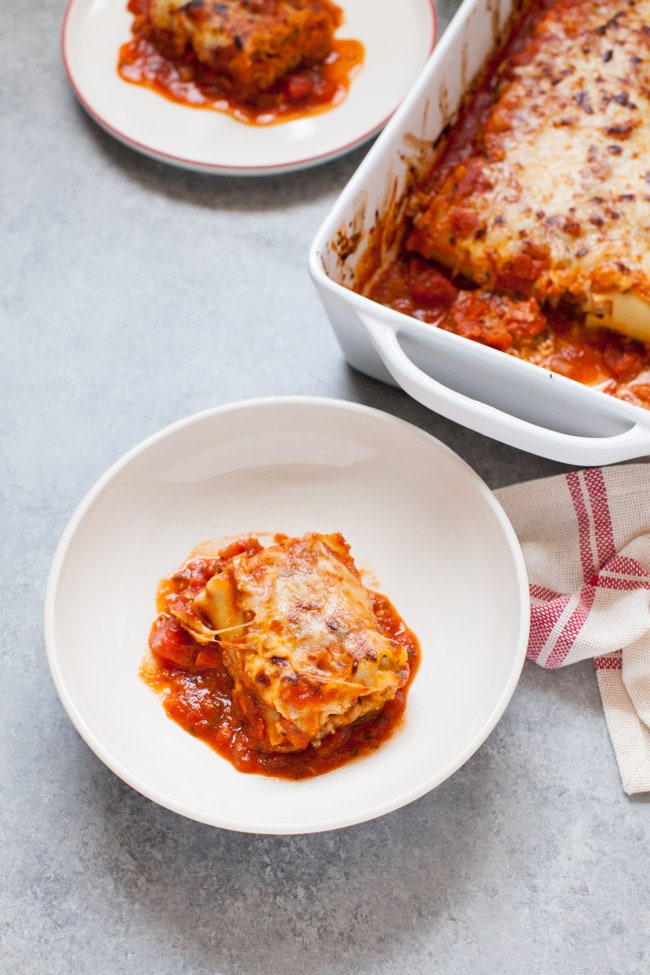 So so good. The simplicity of the prep of this dish along with the Bertolli Rustic Cut Roasted Garlic Marinara with Garden Vegetables, makes this dish so irresistible!
It's an easy lasagna recipe and perfect for your next Sunday Supper. Your family and friends will be so impressed!
Even though you didn't have to spend so much time on dinner, they will enjoy it and you'll get to spend more quality time and get to savor the moments during dinner.
I can't wait for you to make this lasagna recipe…please make sure you comment below and let me know how it turns out when you do!
And be sure to check out this Sunday Supper Video series as well as for more recipes, visit:  Bertolli.com!!
Recipe
Lasagna Roll Ups Recipe
Yield: Makes 10 lasagna rolls
Prep Time: 15 minutes
Cook Time: 45 minutes
Total Time: 1 hour
Ingredients:
10 lasagna noodles
1 cup ricotta cheese
salt & pepper
2 Tablespoons chopped fresh Italian parsley
1/4 cup grated Parmesan cheese
1 large egg, beaten
3/4 cup shredded mozzarella cheese
Cheese for topping
1/3 cup shredded mozzarella cheese
2 Tablespoons grated Parmesan cheese
Directions:
Bring a salted pot of water to a boil and prepare lasagna noodles according to the instructions on the package. Drain the water and set aside.
While the water is boiling, heat oven to 425 degrees F and prep the rest of the dish.
Add 1/4 teaspoon salt and 1/8 teaspoon pepper to the ricotta cheese in a medium sized bowl. Mix in parsley and Parmesan cheese. Add beaten egg and mix thoroughly. Add mozzarella cheese and mix until combined.
Take an oven safe baking dish and add 1/3 cup of Bertolli Rustic Cut Roast Garlic Marinara Garden Vegetables Pasta Sauce to the bottom of the baking dish and smooth out to cover.
Prep 4 lasagna noodles at a time on a large plate. Add 2 tablespoons ricotta cheese filling to each noodle and spread out with a spoon. Roll it up and place into the baking dish with the seam side down.
Repeat until you have done 10 noodles. Pour the remaining sauce into the baking dish. Add about 1/4 cup of water to the jar to make sure you get every last bit out of the jar and pour over the lasagna rolls. Make sure the lasagna noodles are covered in sauce.
Sprinkle 1/3 cup shredded mozzarella cheese and 2 tablespoons Parmesan cheese on top and cover tightly with foil. Bake for 25 minutes. Remove foil and bake for another 10 to 15 minutes.
Notes:  This dish reheats nicely! Store in sealed containers in the refrigerator and you have a great option for a week day lunch or dinner!
Have you tried this recipe?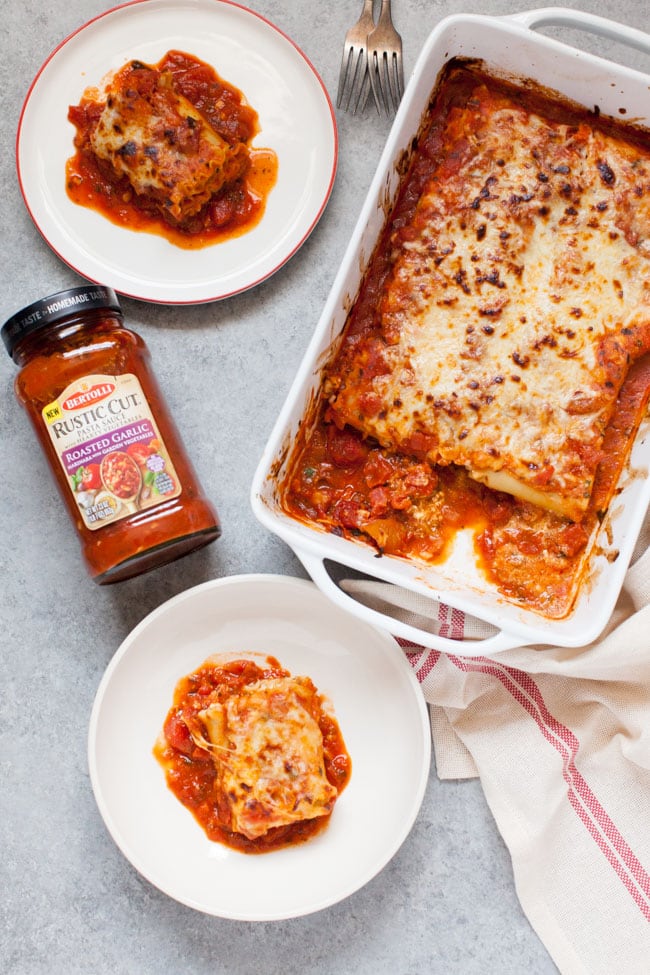 Disclosure: This post is sponsored by Bertolli®. I always share with you my own opinions and I only work with brands that I love.