Warning warning: very long post ahead! with tons of pictures that will hopefully help you make homemade ravioli! There's a video too. And also check out my contributing post on the KitchenAid blog — more ways to use your KitchenAid stand mixer!
I told you some months ago how obsessed I am with making homemade pasta and you had to know that would translate into making homemade ravioli!
It's really straightforward to make and I love making it. For this recipe, I made a spinach & ricotta filling and we have experimented with a chicken sausage and asiago cheese filling that Curtis loves…must share that with you soon!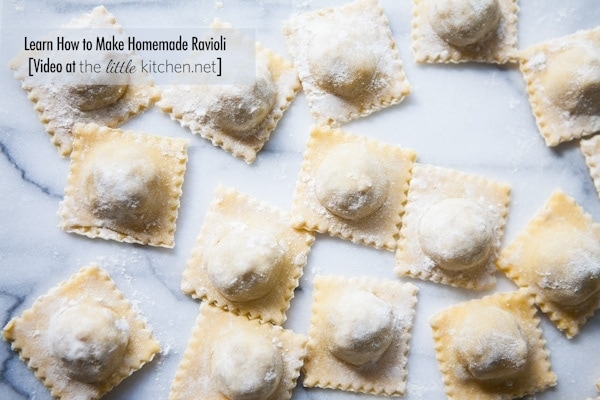 I am glad to share that I have been moving through my list of five things I was scared to make and pasta being one of them! I honestly can tell you it's so easy. I use my KitchenAid 7 Quart Stand Mixer and the pasta attachment and it makes it so simple.
Hopefully my video will help you agree with me!
I used King Arthur Flour's semolina flour for this recipe. I love their perfect pastry flour for pasta too!
First, mix the ingredients in the stand mixer with the beater attachment. Once it's incorporated…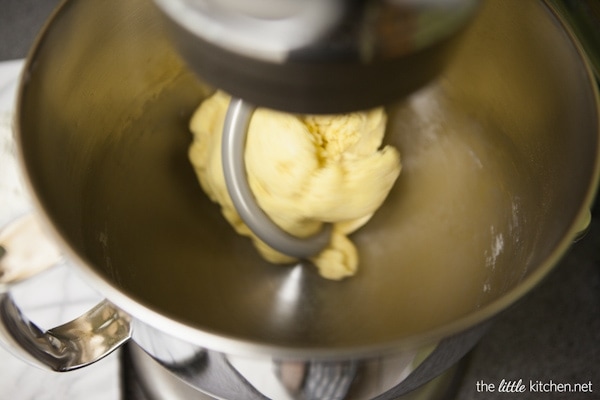 switch to the dough hook and mix until it turns into a ball like this. Sometimes, if your dough is too dry, you may need to add a little bit more water.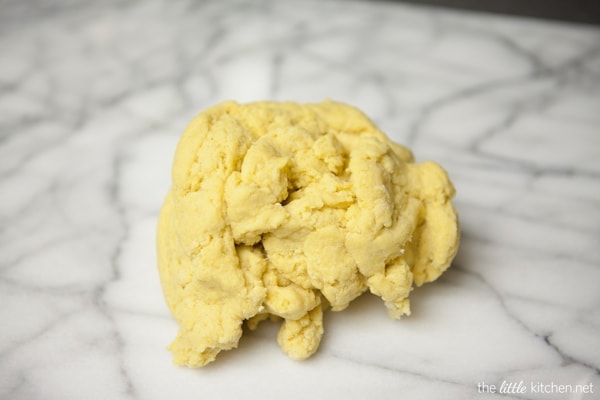 This is what the pasta dough looks like after coming out of the mixer. Knead it with your hands for a couple of minutes and then shape it into a ball.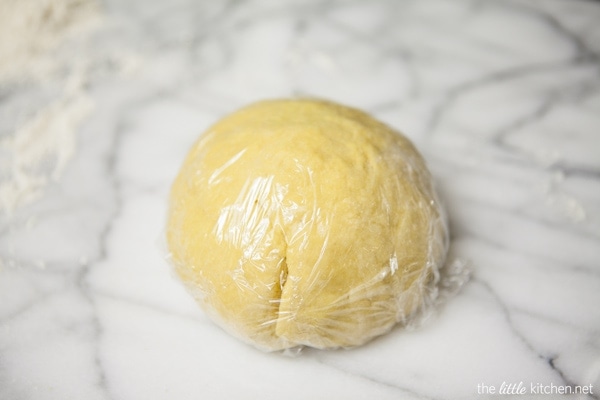 And cover and allow to rest.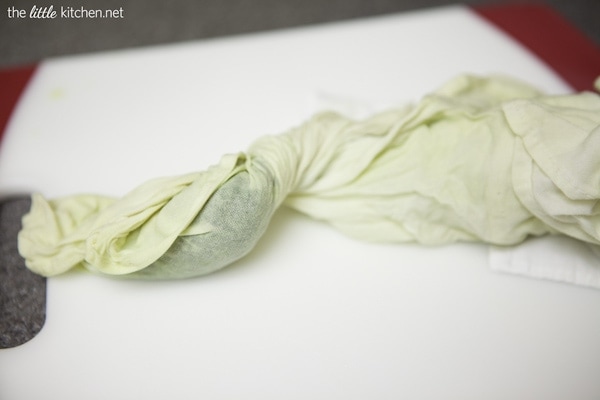 While the dough is resting, I work on the ravioli filling. This time I made a spinach and ricotta filling. I have made a chicken sausage and asiago filling that Curtis loves and keeps asking for. I need to make it for him again soon!
I used frozen spinach but I want to get ALL of the water out of so my filling isn't too wet. I put the defrosted spinach into a tea towel and twisted it and rung out the water.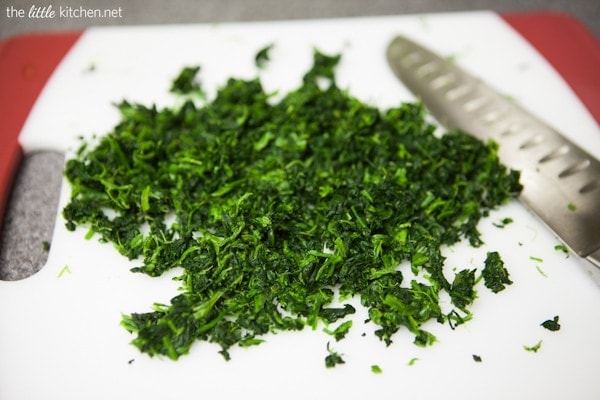 Chop up the spinach as best as you can.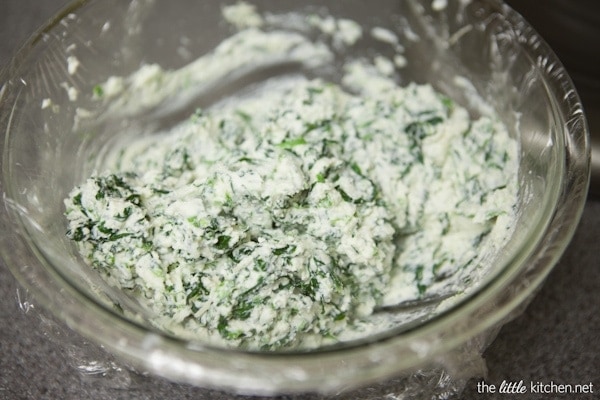 Mix the ricotta & parmesan cheeses, spinach and salt & pepper and cover and stick in the fridge until you're ready to use it.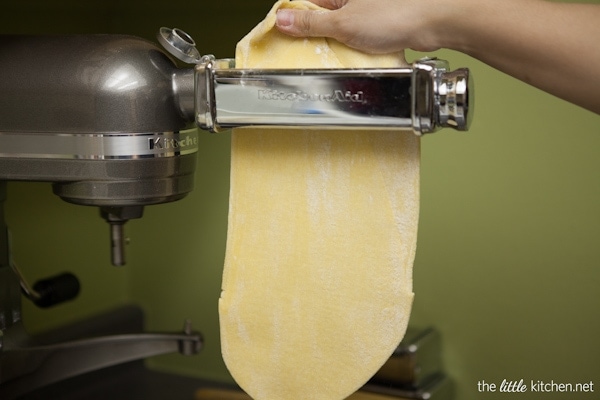 These two things: the KitchenAid® Pro Line® 7-Quart Stand Mixer and KitchenAid® Pasta Roller Set…make my life so easy. Seriously, you just run the dough through the pasta sheet roller a few times on different settings and then you have pasta!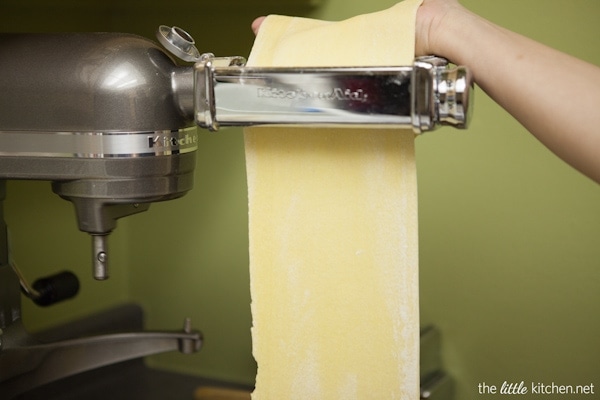 I use my left hand to hold the sheet as it's coming out and my right to feed it through. Pasta life is easy.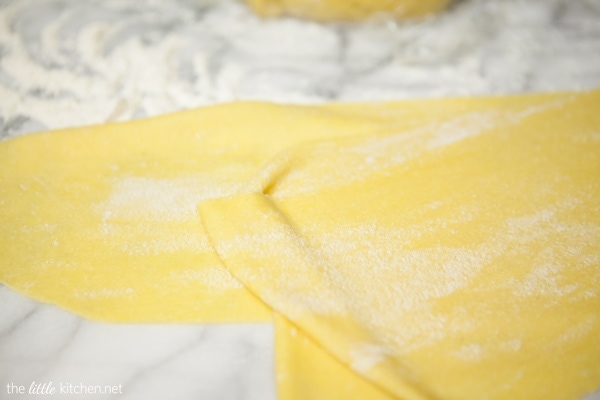 One tip is to flour both sides of your pasta dough/sheet each time before running it back through the roller.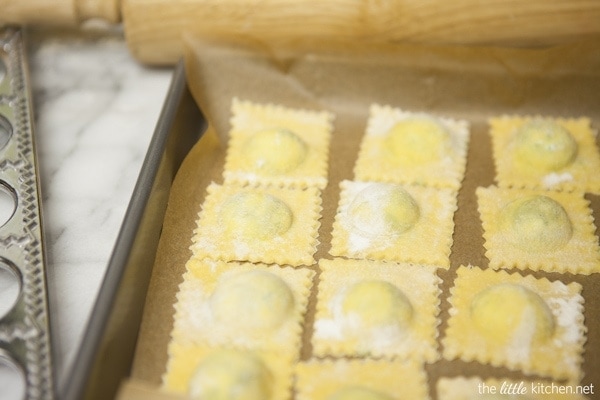 Aren't they pretty? I show you how to use the ravioli maker in the video!
Stick them on a parchment paper lined cookie sheet and freeze them for 15-20 minutes and then throw them into a zippered plastic bag and use them when you want to.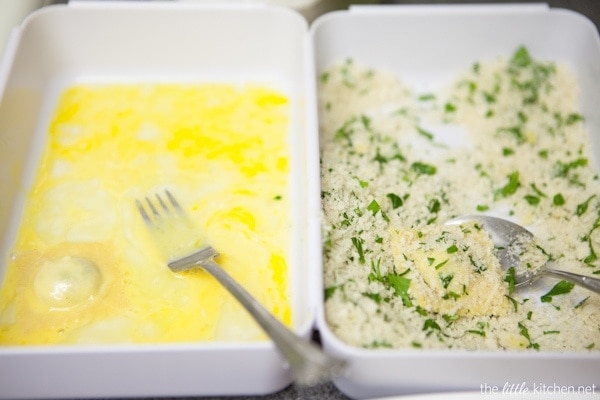 I love these breading trays my sister, Connie, got me for Christmas a few years ago. I use them so much. Beat two eggs in the left tray. Put breadcrumbs, etc. in the right one.
I use my left hand to dip them in the egg and then use same hand to throw in the right try and use my right hand to deal with the breadcrumbs. No more batter claw hands. 🙂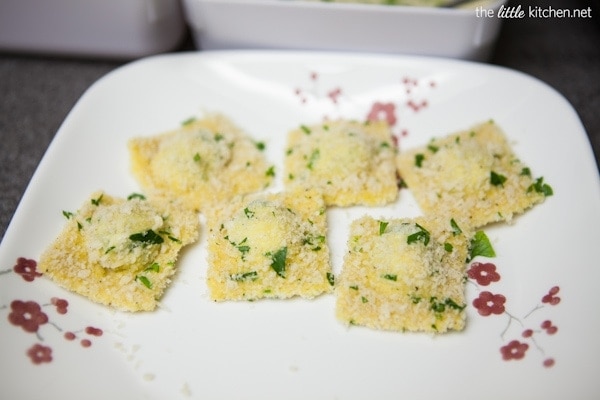 These are ready to fry.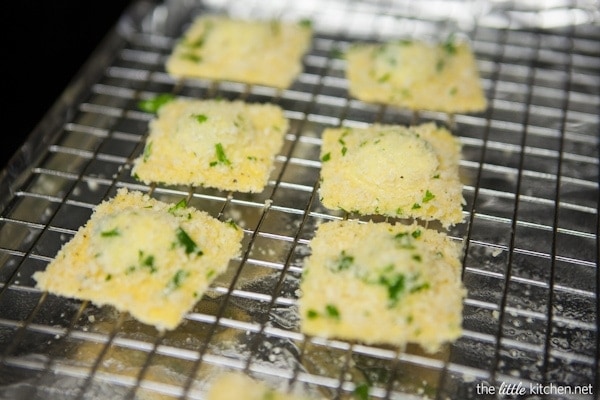 These go into the oven!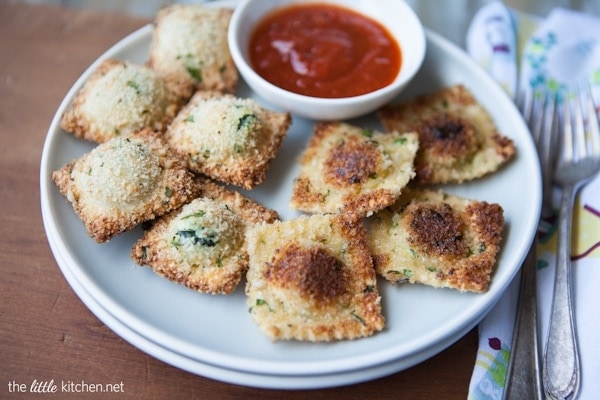 Baked or fried, baked or fried? I love them fried…in olive oil and butter. The baked ones are good too but I prefer fried anything. Serve them with your favorite tomato sauce and it's a great appetizer!
Of course, you can boil these raviolis and serve them for dinner too!
Supplies I used:
Recipe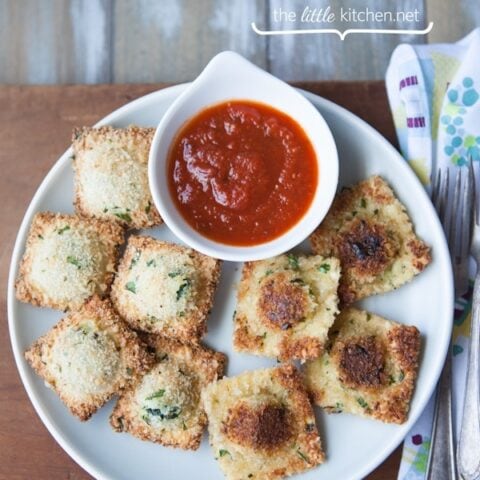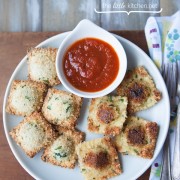 Print
Pin
Homemade Spinach & Cheese Ravioli Recipe
Servings
48
to 50 raviolis
Ingredients
Ravioli Pasta Dough
4

large eggs

4

Tablespoons

water

1 3/4

cups

all-purpose flour

,

plus more for preparing

1 3/4

cups

semolina flour

1/2

teaspoon

salt
Filling
1

cup

of frozen spinach

,

defrosted, drained and chopped

3

cups

ricotta cheese

1/4

cup

parmesan cheese

,

grated

salt & pepper
Baked or Fried Ravioli (this makes enough for about 18 to 20 raviolis for an appetizer)
2

large eggs

,

beaten

1

cup

panko breadcrumbs

1/2

cup

parmesan cheese

,

grated

2

Tablespoons

chopped Italian parsley

,

or 1 teaspoon dried

salt & pepper
Fried Ravioli
1/2 to 1

Tablespoon

butter

1/2 to 1

Tablespoon

olive oil

Tomato Sauce for serving
Instructions
Ravioli Pasta Dough
Adds eggs, water, flour and salt to the bowl of a stand mixer. Using the flat beater attachment, beat for 30 to 60 seconds on speed 2 and mix for 30 to 60 seconds. Add more water if the dough is too dry, in 1/2 Tablespoon increments.

Remove flat beater and change with the dough hook. Knead for 2 minutes on speed 2. Remove the dough and knead by hand for 2 minutes on a

marble pastry board

. Allow the dough to rest covered for 20 to 30 minutes.

Cut dough into four pieces before processing with pasta sheet attachment. Work with one piece at a time, be sure to cover the other pieces of dough. Take one piece and flatten into a rectangular shape. Add flour to both sides. Attach the pasta sheet roller to your stand mixer and set it to #1. Turn on the stand mixer to speed 2 and run the pasta dough through the pasta sheet roller. While on #1, fold the dough in half and run it through again. I do this several times. Add flour to both sides as needed during this process.

Add a little bit of flour on each side of the dough/sheet between in pass through the pasta sheet roller, change setting to #2 and pass the pasta dough through the sheet roller twice. Change to #3 and pass the pass the pasta through twice and then the same for #4.

After rolling the pasta out, I get my

ravioli maker

out and lay the pasta sheet on top of the filler (white plastic). Push the pasta sheet into the ravioli cavities and adjust the sheet as needed. Fill each ravioli with about a teaspoon, I use my fingers to ensure it gets all the way in there and there's no air pockets.

After you're finished filling your pasta, add another pasta sheet on top and using your hands, you're going to push down to ensure the sheets are pressed together; you don't want any air pockets.

Then cut the pasta sheet at the end with kitchen shears.

Once again, press down with your hands and pat it a little, we want to make sure to seal the raviolis. Flip the ravioli filler and remove the filled pasta sheets. Then put the ravioli cutter on the ravioli sheets and line it up correctly. And then flip it over with the ravioli sheets. We're going to use this to cut the raviolis. Run a rolling pin over the top, back and forth. Gently pull apart the raviolis and you're done.
To make baked or fried ravioli appetizers, see below. When boiling your ravioli pasta, it only needs 5 to 7 minutes to boil, for frozen pasta just add a couple of minutes longer.
Baked or Fried Ravioli
Put the beaten eggs into a shallow dish. Into another shallow dish, add breadcrumbs, parmesan cheese, parsley and salt and pepper and mix to combine.

With one hand, dip one ravioli in the egg and place into the breadcrumb mixture. With your other hand, add breadcrumbs and shake off excess. Place on a plate and repeat.
Baked Ravioli
Heat oven to 400 degrees F. Cover a baking sheet with foil and place a baking rack on top. Spray raviolis that have been covered in breadcrumbs with non-stick cooking spray.

Place raviolis on top of baking rack on the cookie sheet. Bake for 15 minutes and then flip and bake for another 5 minutes or until both sides are golden brown and crispy. Serve immediately with your favorite tomato sauce for dipping.
Fried Ravioli
Add butter and olive oil to a non-stick pan and heat on medium. Cook in batches, 2 to 3 minutes per side (4 to 5 minutes if frozen).

Remove from pan and place on a paper towel lined plate. Optional: sprinkle with grated parmesan cheese.
Notes
Pasta recipe slightly modified from KitchenAid Pasta Attachment Manual. Ravioli Filling & baked/fried recipe from The Little Kitchen.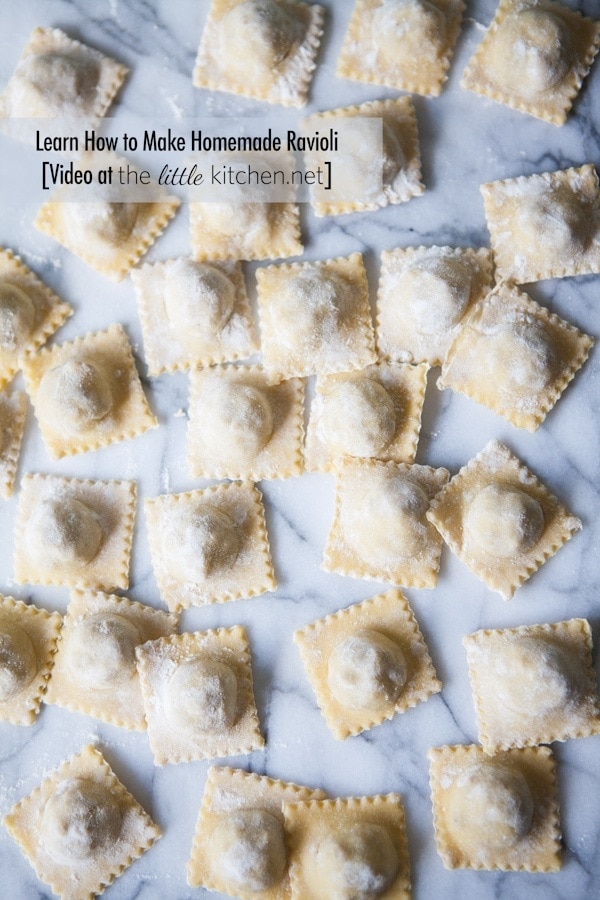 Disclosure: I did receive flours from KAF for review. I also received the KitchenAid items referenced in this post for the purpose of review earlier this year but I was not asked to write this post. All opinions are always my own. There are affiliate links in this post!