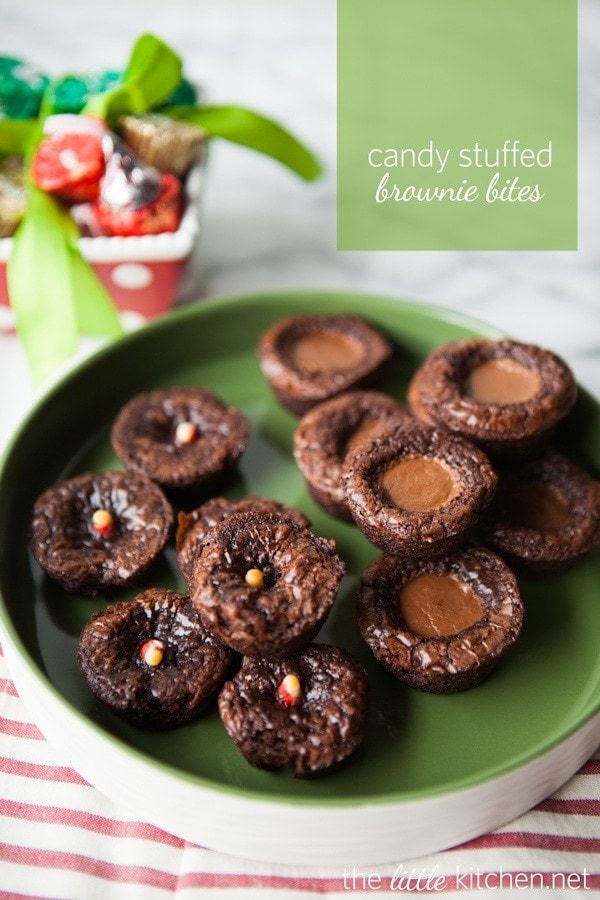 Every year one of our neighbors, Rick, has a little Christmas Eve party outside of his house – a sort of block party. Everyone comes with their chairs and a dish or two to share. We're really lucky to live in Florida to be able to sit outside and enjoy food with friends during the winter. I brought the usual, egg rolls and something new this year, these brownie bites.
The party even includes a visit from the Grinch himself. This year, Rick's daughter was excited to see him. But when he came out to greet her, she cried, not wanting him anywhere near her. So the Grinch left and Santa himself returned…she warily accepted a wrapped toy from him. We all sat in front of Rick's fire pit and ate the egg rolls, baked ziti, meatballs and wonderful desserts. It was a great time. Curtis always looks forward to this and this event has become a new tradition for us. We reflected how Rick's daughter will one day grow up into a teenager and roll her eyes at the Grinch when he walks up her driveway but she will remember the fun she had as a little girl, the wonderful memories her parents are creating for her. It's neat to witness that.
I completely meant to come home and write this post and hit publish last night but we had so much fun and after coming home a little bit late, I decided to share this recipe with you today.
If you celebrate Christmas, I hope you and yours has had a wonderful one. This season is not just about eating and sharing time with family and friends, it's also about remembering those who find it hard to enjoy the season without their precious loved ones. My heart goes out to those and hope you or they can find some joy in this season.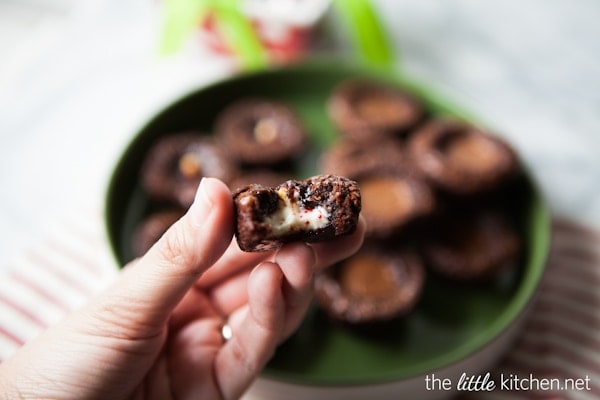 This is another cheater recipe – I used a brownie mix but feel free to use your favorite brownie recipe for this. Whatever you use, this ends up being the ultimate two bite brownie.
I have been talking about making brownie bites with a Hershey's Kiss center for weeks. Lately, I have been obsessed with their candy cane kisses. It's the perfect balance of peppermint and white chocolate. Not too sweet and not too pepperminty. 🙂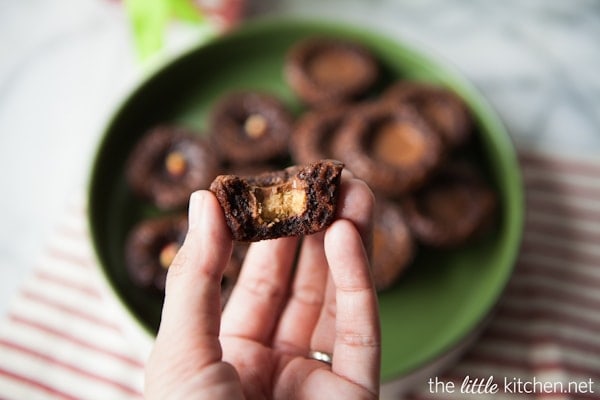 I didn't intend on making some brownie bites stuffed with Reese's peanut butter cups but this was Curtis' request. They turned out awesome.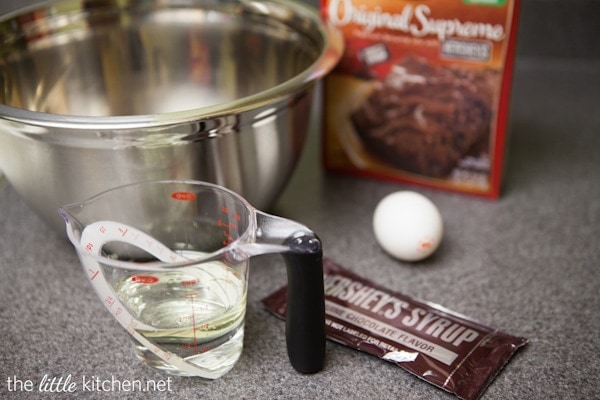 Be sure to pick a brownie mix that is fudgy and chewy – my favorite is Betty Crocker's original supreme ultimate fudge because it comes with a packet of Hershey's syrup for the brownie batter.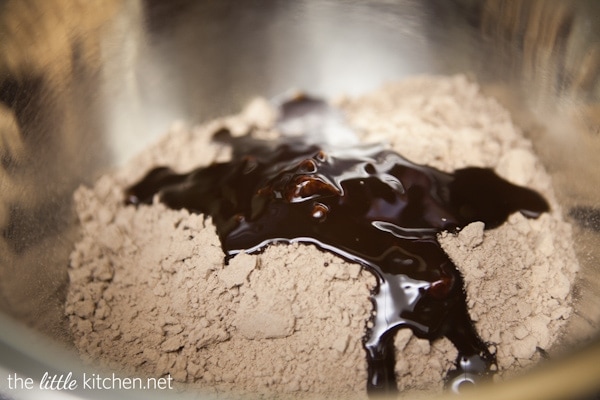 I love this.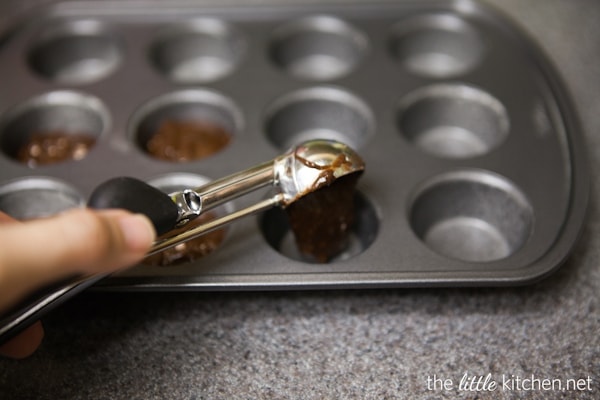 Generously spray your mini muffin tin and use a small cookie scoop to spoon the right amount of batter into the tin.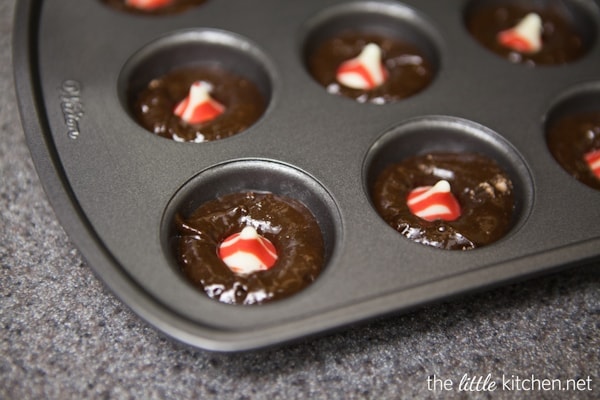 Press down the candy cane kisses as far down as you can go.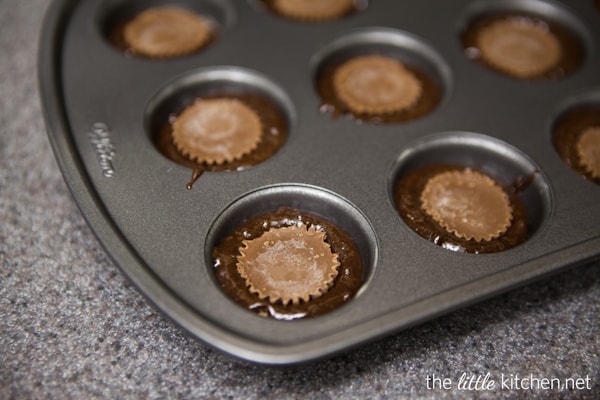 I find that freezing the Kisses and the Reese's peanut butter cups helps them from melting during baking – and the brownie from puffing up too much over the pan.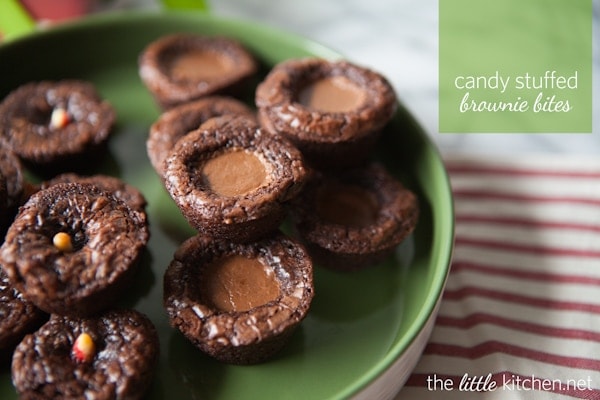 So easy, you can experiment with other Hershey's chocolate candies, I'm trying Rolos next! I love that these are little bite sized brownies – that way I feel a little bit less guilty! 🙂
Note: I updated the recipe because I mistakenly put in the wrong brownie mix. I retested and it still works with Ultimate Fudge, just takes a little bit longer in the oven. Thanks!
Recipe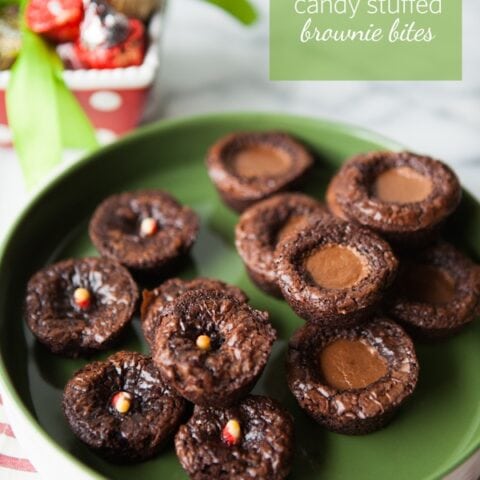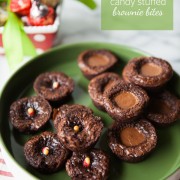 Print
Pin
Save
Candy Stuffed Brownie Bites Recipe
Super easy, it doesn't get any easier than this. If you prefer, use your favorite chewy and fudgy brownie recipe.
Servings
2
1/2 dozen brownie bites
Ingredients
1

box 18 ounce brownie mix

,

I used both Betty Crocker Original Supreme & Ultimate Fudge (and ingredients needed for the mix)

30

candy pieces

,

unwrapped and frozen (I used both Reese's miniature peanut butter cups and Hershey's Candy Cane Kisses)
Instructions
Unwrap and freeze your candies for at least 30 minutes. This is the most time consuming part of the recipe!

Preheat oven to 350 degrees F or temperature stated on brownie mix box. Generously spray a 12 or 24 cavity mini muffin tin with baking spray.

Mix brownie mix in a mixing bowl with ingredients as directed on the box. Be careful not to overmix.

Using a small cookie scoop (2 teaspoon), scoop brownie batter into the mini muffin tin. Place one candy in the middle of each muffin tin cavity and press down.

Bake for about 6 to 8 minutes (if using Original Supreme, 10-11 minutes if using Ultimate Fudge). Remove muffin tin from the oven and allow the tin to cool for about 3 to 5 minutes on a cooling rack. Using a butter knife or angled spatula, loosen the sides of the brownie bites. Flip over tin and remove the brownie bites. Allow to cool on the cooling rack for another five minutes. Store in a sealed container for up to two days.
Disclosure: This post is sponsored by Hershey's. I'm proud to be a member of the Hershey's Baker's Dozen. As always all opinions are my own and I only share my favorite brands! And there's an affiliate link in this post.