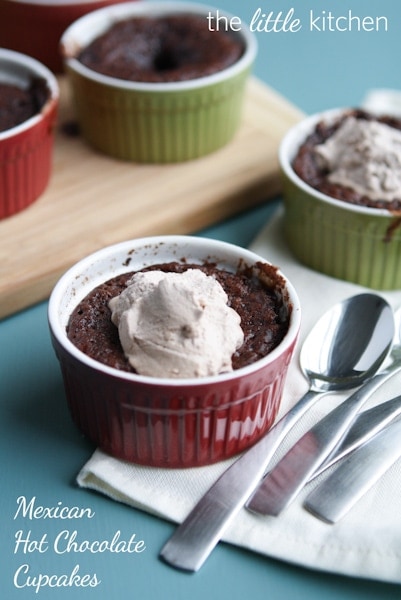 I'm so excited to share this awesome recipe for Mexican Hot Chocolate Cupcakes from McCormick®! I'm a big fan of their spices and I recently had the chance to work with them again. These cupcakes get their "hot" name from the ancho chili powder. It gives it a slight kick and adds a definite heat to the chocolate flavor.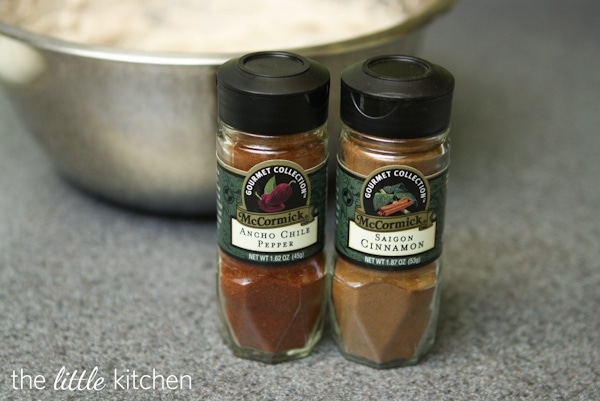 Don't worry, it's not too hot that you can't handle though. I can't wait to try more chile and chocolate combinations soon!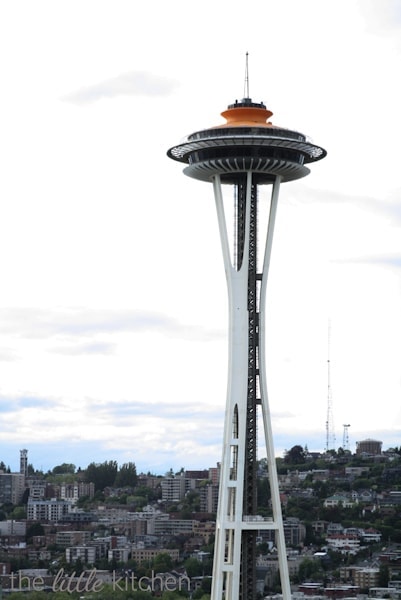 Last month, I attended BlogHer Food in Seattle, a conference for food bloggers. I had a blast, met a lot of fun people and bloggers and ate a lot of good food! This picture was taken from balcony of the condo I stayed at. I actually had lunch inside the rotating restaurant inside the Space Needle with my friend, Mike. The food was amazing and it's a can't miss!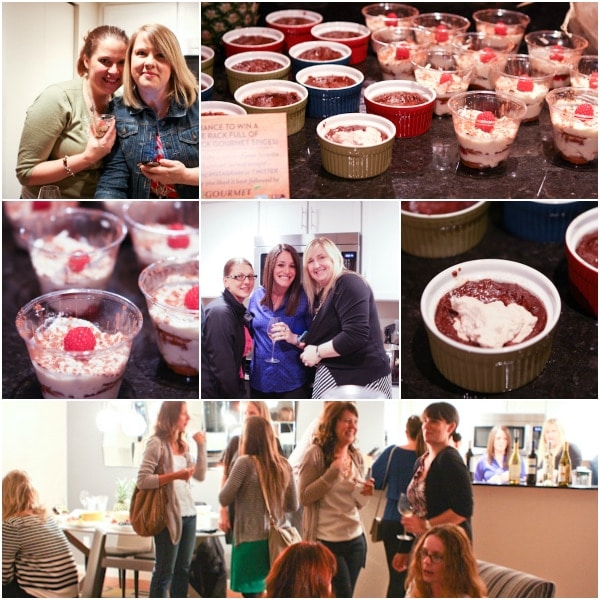 During the conference, my friends, Susan and Paula, threw some amazing party including a wine party where I made desserts (along with the help of my friends, Carrie & Shari, couldn't have done it without them!).
We made the Mexican Hot Chocolate Cupcakes and Saigon Cinnamon Tiramisu with Raspberries. We had to improvise a little because I couldn't find ladyfingers in the one store I was able to go to for supplies so we used little cups and used these fun little vanilla wafers in place of the ladyfingers.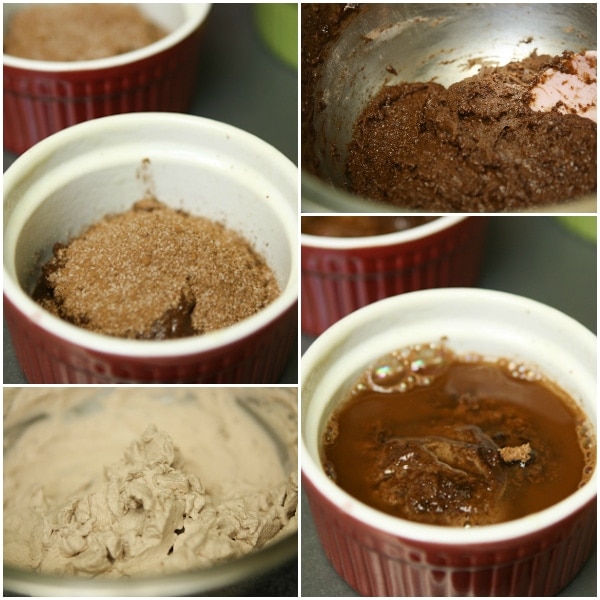 Both desserts were a hit but the clear favorite were the chocolate cupcakes.
Top right – what the batter looks like, as the directions state- the batter will be stiff but don't worry. Top left – right after dropping the sugar-cocoa powder mixture on top the batter. Bottom right – right before the cupcakes go into the oven. Bottom left – the cocoa whipped cream, I love that stuff!
This is one of the cupcakes right out of the oven!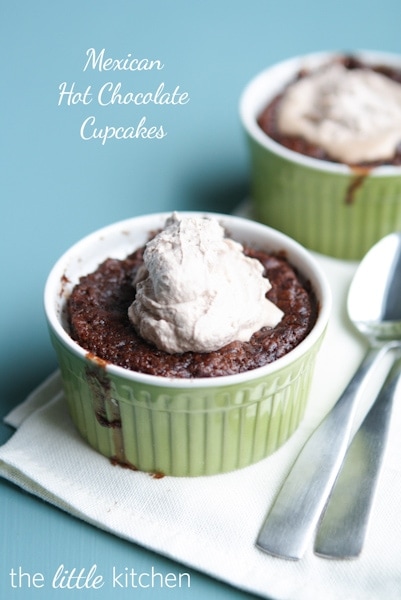 They have a nice chocolate cakey and almost brownie-like texture with a fudgy layer at the bottom! They are not too sweet because we're using unsweetened cocoa powder and the little kick you get at the end is pretty nice! The dollop of cocoa whipped cream is perfect to cool down the little bit of heat. Next time I'm going to add a small scoop of vanilla ice cream too!
Recipe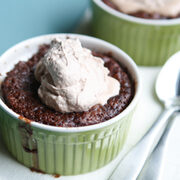 Print
Pin
Save
Mexican Hot Chocolate Cupcakes with Cocoa Whipped Cream
Like Mexican hot chocolate, these cupcakes are flavored with spicy cinnamon and bitter cocoa powder, as well as ancho chile pepper. The cakes are baked and served in coffee cups, and have a fudgy hot chocolate layer at the bottom of the cup.
Ingredients
Mexican Hot Chocolate Cupcakes
1

cup

flour

1

cup

granulated sugar

,

divided

6

tablespoons

unsweetened cocoa powder

,

divided

2

teaspoons

baking powder

2

teaspoons

McCormick® Gourmet Collection Chile Pepper

,

Ancho

1

teaspoon

McCormick® Gourmet Collection Cinnamon

,

Saigon

1/4

teaspoon

salt

1/2

cup

milk

1/4

cup

vegetable oil

1

teaspoon

McCormick® Gourmet Collection Organic Vanilla Extract

,

Pure Madagascar or McCormick® Pure Vanilla Extract

1

cup

boiling water
Cocoa Whipped Cream
3/4

cup

heavy cream

2

tablespoons

confectioners' sugar

1

tablespoon

unsweetened cocoa powder

1/2

teaspoon

McCormick® Gourmet Collection Organic Vanilla Extract

,

Pure Madagascar or McCormick® Pure Vanilla Extract
Instructions
For the Cakes, preheat oven to 350°F. Generously spray 8 (6-ounce) oven proof coffee cups or ramekins with no stick cooking spray with flour or grease and flour cups. Place on large baking sheet.

Mix flour, 2/3 cup of the granulated sugar, 4 tablespoons of the cocoa powder, baking powder, ancho chile pepper, cinnamon and salt in large bowl. Stir in milk, oil and vanilla. (Batter will be stiff.) Spoon evenly into prepared cups.

Mix remaining 1/3 cup granulated sugar and 2 tablespoons cocoa powder in small bowl. Sprinkle evenly over batter. Spoon 2 tablespoons boiling water into each cup. (Do not stir.)

Bake 15 to 20 minutes or until tops are dry to the touch. Cool cups slightly on wire rack.

For the Cocoa Whipped Cream, beat cream and confectioners' sugar in medium bowl with electric mixer on high speed until soft peaks form. Add cocoa powder and vanilla; beat until stiff peaks form. Serve cakes in coffee cups while still warm. Dollop with Cocoa Whipped Cream. Sprinkle with additional cinnamon, if desired.

Make Ahead: Prepare and bake cakes as directed. Store in refrigerator overnight. To reheat cakes, microwave on HIGH 30 to 60 seconds or until heated through.

Test Kitchen Tip: Recipe for Cocoa Whipped Cream can be doubled. Serve remaining whipped cream on other desserts, hot cocoa or coffee beverages.

Notes from The Little Kitchen: I used 3.5 oz ramekins, ones you can find at World Market. I added 2 1/2 Tbsp of batter into each ramekin and used 1/2 Tbsp of the sugar-cocoa powder mixture on top.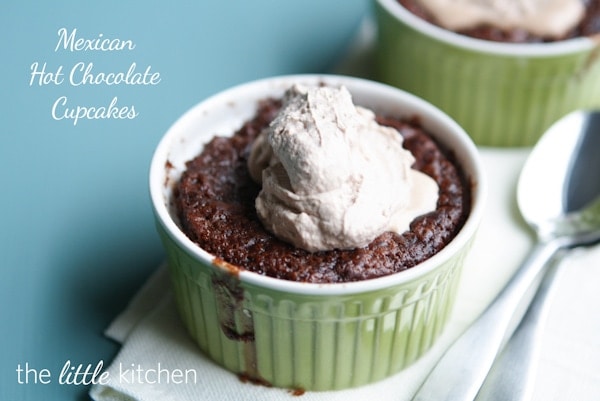 Disclosure: This is a sponsored post. I love working with McCormick and I only work with brands I love – as always, the opinions expressed here are always my own!