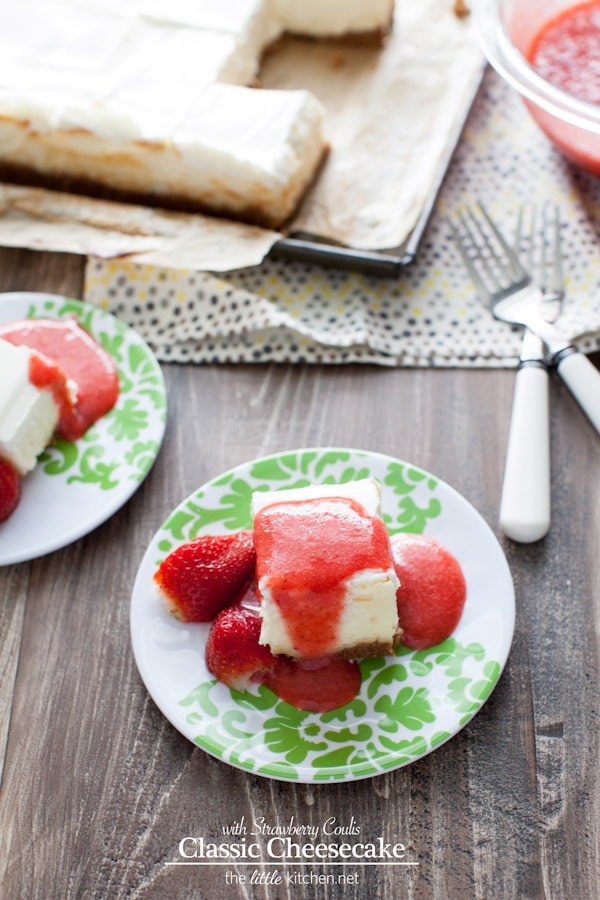 Recently, we were invited by Princess Cruises on an Alaskan Cruise and I'm so excited to share with you, our adventures!
We had a blast, it was our first cruise. We met some wonderful people, saw some great sights and had a trip of a lifetime!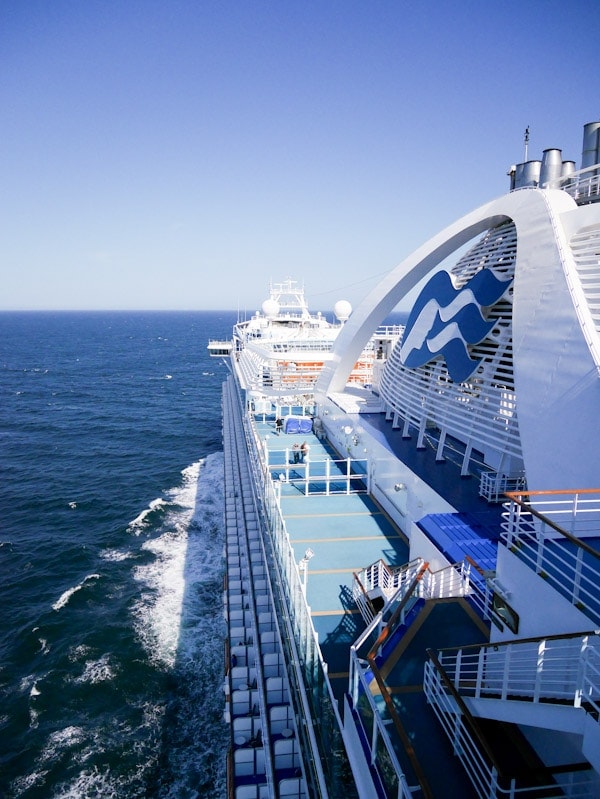 Quite literally, all of our surroundings in Alaska looked like a postcard…pictures took themselves. I remember, quite fondly, at our first port, in Ketchikan telling our tour guide that I was taking pictures of postcards. In awe, I'm so happy we got to go on this cruise to Inside Passage Alaska…making memories we will cherish for a lifetime.
We both absolutely loved this cheesecake…I ordered it every night we could in the dining room. I was so excited when I found it in the cookbook that they gave us, called Courses: A Culinary Journey. And I'm so happy we get to make it at home now!
I'm going to share with you five things I loved about our Alaskan Cruise…
1) The Desserts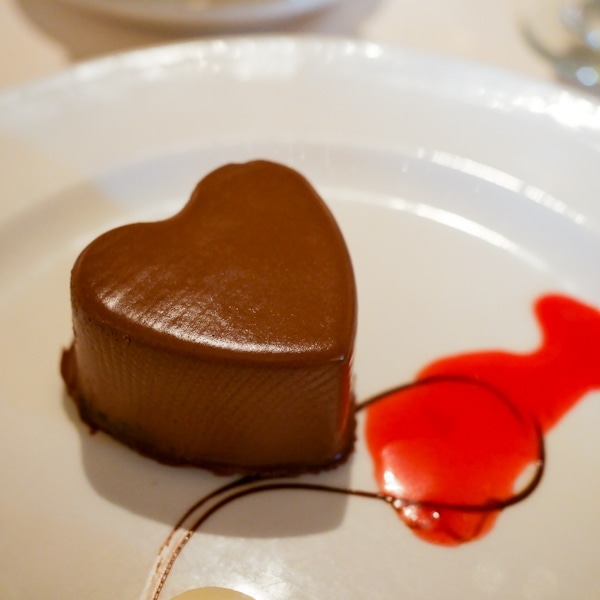 They were amazing. Love love loved our desserts! This one was the Princess Love Boat Dream (chocolate mousse on a brownie!) and it was heart-shaped!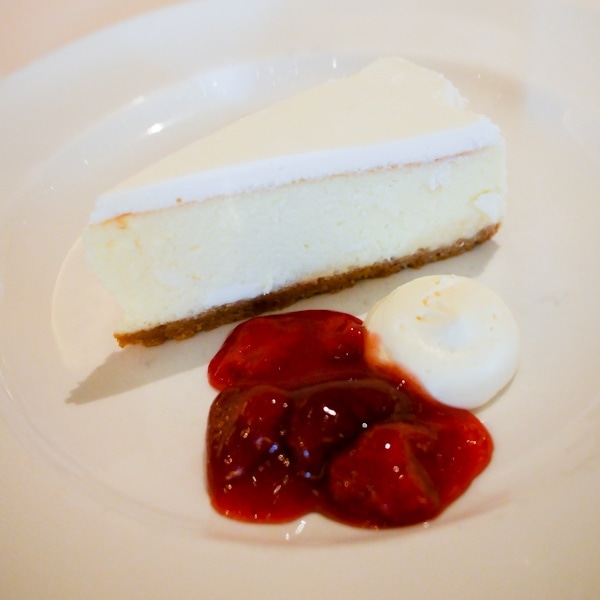 The wonderful cheesecake!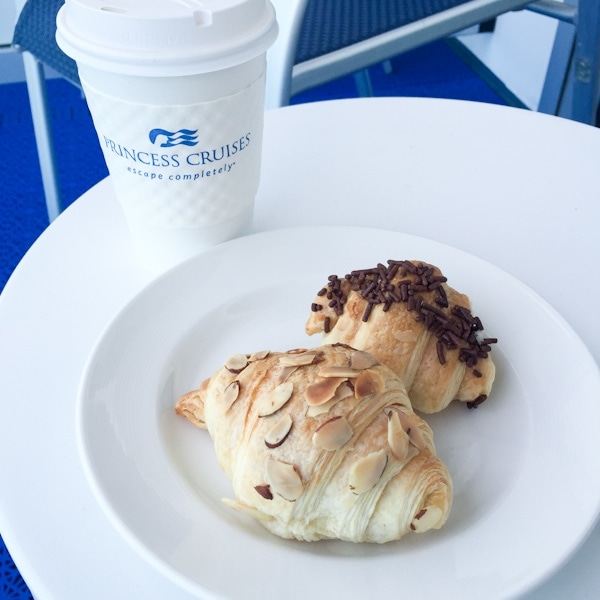 I also had desserts for breakfast every day…we loved the croissants. Curtis' favorite were the chocolate croissants while mine were the almond ones!
And this dreamy dessert was a chocolate raspberry mousse with vanilla creme brulee and crunchy shortbread.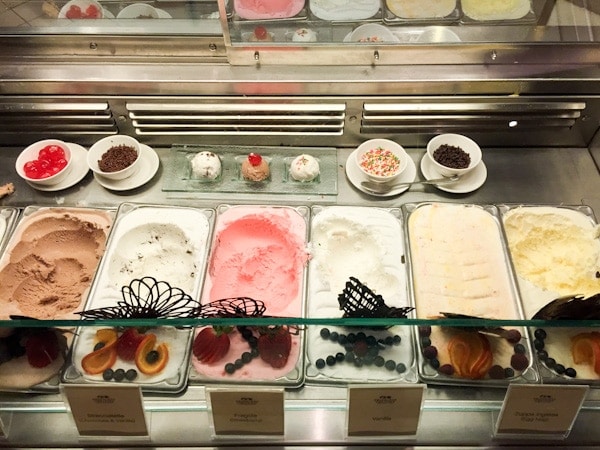 And gelato 24/7!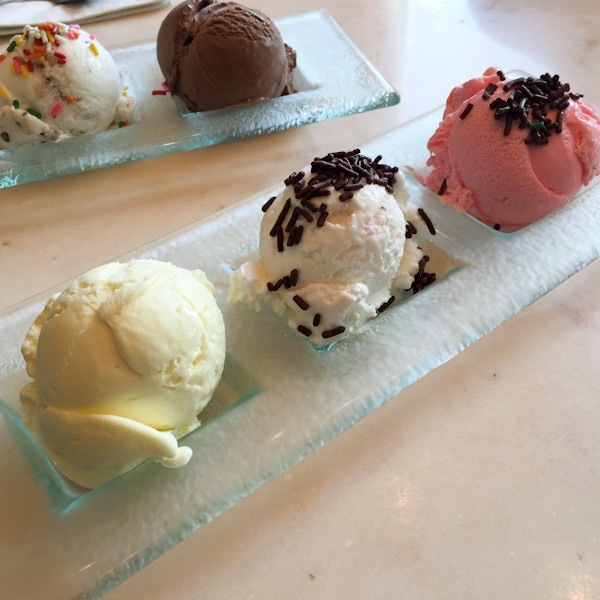 Gelato makes me smile and reminds me of Italy!
2) Riding a Helicopter and Landing on a Glacier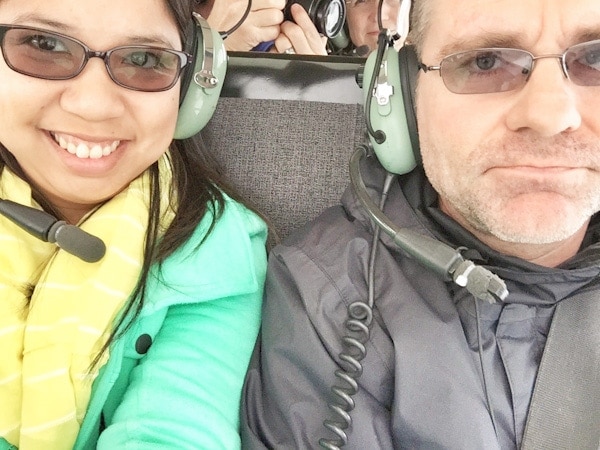 Look at Curtis' face. Our first time on a helicopter and I just had to take a selfie! 🙂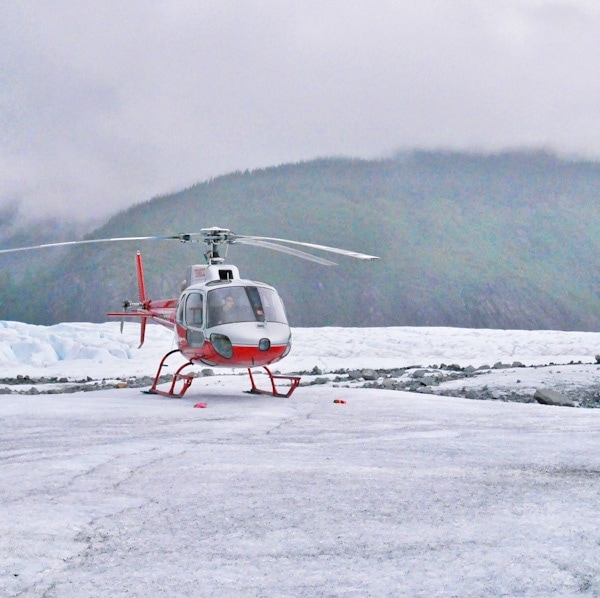 Seriously, we rode a helicopter onto the Mendenhall glacier. What an amazing experience.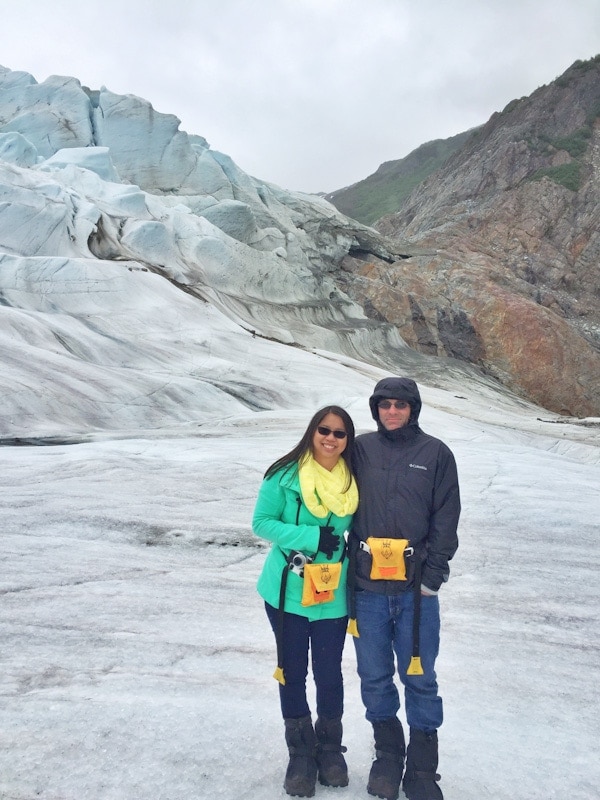 It was really cold. That's all I remember. I also remember being in awe of the young women who work on the glacier 12 hours a day, welcoming tour group after tour group and enthusiastically sharing all about the glacier.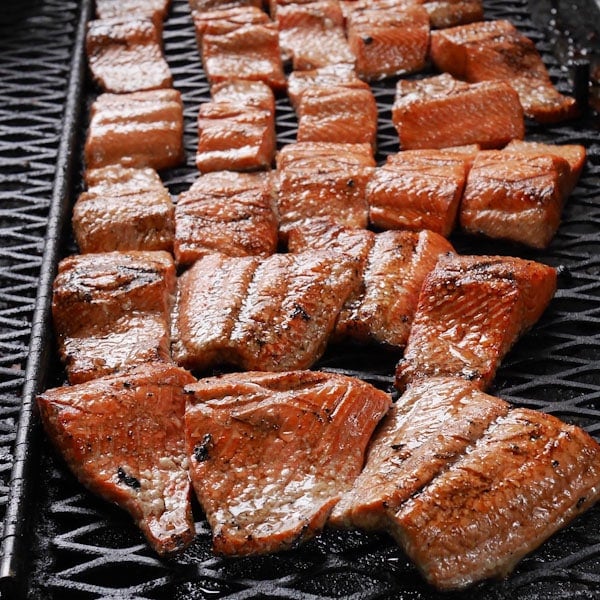 And then we got to dine on amazing Alaskan salmon at the Salmon Bake!
3) Seeing a Glacier at Tracy Arm & a Blue Iceberg!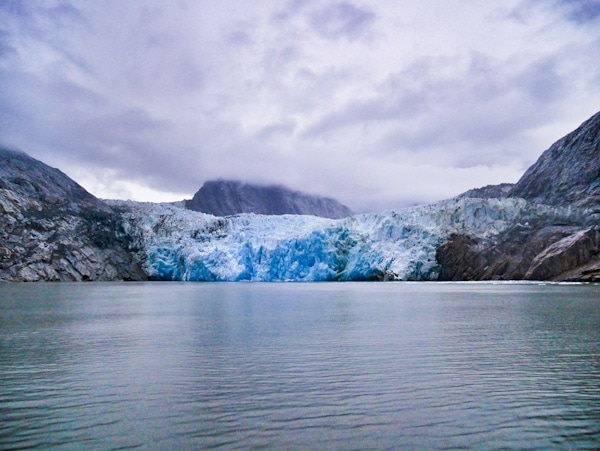 We were one of 170 who got to take part in the Tracy Arm Fjord cruising. Early early early in the morning, we piled on much smaller boats (than our cruise ship) and got to cruise up really close to the Sawyer Glacier.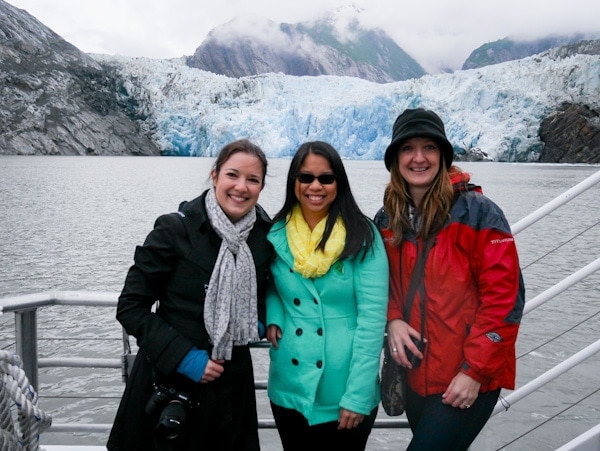 I got to enjoy the cruise with these lovely ladies and their husbands! 🙂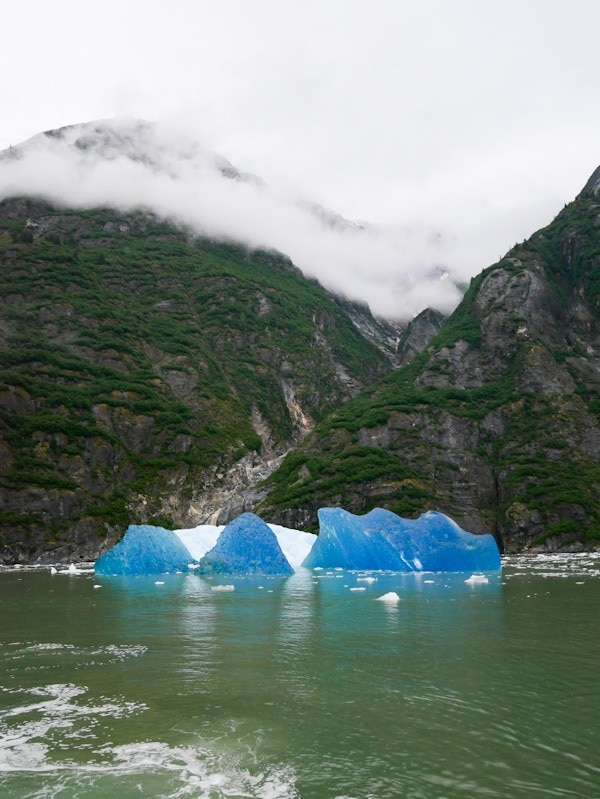 And then we saw a blue iceberg. Our cruise boat captain commented on how she has lived Alaska all her life and this was the most beautiful iceberg she had seen in her life.
It looks like blue icy hot doesn't it? I know it looks almost unreal. It was beautiful seeing it in person.
We learned that the blue ice is the oldest, when it snows and gets cold, the ice compacts and when it's robbed of oxygen, it compacts even more and turns blue.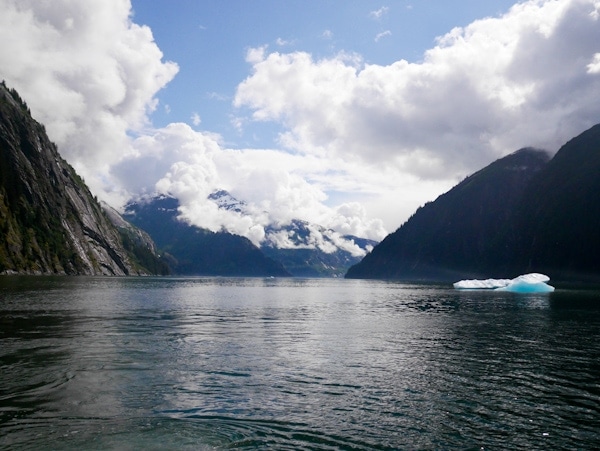 Seriously, glorious.
4) Ice Cream and Mini Golfing!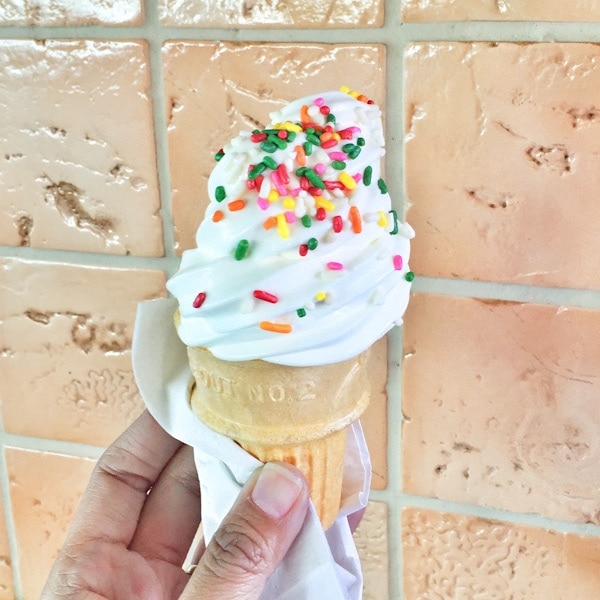 I know it was cold but it's never too cold for soft serve ice cream and sprinkles!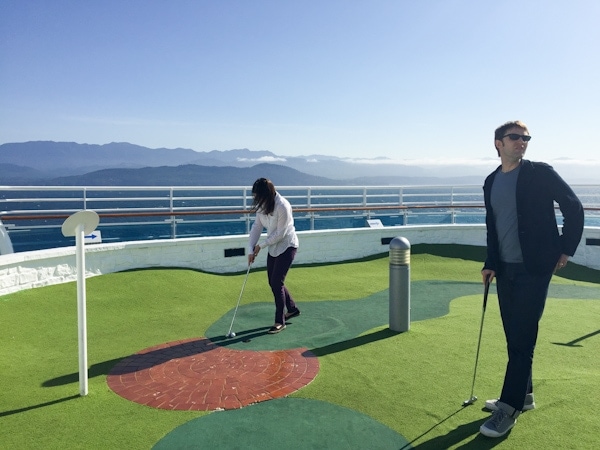 And mini gold…with Alaska in our sights…what a fun time and a beautiful sight!
5) Chef's Table Experience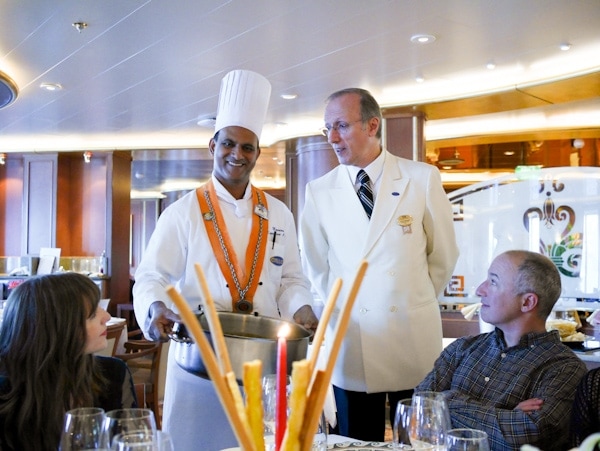 Depending on the number of days, there might be only 1 or 2 chef's table experiences available. You have to book it as soon as you get on board otherwise it books up quickly.
The executive chef and the maitre'd treated us very well to many courses…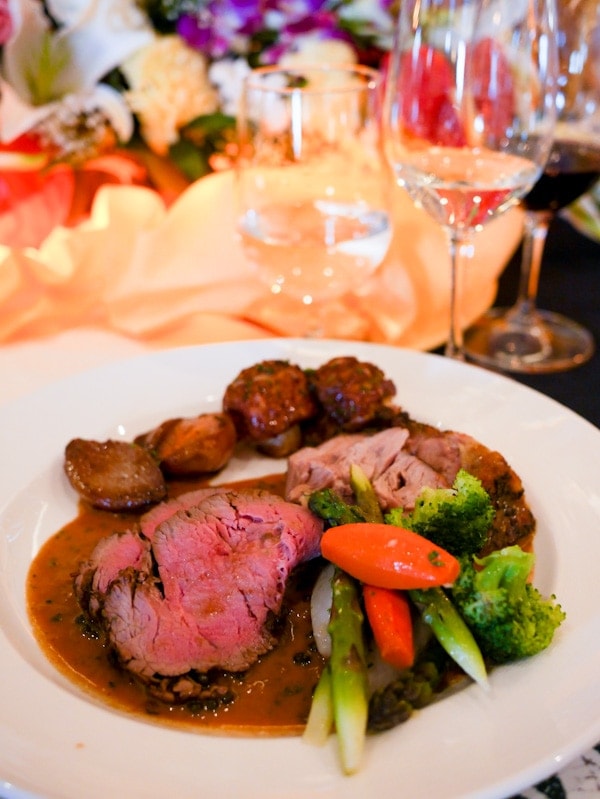 A beautiful roasted filet and in the background are mushroom-shapped potatoes. We loved this meal!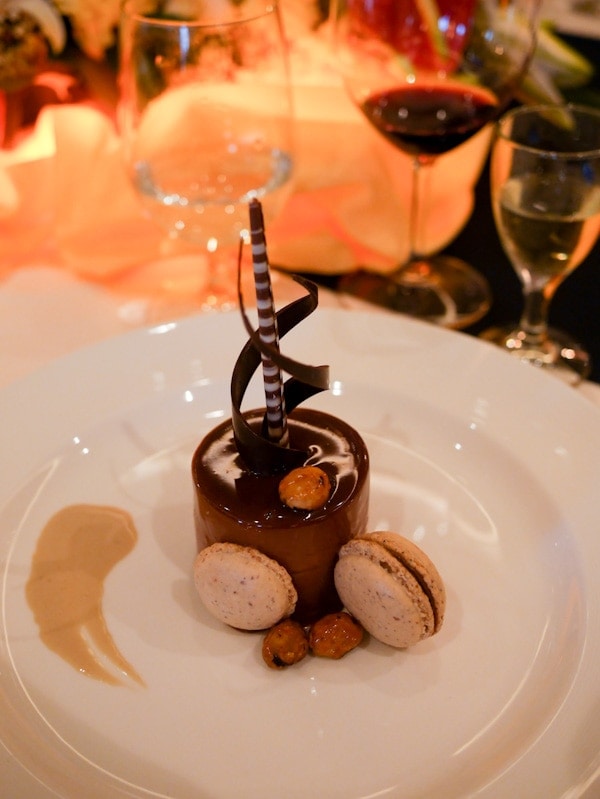 And the dessert was a hazelnut chocolate mousse with caramel on top with hazelnut macarons. Dreamyyyy!
And now I must turn your attention back to the cheesecake!
In the world of cheesecakes, it's a really easy recipe…it does take some time in between where you have to allow the cake to cool to room temperature (twice) so it's best to make this during the weekend.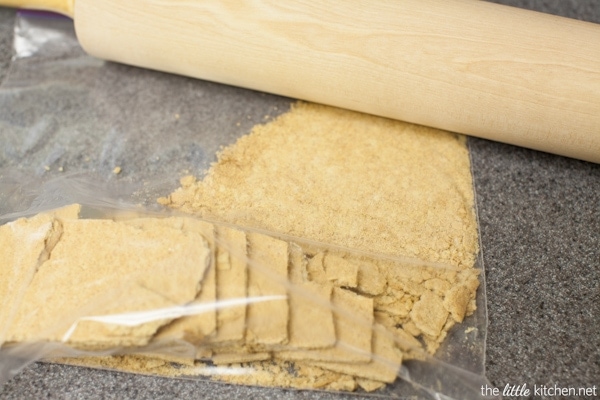 I put the graham crackers in a zippered plastic bag and turn them into crumbs using a rolling pin.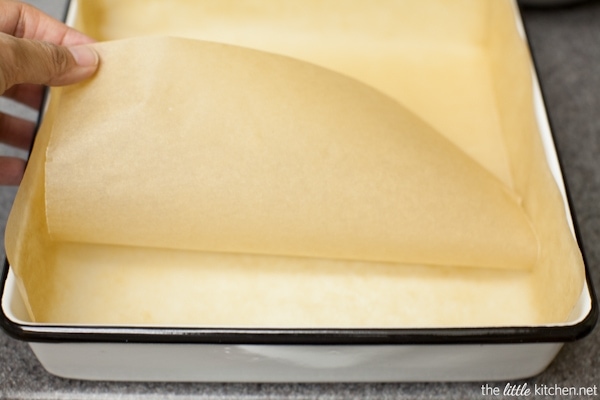 I created a sling with the parchment paper in my 9-inch square baking dish.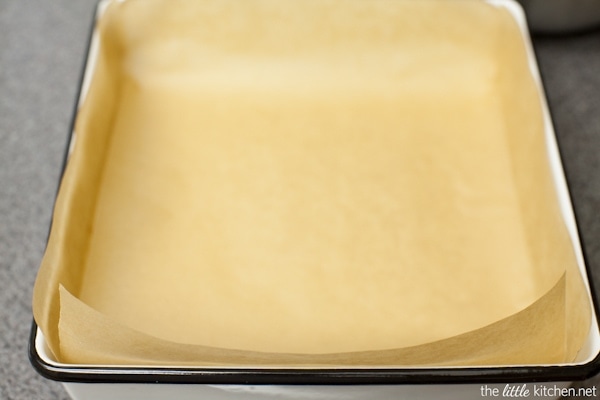 All set!
Mix in the ground cinnamon and then the powdered sugar.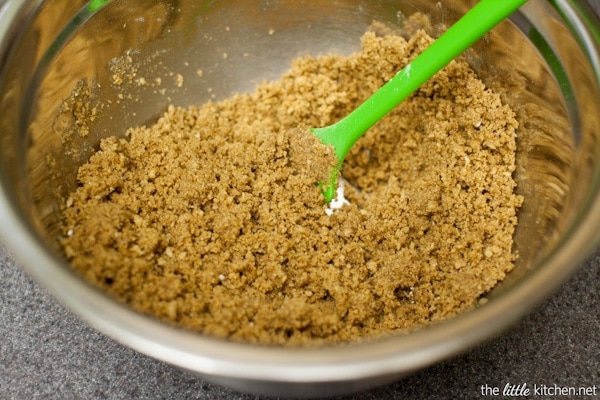 Add the melted butter and mix together.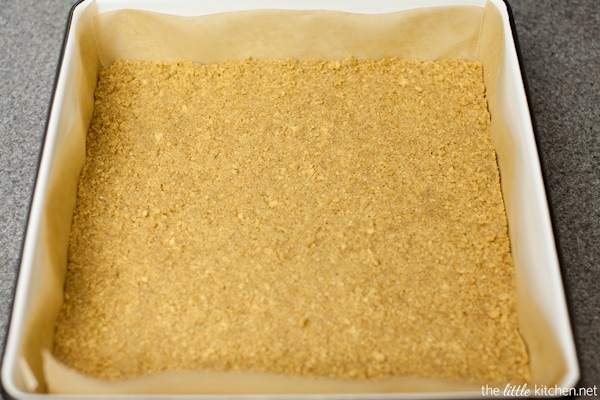 Put into the bottom of the baking dish and use your fingers to pat down the crust.
I love that you don't have to bake this crust…it's much better this way!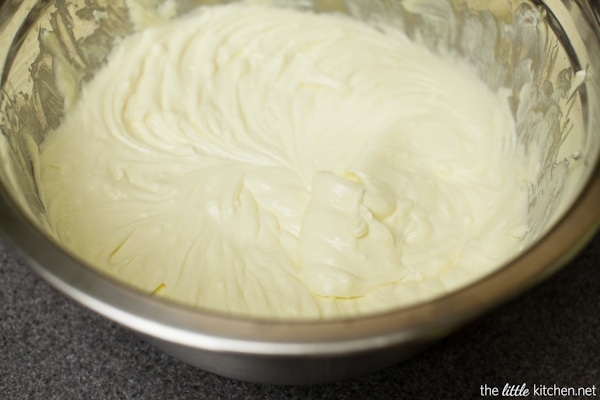 Mix the filling.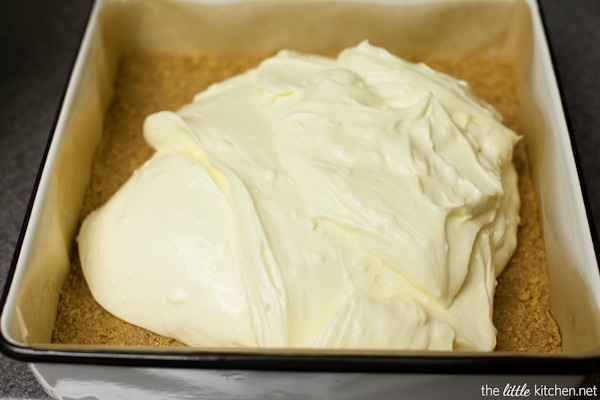 And then pour over the crust.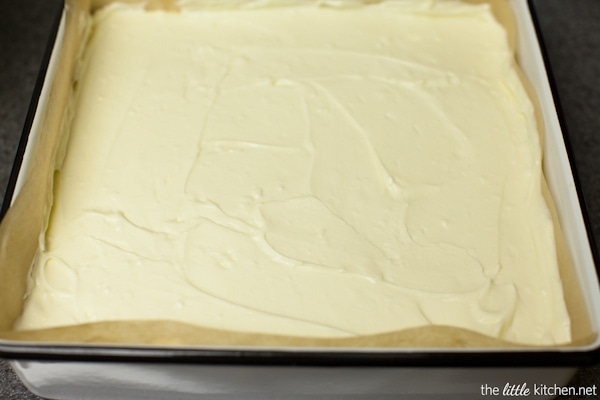 And smooth the filling out with a spatula.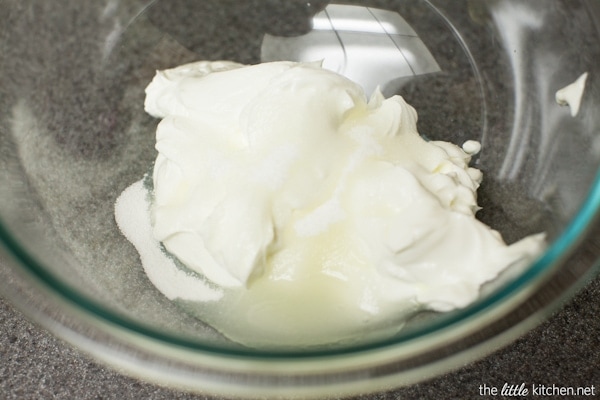 Mix the sour cream topping ingredients together.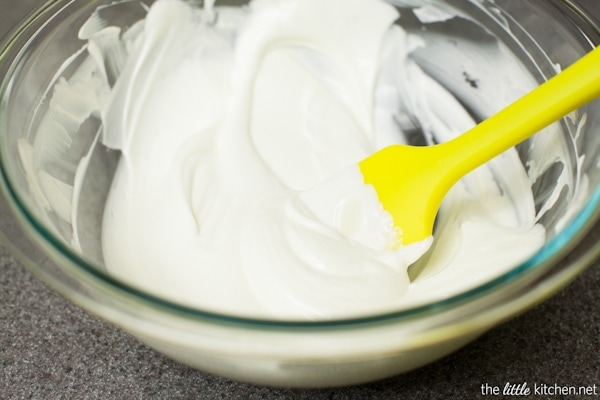 Nice and smooth.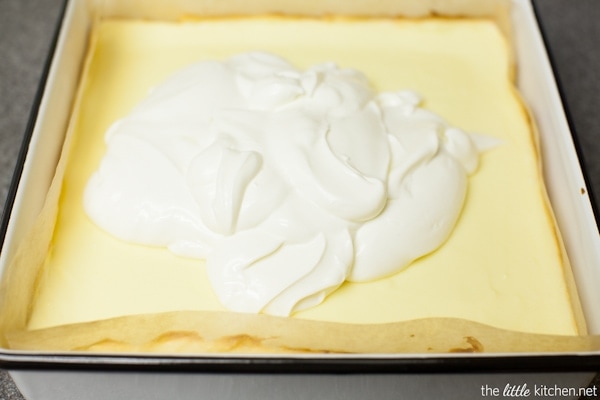 Smooth it out after pouring over the baked cheesecake filling.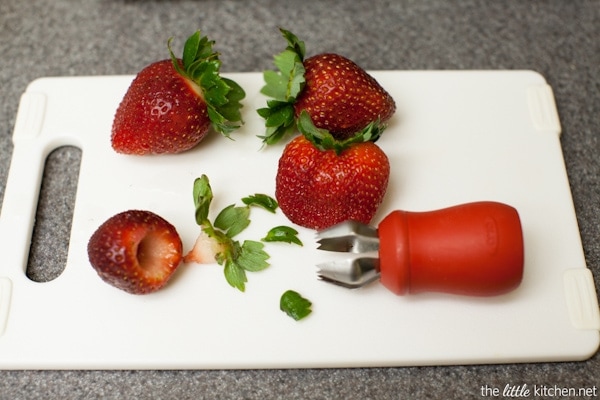 Wash, hull and slice the strawberries.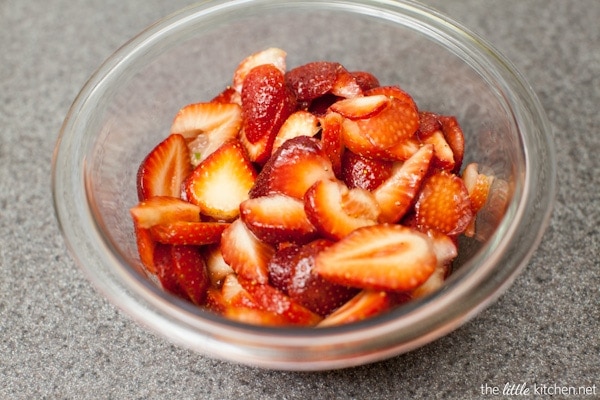 Marinate the strawberries before blending in a blender.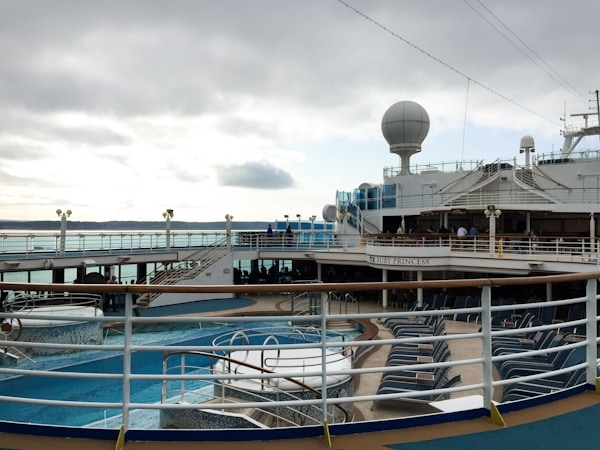 Every time we make this cheesecake, we'll remember our Alaskan Cruise aboard the Princess Ruby!
And of course Alaska!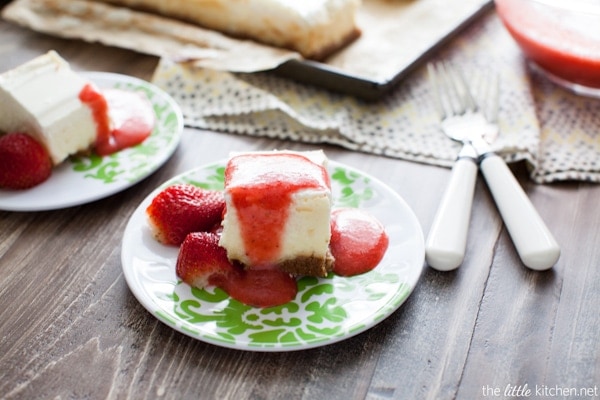 I know you'll love this cheesecake recipe! Excuse me while I go cut off another piece and have it for dinner! 🙂
Recipe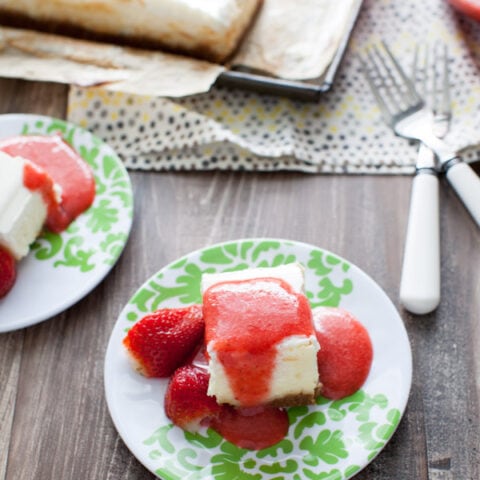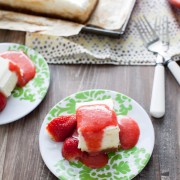 Print
Pin
Classic Cheesecake with Strawberry Coulis Recipe
Servings
1
9-inch square or round cheesecake
Ingredients
Graham Cracker Crust
1 1/2

cups

graham cracker crumbs

,

about 13 graham crackers

1/2

teaspoon

ground cinnamon

1/4

powdered sugar

7

Tablespoons

unsalted butter

,

melted
Cheesecake Filling
4

8 ounce packages of cream cheese, room temperature

3

large eggs

,

room temperature

1/2

cup

granulated sugar

1

teaspoon freshly squeezed lemon juice

pinch

of salt
Sour Cream Topping
1 1/2

cups

sour cream

2

Tablespoons

granulated sugar

1/2

teaspoon

freshly squeezed lemon juice
Strawberry Coulis
2

cups

fresh sliced strawberries

3

Tablespoons

orange liqueur

1

teaspoon

freshly squeeze orange juice

1

teaspoon

freshly squeezed lemon juice

fresh strawberries
Instructions
Place graham cracker crumbs and ground cinnamon in a medium sized mixing bowl and mix together thoroughly with a rubber spatula. Add powdered sugar and mix thoroughly. Add melted butter and mix well. Prepare a 9-inch round cake pan by cutting a round piece of parchment paper, grease the bottom of the pan and the sides with a nonstick baking spray. Place the parchment paper at the bottom of the pan. If using a 9-inch square pan, cut two long strips of parchment paper and place them in the bottom of the pan, creating a sling.

Add the graham crack crumb crust to the bottom of the pan (over the parchment paper), use your fingers creating an even layer of crust across the bottom of the pan. Cover the pan with plastic wrap and chill in the refrigerator for at least one hour.

Heat the oven to 370 degrees F. Add cream cheese to a large mixing bowl. Using an electric hand mixer, beat the cream cheese until smooth. Add eggs and mix until smooth. Add sugar, lemon juice and salt and mix until well combined. Pour the cream cheese filling over the crust in to the pan. Bake for 22 to 25 minutes at 370 degrees F. The cheesecake will be slightly soft in the middle and should be hot all the way through. (If the cake splits, it is over baked).

Remove the cake from the oven and place on a cooling rack. Allow to cool to room temperature, at least one hour.

Add sour cream, sugar and lemon juice to a small glass mixing bowl. Mix together thoroughly with a spoon. Heat the oven to 425 degrees F. Spread the sour cream topping on top of the cheesecake and smooth with a spatula. Bake the cheesecake for another 6 to 8 minutes, just to set the sour cream topping. The cake should not brown at all.

Remove the cake from the oven and allow to cool to room temperature, at least one hour and 15 to 30 minutes. Once it's room temperature, cover with plastic wrap and allow to chill for at least 2 hours (or overnight) in the refrigerator.

Mix sliced strawberries, orange liqueur, orange juice and lemon juice in a glass bowl. Allow to marinate for 5 minutes and then add to a blender.

Serve cheesecake sliced with the strawberry coulis and fresh strawberries.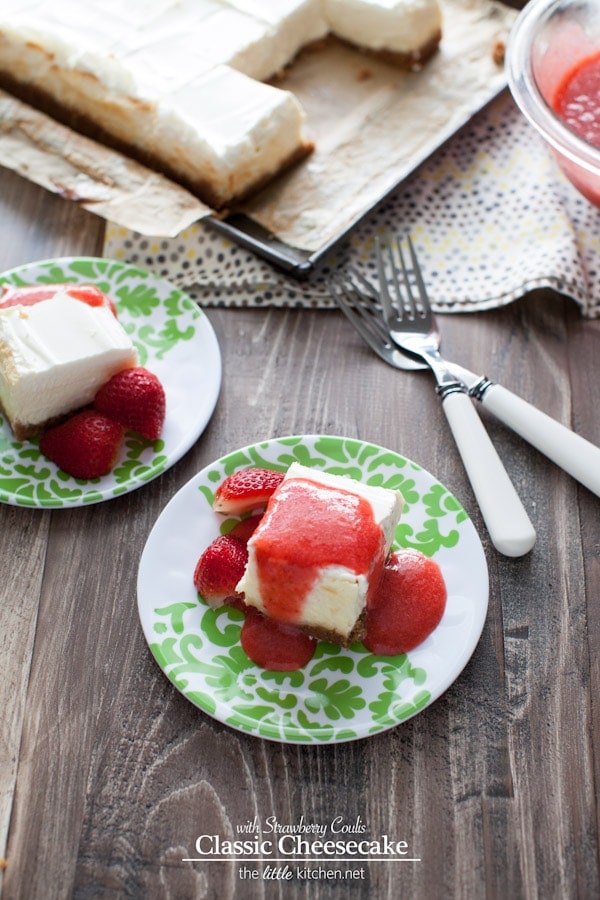 Be sure to check out my five tips for cruising!
Disclosure: This post is sponsored by Princess Cruises. I only share with you brands that I love and share with you my own opinions. There are affiliate links in this post.