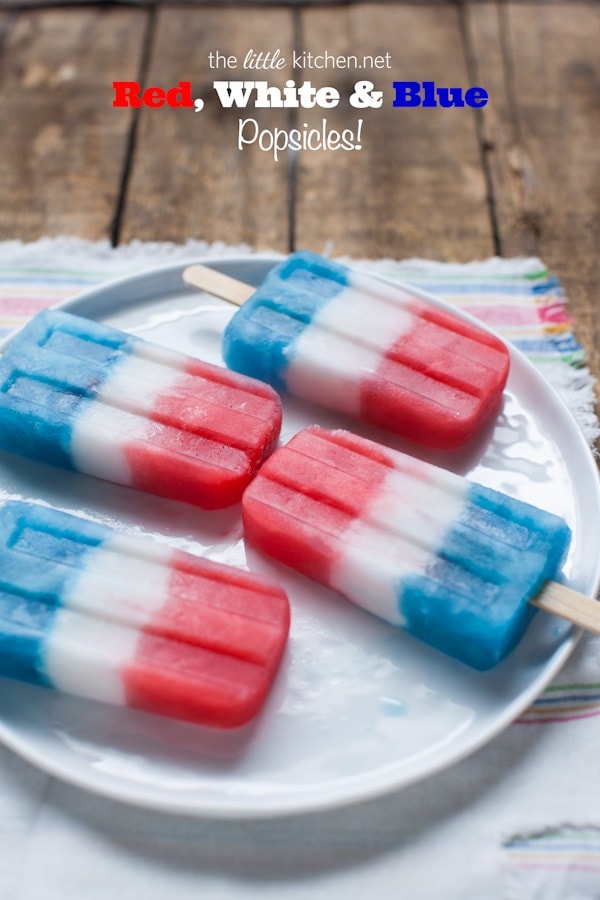 It's almost July 4th! What we usually do for July 4th is smoke a brisket in our charcoal smoker but I think this year, I'm going to be making popsicle and slushies. It's so hot lately!
I feel so fortunate to get to work with McCormick once again, I will be sharing fun creations once a month or every other month — all using McCormick products and sponsored by McCormick.
I have to admit, I'm late to the popsicle party in my adult years. I do remember lovingggg them as a kid though. I was born in Southern California and in our neighborhood, there were men who would push these popsicle carts and sell wonderful popsicles that were pineapple, mango or coconut. I don't remember all of the flavors but I just remember loving them. They were way better than your run of the mill ice cream truck fare. So when McCormick asked me to make a frozen treat for summer, I knew I wanted to do something with coconut.
These red, white and blue popsicles aka bomp pops or 4th of July pops are a little bit of work but ohhhh so worth it. The red is watermelon, I used fresh watermelons pulsed in a blender, the white is coconut, I used coconut milk and McCormick® Imitation Coconut Extract to kick up the coconut flavor and the blue is blue raspberry using McCormick® Raspberry Extract and blue food color.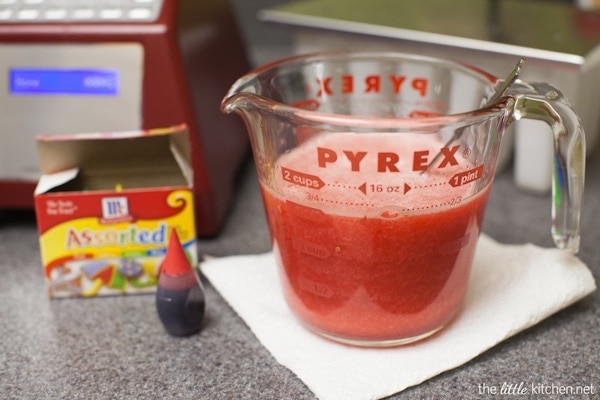 First make a sugar water mixture, I don't call it simple syrup because I'm not using the usual 1 part water to 1/2 part sugar. I'm using less sugar than usual. Bring the sugar and water to boil until the sugar has dissolved. Remove from heat and allow to cool to room temperature.
First up is the top of the popsicle — watermelon! I blended chopped watermelon and the sugar water in a blender until smooth and then poured into a measuring cup. This is completely optional but I wanted my watermelon to be less pink and more red so I added a few drops of McCormick® Red Food Color.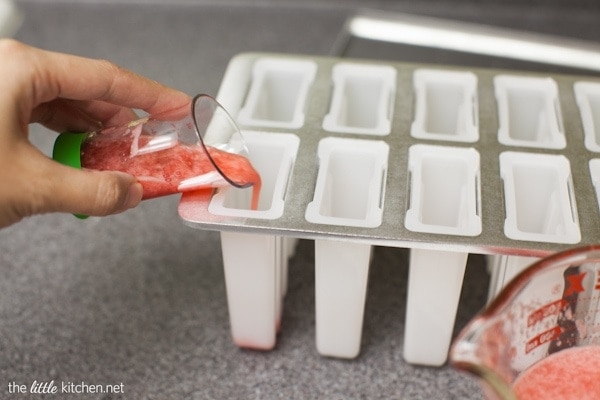 Next pour into your Freezer Pop Maker. This one has 10 molds and each one holds 2.5 ounces. The first time I made this recipe, you should have seen the mess I made…this time when I made them again, I tried to figure out the best way to pour the three different flavors into the molds without A. making a mess and B. getting each flavor equal playing time. In comes these wonderful inventions. Of course you don't have to have them to make this recipe but they do make your life easier.
Since each mold holds 2.5 ounces, I figured that I needed about 0.80 ounces of each flavor and I used the fun little OXO beaker measuring cups to make it easier to measure the right amount and make less of a mess. I wish I photographed my first popsicles for you…they were way messy and not too attractive but at least they tasted great!
After getting the watermelon into the molds, freeze for 1.5 hours or until set. Don't be impatient like me or you will have flavors/colors merging together.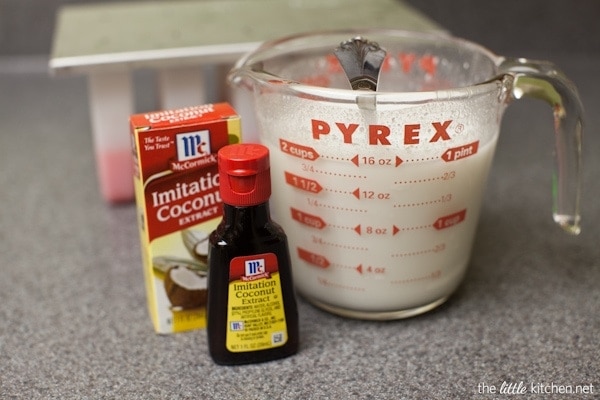 Next up is the coconut section. You don't have to mix the McCormick® Imitation Coconut Extract into the coconut milk if you don't want to but I really liked the boost of flavor it gave to the coconut milk.
Tip: Taste the mixtures as you mix them together. If it's too sweet for your taste or not sweet enough, this is the same taste you will be having when it freezes so it's a good idea to taste each one and make sure you like it!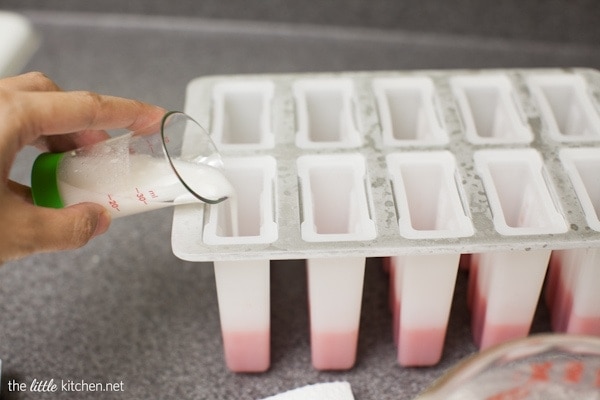 Once again, I poured 0.80 ounce of the coconut over the frozen watermelon section into the popsicle molds.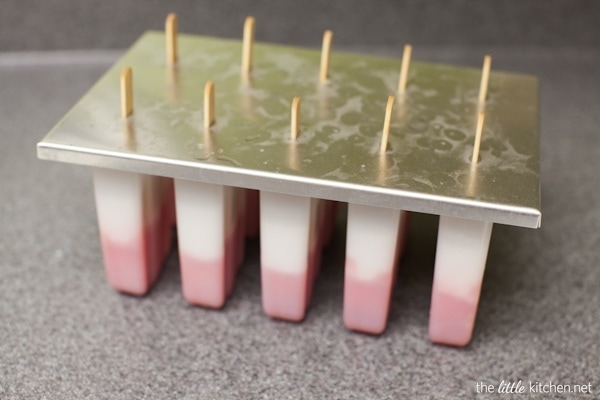 Then, I added the aluminum cover and added the popsicle sticks. I learned from my messy first try that when you don't add the popsicle sticks at this time and add it at the end after the blue raspberry is poured, you risk breaking through the coconut and the blue merges a little with the coconut.
Stick the freezer popsicle molds back into the freezer until it's completely set. I froze for about 2 hours. About 1 1/2 hours into it, I removed the aluminum cover, there's a little monkeying around with it because the sticks are tight. Removing the cover is essential because you'll need to pour in the blue raspberry section.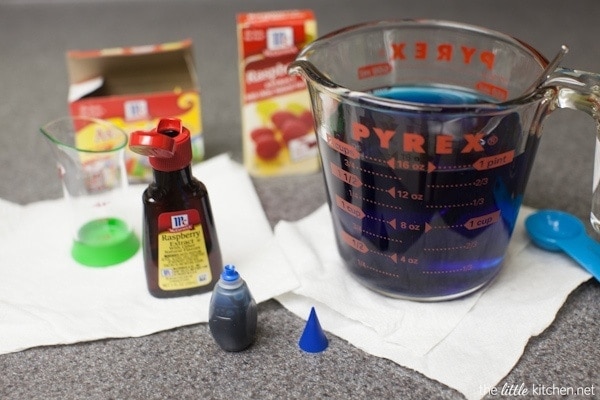 Ahh, I love blue raspberry…the blue comes from the drops McCormick® Blue Food Color into the sugar water mixture along with the McCormick® Raspberry Extract.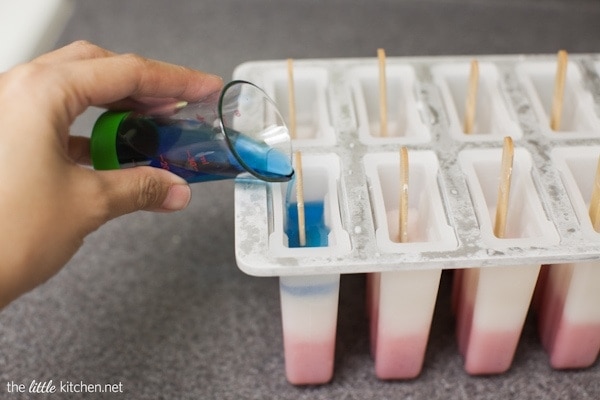 And there's that OXO measuring beaker again. I used it to pour the last part of the popsicle into the molds. You might think, oh well I don't need to measure the blue raspberry liquid part. Well think again, you may over pour and make a mess. Hint hint 🙂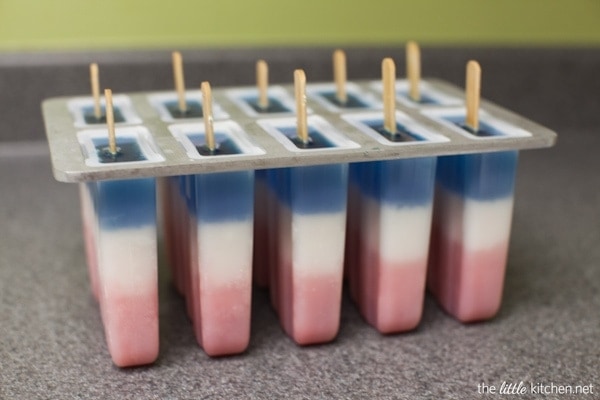 And there it is, isn't she pretty?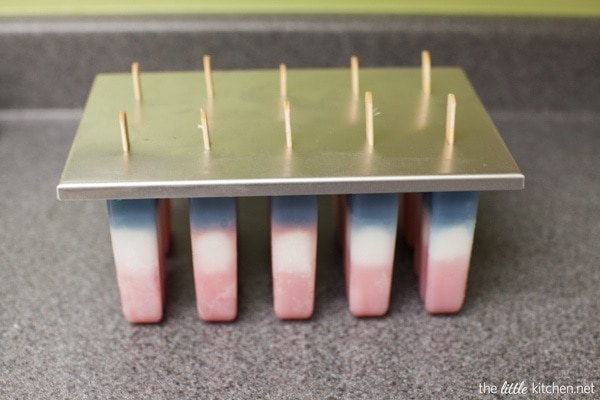 Add that aluminum cover back on, I'm not going to tell you it's easy to do but it's doable. Then freeze for at least 4 hours. I froze it overnight and then ran warm water on the aluminum cover and then removed it. Then, I had to run cold water on each mold and unmold it, one at a time. I wouldn't run water over all of the molds at once because by the time you get to the end, your last popsicle will be partially melted.
I lined a baking sheet, I love this one because it fits nicely into my freezer, with wax paper and put the popsicles on it until I was ready to photograph/serve them. Wrap them in wax paper and put them in zippered plastic bags to keep them for longer.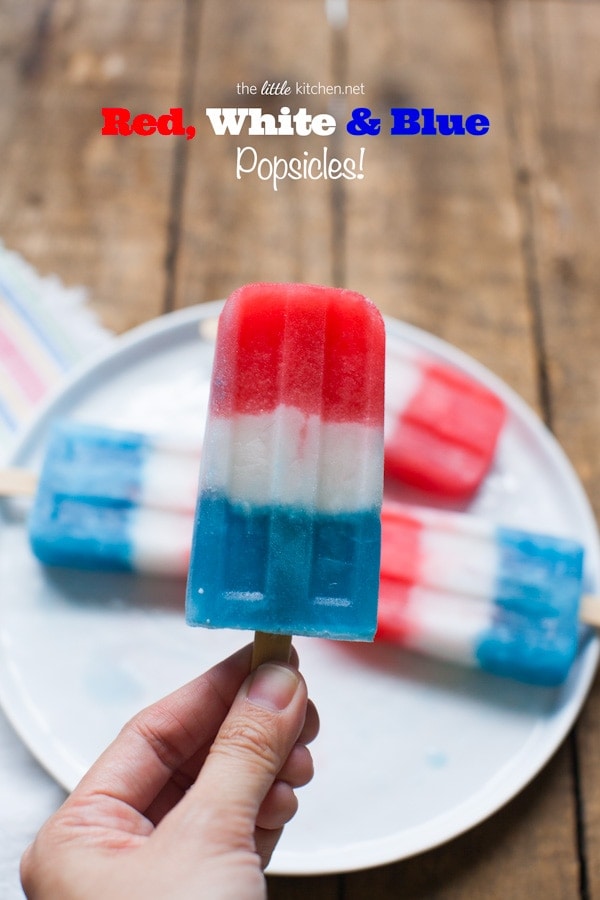 I feel like I sound like a broken record because I always tell you this, I ate too many of these. I'm loving the flavor combinations and actually, when I made this second batch, I thought of sharing them with our neighbors across the street. They have 4 kids and are having a good ol' time playing outside lately (because it's summer!), I know because my dogs like to bark at them through the front door. 🙂 Anyways, I'm beginning to rethink sharing these wonderful popsicles, sounds terrible doesn't it? Because they taste sooo good! I can't tell you which flavor is my most favorite but I love the fresh watermelon taste, the coconut is a nice middle and because of the wonderful raspberry extract — the blue raspberry is so fun.
The dogs beg for a piece of my popsicle every time now and I can't wait to come up with other frozen treat combinations. Happy 4th to everyone in the U.S.!
Recipe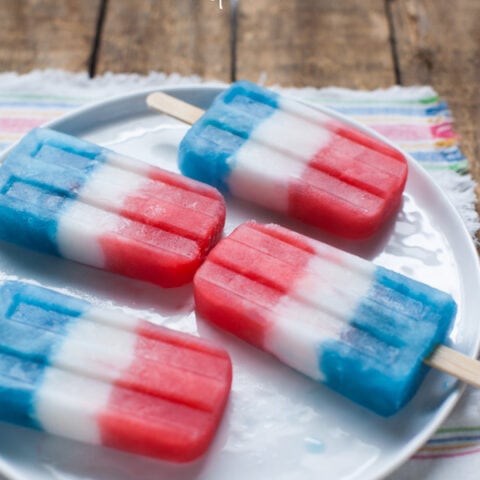 Print
Pin
Save
Red, White & Blue Popsicles Recipe
Ingredients
Sugar Water Mixture
3

cups

water

1 1/4

cups

sugar
(Red) Watermelon Layer
3/4

cup

sugar water

1

cup

chopped seedless watermelon

2 to 4

drops McCormick® Red Food Color

,

optional
(White) Coconut Layer
1

cup

sugar water

1/4

teaspoon

McCormick® Imitation Coconut Extract

1

cup

coconut milk
(Blue) Raspberry Layer
2

cups

sugar water

2

teaspoons

McCormick® Raspberry Extract

5 to 7

drops McCormick® Blue Food Color
Supplies needed
popsicle sticks

,

soak the sticks in warm water for at least 30 minutes

baking sheet or tray that fits in your freezer
Instructions
Sugar Water Mixture
Bring water and sugar to boil in small saucepan on medium heat, stirring to dissolve sugar.

Remove from heat. Cool to room temperature.
(Red) Watermelon Layer
Pour syrup into blender container. Add watermelon and cover.

Blend on high speed until smooth. Using a measuring cup with a spout or the OXO measuring beaker, pour watermelon mixture popsicle molds to fill 1/3 of the way (for my popsicle molds, that means 0.8 ounce). Freeze for 1 1/2 hours or until set.
(White) Coconut Layer
In a measuring cup, mix together coconut milk, sugar water and coconut extract. Fill the freezer pop mold until it is 2/3 of the way full.

Add the aluminum top and add the popsicle sticks. Freeze for 2 hours or until set. At about 1 1/2 hours, remove the aluminum top and put popsicle molds back into the freezer.
(Blue) Raspberry Layer
Add sugar water mixture to another measuring cup. Stir in raspberry extract and add blue food color. Mix well. Pour into the freezer pop mold until full and freeze 4 hours or overnight or until firm. Follow manufacturer instructions on how to remove the popsicles.

After unmolding, popsicle sticks can be stored in zippered plastic bags in the freezer, use wax paper to keep them separated.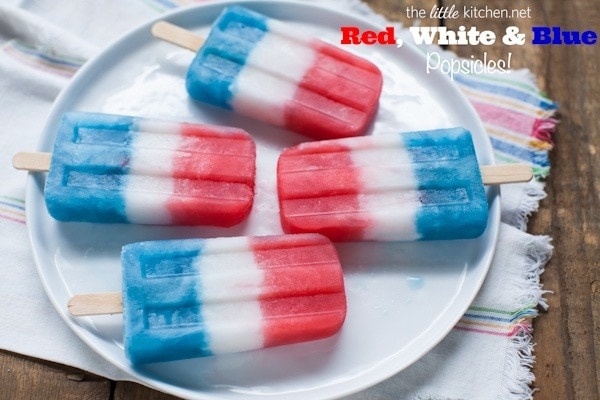 Other popsicle and frozen treat recipes:
Tequila Watermelon Popsicles
Marionberry (Blackberry) Mojito Ice Pops
Lemon Blueberry Popsicles
Easy Homemade Slushee Recipe
Raspberry Cheesecake Popsicles
Other Red, White & Blue Recipes:
Mini Strawberry Short Cakes
Red, White and Blue Vanilla Bean Spritzers
Red, White & Blue Funfetti Sandwich Cookies
July 4th Layered Drinks
Disclosure: This is a sponsored post. As always, I only work with brands I love and you only get my honest opinions. And there are some affiliate links in this post.