Hi friends…it's been a little quiet in this space. If you follow me on instagram, you know I have been traveling a lot. But I realized something over the last couple of weeks and even more so the last few days…that I haven't been feeling well for a long time. And things got so busy and I was feeling blah so I hadn't been posting as much. I honestly didn't think anyone would really notice. It's summertime, there's a lot going on. 🙂 I'm thankful for dear friends who texted me asking if I was ok.
At first I said yes, I'm doing fine, but I really wasn't. I have had this lingering cough literally since February. I went to the doctor in March and he told me to try a new maintenance inhaler for my asthma and it might have worked for a little bit. But this cough would not go away. A few weeks ago, it actually got worse and it was making me feel worse. I couldn't have a conversation without coughing every few words and when I would take a deep breath, I would end up in a coughing fit. The weird thing is, I never had a cold or bronchitis this year. This cough seemingly came from nowhere.
Before I left for New York, I went to my allergy doctor once again and this time, he threw more at the cough. Different meds, a nebulizer treatment and even antibiotics. And it started to get a lot better. Thank goodness for that. And last week, I went to a new primary care doctor and she's amazing. Seriously, I felt much better after leaving…she talked to me for a long time and answered a lot of my questions. I learned that my allergies, my asthma, sleep apnea and now I know that I have acid reflux are all related. And this cough has been affecting my breathing…even though I thought it wasn't.
Today, I am feeling so much better…better than I have in a long time. You don't realize how much you are coping with something until you start to feel better. Isn't that interesting? And honestly, my usually positive outlook and productivity was being affected. Not feeling well affects a lot of things.
When I was a kid, I was sick a lot and I was on a lot of medicine…constantly. I don't want to be on tons of medicine now and as an adult, I'll be the first to admit that I wait too long to go to the doctor…for fear that it's nothing and for fear that I'm being too dramatic. I have to work on taking care of myself and not wait to go to the doctor until it's so bad that I'm literally miserable.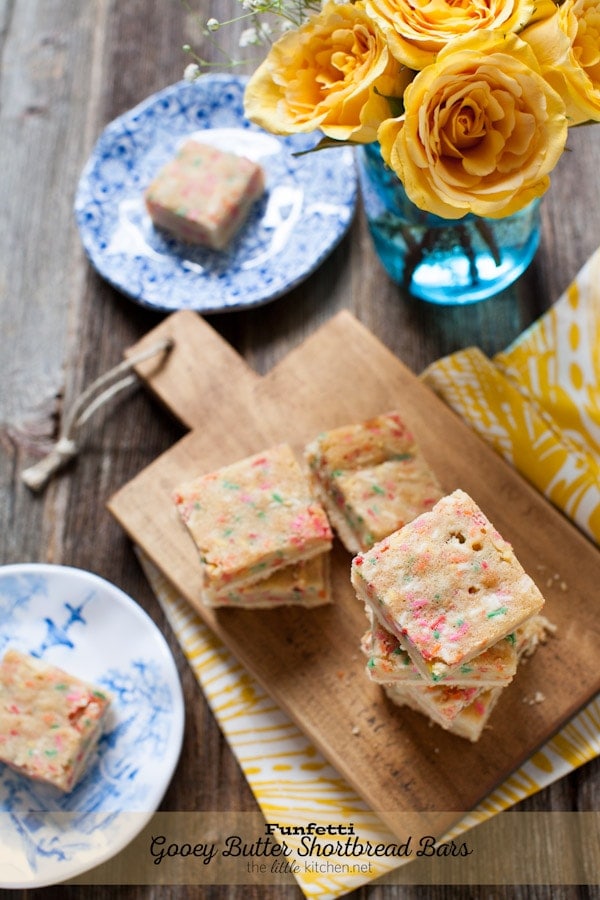 Okay, enough about my stupid cough. How about these shortbread bars? It all started when I went to Oklahoma and the Land O'Lakes team shared with us a new butter…their new European-style butter.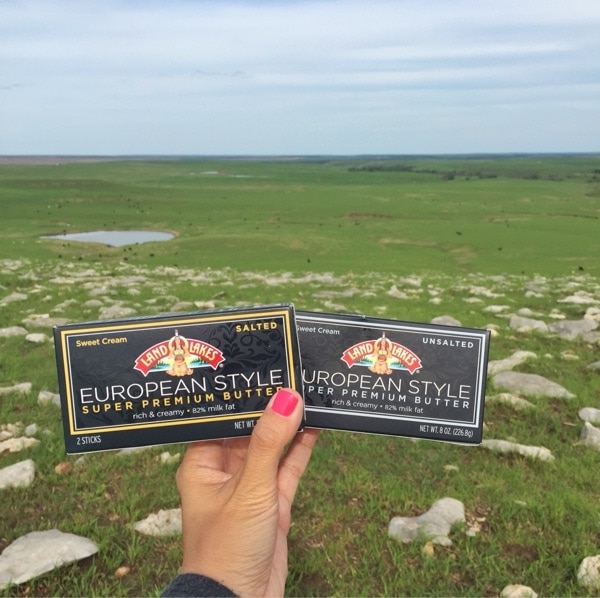 I fell in love with their butter…and these gooey shortbread bars they shared with us. I actually made them not too long after I came home. But I couldn't help changing them a little bit and adding sprinkles!!! Making them funfetti!
They are really really easy to make. They were the first thing I made in my new Raspberry Ice Stand Mixer that I named Betsy. 🙂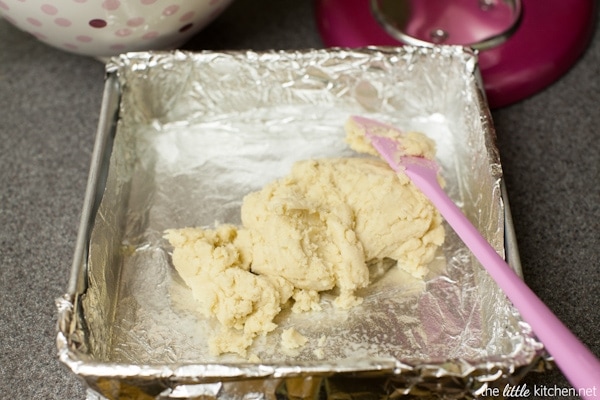 The crust is a shortbread crust…it's heavenly because it involves a whole stick of butter.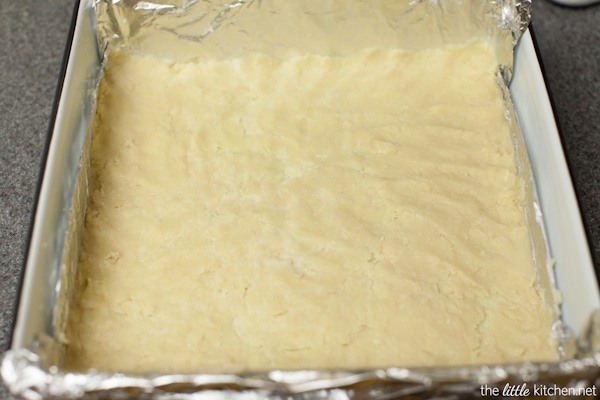 Smooth it out evenly and then bake for 15 minutes.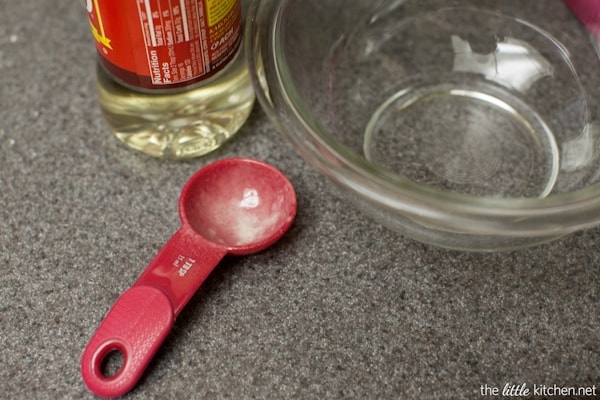 While that's baking, make the funfetti topping. Whenever I'm dealing with honey or corn syrup, I always spray my measuring spoon or cup with nonstick baking spray…so it doesn't stick!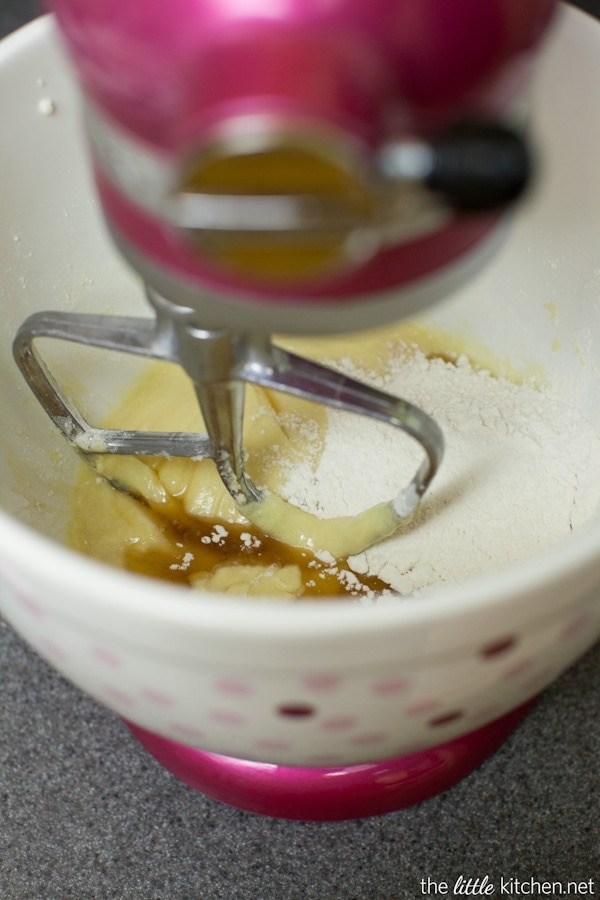 Make the topping which goes on top of the baked shortbread crust.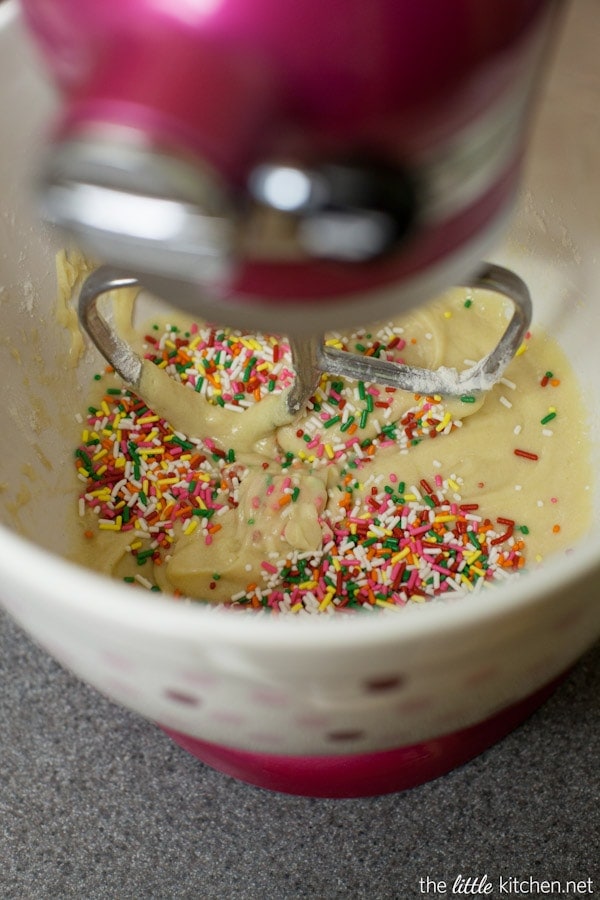 Add sprinkles! Isn't that pretty?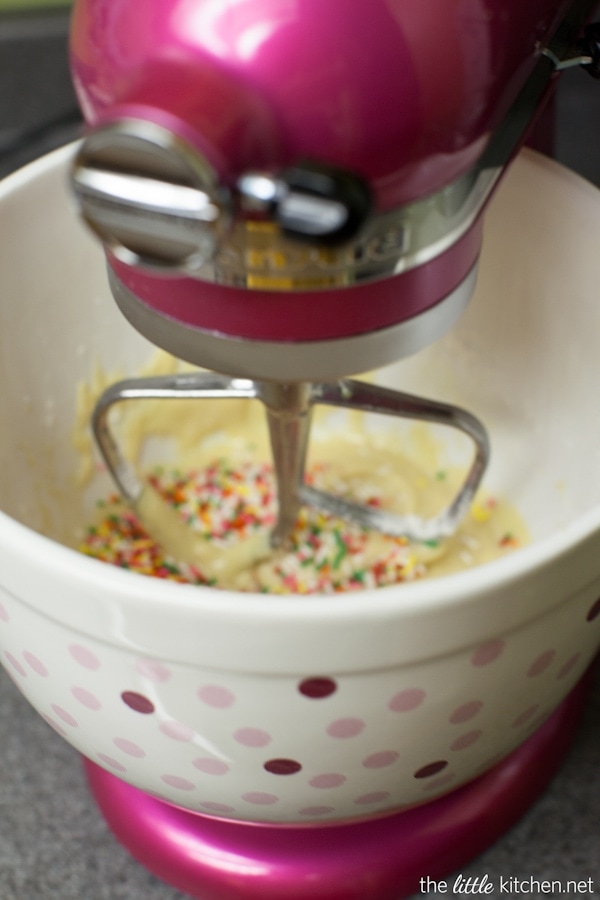 I'm in love with this mixer and the new ceramic bowl! (This bowl is being released by KitchenAid this fall.)
All ready to go into the oven.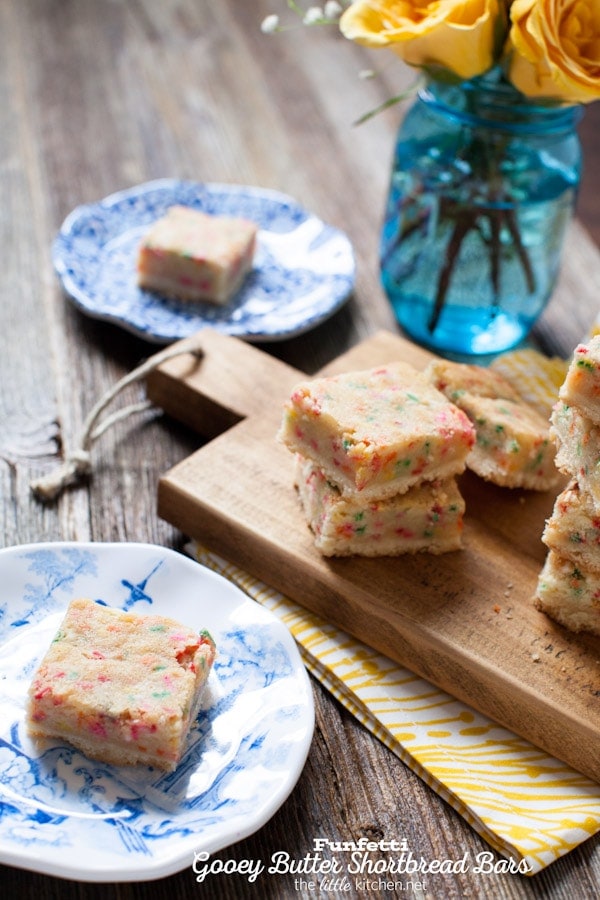 Photographed on Cambridge Rose & Talavera Collection plates with by Q Squared.
PS I'm obsessed with these plates…they are perfect for entertaining and every day and are super easy to clean!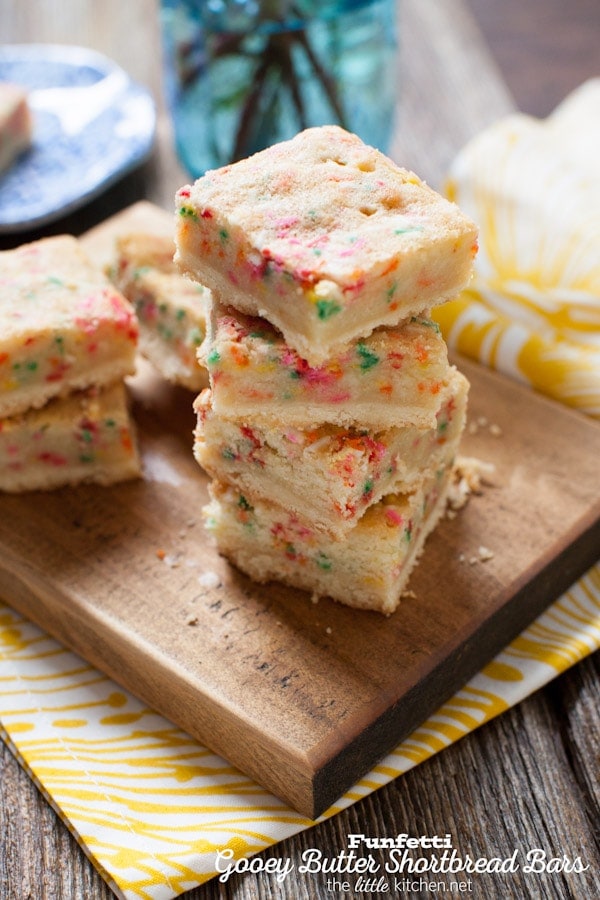 Make these shortbread bars, I know you'll love them!
My grandmother loved them!
Recipe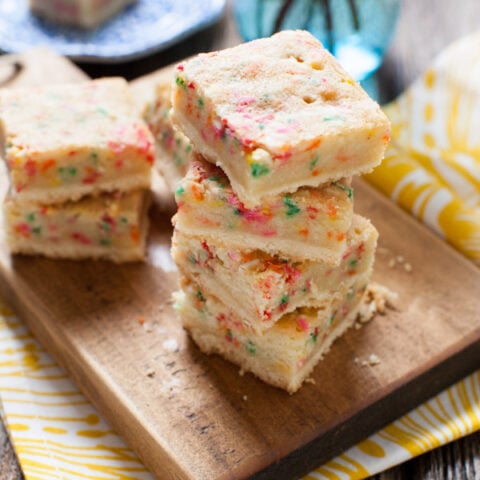 Print
Pin
Save
Funfetti Gooey Butter Shortbread Bars Recipe
Ingredients
Crust
1/2

cup

1 stick Land O Lakes® European Style Salted Butter, softened

1/3

cup

powdered sugar

1

cup

unbleached all-purpose flour
Funfetti Topping
2

tablespoons

light corn syrup

1

tablespoon

water

2

teaspoons

pure vanilla extract

1/2

cup

1 stick Land O Lakes® European Style Salted Butter, softened

3/4

cup

granulated sugar

1/4

teaspoon

salt

2

large eggs

1

cup

unbleached all-purpose flour

5

Tablespoons

rainbow sprinkles

,

plus more for the top before baking
Instructions
Heat oven to 350°F. Line an 8-inch square baking pan with foil. Spray the foil with nonstick baking spray. Set aside.
Crust
Add 1 stick of salted butter and 1/3 cup powdered sugar to the bowl of an electric stand mixer. Using the paddle attachment, beat until the powdered sugar is no longer visible, about one minute. Add flour and mix until just combined.

Pour dough into prepared pan. Press dough evenly into bottom of prepared pan. Bake 15 minutes. Remove from oven and allow to cool for 10 minutes on a baking rack.
Funfetti Topping
Add corn syrup, water and vanilla extract to a small mixing bowl. Mix well with a spoon and set aside.

Add 1 stick of salted butter, sugar and salt into same electric stand mixer bowl. Using a paddle attachment, beat at medium speed until well mixed. Add 2 eggs and beat until well mixed. Add half of flour and half of the corn syrup mixture, beating to combine thoroughly. Repeat with the remaining flour and corn syrup.

Add sprinkles and slowly combine with rubber spatula. Pour funfetti topping over shortbread crust. Using the rubber spatula, spread it evenly over the crust. Optionally, add 1 or 2 more tablespoons of sprinkles over the topping and use the spatula to press them into the topping.

Bake 25 to 28 minutes or until golden brown. Place pan on a cooling rack for about 10 minutes. Then, carefully remove the bars using the flaps of overlapping foil and allow bars to completely cool on baking rack. (To get the cleanest cut bars, allow them to completely cool at least a few hours or even overnight.)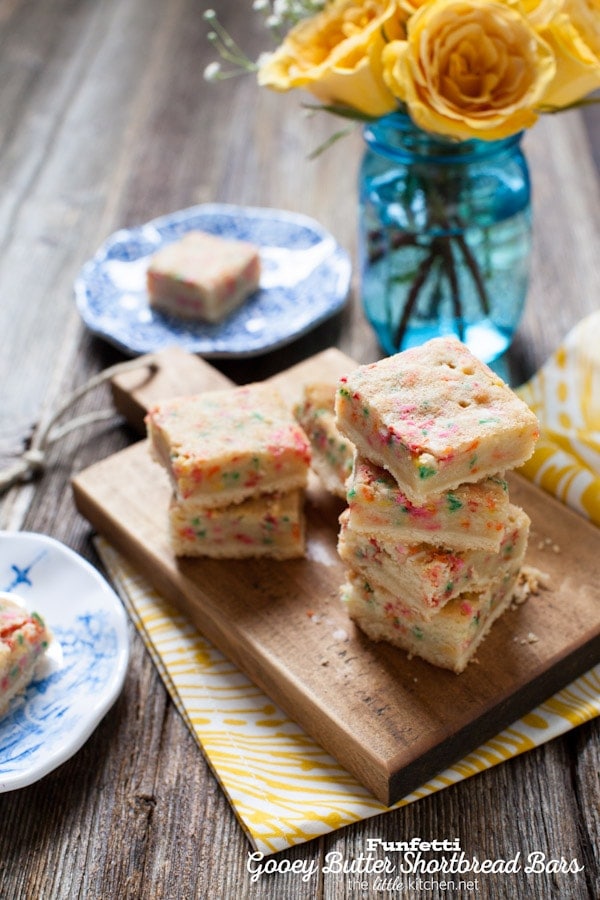 Disclosure: This post is sponsored by Q Squared. I did receive a KitchenAid stand mixer recently for the purpose of review. I only share with you my honest opinions and brands that I love. There are affiliate links in this post.