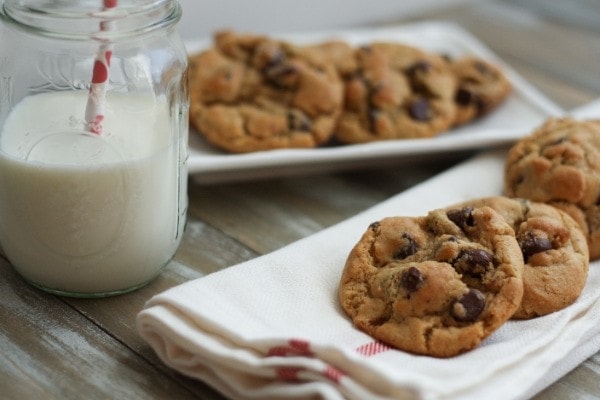 Chocolate chip cookies have to be my favorite cookie. Okay, I love almost all cookies but if I had to pick an all time favorite, it would be the chocolate chip cookie.
I have been on a long quest to find the perfect recipe and when Lindsay and I  decided to do the Great Food Blogger Cookie Swap, I was trying to decide whether I would come up with a new recipe all together or try this recipe the New York Times Chocolate Chip Cookies, a recipe adapted from Jacques Torres, that I keep hearing about. I'm so glad I did! It has an amazing flavor, as others have said, toffee tones and the perfect chewy consistency on the inside.
The cookie swap went from one tweet by Lindsay to open for sign ups within about 24 hours. I don't know how many I was hoping to register for the cookie swap, maybe 50, maybe 100? Once it kept growing, I don't think Lindsay and I ever anticipated it would grow to over 620 registrations. We have spent a lot of time emailing, emailing and answering emails but it has been all completely worth it. For the love cookies, it was worth it. I received 4 dozen cookies…how did I get 4? I was only supposed to get 3.
Early on, I told Curtis I have this awesome idea, I'm going to send Lindsay cookies too! I really thought I was completely clever. Little did I know that Lindsay had the same plan! It's too funny because we actually received each others' cookies on the same day. I also received cookies from Diane, Melissa and Lenore. They all tasted amazing.
If you're a food blogger and you missed out the cookie swap this year, there will be a cookie swap next year, as Lindsay says we're 99% sure there will be another one. Sign up here for notifications, we'll send you an email when details for next year come about.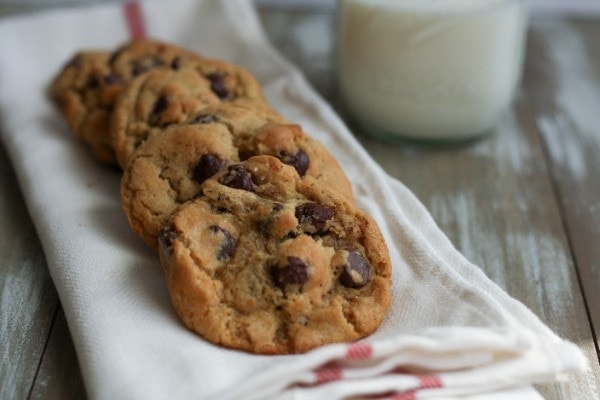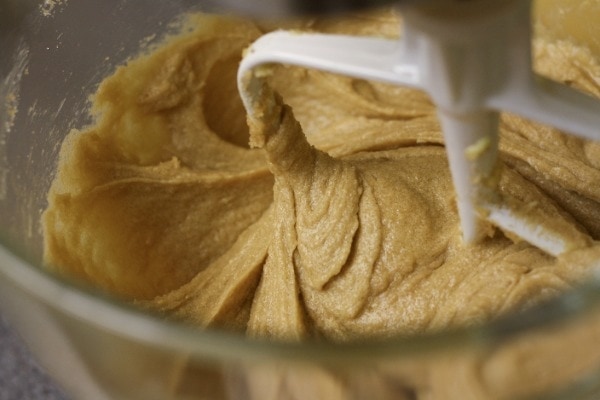 I just love brown sugar, butter and egg together!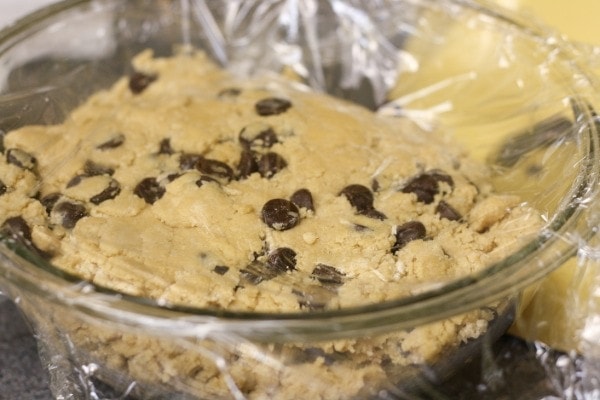 All ready to go in to the fridge for at least 24 hours. Yes it was really hard to wait that long!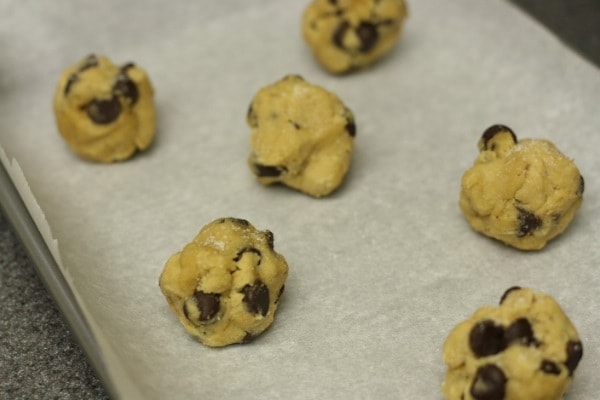 Sprinkle sea salt on top before baking. I only bake one cookie sheet at a time. I do have multiple cookie sheets at the ready so that I always put cookie dough on a cooled cookie sheet and have the next one to go in when a cookie sheet comes out the oven.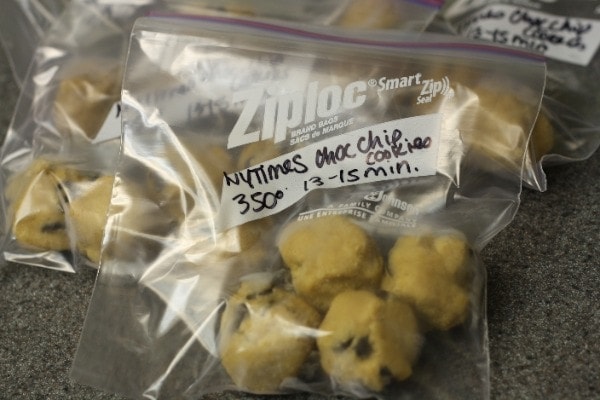 I made two batches of this cookie recipe so I had some dough to freeze for later. When I'm ready, I just put the bag in the fridge to defrost and then pop them in the oven. I did date these bags before putting them in the freezer, it's important to identify what's in the bag and date them…we always seem to forget what we put in our freezer. Also, putting on instructions helps for when you want a quick dessert or snack.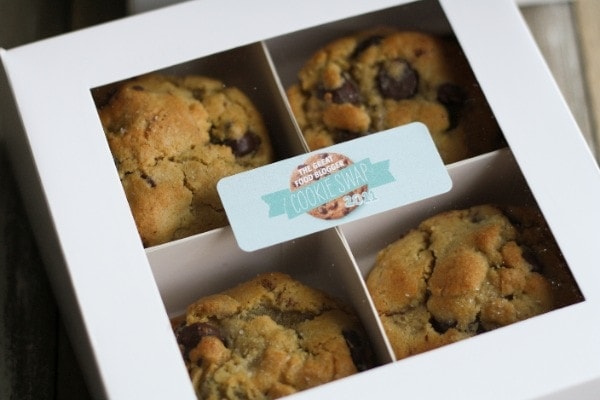 My recipients received a dozen each and I have to comment on the box I chose for the cookie swap. It ended up being very similar to Lindsay's choice in boxes because it had four separate dividers to keep the cookies neat and separated. I swear we think so much alike!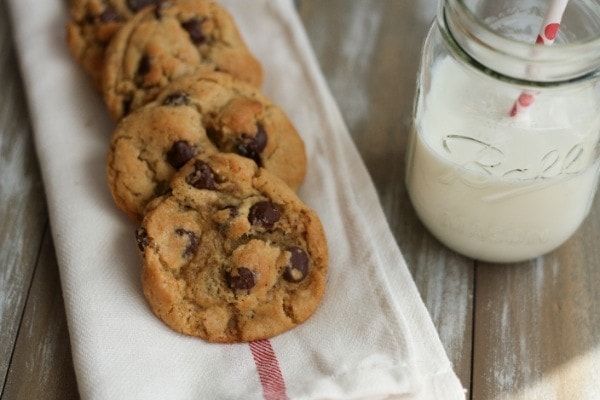 Milk. Cookies. Milk. Cookies. I'm really tempted to say let's do another swap in February! It was really fun to receive boxes from other bloggers and EAT THEM! I was sad when my last box arrived.
But it was a lot of work and it wouldn't be special if we did it many times a year.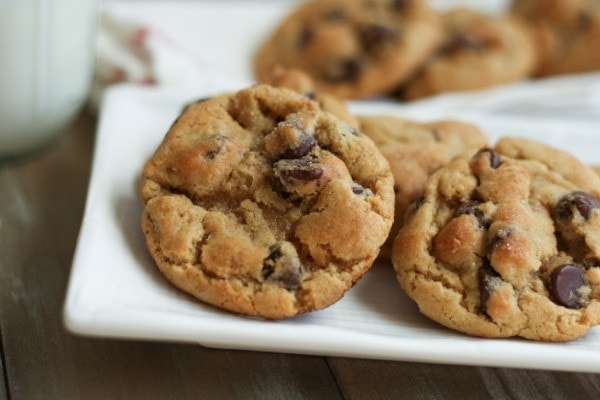 This week, both Lindsay and I are posting ALL of the posts from the cookie swap. Tons of cookie recipes…it's going to be epic.
Until next year…so tell me what's your favorite cookie? If you have a link, share it with me! I want to see.
Recipe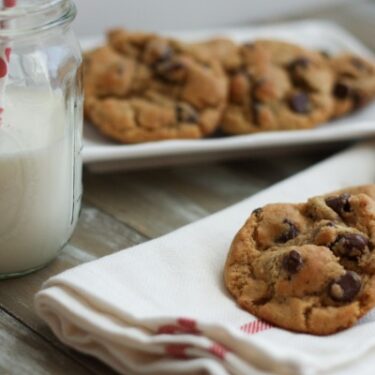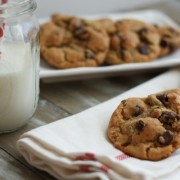 Print
Pin
New York Times Chocolate Chip Cookies
This is the best chocolate chip cookie recipe I have ever tried. The instructions state that you should let the dough chill for 24 hours and you must do this!
Ingredients
2

cups

minus 2 Tbsp 8 1/2 oz cake flour

1 2/3

cup

bread flour (8 1/2 oz)

1 1/4

tsp

baking soda

1 1/2

tsp

baking powder

1 1/2

tsp

coarse sea salt

2 1/2

sticks

unsalted butter

1 1/4

cups

light brown sugar (10 oz)

1

cup

plus 2 tbsp granulated sugar (8 oz)

2

large

eggs

2

tsp

natural vanilla extract

1 1/4

pounds

dark chocolate chips

Sea salt
Instructions
Using a sifter or strainer, sift flours, baking soda, baking powder and salt into a medium sized bowl. Put off to the side.

Using a stand mixer fitted (with paddle attachment) or a hand mixer, cream butter and sugars together. About 5 minutes or until light colored. Add eggs, mix well. Add vanilla and mix well.

Add dry ingredients in batches and mix until just combined, 10 to 20 seconds. Do not overmix. Add dark chocolate and mixing to incorporate, try not to break them and don't overmix.

Transfer dough to another bowl or cover stand mixer bowl with plastic. Be sure to put plastic directly on dough to seal. Refrigerate for at least 24 hours before baking.

After the dough has chilled, preheat oven to 350 degrees. Line two baking sheets with parchment paper.

Scoop 8-10 balls of dough using a 2 Tbsp cookie scoop and place onto a baking sheet. Be sure to leave at least 2 inches between each cookie dough scoop. Add sea salt lightly on top of each cookie and bake until golden brown, 13-15 minutes.

Place sheet on a cooling rack for 5 minutes, then remove cookies and place on another cooling rack to allow the cookies to cool even more. Repeat with the other cookie sheet. If baking several batches, rotate cookie sheets so that cold dough is placed on a cool cookie sheet.