Ahh cookies! Lindsay says today, is the day we take over the internet with tons of cookies. For the last couple of weeks, food bloggers from all over the world have been baking, testing and retesting and then shipping their cookies to fellow food bloggers. It's been exciting for us to watch all of the posts. And even more exciting that we're able to announce that we also raised $13,778.40 for Cookies for Kids' Cancer!!!
Lindsay and I started the cookie swap, three years ago to receive cookies in the mail from other bloggers and of course taste them. When we partnered with Cookies for Kids' Cancer last year, we raised over $4,400 and that brings the grand total to over $18,000 in total raised for C4KC because of a little thing, our cookie swap. Thanks to ALL of the bloggers who joined and huge props go out to our sponsors who matched donations, without them, we would never have made it above our goal of raising over $10,000 this year…a huge huge thank you to Dixie Crystals, Gold Medal Flour and Grandma's Molasses and OXO.
Other numbers: we had 622 participants from all over the world with everyone sending 3 dozen cookies out, that's 22,392 cookies. Can you imagine that many cookies being shipped across the country here and in other countries around the world? Wow, just wow. Every year, I'm amazed at how many people sign up and the sheer number of cookies being baked and shipped!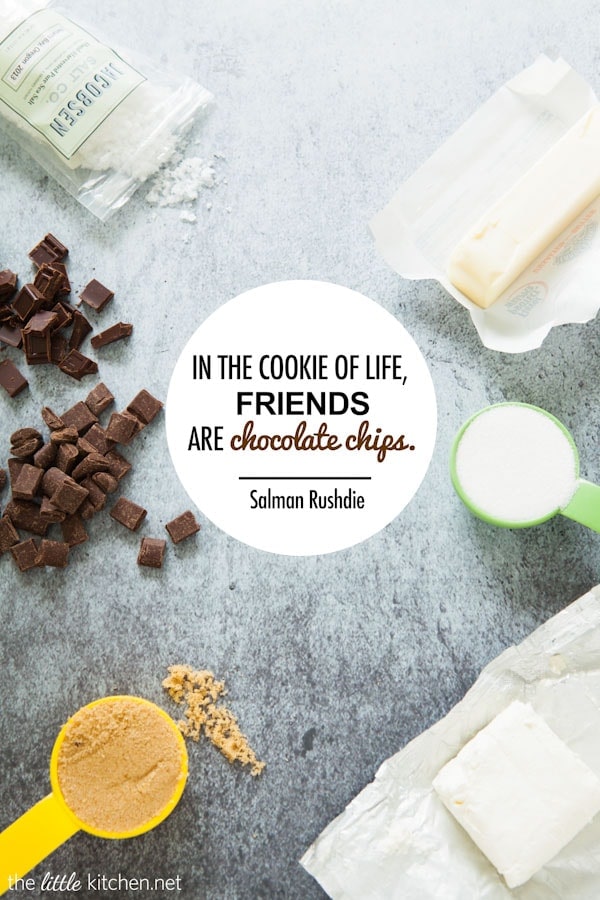 So true, so true isn't it? My friends are extremely important to me. They keep me grounded and they keep me sane. I'm incredibly fortunate to have an amazing and diverse group of friends. The support I get from my friends, I'll be eternally grateful for. A few days ago, was the 4 year anniversary of my starting this little food blog. And never in a million years (oh I repeat myself so many times) did I ever think or dream that I would make the best friends of my life through this food blog.
One of those people is Lindsay. My partner in crime…I actually instagrammed a picture of us (or was it a tweet?) and called her my partner (oops, haha). No one caught it though. She makes me laugh and she calms me down when I'm having a crazy day and she's the one who tweeted out three years ago, wouldn't it be great to actually taste another bloggers cookie recipe…we should really do a cookie swap. I tweeted back and the rest is all history.
I'm getting all weepy looking back on four years, my life is so much fuller and richer because of all of you, my friends. So thank you so much for being the chocolate chips in my life.
PS Be sure to check out Lindsay's cookies…they are amazing! I didn't share one cookie with anyone! 🙂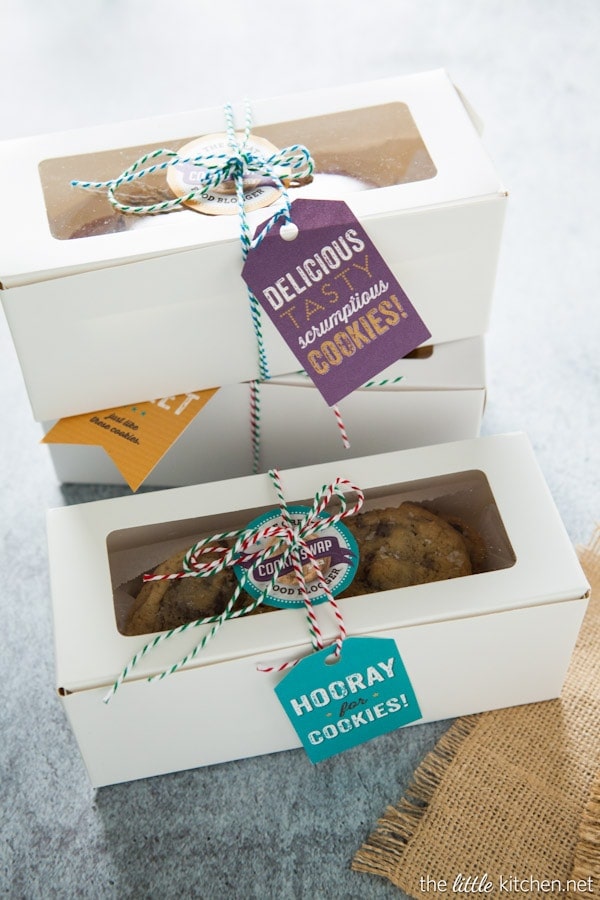 For us, it started out as being all about the cookies and now it's become so much more than that. Did you know that:
1 in 300 children will be diagnosed with cancer by the time they're 20 years old.
There are 12 major types of pediatric cancer, each as unique as the child fighting it.
Less than 4% of the National Cancer Institute's budget goes towards pediatric cancers.
The amazing fundraising efforts that Cookies for Kids' Cancer has is nothing short of extraordinary but at the same ordinary because it's through grassroots efforts like our Food Blogger Cookie Swap and bake sales around the country that they were able to grant out $1.5 million this year and in a few short years about $5 million to pediatric cancer centers as well as support pediatric cancer research. To find out more on how you can get involved, please visit Cookies for Kids' Cancer.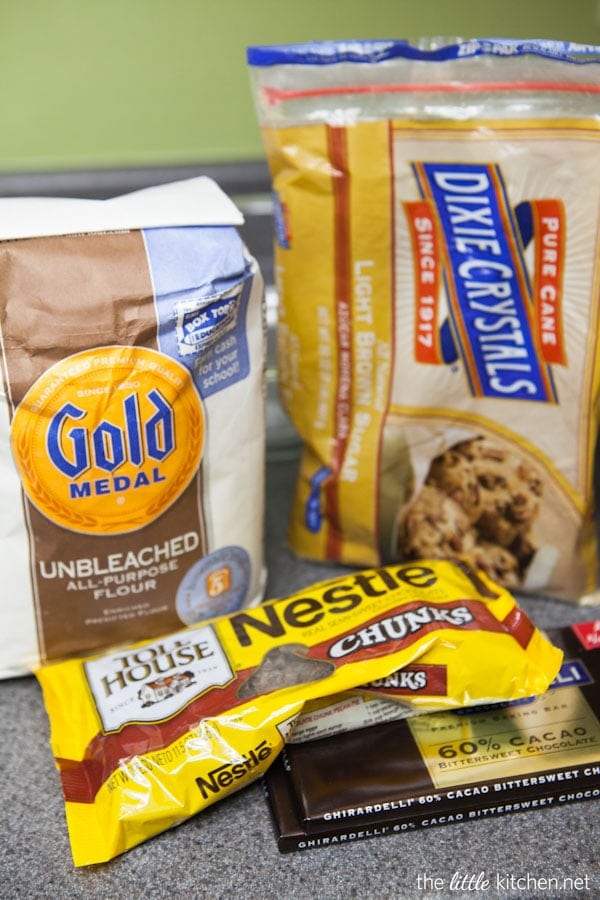 You have been waiting patiently to hear about the cookies, thanks for bearing with me. I always get ALL of my ingredients out first…and these are the essentials besides the cream cheese and butter of course.
Lindsay and I had these amazing bittersweet chocolate chunk cookies with sea salt at Saint Cupcake in Portland a month ago. I wanted to try my hand at making a similar recipe and after a bunch of tries and using my friend Kelly's secret ingredient for chocolate chip cookies, cream cheese. I hit the jackpot.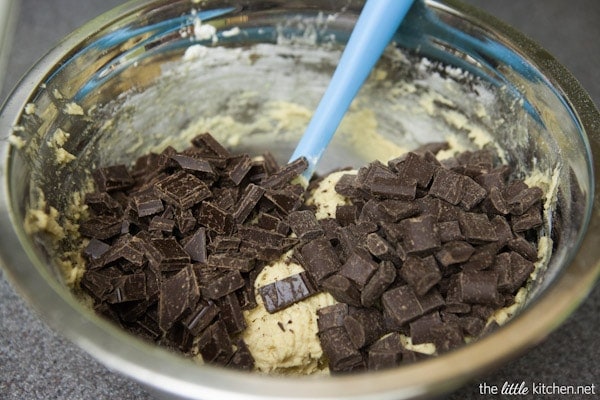 Be careful to not overmix the cookie dough when you're mixing in the flour and the chocolate chunks. I used two different kinds, bittersweet (Ghiradelli — btw, I can never spell that name, I always have to look it up!) and semisweet (Nestle).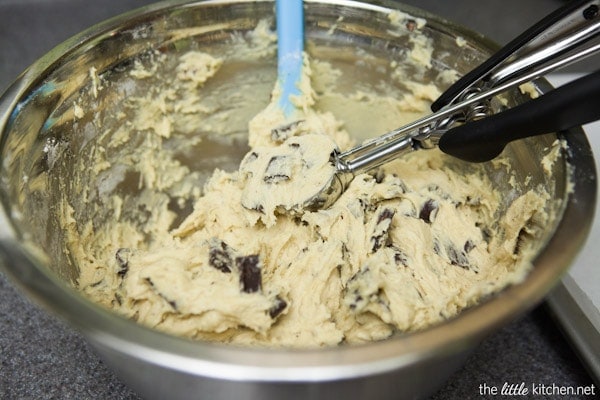 Use a handy dandy cookie scoop, scoop out portions of the cookie dough onto a parchment paper lined baking sheet. And arrange like below:
No, you're not going to bake them like this, you're going to freeze or refrigerated them like this (very close together) and when you're ready to bake them, you'll want to place the cookie dough 2 to 3 inches apart.
Cookies, cookies, cookies! I'm saying this to you in my cookie monster voice. I literally feel like him sometimes. After dinner, watching tv, scrolling through my Instagram feed, I get cookie cravings. Because of these cravings, I always have cookie dough in my freezer now. Often times, I'll make two batches or only need a half batch, instead of baking all of the cookies at once, I'll freeze the dough and put it in zippered plastic bags in the freezer labeled with the date and baking temperature and time.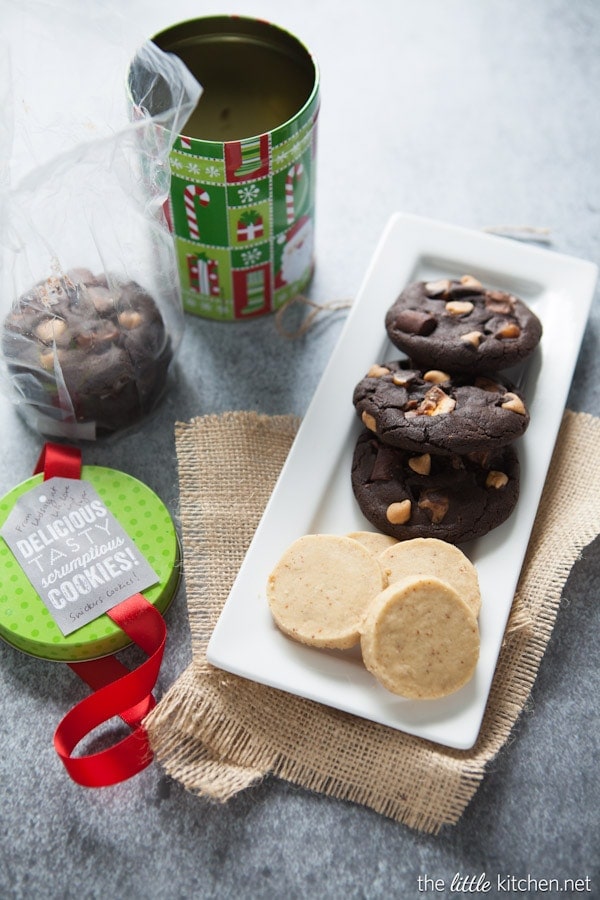 The cookies I'm sharing with you today are the ones I sent, the ones I received…I photographed when I got them in the mail.
I received from Lindsay Bourbon Brown Butter and Vanilla Bean Shortbread cookies. And chocolate snickers cookies from another Lindsay! Nom nom!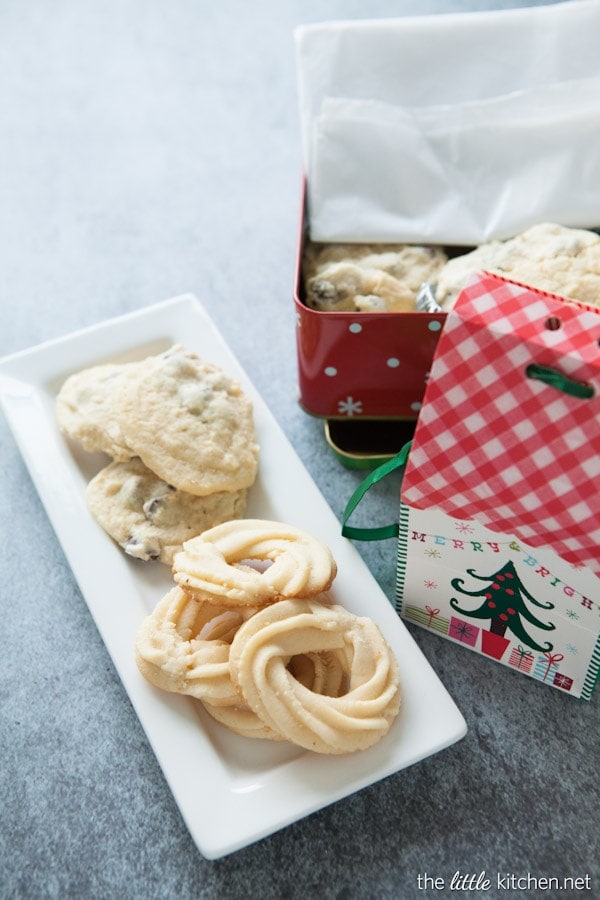 And I also received butter cookies from Sara (it's her grandma's recipe!) and some eggnog dark chocolate chip cookies from Melissa. I enjoyed all of the cookies. I made a lot of crumbs too.
I sent cookies to Mackenzie, Christine and Kimberly. I haven't heard back from all of them but I hope they all enjoyed the cookies!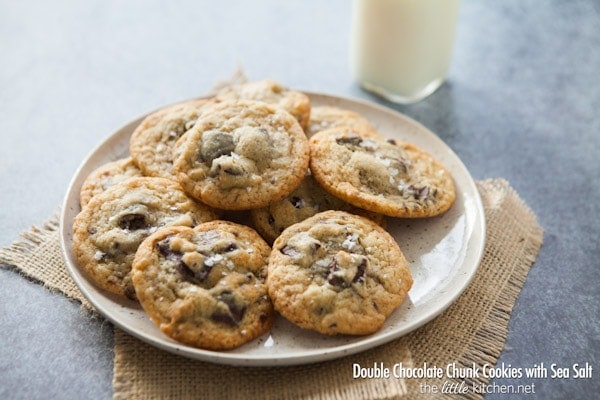 Recipe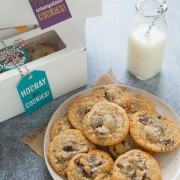 Print
Pin
Double Chocolate Chunk Cookies with Sea Salt Recipe
The inspiration for this recipe came from these bittersweet chocolate chunk cookies with sea salt that I had at Saint Cupcake in Portland, Oregon on a recent trip. While these aren't exactly like those cookies, I do use the same kind of sea salt the famed cupcake store does, from Jacobsen Salt Co.
Servings
48
to 50 1.5 Tablespoon cookies OR 24 to 25 3 Tablespoon cookies
Ingredients
3 1/4

cups

unbleached all-purpose flour

1

teaspoon

baking soda

1

teaspoon

baking powder

3/4

teaspoon

salt

1

cup

unsalted butter

,

two sticks, softened

4

ounces

cream cheese

,

softened

3/4

cup

granulated sugar

1 1/4

cups

light brown sugar

2

teaspoons

pure vanilla extract

2

large eggs

8

ounces

bittersweet chocolate

,

roughly chopped

1

cup

semisweet chocolate chunks

sea salt
Instructions
Mix dry ingredients together in a medium-sized mixing bowl.

In the bowl of a stand mixer (and using a flat beater) or large mixing bowl (and using an electric mixer), beat cream cheese cheese and butter. Add both sugars and cream together thoroughly. Add vanilla extract and mix. Add eggs one at a time and mix thoroughly until combined.

Add flour in two batches and mix with a rubber spatula. Add chocolate and mix just to combine. Don't over mix.

Line a small baking sheet with parchment paper and using a medium (1.5 Tablespoon) cookie scoop, scoop cookie dough portions. Place portioned cookie dough into the freezer for 3 to 4 hours or overnight. If not baking immediately, after the dough is frozen, place in one or more zippered plastic bags and label with date and baking temperature and time.

Heat oven to 375 degrees and place cookie dough on a parchment paper lined baking sheet at least 2 to 3 inches apart. Bake for 9 to 12 minutes until slightly golden brown. Remove from oven and place parchment paper with cookies on top directly on a cooling rack. Sprinkle each cookie with a pinch or two of sea salt immediately after they come out of the oven. Store in an airtight container to maintain chewiness.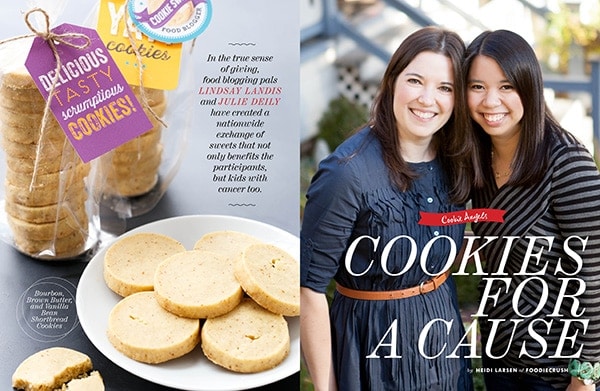 One more thing, we're so excited and honored to be featured in the current issue of the FoodieCrush digital magazine. Check it out, Lindsay and I are in a magazine! It's beautiful and I hope you'll check it out. You can download it and read it on your smartphone or tablet too!
There are affiliate links in this post.