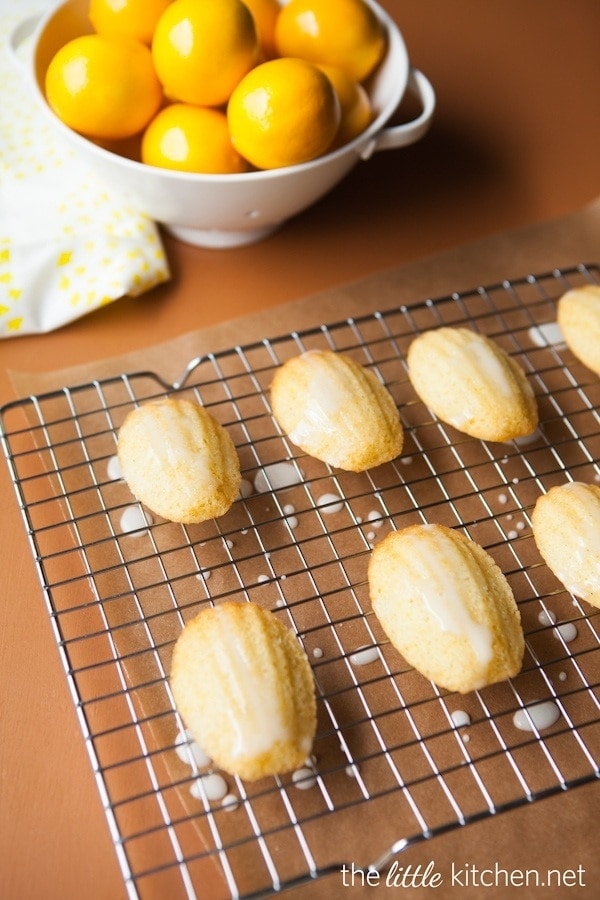 The first time I had a madeleine, it was at a coffee shop. I fell in love immediately. It's a spongy, cake-like cookie that you can dip in coffee or just eat them with a dusting of powdered sugar. I have been dying to make these forever!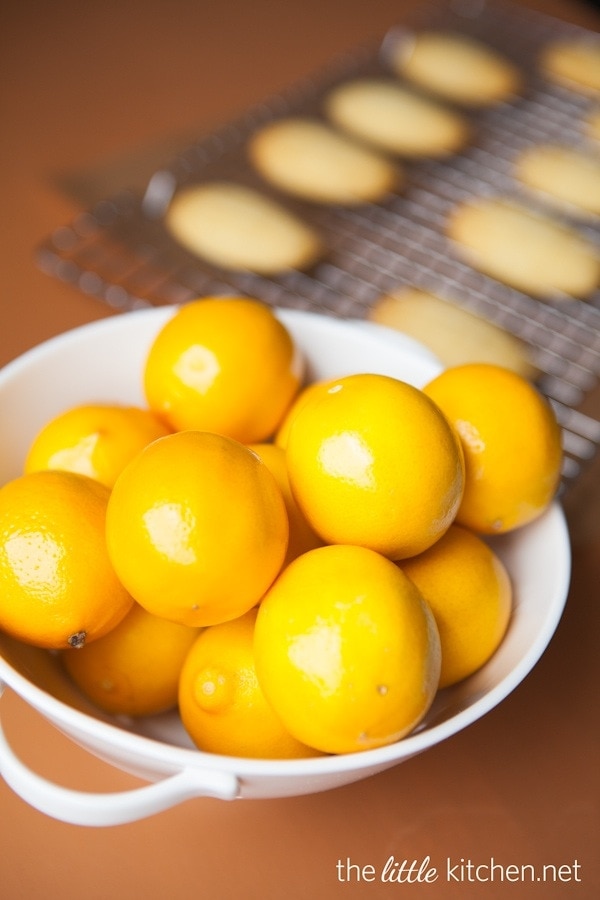 I have a huge stash of Meyer lemons—this wonderful winter citrus should be synonymous with the holiday season. They are a cross between regular lemons and mandarin oranges, and not as tart as a regular lemon…but not overly sweet, either. They're so fragrant—I love having them around, and I love baking with them. Last year, I made mini meyer lemon bundt cakes at least five times.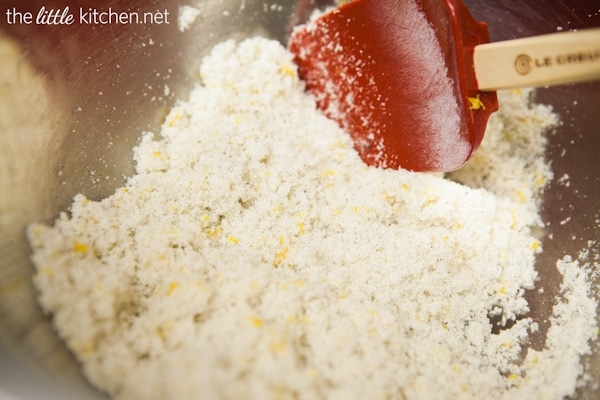 Using a rubber spatula, mix up the sugar, vanilla extract and the Meyer lemon zest.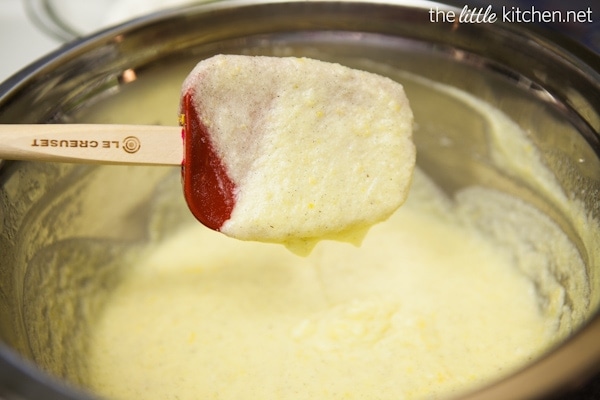 After combining all of the wet ingredients, your batter will look a little curdled because the other cold ingredients (eggs & yogurt) chill the melted butter.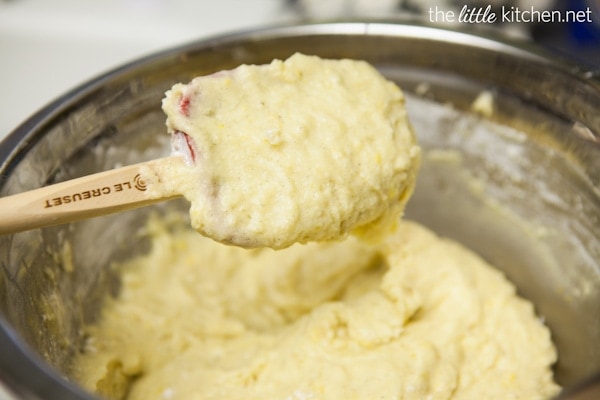 Here's a shot to show you what the cookie batter looks like after the flour is all mixed in. As always, don't overmix after adding the flour.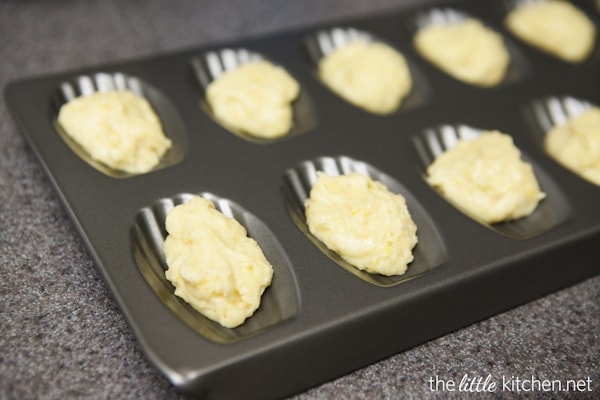 Fill the indentations in your madeleine pan with one-tablespoon scoops of cookie batter. No need to butter the pan if it's a non-stick one.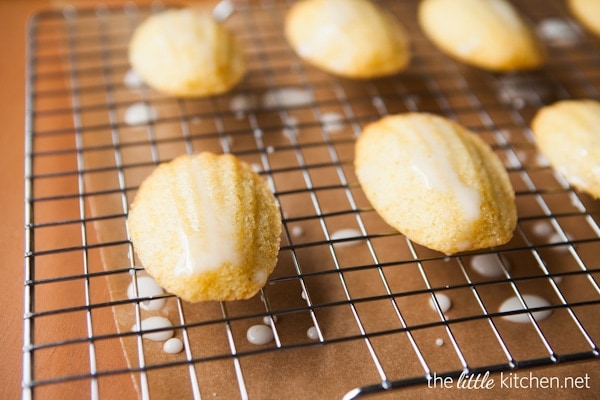 How about a close-up?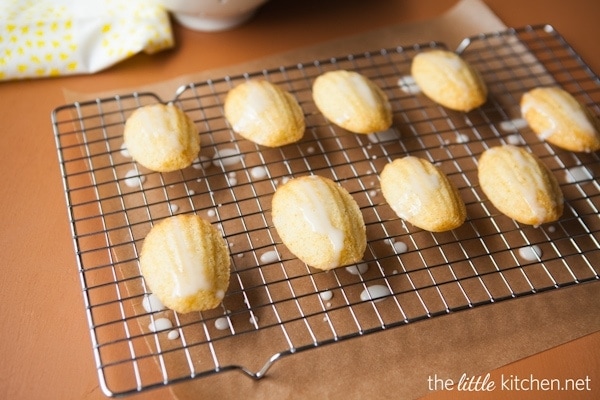 Hope you make these and enjoy!! And if you haven't cooked or baked with a Meyer lemon yet…definitely give it a try!
Recipe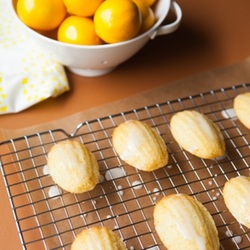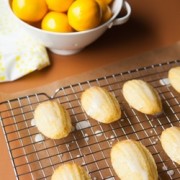 Print
Pin
Meyer Lemon Madeleine Cookies Recipe
Ingredients
2

cups

unbleached all-purpose flour

1/2

teaspoon

baking soda

1

teaspoon

baking powder

1 1/4

cups

granulated sugar

1 1/2

Tablespoons

Meyer lemon zest

,

about 2 Meyer lemons

2

teaspoons

pure vanilla extract

,

with vanilla beans

3

large eggs

1

cup

2 sticks unsalted butter, melted and cooled

2

Tablespoons

Meyer lemon juice

1/2

cup

fat free plain yogurt
Meyer Lemon glaze (optional)
1

cup

powdered sugar

1

Tablespoon

Meyer lemon juice

2

Tablespoons

milk
Instructions
Heat oven to 350 degrees F. Grease your madeleine pan with butter or baking spray if it's NOT non-stick. Mix dry ingredients in a mixing bowl (flour, baking soda and baking powder). Set aside.

In another mixing bowl, add sugar, vanilla extract and lemon zest and mix together with a rubber spatula. Add in eggs, one at a time and combine thoroughly with a whisk. Whisk in melted butter. Then, add lemon juice. Add yogurt and mix together thoroughly with spatula. In two batches, fold in flour mixture. Don't over mix. Allow the batter to sit for 5 to 10 minutes.

Using a tablespoon measuring spoon, spoon batter into Madeleine pan cavities. Bake for 9 to 12 minutes. Flip over onto a baking rack and allow to cool for just a couple of minutes.
Meyer Lemon glaze (optional)
While cookies are baking, make glaze - combine all ingredients into a medium mixing bowl and whisk until a glaze has formed. Add more milk if needed.

Drip glaze over cookies with a spoon and serve immediately. If storing cookies, don't add glaze until ready to serve. Cookies are best when served right after baking.
For more recipes in the 12 Days of Cookies series, follow along on Twitter with the hashtag #BlogHerCookies.
This post is part of the BlogHer 12 Days of Cookies editorial series. Our advertisers do not produce or review editorial content. This post is made possible by Bank of America and BlogHer.