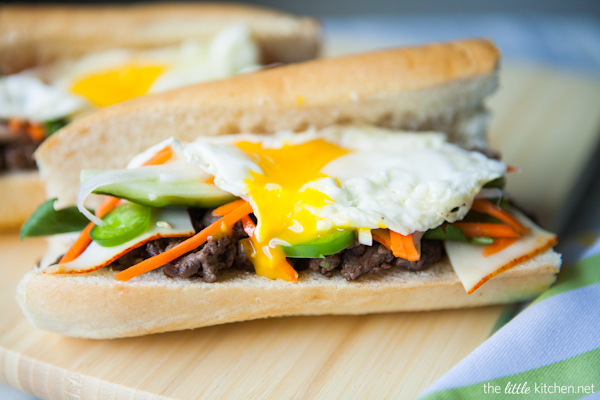 I'm so excited to be working with Land O'Lakes this year to share some recipes and one of my favorite things in life, butter. This year, I've partnered with Land O Lakes® Butter and Ree Drummond, The Pioneer Woman, together to bring you Kitchen Conversations. We have three other fabulous food bloggers joining the conversations: Brenda from A Farmgirl's Dabbles, Sommer from A Spicy Perspective and Maria from Two Peas & Their Pod. The goal of the Conversations is to inspire home cooks to feel more confident in the kitchen and to provide a platform to learn from each other's hits and misses.
You can follow the food-filled conversation and recipe ideas through the hashtag #KtchnConvo on Twitter, Pinterest and Instagram. Of course, I'll also keep you up to date through ongoing blog posts and recipes on The Little Kitchen!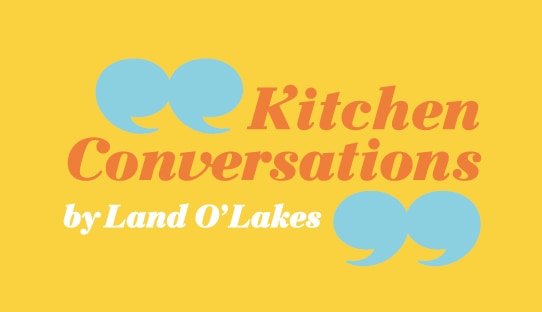 So, our first topic of conversation is food trends. What is inspiring you in your kitchen? Each blogger took a different food trend and created a signature recipe to share. Check out all the creative recipe ideas from the Kitchen Conversation bloggers on landolakes.com.
There are a bunch of food trends every year, but the one that's most relevant to me is incorporating Asian cooking. As some of you know, I'm Vietnamese and I'm definitely seeing Asian influences in fashion, in décor, and—in a big way—in food.
If you have never heard of a banh mi before, I'll tell you about them. Banh mis are the Vietnamese's equivalent of a submarine sandwich – and usually includes paté and cha which is a Vietnamese pork cold cut. I don't eat pork so I haven't had an authentic banh mi in a longgg time! This beef version is inspired by a visit to a banh mi shop in Orlando – they do an Americanized version and put a fried egg on top and I just had to recreate it!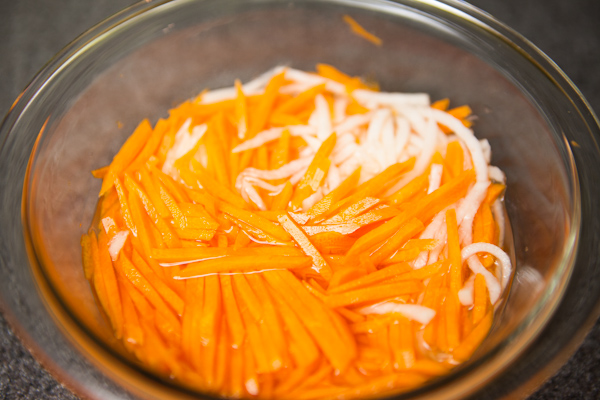 Pickled Carrots and Daikon – first things first, prep the veggies, I used a julienne slicer for these and set them aside for two hours. (This is my Mom's recipe for quick pickled carrots & daikon.)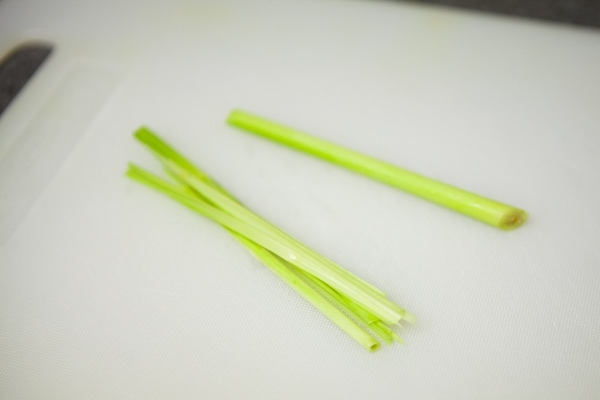 I'm lucky to have a couple of lemongrass plants in my backyard, thanks to friends who gave me parts of their plant last year to start me off. You can also find lemongrass at Asian grocery stores, fresh or frozen. If you can't find it, substitute with a little bit of lemon zest.
Cut off the ends and then cut the lemongrass in half lengthwise and in half again.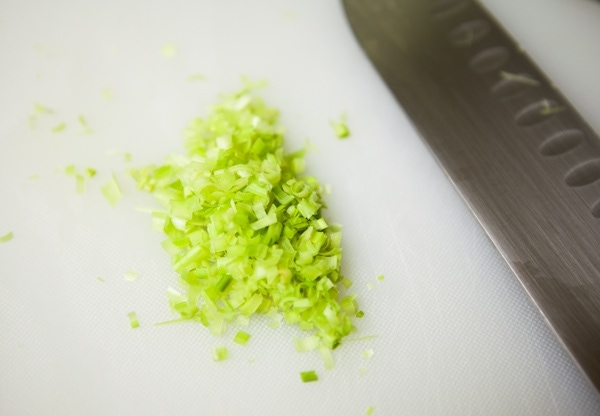 And then chop into as small pieces as you can.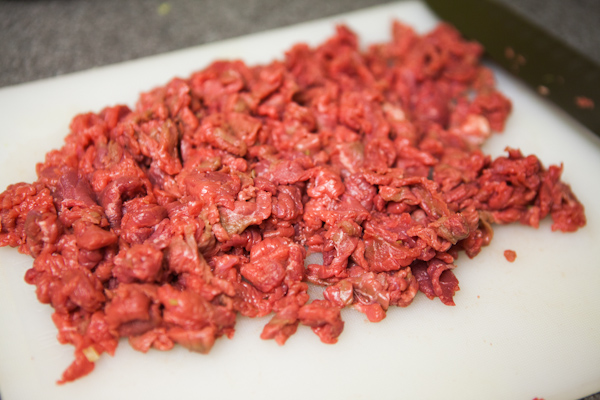 Next cut the beef across the grain and then chop into smaller pieces. Marinate beef with lemongrass, sesame oil, salt and pepper.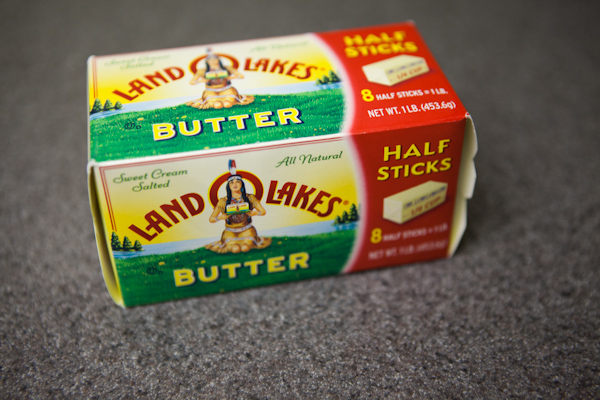 I love these half sticks of Land O Lakes® Butter! A lot of the time, I only need one tablespoon or half a stick, and it's much easier than a full stick (most of the time). I say "most of the time" because sometimes I'll use a full stick for a recipe.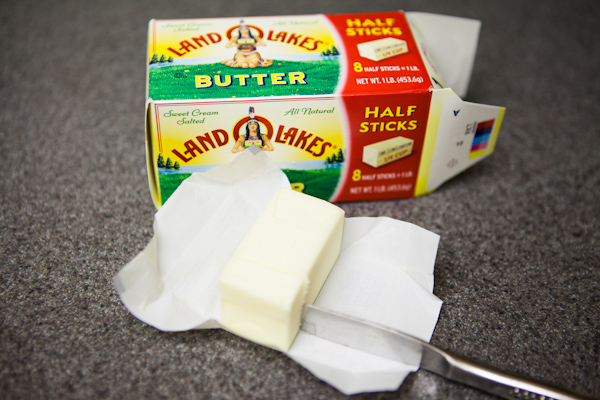 For this recipe, I used a Land O Lakes® Salted Butter half stick.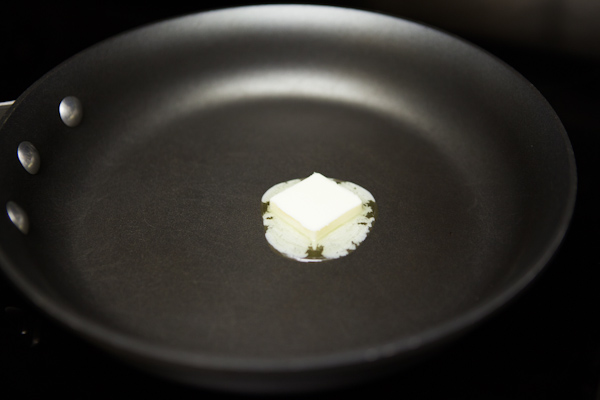 Melt Land O Lakes® Salted Butter in a nonstick skillet.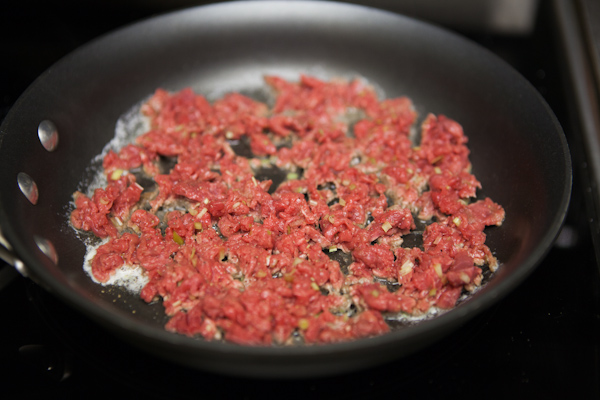 Add the beef and cook until all of the juices disappear and the beef is browned.
Looks perfect.
Prep your hoagie rolls by slicing them and add the beef and the toppings including Land O Lakes® Muenster cheese (this is the Americanizing part, there usually isn't cheese in Vietnamese banh mis), sliced jalapenos, cilantro, cucumbers and of course the pickled vegetables.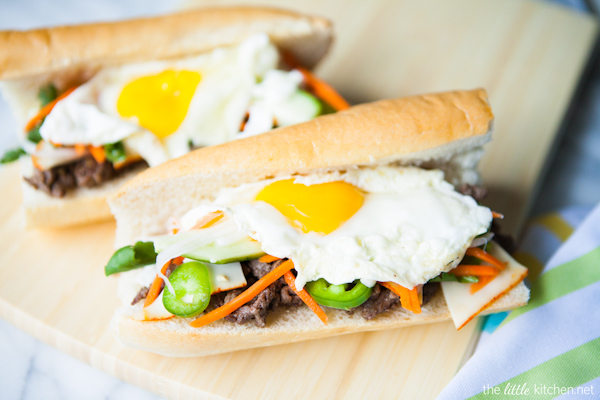 Fry one or two eggs at a time in a Land O Lakes® Salted Butter and top the banh mis.
Honestly, put a fried egg on top of anything and I'm there. Do you feel the same way? These sandwiches are fantastic…I can't wait to make them again!
Recipe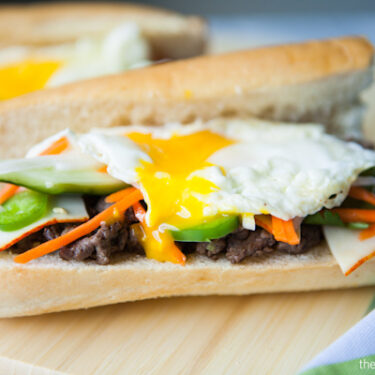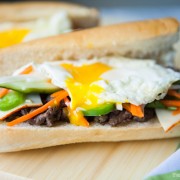 Print
Pin
Save
Lemongrass Beef Banh Mi Recipe
Ingredients
Quick Pickled Carrots and Daikon
1/4

cup

vinegar

1/2

cup

water

1/2

Tablespoon

sugar

1/8

teaspoon

salt

1

cup

carrots

,

cut into matchsticks

1

cup

daikon

,

white radish, cut into matchsticks

1 1/2

Tablespoons

lemongrass

,

chopped fine

1

pound

beef sirloin top filet

,

cut across the grain and chopped small

1

teaspoon

sesame oil

salt & pepper

1

half stick

,

4 Tablespoons Land O Lakes® Salted Butter

2

foot

long hoagie rolls

2

small cucumbers

,

sliced into spears

cilantro

2

slices

of Land O Lakes® Muenster Cheese

1

jalapeno

,

sliced (optional)

4

eggs
Instructions
How to Make Pickled Carrots and Daikon
Combine vinegar, water, sugar and salt in a medium-sized mixing bowl and mix until the sugar and salt has dissolved. Add carrots and daikon and cover and set aside for at least 2 hours.

In another medium-sized bowl, add beef, lemongrass, sesame oil, salt & pepper. Allow the beef to marinate for at least 10 minutes.

In a nonstick skillet, melt one tablespoon of Land O Lakes® Salted Butter on medium heat. Add half of the beef and cook until all of the juices disappear and the beef is browned, about 8 to 10 minutes. Remove beef from skillet and wipe clean with paper towel. Add 1 tablespoon Land O Lakes® Salted Butter and cook the other half of the beef. Remove beef from skillet and turn off heat. Wipe clean with paper towel again.

Cut hoagie rolls in half so that you have 4 separate sandwiches. Then, slice lengthwise and add beef. Layer ingredients starting with cheese, cucumber spears, pickled vegetables, jalapenos and cilantro.

Add 1/2 or 1 tablespoon of Land O Lakes® Salted Butter (depending on one egg or two eggs at a time) to the skillet and turn on heat at medium low. Crack egg and place in skillet, being careful not to break the yolk. Fry the egg until desired runniness is reached, usually about 2 to 4 minutes. Place egg on top of banh mi sandwich and enjoy! (Repeat with the remaining eggs.)
What's your favorite food trend for 2013? Here are a few more tips for incorporating food trends into your everyday cooking.
If you have a picky eater in your house like I do, try mixing a new ingredient with ones they already know and love.
For example, usually Curtis would turn his nose up at pickled vegetables (except for regular pickles), but because this banh mi involves beef, lemongrass and cheese, kind of like a cheesesteak, which he knows and loves, I was able to get him to try the pickled carrots and daikon, and he actually liked it!
I love to incorporate new trends by mixing up a classic recipe. One example of this is making baked mac and cheese with panko bread crumbs instead of regular breadcrumbs.
I love, love doing this. Another example is making fried zucchini with panko breadcrumbs!
Making a meal plan for the week over the weekend makes it really easy to incorporate new things and trends into your weeknight meals.
I like to make a list of meals for the week on Saturday or Sunday, and then I'll make a grocery list based on those meals. Makes it so much easier during the week!
I'm constantly inspired by new trends and the meals I have at restaurants and try to blend them into meals I make at home.

So much so that I keep lists in my Evernote app to keep track of my ideas. I even take pictures of menus so I have all of the information I need for inspiration to try them at home!
Try to keep it simple by taking shortcuts with some ingredients (such as stocks and broths) but at the same time using fresh ingredients when you can.
Sometimes we don't have hours to cook a weeknight meal. I think it's fine to take shortcuts, but don't scrimp on your favorite ingredients like butter and cheese!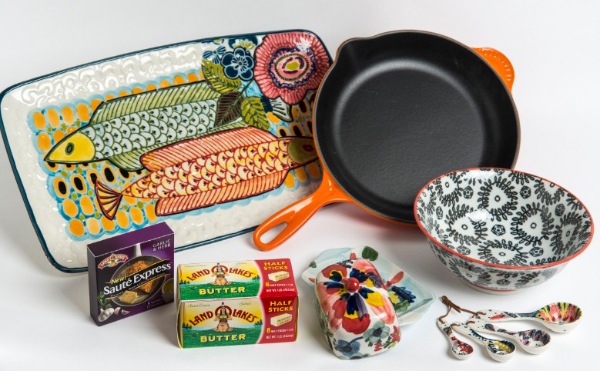 I'm excited to share with you this wonderful giveaway from Land O'Lakes which includes a Le Creuset cast iron skillet and some fun goodies from Anthropologie and of course…Land O Lakes® Butter! To enter, hop on over to the giveaway.
Disclosure: I've partnered with Land O'Lakes for an exclusive endorsement of Land O Lakes® Butter for their Kitchen Conversation blogger program. This blog post is sponsored by Land O'Lakes. I always share my own honest opinions and only work with brands that I love.