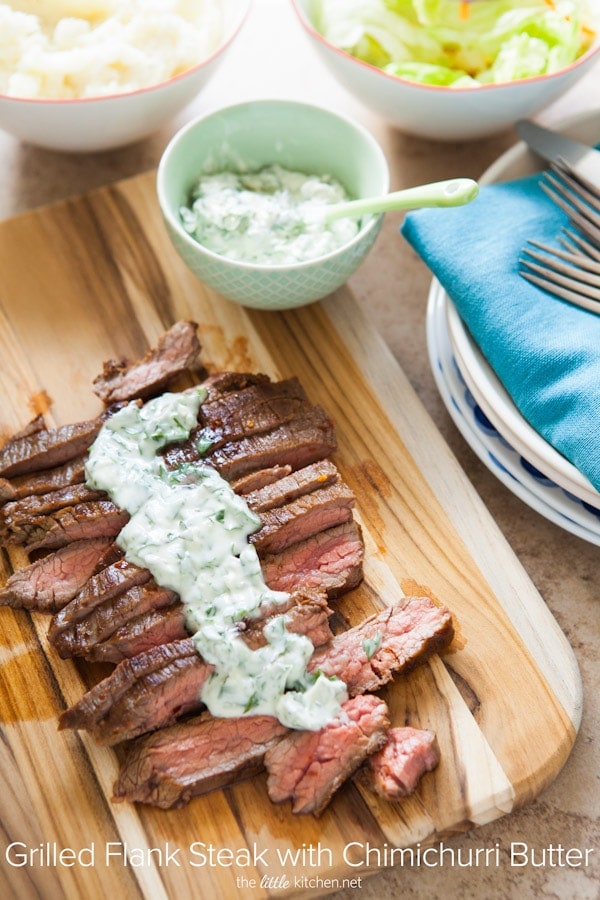 I'm excited to announce again to be partnering this year with Land O'Lakes on the Kitchen Conversations panel to bring you wonderful recipes with what else…my favorite ingredient: butter!
Raise your hand if you like steak as much as I do? I love grilled steak so much! I used the opportunity to make a fun AND easy recipe with Land O Lakes® Butter with Olive Oil. The marinade for this beef flank steak is a little sweet, a little salty and a teeny bit spicy. Then, I topped it off with the herb butter mixture I made with Land O Lakes® Butter with Olive Oil that I call Chimichurri Butter. I call it that because there's fresh parsley and oregano in the compound butter. It's heaven. Seriously. Serve this steak with mashed potatoes, your favorite vegetable and a salad. Dinner will be amazing. I know you'll love it!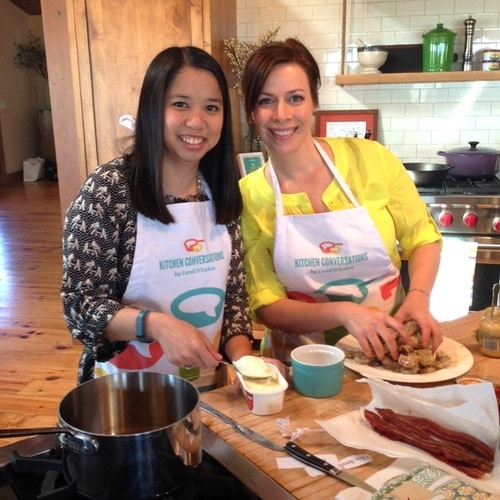 Last week, I traveled to Oklahoma with Land O'Lakes and the rest of the Kitchen Conversations panel, we had a little cooking retreat. We cooked together, chatted, learned ALL about butter, even had a butter tasting and had tons of fun!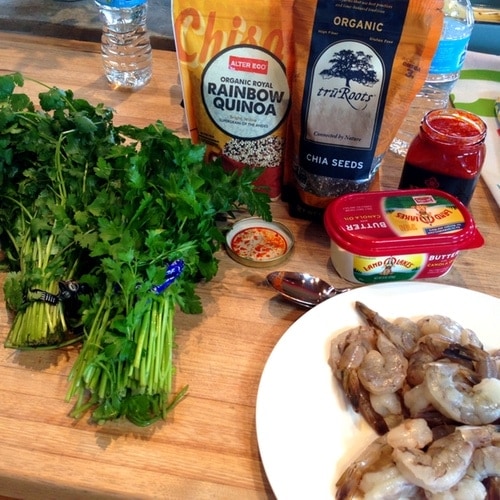 We had a friendly cooking competition, Chopped-style, and my cooking partner was Sommer. Our secret ingredients were harissa butter and chia seed (I need to make it again at home so I can share with you our wonderful recipe!) I cooked in Ree's kitchen at the Lodge (weeeee!). I made quinoa for the first time and loved it! We used almost an entire tub of Land O Lakes® Butter with Canola Oil for our recipe and it was amazing!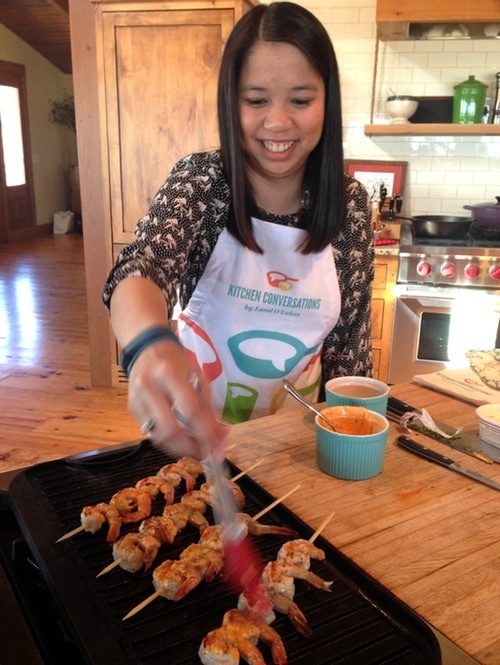 It was a blast! Ree gave us a tour of her ranch, the amazing building she's working on remodeling, we ate tons of good food and met Charlie!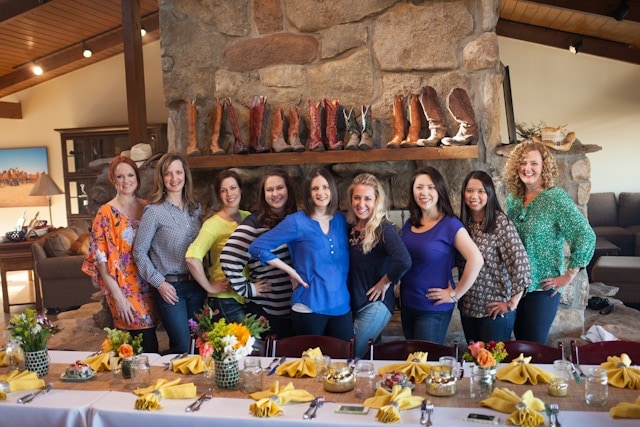 Be sure to check out the other panelists' recipes…I can say that they are all amazing because I got to taste each and every one of them!! Best-Loved Blueberry Muffins from Becky of Land O'Lakes, Chicken and Brie Grilled Cheese from Fifteen Spatulas, Roasted Mexican Cauliflower with Pepitas from A Farmgirl's Dabbles, Lemon Chia Seed Pancakes with Roasted Strawberries from Two Peas and Their Pod, Cheesy Green Chile and Buttermilk Biscuits from Picky Palate, Chocolate Baguette Sandwiches with Orange and Sea Salt from Bake at 350, Savory Waffle Sandwiches from A Spicy Perspective and from Rosemary Hasselback Potatoes The Novice Chef!
Here's the step by step for making the grilled steak.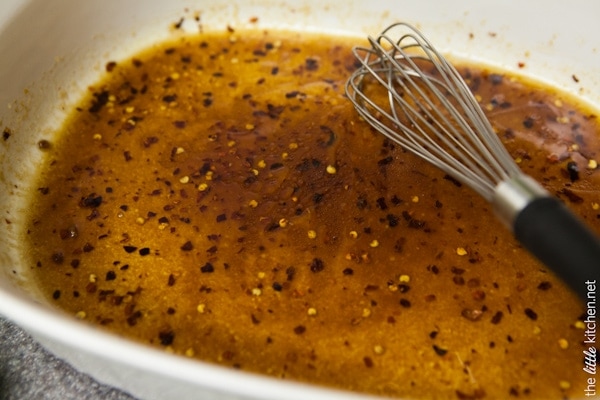 Put the marinade together. It takes seconds.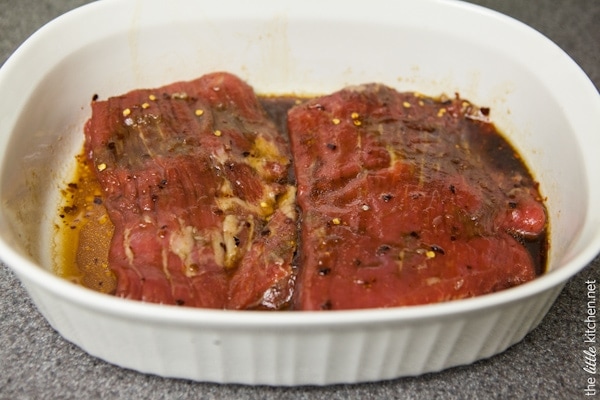 Add the beef flank steak. I cut it in half because I was afraid it wouldn't fit on my grill pan. (But of course it did fit.) If you're going to cook this right away, leave the baking dish on the counter for 20 minutes. This gives the beef a chance to get closer to room temperature.
If you're not cooking this dish for a few hours, cover it and put it back in the refrigerator.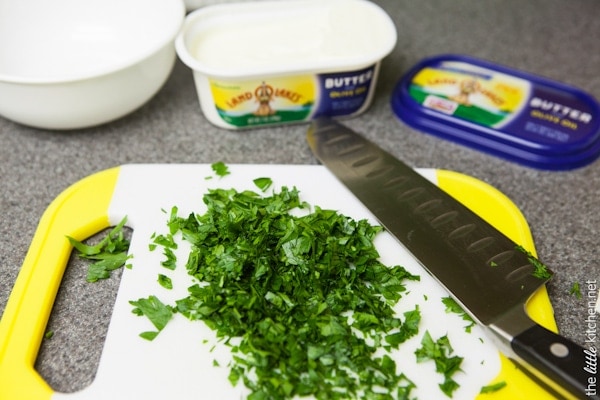 Making the Chimichurri Butter, it takes just a couple of minutes. First, chop up the herbs and garlic.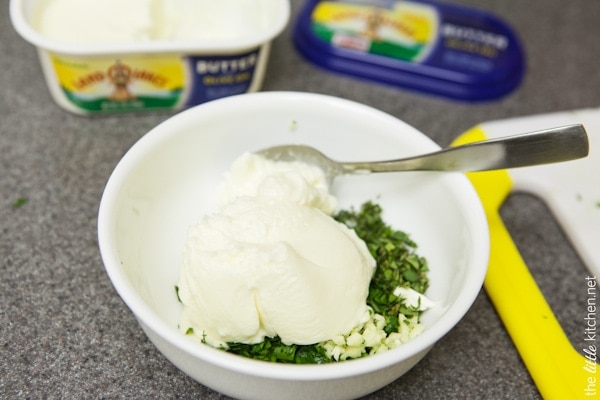 Add half of the tub of Land O Lakes® Butter with Olive Oil. I love that it's made from simple ingredients, ingredients that you can pronounce: sweet cream, olive oil and salt.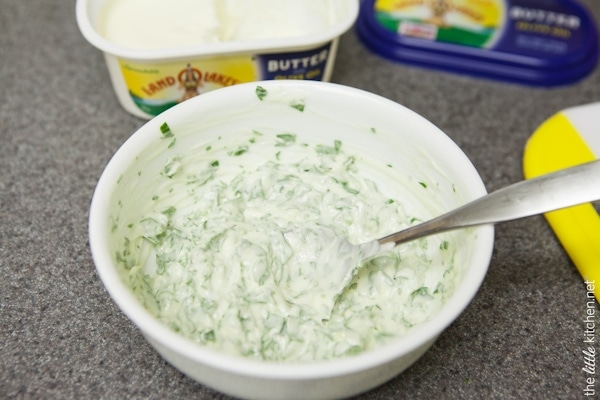 Mix together thoroughly and place in the refrigerator. The butter with olive oil is spreadable, so it makes making a compound butter so super fast!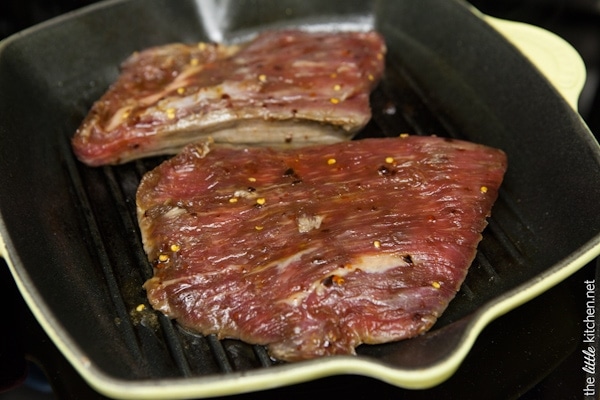 Heat the grill pan for 5 minutes and add oil, if needed.
Allow the steak to rest before slicing. This is very important!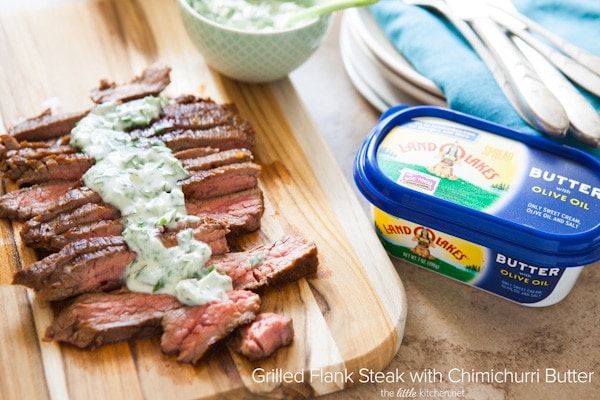 This dish is super simple…which is my favorite kind of dish to cook. The level of flavors from the marinade and the Chimichurri Butter play nicely together. The compound butter is necessary for this dish. The freshness of the herbs and the butter go really well with the steak!
Recipe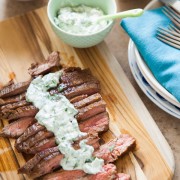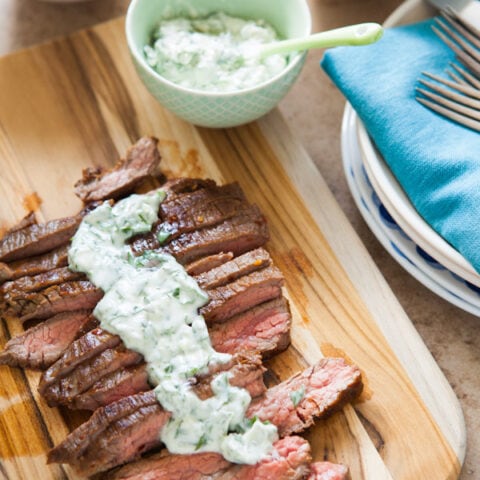 Print
Pin
Grilled Flank Steak with Chimichurri Butter Recipe
Ingredients
Steak and Marinade
2

Tablespoons

vegetable

,

canola or grape seed oil

1/2

teaspoon

salt

2

Tablespoons

or 1 1/2 teaspoons packed light brown sugar

1

Tablespoon

soy sauce

2

teaspoons

red wine vinegar

1/2

teaspoon

crushed red pepper flakes

1 1/2

pounds

beef flank steak
Chimchurri Butter
2

Tablespoons

chopped fresh flat leaf parsley

1

Tablespoon

chopped fresh oregano

1

minced garlic clove

1/2

tub Land O Lakes® Butter with Olive Oil
Instructions
Mix oil, salt, brown sugar, soy sauce, red wine vinegar and red pepper flakes with a whisk in a large baking dish or bowl. Trim any excess fat off of the flank steak and cut into two if necessary. Add steak to the bowl and allow to marinate on the counter for 20 to 25 minutes.

Cut up herbs and garlic and mix in a small bowl with 1/2 of a tub of Land O Lakes® Butter with Olive Oil. Place in the refrigerator.

Heat grill pan on medium high (oil pan if necessary) for 5 minutes. Add steaks to the grill pan and cook for 3 to 4 minutes on each side. Turn again and cook about 1 minute on each side. Remove from pan and place on a clean plate and allow meat to rest for about 5 to 6 minutes before slicing. (Make sure to slice against the grain at an angle.) Serve topped with Chimchurri Butter.

Serve with mashed potatoes, vegetables and a salad if you wish.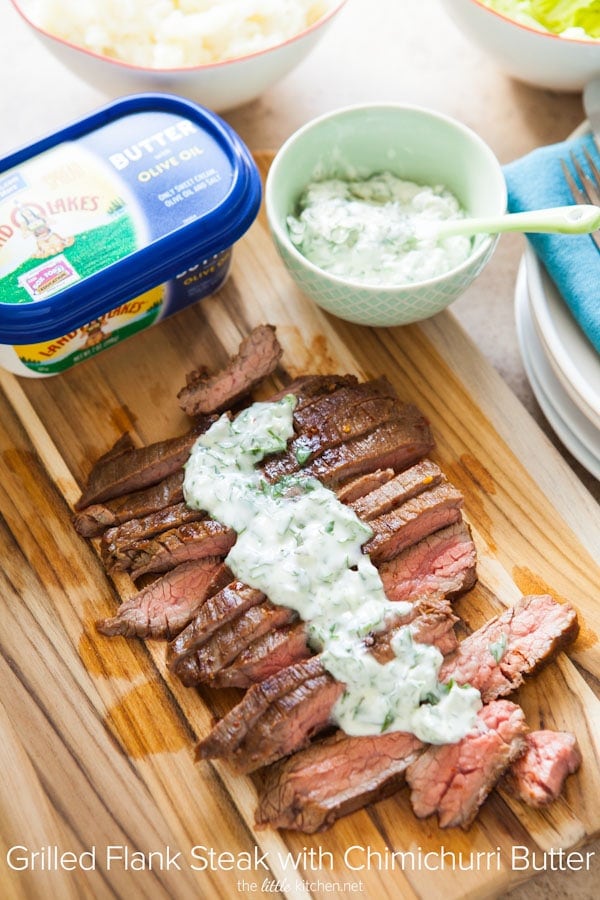 Disclosure: The Little Kitchen has partnered with Land O'Lakes for an exclusive endorsement of Land O Lakes® Butter for their Kitchen Conversation blogger program. This blog post is sponsored by Land O'Lakes.