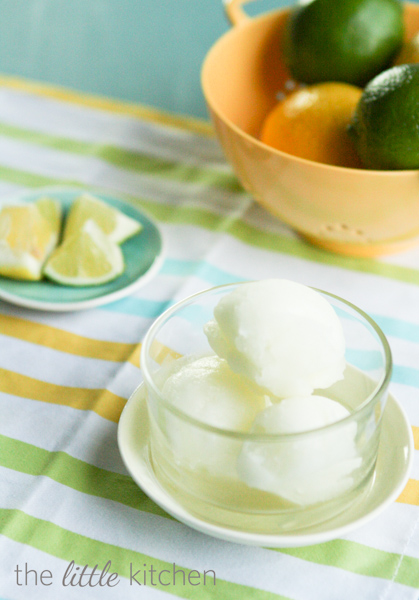 Growing up, I have always loved ice cream. A fun treat we always had with birthday cake, cooling off in the summer at the ice cream truck and always, always enjoying it. My first job at sixteen was at a Haagen-Dazs ice cream shop. Oooh that was so fun. What a dream…all of those wonderful ice cream flavors. But that is also where I met Curtis, my husband. Can I tell you that I had the worst crush on him? I was in high school and he was just finishing college. I know, sounds so bad but it wasn't that way at all (we were just friends even though I was smitten for him). Anyways, I would write my name with his last name in my notebooks…so corny huh? We lost touch for a while – maybe a year or so?
Fast forward to the end of my freshmen year of college, we reconnected and started dating. Fast forward, more than thirteen years later…and almost nine years of marriage, here we are. And you know what our dream is for when we retire? We want to open up an ice cream shop. Curtis talks about it all the time and gosh maybe last year, we went to an ice cream shop the next town over and running it was an older couple, similar to us (she was Asian and he was Caucasian). They were as sweet as can be and it made us blissful for our dream. One day!
I was so excited when my friend Susan from Doughmesstic told me she was doing an ice cream cookbook – The Everything Ice Cream, Gelato, and Frozen Desserts Cookbook. I have always wanted to make my own ice cream but wasn't brave enough. I have to tell you a few things – armed with her cookbook and the wonderful KitchenAid stand mixer ice cream attachment, it's so darn easy. I kind of wish I hadn't waited this long.
You'll love her coobkook! It has over 300 recipes I cannot wait to make gelatos, this, this and this!


It's really easy to put the attachment together on your KitchenAid stand mixer, the ice cream attachment works on all different size stand mixers. It comes with an adapter but I didn't need it on my five quart stand mixer. Put it together and work quickly – the attachment needs to freeze for 15 hours and you don't want to leave it out of the freezer for long before using it.


I poured in the cooled lemon lime soda mixture (that I heated on the stove just to dissolve the sugar) and turned on the mixer for 12 minutes until it was the right consistency and that's it. Easy peasy.
Immediately after cleaning the attachment after making the sorbet, my attachment went right back into the freezer, I want to be prepared for the next time I get an itch to make ice cream, sorbet or gelato – it now has a home in my freezer.

It resulted in a wonderful tasting sorbet. Not too tart and not too sweet, just right! And those containers, I love love those containers (brings back memories of the pints we used to fill at the ice cream shop). I got them from Sweet Bliss Containers. When they arrived and Curtis saw them, he said we'll have to get those for our ice cream shop. 🙂
I love a good sorbet, I remember when I was working at the ice cream shop, they had just come out with a line of sorbets and the sorbet smoothies were really popular. They were fun & easy to make too!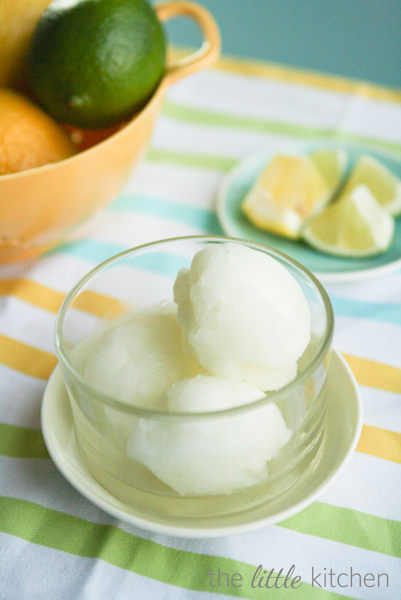 When Susan asked me if I would like a copy of her book and KitchenAid offered to allow me to review their ice cream attachment for their stand mixers, I never knew a world of homemade frozen dessert fun would open up for me. That's why I'm so excited to share with you Susan's cookbook (thanks to Susan!) and from me, I'm sponsoring, the giveaway of an ice cream attachment (because I love it so much) for one of The Little Kitchen readers!
The Everything Ice Cream Cookbook Giveaway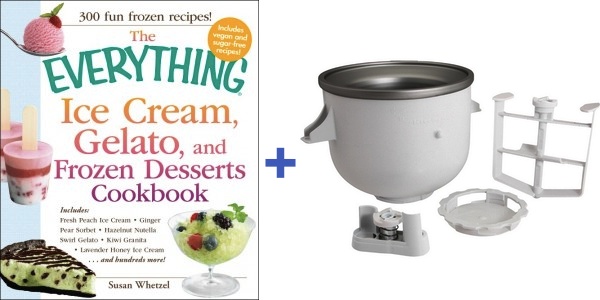 Congrats to Jen!! I know you'll love your new ice cream attachment and the awesome cookbook!
How to Enter
Answer either or both questions: What is favorite frozen dessert – what flavors? What frozen dessert would you make first with your ice cream attachment if you won?
Extra Entries
For five more extra chances to win, leave a separate comment for each type, saying you did the following:
Details
One winner will be chosen at random from all of the comments/entries posted here on this post. Be sure to do the mandatory entry and you're entered into the giveaway. The extra entries are optional. Giveaway ends on Wednesday, June 6, 2012 at 11:59 PM EST. Winner will be contacted via email supplied in the entry & will have 48 hours to respond or another winner will be chosen. (By the way, if you already do any of the above in the extra entries, just leave a comment saying so.)
By the way, this isn't an extra entry but would love your vote on this contest, all you have to do is like this pin on pinterest. Thank you!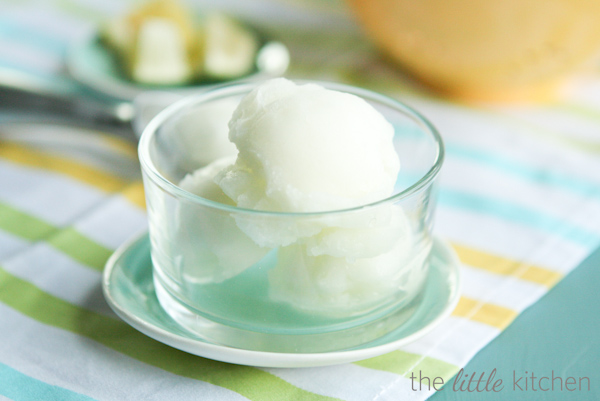 Recipe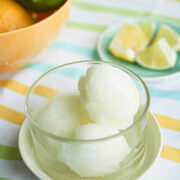 Print
Pin
Save
Lemon Lime Soda Sorbet
Ingredients
1

cup

sugar

12

ounce

can lemon lime soda

1

cup

lemon juice

1

cup

lime juice
Instructions
Place the sugar and soda in a small pot and stir over medium heat until all of the sugar is dissolved. Allow to cool and combine with the lemon and lime juice. Cover and refrigerate until cool.

Add to ice cream maker and follow manufacturer's instructions for freezing.
Notes
from The Everything Ice Cream, Gelato, and Frozen Desserts Cookbook by Susan Whetzel, reprinted with permission
Disclosure: I received a copy of Susan's book – The Everything Ice Cream, Gelato, and Frozen Desserts Cookbook and a KitchenAid ice cream attachment (from KitchenAid) for the purpose of a review. My opinions are always my own and I only share with you my favorite brands. The book giveaway is sponsored by Susan from Doughmesstic and the ice cream attachment giveaway is sponsored by me! This post does contain affiliate links. What does that mean? If you click on one of those links and purchase any of the items, I make a little bit – enough to buy a cup of coffee, so thanks!