Alice's Chocolate Chip Cookies & Savory Sweet Life Cookbook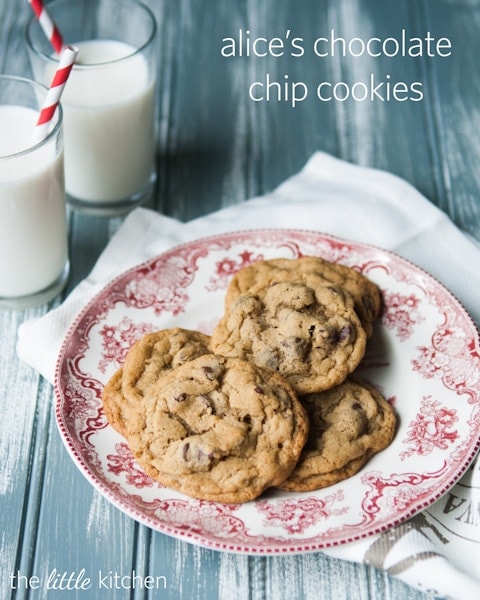 My blogger friend, Alice, from Savory Sweet Life declares these the best chocolate chip cookies ever and I'm inclined to agree with her. I have made the New York Times chocolate chip cookies and I love, love that recipe. But you have to wait over a day to begin baking them! Alice's cookies, you make the cookie dough and can immediately begin baking them…which means the eating of the cookies can start even sooner.
These cookies' richness comes from the 2 sticks of butter and use of dark brown sugar instead of the usual light brown sugar that you see in chocolate chip cookie recipes. This recipe is a total keeper. Seriously it is and if you don't believe me, check out Alice's original post, Maria's opinion and even Diane & Todd's.
I also wanted to share with you her new cookbook! It came out a few months ago and I have been thoroughly enjoying it ever since. I have made these cookies and her coconut chicken tenders. Both recipes are awesome! I can't wait to try more recipes from the book. I love how the book is divided into family events and holidays and the introduction Alice writes is so heartwarming and I can totally relate.
The Savory Sweet Life cookbook is so sweet…I adore it along with Alice herself. The book has 100 wonderful recipes along with stories and easy to read instructions. Alice a wonderful person, always has a smile on her face, always helpful and encouraging. The writing in the cookbook, the recipes as well as the writing on her blog is so true…I just love it. You'll love this cookbook and then want to tell your friends about it.
I'm happy to be able to share a copy of the Savory Sweet Life cookbook with one lucky reader today!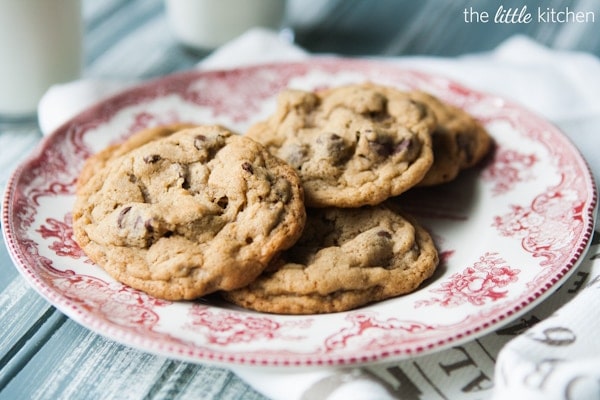 Recipe
Alice's Chocolate Chip Cookies Recipe
Ingredients:
1 cup (2 sticks) unsalted butter, at room temperature
½ cup granulated sugar
1 ½ cups firmly packed dark brown sugar
2 eggs
2 teaspoons pure vanilla extract
2 ¾ cups all-purpose flour
1 ½ teaspoons baking powder
1 teaspoon baking soda
½ teaspoon sea salt
2 ¼ cups semisweet chocolate chips
Directions:
1. Preheat the oven to 360°F. Line a cookie sheet with parchment paper.
2. Using a hand or stand mixer, cream the butter, granulated sugar, and brown sugar together on medium-high speed for 3 minutes, until nice and fluffy. Beat in the eggs one at a time and vanilla, and mix for 2 minutes. Reduce the mixer speed to medium-low and add the flour, baking powder, baking soda, and salt. When the cookie dough has absorbed the dry ingredients, stir in the chocolate chips and mix until they are well distributed.
3. Drop 2 tablespoons of dough (or use a medium cookie scoop) onto the cookie sheet for each cookie, spacing them 2 inches apart. Bake for 15 minutes, or until the edges are nice and golden brown. Remove the cookie sheet from the oven and allow the cookies to cool for 2 minutes. Then slide the parchment paper, with the cookies still on top, onto a wire rack to cool completely.
Reprinted with permission from SAVORY SWEET LIFE: 100 Simply Delicious Recipes for Every Family Occasion by Alice Currah, William Morrow Publisher 2012
Have you tried this recipe?
The giveaway is closed & congrats to Christina D for winning!
To enter in the Savory Sweet Life cookbook giveaway
Just leave a comment saying you want to win or actually about whatever you want.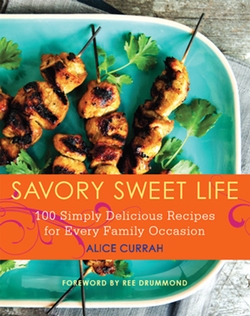 For an extra entry, tweet the following:
I would love to win a copy of the @SavorySweetLife cookbook from @TheLittleKitchn! http://bit.ly/MPZNep ends 8/29
That's it!
Here are some details:
U.S. Only. One winner will be chosen at random from all of the comments/entries posted here on this post. Be sure to do the mandatory entry and you're entered into the giveaway. The extra entries are optional (do some or all, just leave a separate comment for each). Giveaway ends on Wednesday, August 29, 2012 at 11:59 PM EST. Winner will be contacted via email supplied in the entry & will have 48 hours to respond or another winner will be chosen.
Disclosure: I was provided a review copy and the giveaway copy is being provided by the publisher. As always, I only share my favorites on the blog and you're always getting my honest opinions! Affiliate links are included in this post.