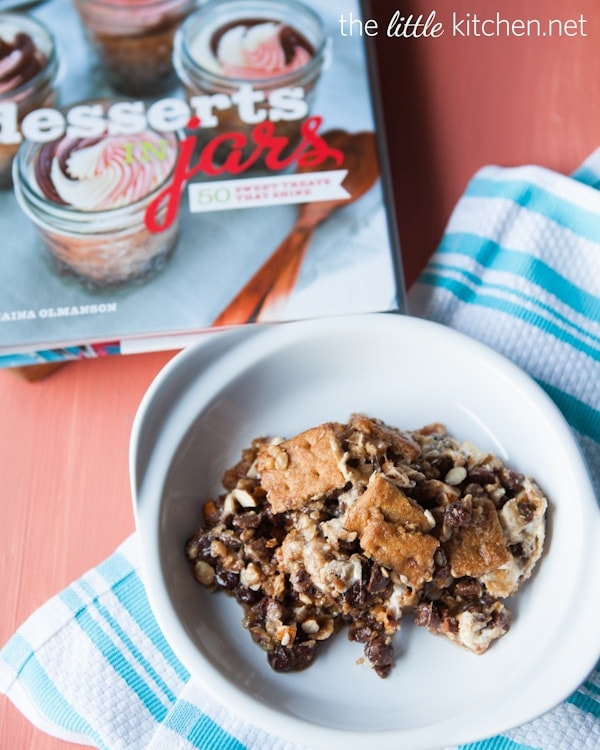 Hey there! Today, I'm so excited to share with you for the sixth day of giveaways, my friend, Shaina's book Desserts in Jars! She's an incredibly talented mom and food blogger over at Food for My Family. She photographed the book by herself! I remember meeting Shaina last year at a food blog conference, our mutual friend, Jaden, introduced us. She's quiet at first when you meet her, she's really funny and let me tell you she does not give herself enough credit!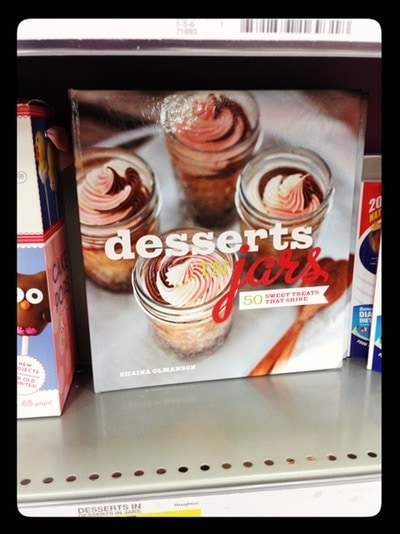 This book is gorgeous and I want to make so many recipes from it! The cookbook starts out with tips on how to bake in jars and how to fill them. Right now, this is the perfect last minute gift for the foodie in your life you don't know what to get for…it's available in stores at Target and World Market. I have spotted it at both stores near me. And you can order it on Amazon or Barnes & Noble or purchase it wherever books are sold.
Let's talk about the recipe I made from the cookbook – campfire bars. Am I allowed to say oh my God? Because these are a notch above s'mores. Yep…I love that they have trail mix in them. You can whip them up and put them into a jar for a friend as a gift – just takes minutes – and all they have to do is add butter (!!!) and bake them. If a friend gave these to me for a gift, I would hug them 10 times.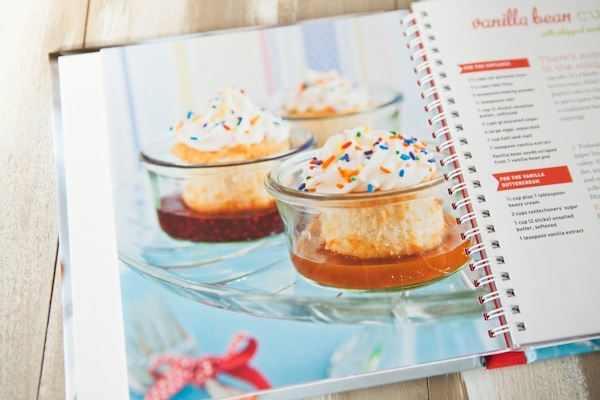 There are 50 recipes in the book and I already marked a few other I want to try including these Vanilla Bean Cupcakes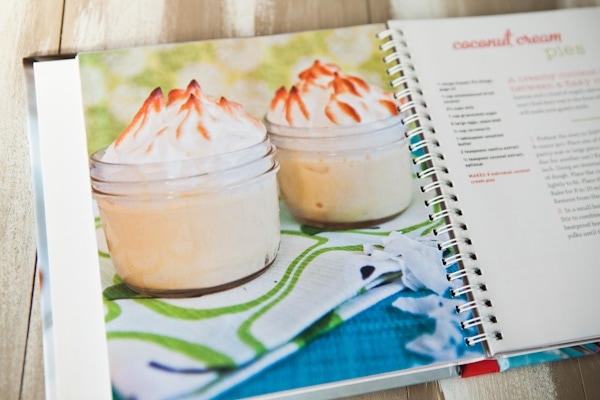 and these Coconut Cream Pies!!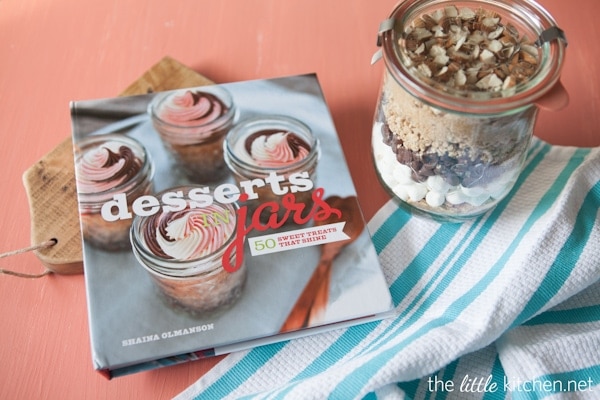 That's the campfire bars mix!! Put a bow on it, print out instructions on what to do with the mix and give it to your best friend. They will thank you!
And now I'm so excited to give away Shaina's book and some other nifty prizes to get you started in making desserts in jars and hopefully making some sweet treats for yourself AND some friends!
this giveaway includes:
Desserts in Jars by Shaina Olmanson
1 case of half size – 8 ounce jars
1 Jar of Monster Cookie Mix
$25 Gift Card for Target to get your supplies to make Desserts in Jars!
Retail Value: $65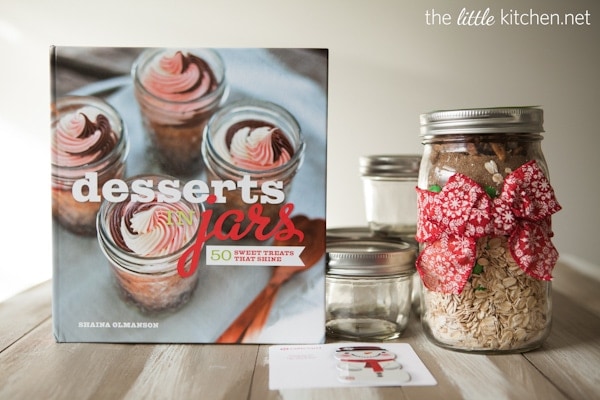 Please use the form below (comments will not count toward entry into the giveaway). Good luck!
This giveaway has ended.
Congrats to Peggy K! I know you'll love this cookbook!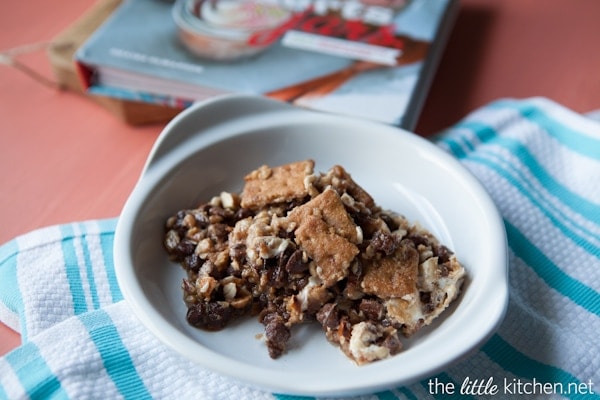 Recipe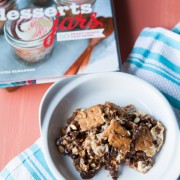 Print
Pin
Save
Campfire Bars Recipe
The smell of wood burning, marshmallows roasting to a golden brown, sticky fingers, and mouths full of happiness: Everyone loves a toasty s'more. The melted chocolate and gooey marshmallow surrounded by crunchy crackers give you the taste of a hearty trail mix as you enjoy a walk through the woods. Here all the flavors of camping are tucked inside a quick and easy mix for giving.
Servings
1
jar of campfire bars mix, 16 bars
Ingredients
1

cup

graham cracker pieces

,

each about 1-inch square

1 1/2

cups

mini marshmallows

3/4

cup

milk chocolate chips

1/2

cup

granola

1/2

cup

packed light brown sugar

1/2

cup

chopped almonds
Instructions
In a 1-quart jar, layer the graham crackers, marshmallows, chocolate chips, granola, brown sugar, and almonds. Seal with the lid, decorate the jar if you like, and attach a label with these instructions for the reipient:
To make campfire bars:
8 Tablespoons (1 stick) unsalted butter melted

Preheat the oven to 350 degrees F. Pour all of the contents of the jar into a large bowl. Stir in the melted butter until all the pieces are coated. Press into a 9-inch square baking pan. Bake for 12 to 15 minutes. Allow to cool. Cut into bars and serve.
Disclosure: This giveaway is sponsored by The Harvard Common Press. I also received the same items the winner will receive. I only share my honest opinions with you and yes, there are affiliate links in this post.