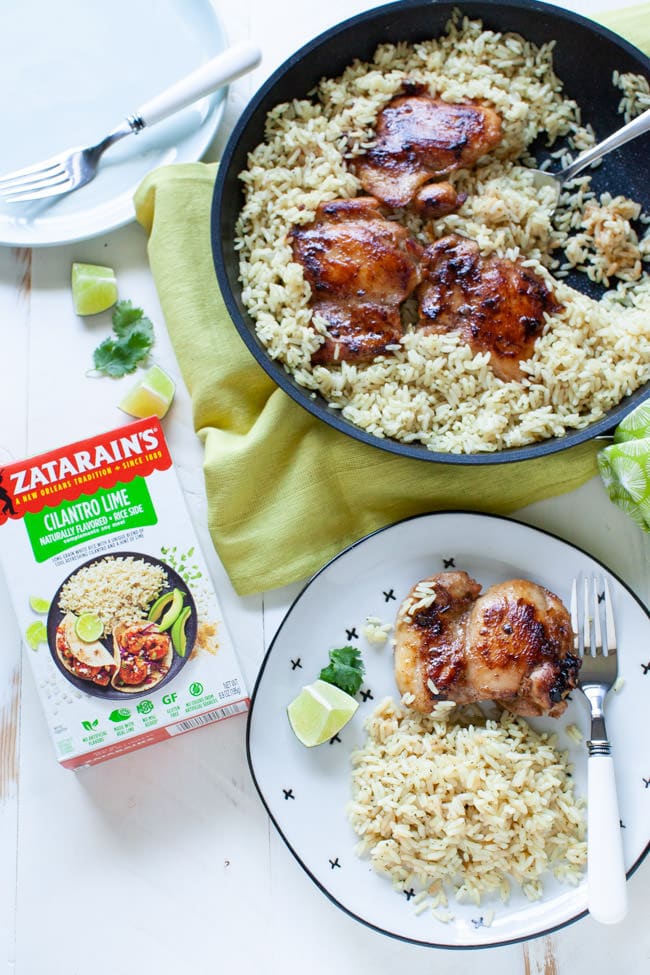 This post is sponsored by Zatarain's.
It's National Rice Month ????????, did you know that? I'm so excited to be working with Zatarain's and bringing you this recipe for a one pot soy glazed chicken with cilantro lime rice. It's so easy to make because I use Zatarain's Cilantro Lime Rice and because I make it all in one pan!
Growing up as a Vietnamese American here in the U.S., my Mom cooked a lot of rice. We ate rice at least five to six times a week. As an adult, I love cooking Asian rice as well as other kinds of rice. From Zatarain's Spanish Rice Mix to their Jamabalaya Rice Mix and even to Zatarain's Yellow Rice, I love it all!
As you can tell, rice has always been a staple in our house when I was a kid and now as an adult. I consider it an essential part of a meal. We have rice several times a week! And the beauty of Zatarain's Cilantro Lime Rice is that reheats nicely too. This entire meal reheats and work great as leftovers too!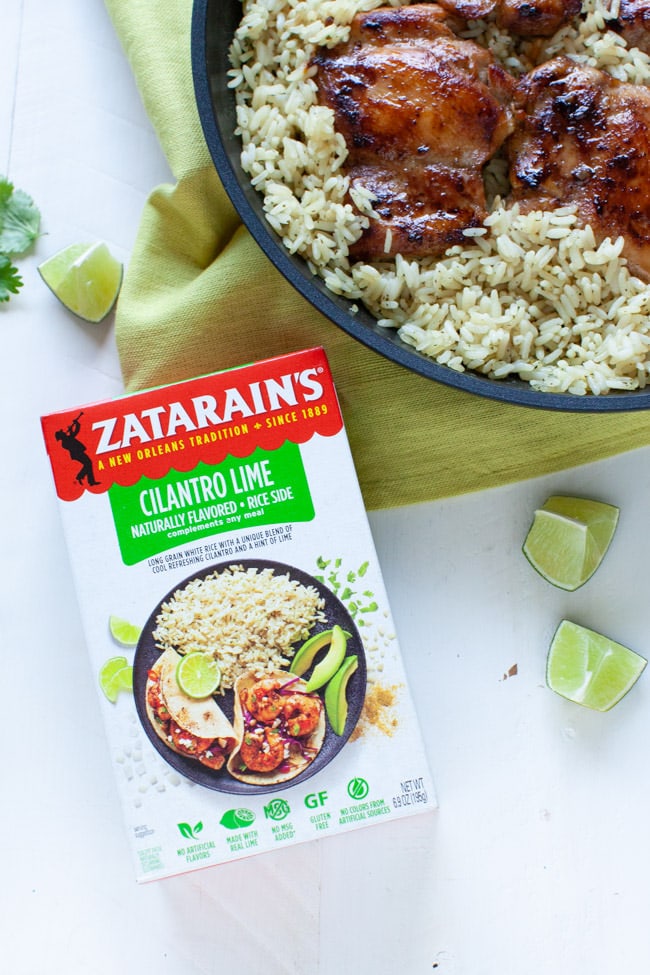 Of course when I started working with Zatarain's, I knew I wanted to share with you an Asian-inspired dish and the cilantro lime rice is a perfect part of this dish!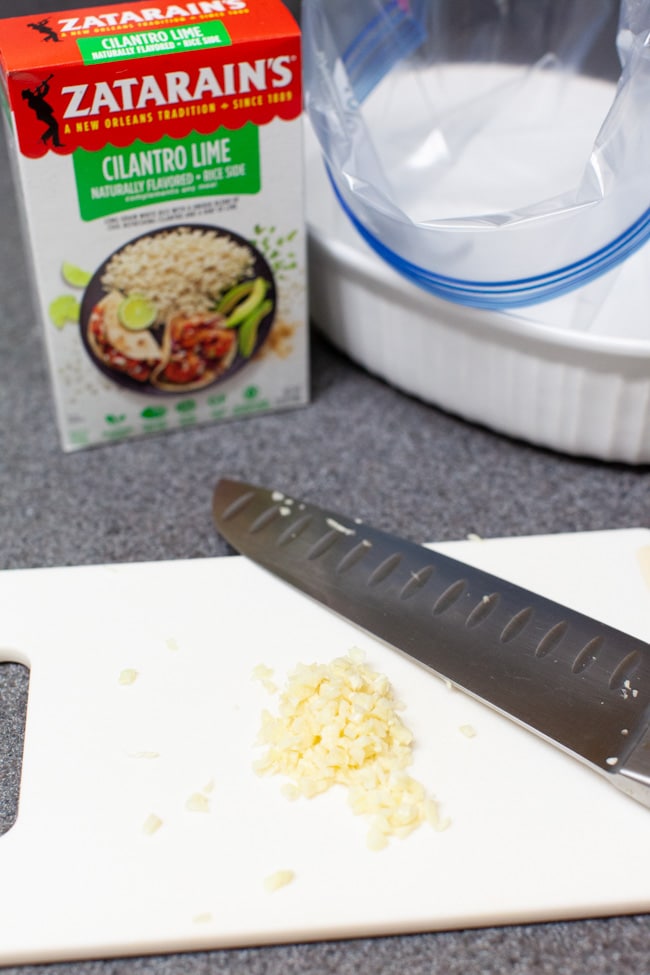 First, mince the garlic.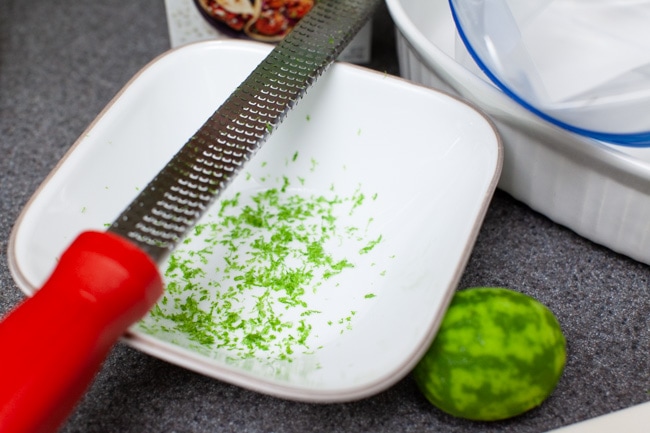 Use a grater to zest a lime.
And then juice the lime. I do it right into the bag I'm going to marinate the chicken in.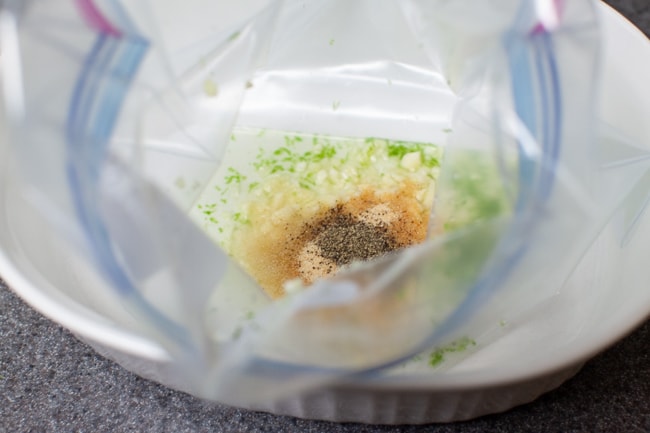 Add the spices.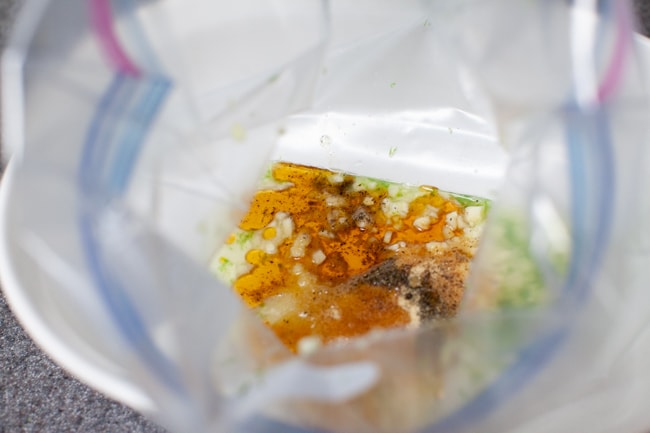 The sesame oil.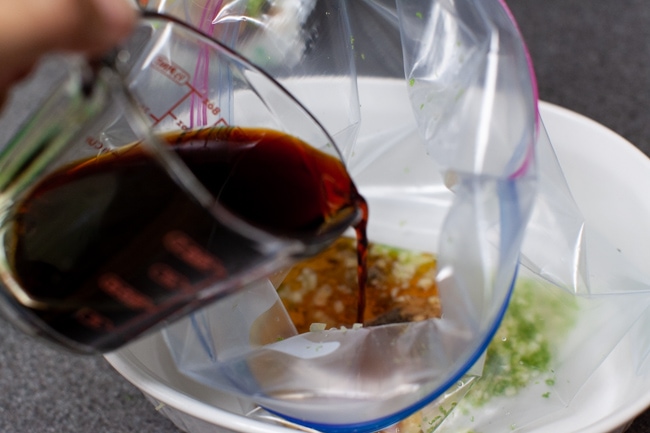 And the low sodium soy sauce.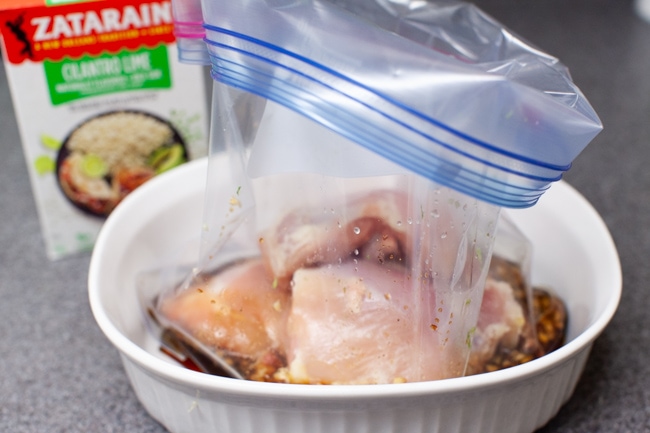 Seal the bag and place it in the refrigerate to marinate. You only need to marinate it for 10 minutes!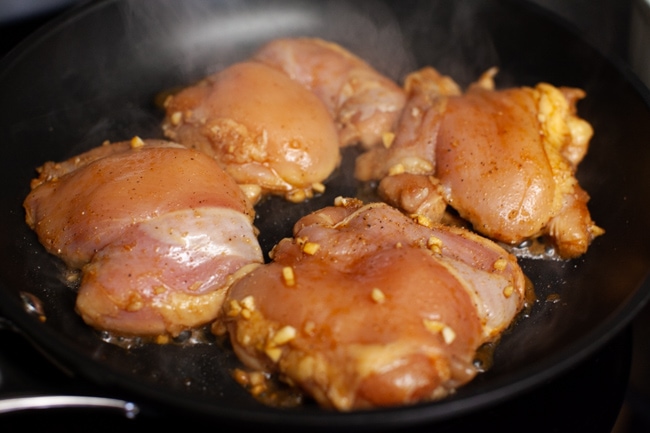 Add the chicken to a nonstick skillet.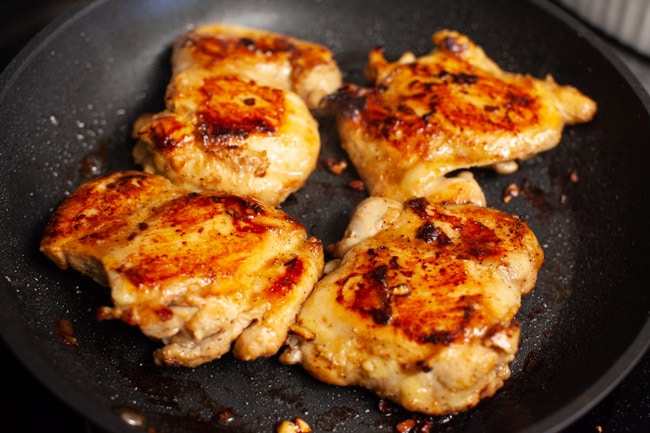 All we're trying to do is sear the chicken. It's going to cook the rest of the way in the oven.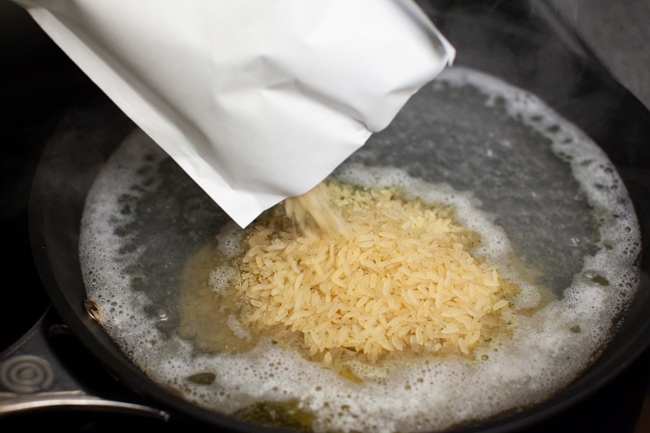 I wiped the pan clean and then boiled some water. Then, added Zatarain's Cilantro Lime Rice to the pan.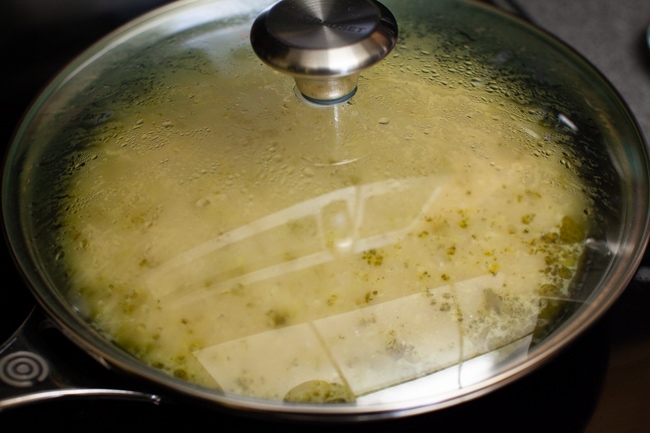 Cover it, lower the heat so it's a simmer and cook for 15 minutes.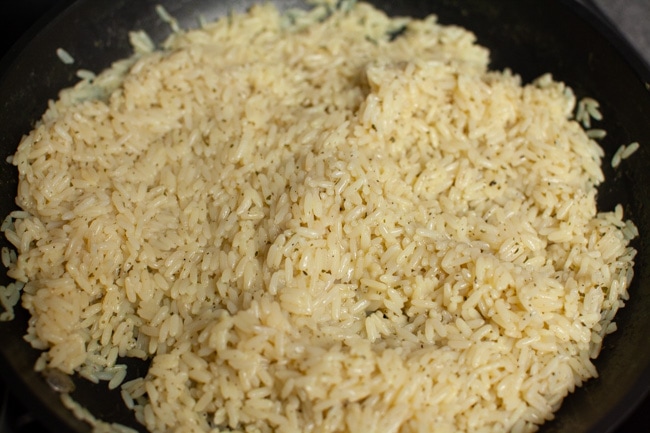 It's sooo good! But it's not cooked all the way yet.
Add the chicken on top of the rice and then cover with foil. Place it in the oven to cook the rest of the way.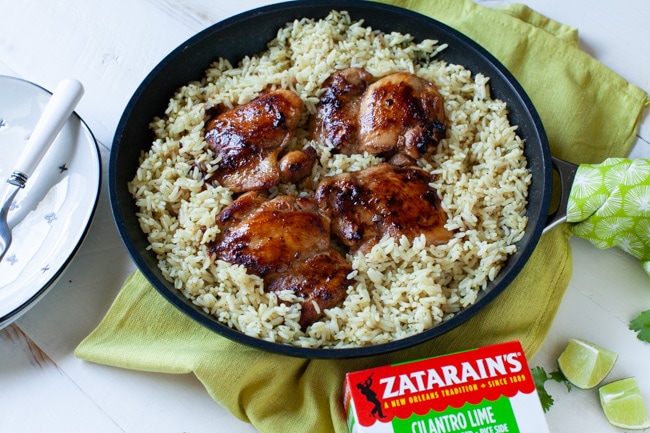 I love love that I can make a meal in just one pot! It's easy for clean up and it's less stress for a week night meal!
The rice is so flavorful and the chicken is tender and has the perfect balance with the soy sauce along with lime juice! It's a new favorite in our house! You definitely need to try this recipe as soon as possible! I have a feeling you'll be very popular after you do! ????
I'm currently obsessed with Zatarain's Cilantro Lime Rice and can't wait to cook with it in other recipes like this recipe for Cheesy Chicken Salsa Rice!
Recipe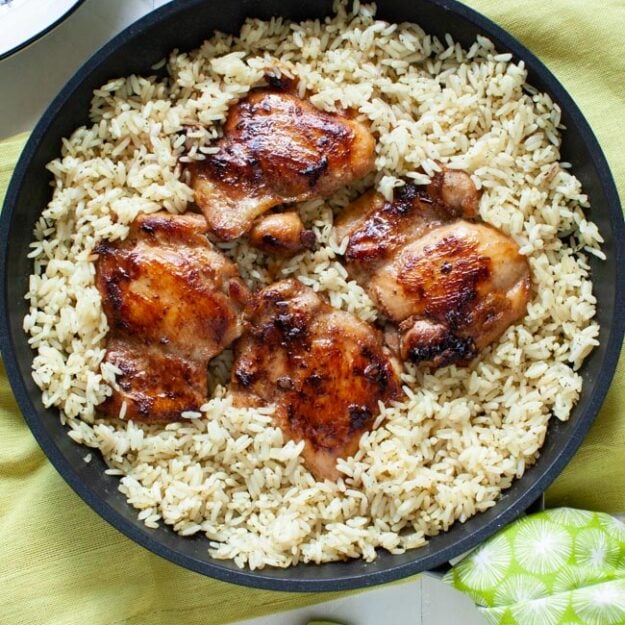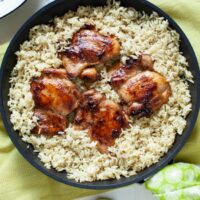 Print
Pin
One Pot Soy-Glazed Chicken with Cilantro Lime Rice Recipe
Ingredients
1 1/2

pounds

boneless or bone-in skinless chicken thighs

4

garlic cloves

,

peeled and minced

zest of one lime

juice of one lime

1/4

teaspoon

pepper

1

teaspoon

garlic powder

1/2

teaspoon

onion powder

1/2

cup

low sodium soy sauce

2

teaspoons

sesame oil

1

teaspoon

grape seed oil

1

package of Zatarain's Cilantro Lime Rice

another lime cut into wedges

,

optional
Instructions
Heat your oven to 425 degrees F.

Add minced garlic, lime zest, lime juice, pepper, garlic powder, onion powder, sesame oil, soy sauce and to a zippered plastic bag. Add chicken and seal the bag. Place bag on a clean plate or inside a casserole dish and place in the refrigerator. Marinate the chicken for at least 10 minutes (no need to do it more than 20 minutes).

Now we're going to sear the chicken. Add grape seed oil to an oven-safe nonstick skillet pan and turn heat on medium high. Heat the pan for 3 minutes.

Remove chicken from plastic bag, pat the chicken with a paper towel (see notes below).

Then, add chicken to the pan and cook on each side for 3 to 4 minutes (if using bone-in, 4 to 6 minutes per side). Remove the chicken from the skillet, place on a clean plate and set aside.

Wipe the pan clean with paper towels and place back on the range.

Add 2 cups water and 1 tablespoon butter to the pan. Bring the water to a boil. Add rice and cook for 15 minutes.

Place chicken on top of the rice, carefully cover the pan with foil and place in the oven to cook the rest of the way. About 10 to 15 minutes (if you're using bone-in chicken, it will take about 24 to 25 minutes), or until chicken is fully cooked.

Cook the CIlantro Lime Rice

Remove the skillet carefully from the oven and allow the chicken to rest for 5 to 6 minutes before cutting into it to check for doneness. Serve the chicken with Zatarain's Cilantro Lime Rice with your favorite vegetable.

Optional:  Squeeze lime wedges on top of the chicken before serving.
Notes
Notes: You're not patting the chicken completely dry. But enough so that you're not boiling the chicken in the marinade when you place it in the pan.
Disclosure:  This post is sponsored by Zatarain's. I only work with brands that I love and always share with you my personal opinions.