I'm so excited about this cilantro lime chicken recipe from How Sweet Eats blogger Jessica Merchant's Everyday Dinners Cookbook! The cilantro lime flavors are amazing and it's so easy to prep and cook, you make it on a sheet pan!
I received a copy of Everyday Dinners from the publisher for the purpose of review.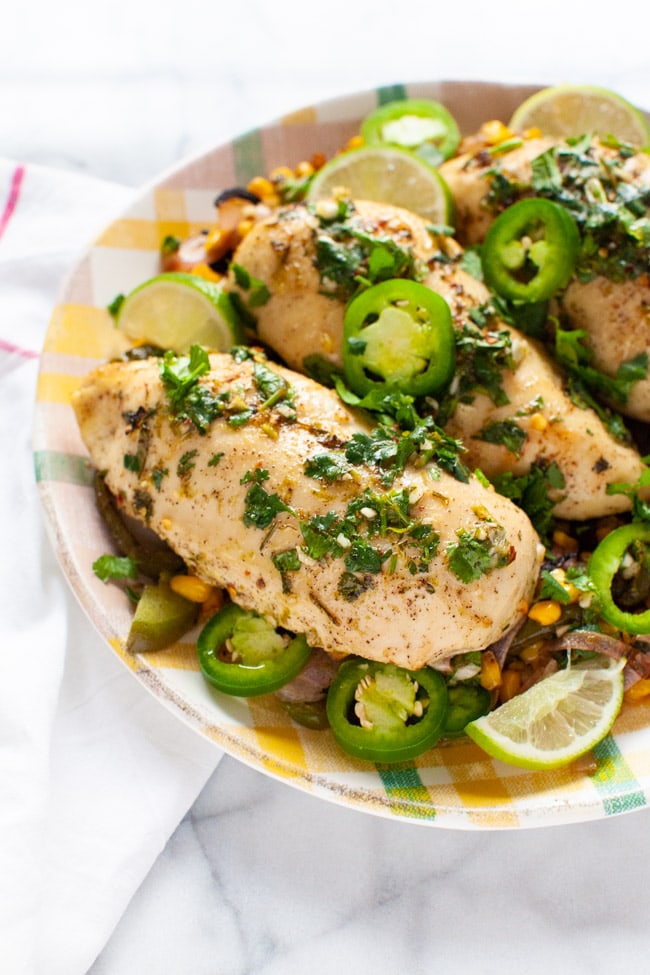 There are affiliate links in this post. I get commissions for purchases made through these types of links in this post. As an Amazon Associate I earn from qualifying purchases.
I have known Jessica Merchant from How Sweet Eats for years. It's been too long since I have seen her in person…she's one of the sweetest food bloggers I know. Her recipes are amazing, they work and I'm so excited about her newly released cookbook:
Everyday Dinners: Real-Life Recipes to Set Your Family Up for a Week of Success: A Cookbook
The cookbook is not only gorgeous but it's packed full of dinner ideas that are really easy to prep and make. I'm so excited to dive into the book.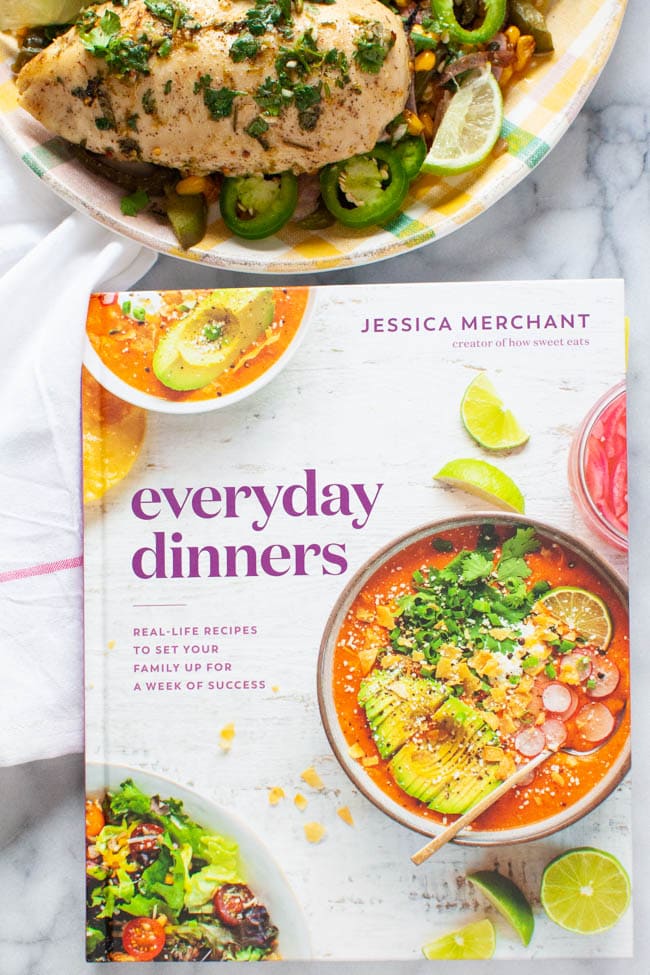 There are so many recipes that I want to make from the book: from Stone Fruit Halloumi Salad to Butternut Squash Minestrone Soup to making Gnocchi on a Sheet Pan (no boiling needed) to Burratta Baked Ziti and so much more!
I'm looking forward to cooking from this book!
What is Cilantro Lime Chicken?
Cilantro Lime Chicken is what we're making from Jessica's cookbook! It's a very simple and easy to prep dish with ingredients that includes chopped cilantro, lime zest, freshly squeezed lime juice, minced garlic, olive oil and other ingredients.
Start by making a cilantro lime marinade that the chicken and vegetables are mixed into. Roast the chicken and vegetables on a sheet pan and you have cilantro lime chicken!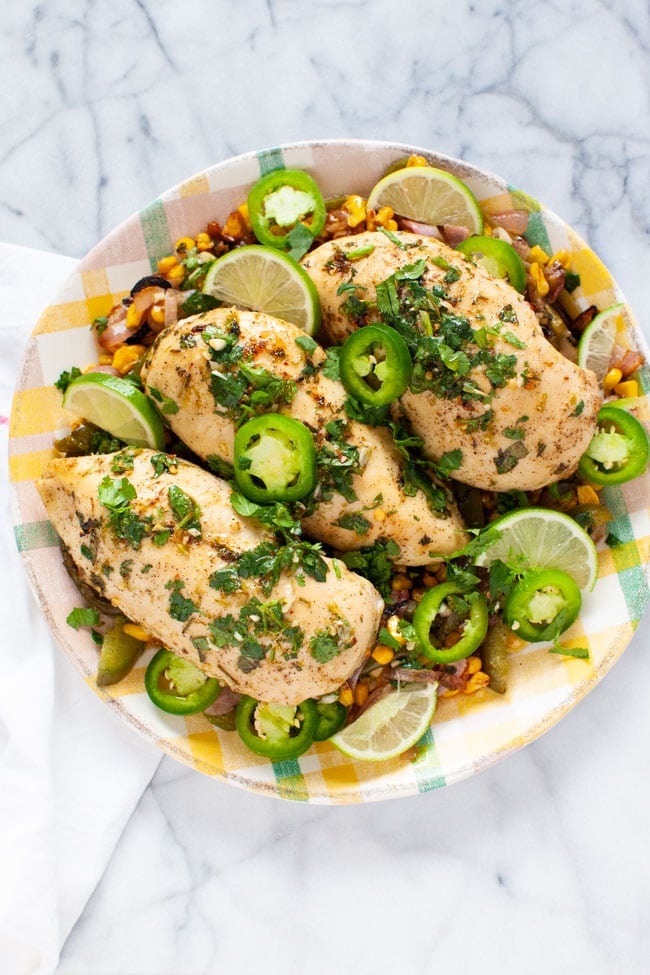 How to Make Cilantro Lime Chicken
I'm going to take you through How Sweet Eats' Cilantro Lime Chicken recipe! It's actually really easy to prep!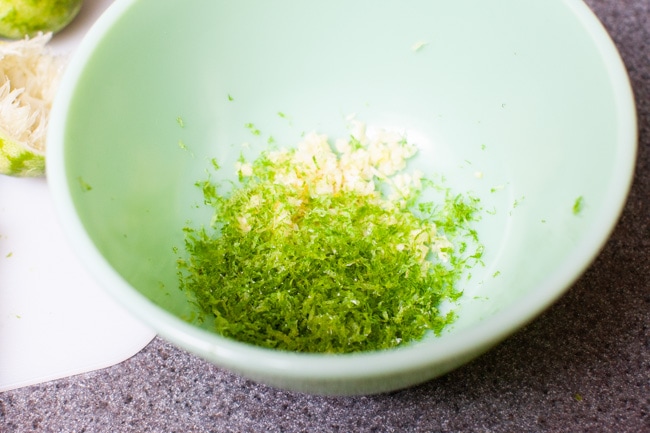 I zested a couple of limes into a bowl and added minced garlic.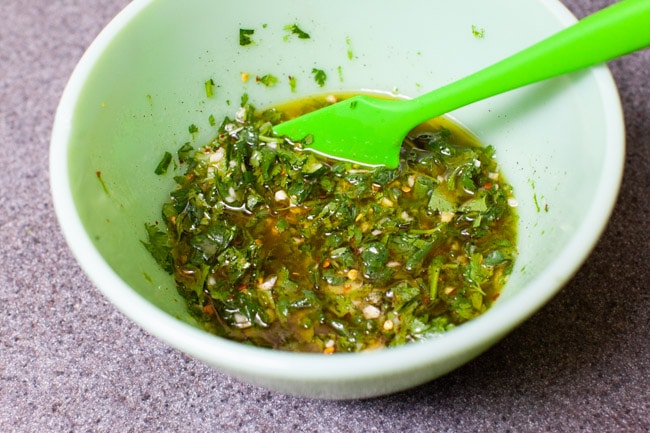 Add lime juice, olive oil, crushed red pepper flakes, salt and pepper and mix together.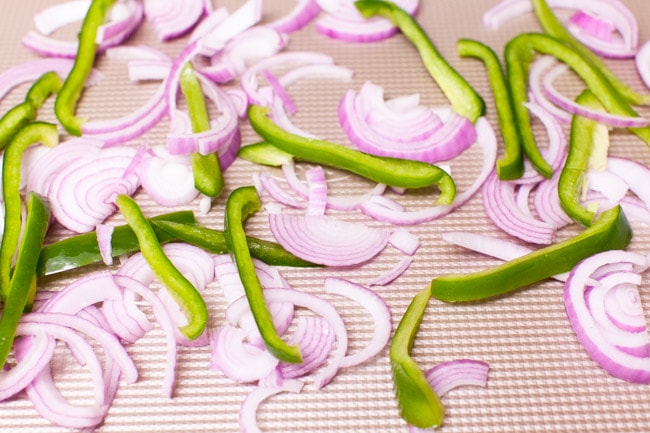 Add sliced red onions and green bell peppers to your sheet pan.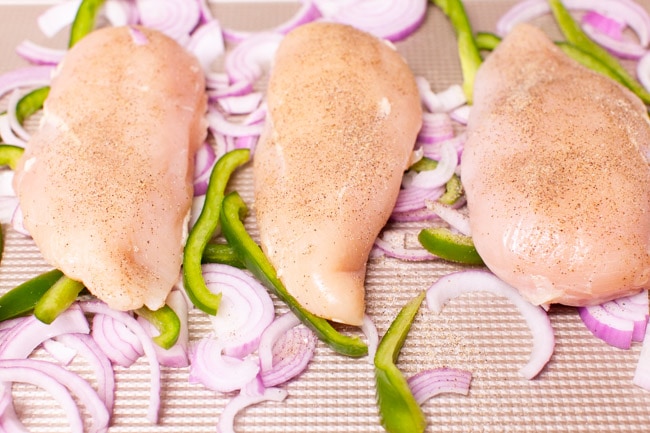 Add the chicken and season it with salt, pepper and garlic powder.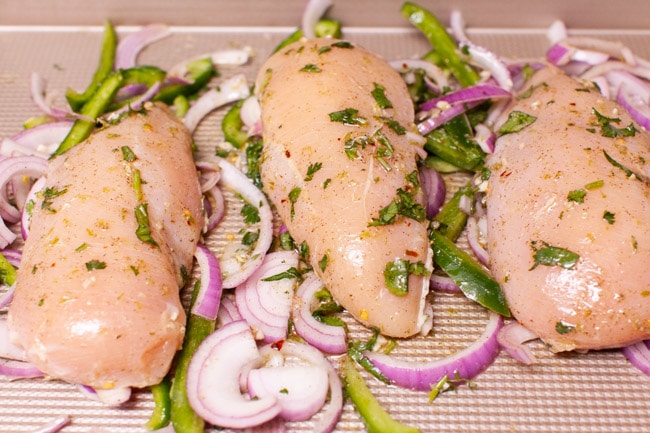 Add half of the cilantro-lime mixture and rub it into the chicken and vegetables. Add corn. (I used frozen corn.)
How to Bake Cilantro Lime Chicken
Place the baking sheet with the chicken, onions, bell peppers and corn into the oven at 425 degrees F. You'll want to roast the chicken for 20 to 25 minutes.
Use a meat thermometer to check the temperature of the chicken at its thickest part. It should read 165 degrees before removing it from the oven.
Remove the chicken from the baking sheet and allow the chicken to rest at least 5 to 10 minutes before cutting into the cilantro lime chicken.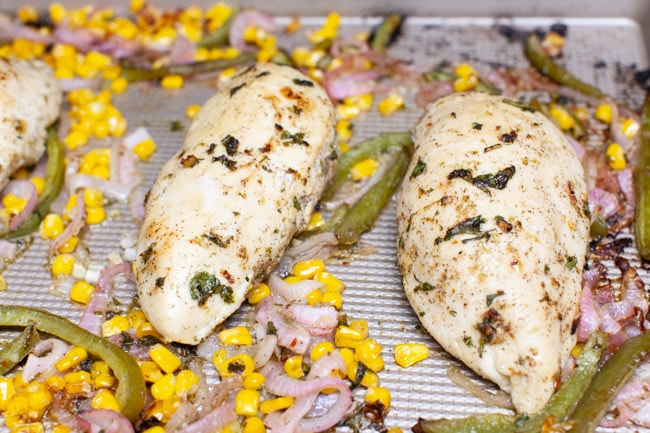 How to Serve Cilantro Lime Chicken
There's so much that goes with cilantro lime chicken. You can totally serve it with your favorite rice or couscous. You can also cut it up into cubes and serve in a burrito or with rice in a burrito bowl. When making a burrito bowl, I love adding the chicken with rice and topping the bowl with diced tomatoes, cheese and sour cream.
You can even shred the cilantro lime chicken and serve in taco shells. Or on top of a salad.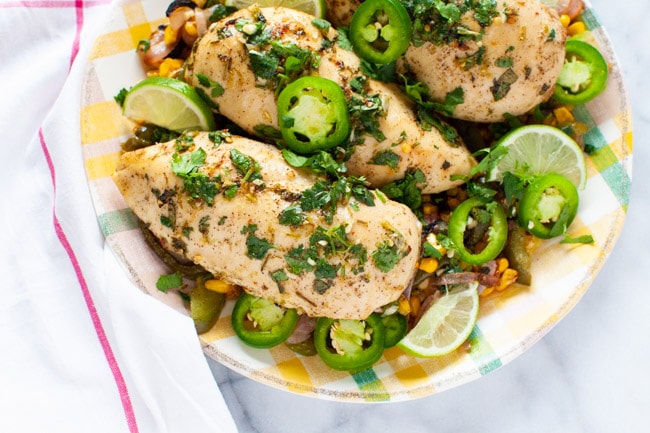 Make this recipe today and your family will love you for it! Don't forget to check out Jess' cookbook!
Recipe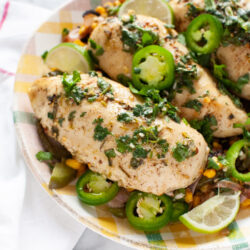 Print
Pin
Sheet Pan Cilantro Lime Chicken Recipe
Ingredients
2/3

cup

fresh cilantro

,

chopped (plus more for serving)

1/2

cup

extra-virgin olive oil

2

Tablespoons

freshly grated lime zest

1/4

cup

freshly squeezed lime juice

2

garlic cloves

,

minced

1/2

teaspoon

crushed red pepper flakes

1

teaspoon

kosher salt

1

teaspoon

black pepper

1

pound

boneless, skinless chicken breasts (or a mix of breasts & thighs)

1/2

teaspoon

garlic powder

2

bell peppers

,

thinly sliced

1

red onion

,

thinly sliced

1/2

cup

corn kernels

,

fresh, canned or frozen

3

Tablespoons

cotija cheese

,

for serving

2

Tablespoons

sliced jalapeño peppers

,

for serving
Instructions
Preheat the oven to 425 degrees F.

In a bowl, whisk together the cilantro, olive oil, lime zest and juice, garlic, red pepper flakes, and 1/2 teaspoon each of salt and pepper.

Season the chicken well with the remaining 1/2 teaspoon of salt and pepper and the garlic powder. Place the chicken on a sheet pan and surround it with the sliced bell peppers and onion. Drizzle half of the cilantro-lime mixture and toss everything well-you want it all covered. Sprinkle the corn all over the sheet pan.

Roast for 20 to 25 minutes, or until the chicken is cooked through. Use a cooking thermometer to test the internal temperature, which should be 165 degrees F. If at any time the peppers and onions look like they may burn, you can pull out the sheet pan and toss the veggies with a fork.

Let the chicken cool for 5 to 10 minutes before slicing or shredding. Top with more of the cilantro-lime sauce, fresh cilantro, cotjia cheese, and jalapeños.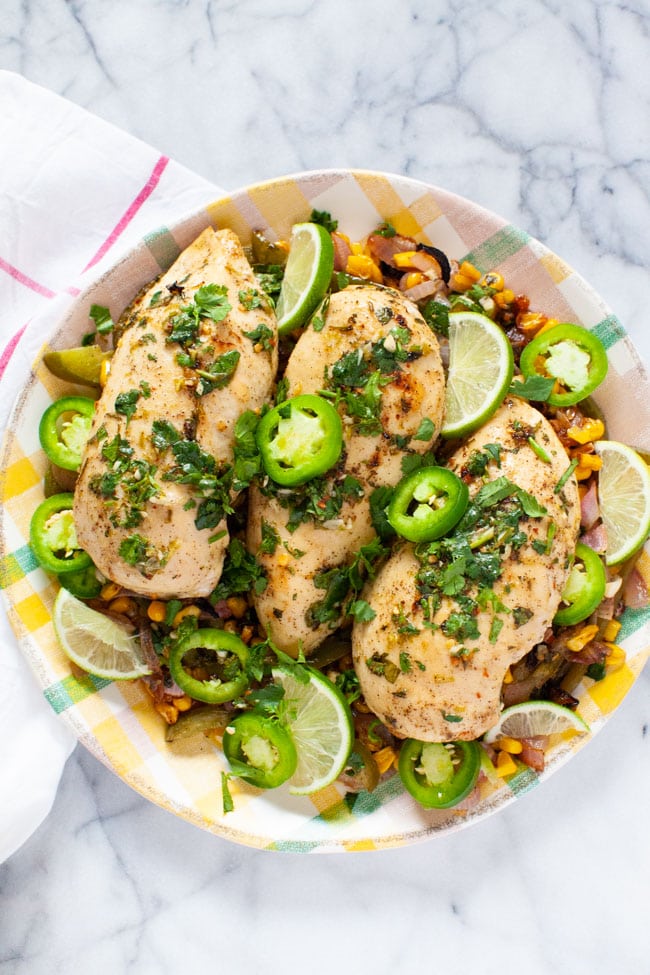 Pin It for Later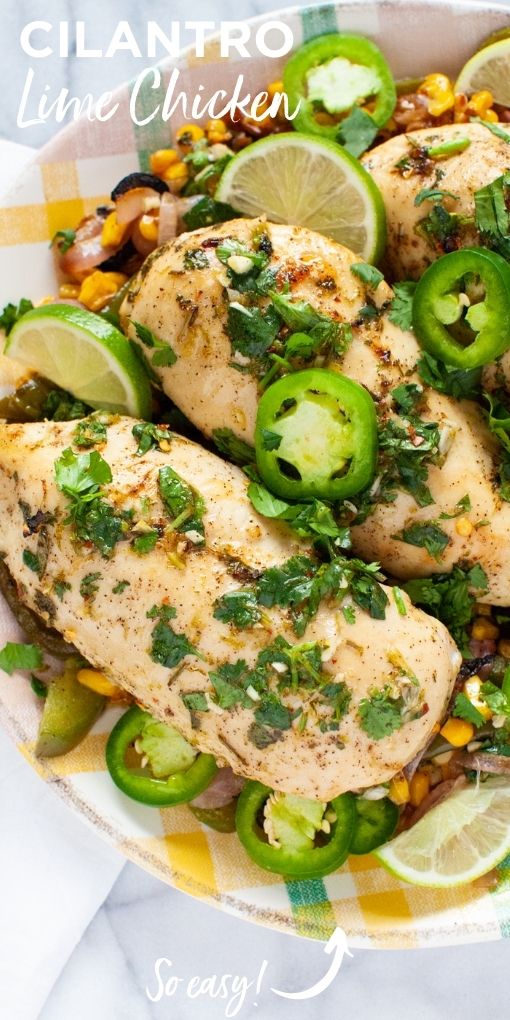 Other One Pan Chicken Recipes
Disclosure: I received a copy of the cookbook from the publisher for the purpose of review. All opinions are shared are my own.