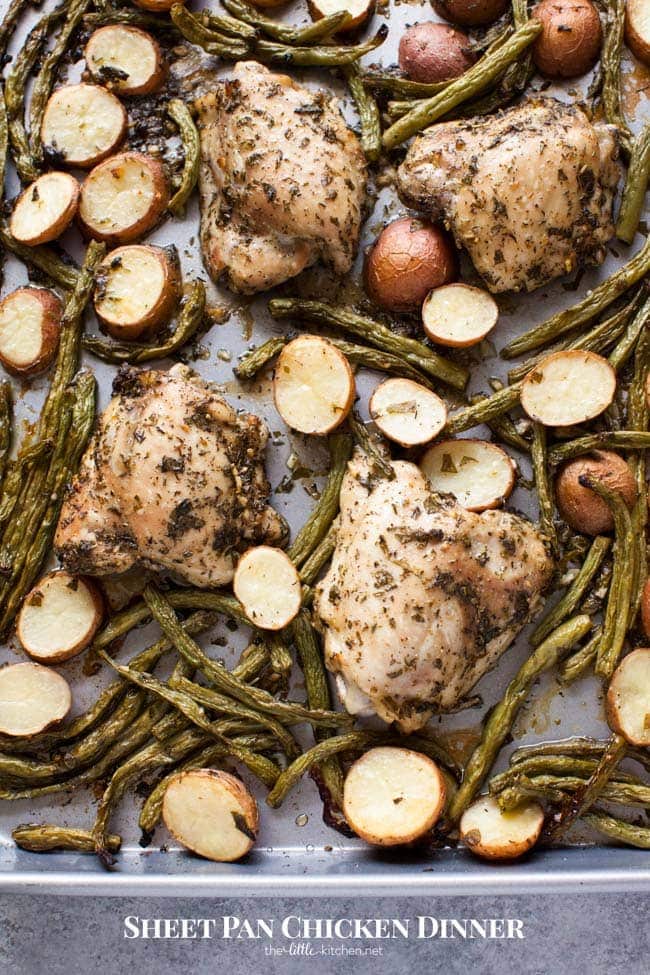 I'm so excited to share this recipe with you! I have to admit that I have made it several times already…I forsee that it will become a part of our regular rotation of easy to make weeknight meals! I have been wanting to try a sheet pan meal ever since I have seen them floating around Pinterest.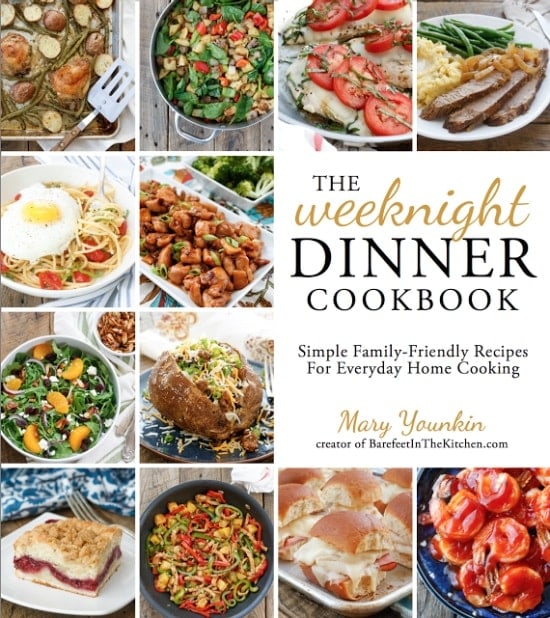 And then, my friend, Mary's new cookbook: The Weeknight Dinner Cookbook arrived in my mailbox and when I was flipping through the cookbook, I knew I had to make this sheet pan chicken dinner!

Her cookbook is great, packed with wonderful dinner ideas…so many that I want to try including: Mediterranean nachos, sweet & spicy salmon with broccoli, cheesy Mexican pasta, creamy balsamic skillet chicken, Greek chicken and Cajun roasted potatoes.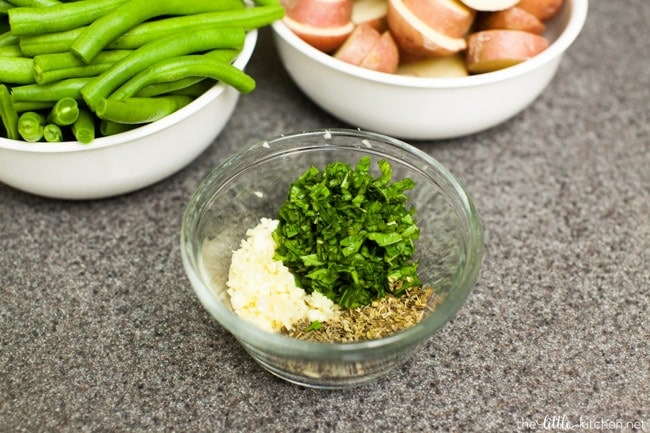 It takes just a few minutes to prep the ingredients for this sheet pan chicken dinner!
I didn't have dried basil for this recipe so I used fresh basil from my garden. I used between 1/4 cup and 1/3 cup packed basil (before chopping).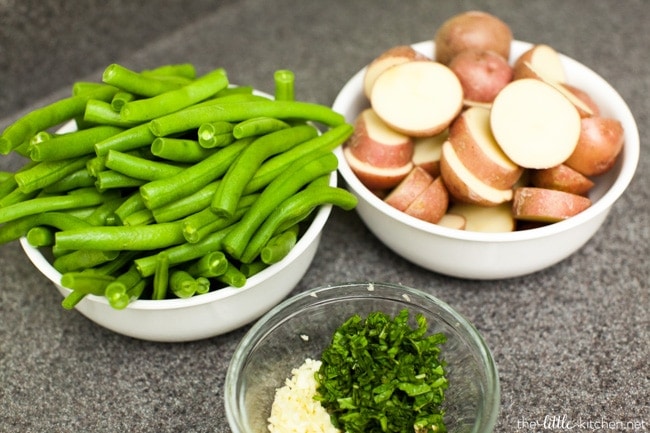 I LOVE the veggies in this dish…
Mix all of the herbs, salt, pepper, garlic and lemon juice in with the olive oil.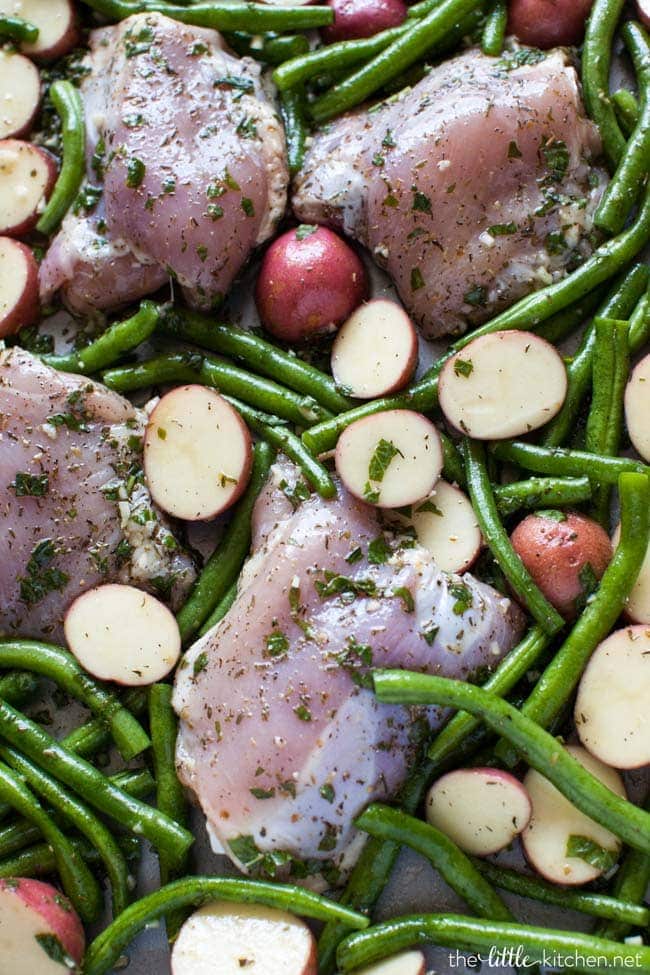 Toss that mixture all over the veggies and chicken.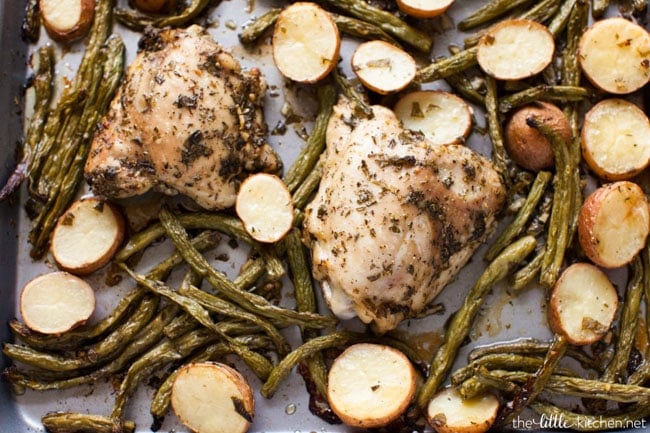 Roast for 50 minutes and you have this beauty! So flavorful and so darn easy to make! It doesn't get any better than this!
I'm so excited for my friend, Mary and love her cookbook! You should definitely check it out!
Recipe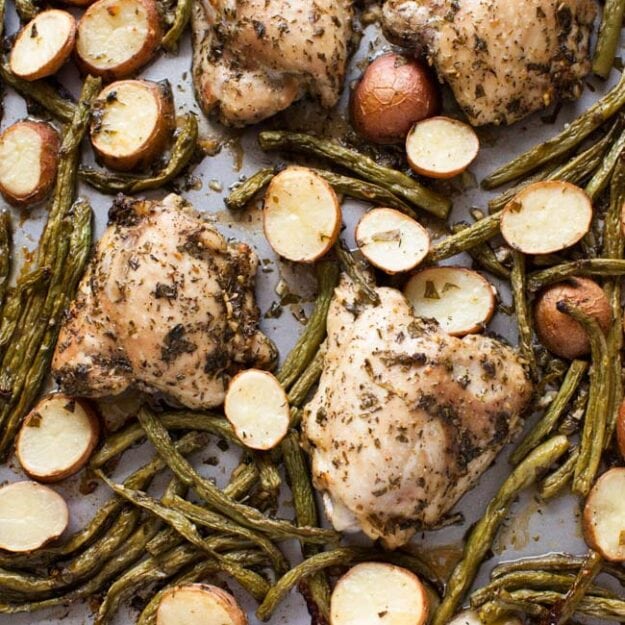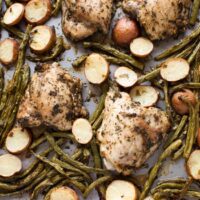 Print
Pin
Save
Sheet Pan Chicken Thighs with Green Beans and Potatoes
Ingredients
4-5

small bone-in chicken thighs

,

about 2 pounds (910 g)

1

pound

455 g small red potatoes, halved

1

pound

455 g fresh green beans

1/4

cup

60 ml olive oil

2

Tablespoons

30 ml fresh lemon juice

2

cloves

garlic

,

minced

1 1/2

teaspoons

9 g kosher salt

1

teaspoon

1 g dried basil*

1

teaspoon

1 g dried oregano*

1

teaspoon

1 g dried thyme*

1/2

teaspoon

freshly ground black pepper
Instructions
Preheat the oven to 400 degrees F (200 degrees C, or gas mark 6). Place the chicken, potatoes and green beans on a large baking sheet. In a measuring cup, stir together the police oil, lemon juice, garlic, herbs and spices. Drizzle the mixture over the meat, potatoes and beans. Use your hands to stir the pieces around a bit and make sure everything is well coated. Be sure to leave the chicken skin side up.

Place the pan in the center of the oven and roast for approximately 50 minutes, until the chicken is golden brown and cooked through. The potatoes should be tender and slightly crisp and the green beans should be browned, crisp and somewhat shriveled.
Notes
Cook's Notes:
If you have Italian seasoning, homemade (page 159) or store-bought, in your pantry, you can substitute 1 Tablespoon (7 g) seasoning mix for the herbs marked with an *. If extra-crispy green beans aren't your thing, you can place the cooked beans in a bowl and wait to add them for the last 15 minutes of the cooking time. Just spread them around the pan over the potatoes.
If your potatoes are bigger than about 1 inch (2.5 cm), you'll want to quarter them (instead of simply halving them) to make sure they pick up plenty of flavor from the seasonings.
Notes from The Little Kitchen:
I didn't have dried basil so I used 1/4 to 1/3 cup packed fresh basil and then chopped it up. I loved using fresh basil when I made this!
You can also use boneless skinless chicken breasts when making this recipe. I cut them into cutlets and tossed the mixture on the veggies and the chicken. Roast the vegetables for about 30 minutes and then add the chicken and roast for the remaining 20 minutes (so the chicken doesn't dry out).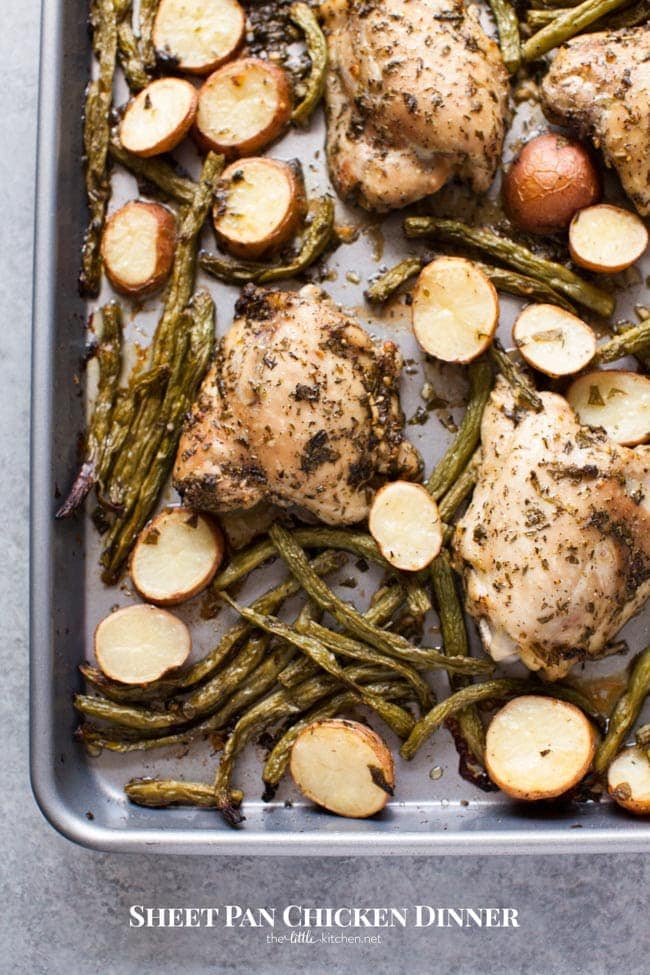 Disclosure: I received a review of this cookbook from the publisher. All of my opinions are my own and I only share with you what I love. There are affiliate links in this post.