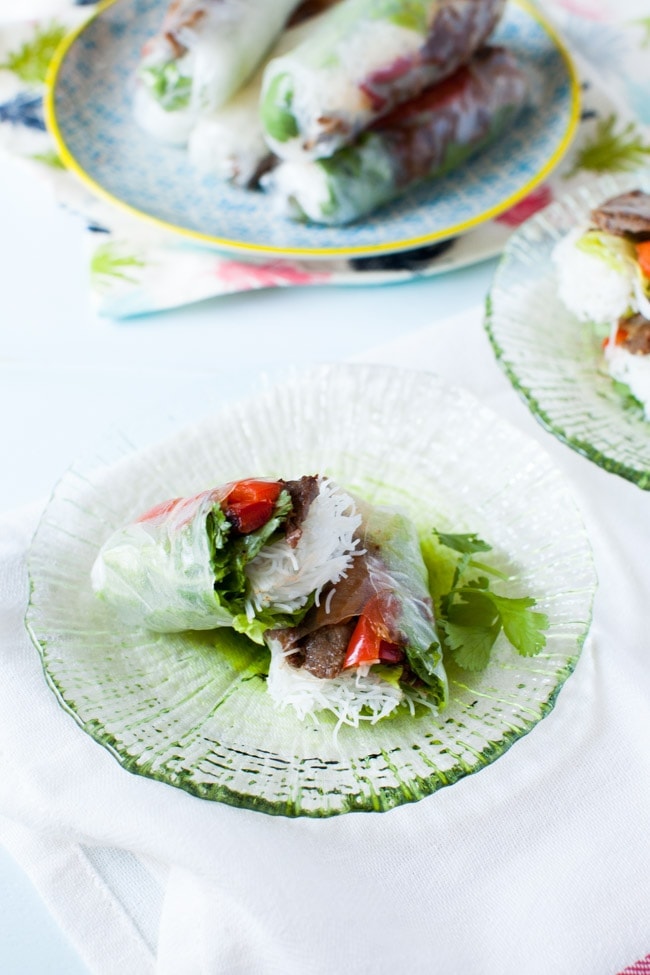 This recipe was originally published June 14, 2010. I recently updated this post with new photos!
These aren't the traditional Vietnamese spring rolls you're used to seeing. They usually come served with pork and shrimp and they are served cold.
These spring rolls are served with a grilled lemongrass beef and onions as well as red or green peppers and are served hot, immediately after the beef and veggies are cooked. My Mom has been making this recipe for as long as I can remember. My husband calls them Viet Fajitas…because of the onions and peppers…which Curtis totally suggested to my Mom! And she happily incorporated! The Vietnamese name for this dish is:

Besides pho (Vietnamese beef noodle soup), this dish is my other favorite Vietnamese dish. I have many memories of crowded dinner tables…the table full of condiments and a butane-powered camping stove. My Mom would stir-fry the lemongrass beef right there and everyone around the table passed around ingredients. We rolled the spring rolls and ate them as soon as they were rolled right at the table. BTW, my Mom even calls them Viet Fajitas now. 🙂
One other thing, you can totally substitute the beef for grilled shrimp or serve it with both!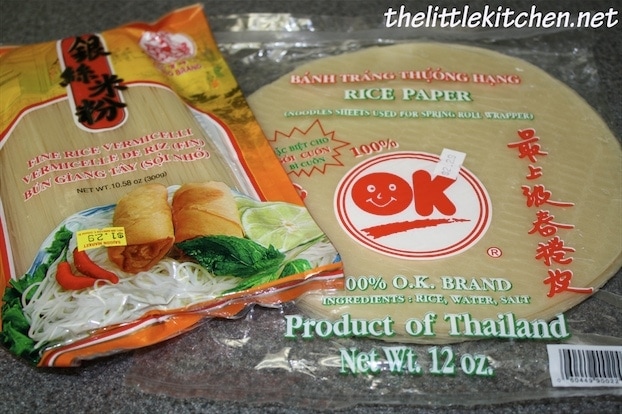 I like to use really thin (vermicelli) rice noodles. This brand of rice paper is my favorite! They can be found at your local Asian or Vietnamese grocery store.
Boil the rice noodles according to the package instructions.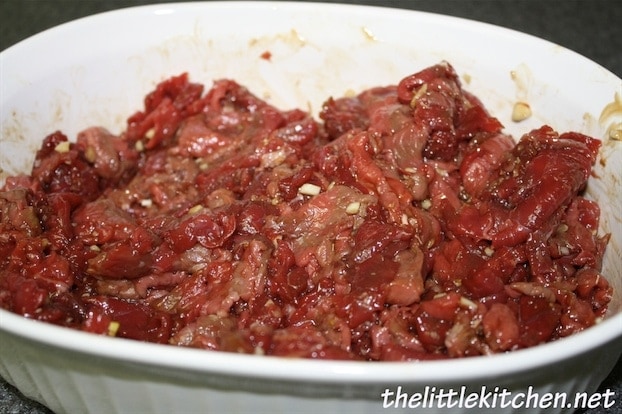 Prep the cilantro, the onions, peppers and then prep the beef.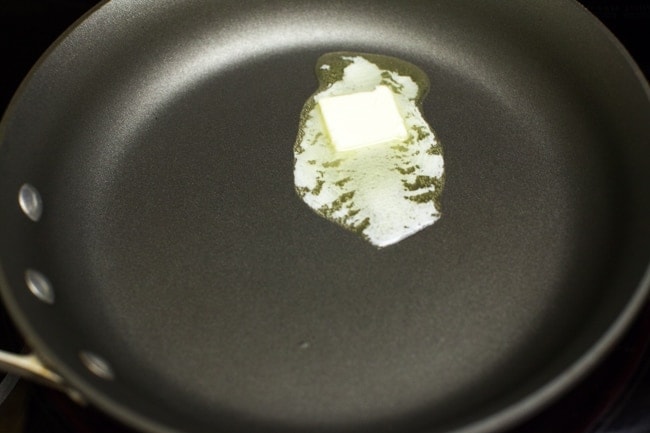 Heat a nonstick skillet and melt some butter. Everything is better with butter! 🙂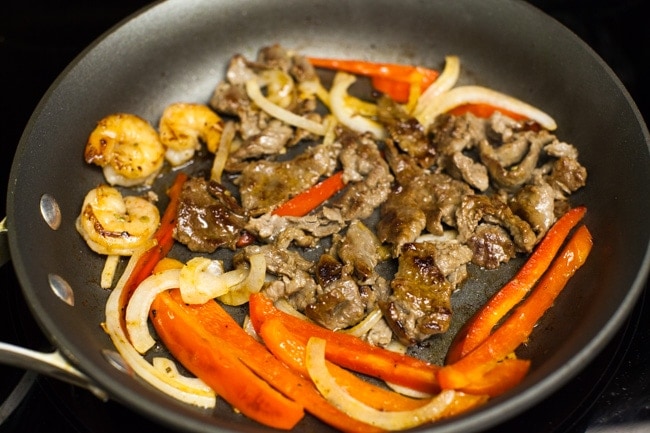 Cook the beef, onions and peppers in batches. See the sear marks on the beef?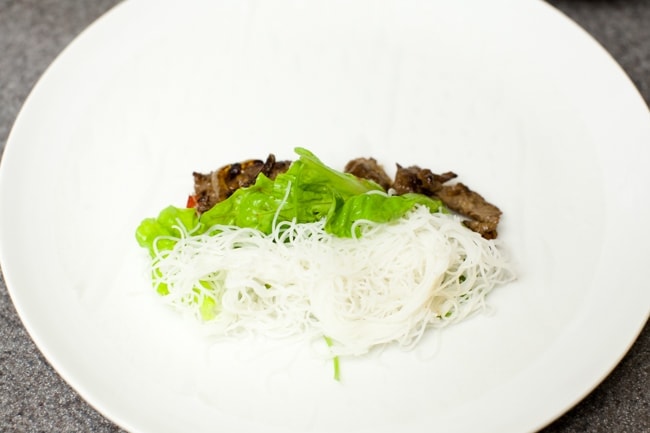 Now, let me show you how to roll a spring roll.
First, wet the rice paper on both sides, no need to soak. Just a quick wetting. You want it to be completely wet but you don't want it to soak that it becomes way too soft. Place the paper on a plate and wait about 30 to 45 seconds. (I usually have two plates prepped and ready to go, wet two pieces at a time, one on each plate.)
I add the beef, peppers and onions on the lower third of the round spring roll wrapper. Add the lettuce and the rice noodles. (I really should have used a non-white plate to show you.)
Be careful to not overfill. My brother is a master of overfilling and it never breaks…I'm not that talented!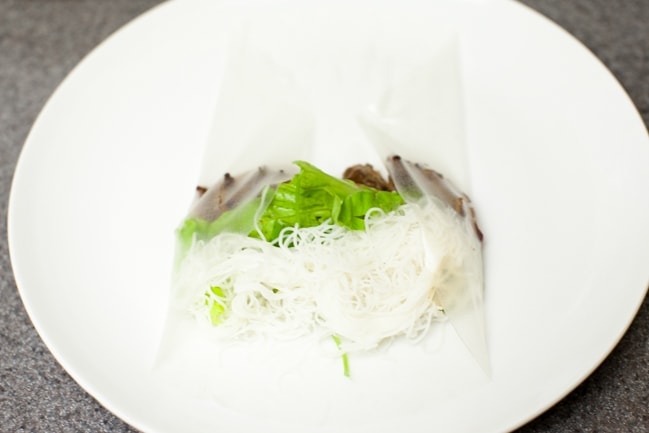 Fold over the sides.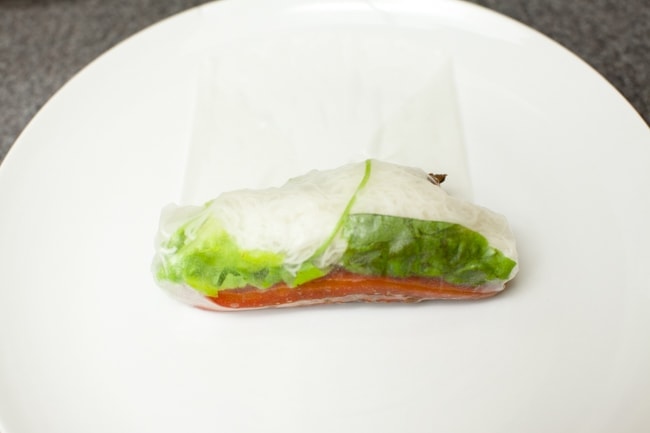 Grab the bottom, end closest to you, tuck it in and start rolling up.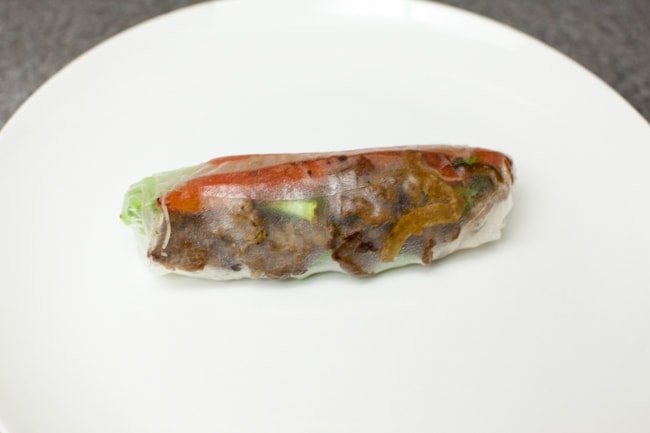 And there you have it! Easy peasy!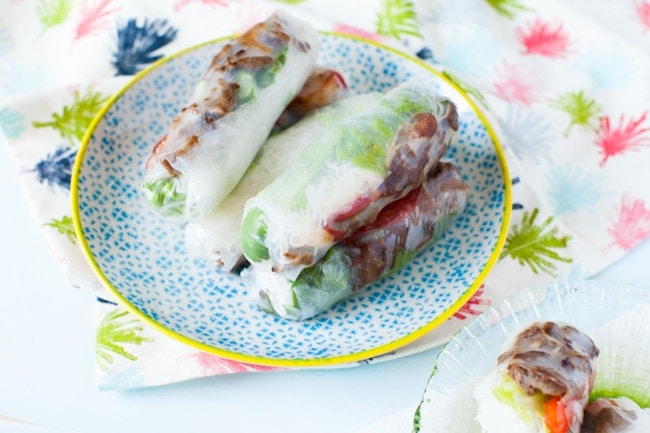 So there is two ways of doing this…
I told you how we sit around a table and my Mom would cook the beef right there at the table.
Another way is cooking the beef and veggies in the kitchen and then wrapping the spring rolls as you go along and then eating them after you're done wrapping a bunch of them up. That's the way Curtis prefers to do it. And it's less mess on our table for us.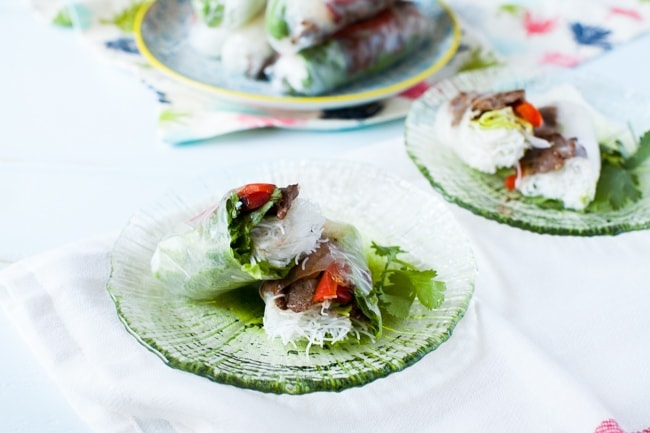 He likes to make a whole pile of them whereas while I'm cooking the beef on the stove, I'm wrapping and rolling and eating! 🙂
This dish is so popular with my family and with friends! I could have these every week!
Recipe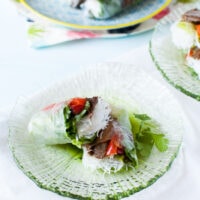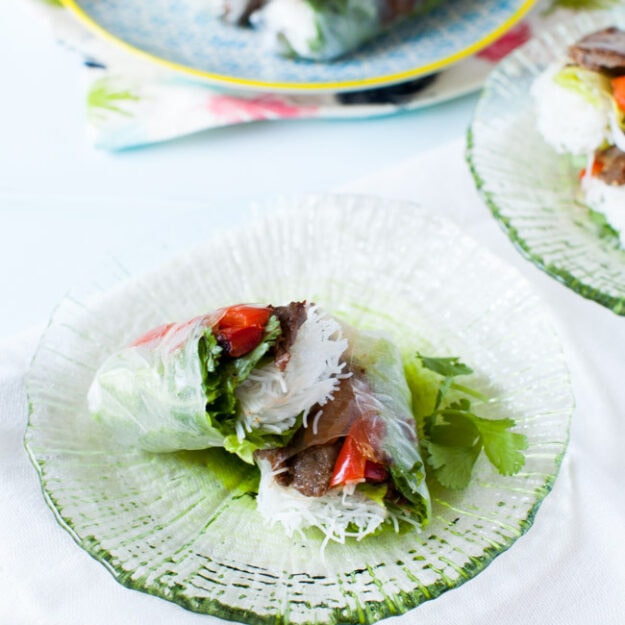 Print
Pin
Save
Grilled Lemongrass Beef Spring Rolls
Ingredients
1

package rice noodles

,

cooked according to instructions on the package

lettuce

,

cilantro, sliced jalapenos (optional)

1

medium onion

,

cut in half and thinly sliced

1

green bell pepper

,

cut into thin strips

1 1/2

teaspoons

chopped lemongrass

3

garlic cloves

,

minced

2

pounds

London Broil beef

,

sliced thinly across the grain, cut into 1-inch x 2-3-inch pieces

1/2 to 1

pound

shrimp

,

peeled and deveined (optional)

4

Tablespoons

oyster sauce

2

Tablespoons

sesame oil

4 to 6

Tablespoons

unsalted butter for each batch of cooking

1

package rice paper
Instructions
Start a large pot of boiling water and cook rice noodles according to instructions on the package. Watch carefully, because they cook quickly. Remove noodles and place in a colander. Drain and rinse continuously with cold water for 2 to 3 minutes. Shake the colander several times to drain the water. Place on a large plate and set aside and allow the noodles to dry.

Prep and clean the lettuce, cilantro and jalapenos.

Prep the onion, pepper, lemongrass and the garlic.

Slice the beef and place in a large bowl along with the lemongrass, garlic, oyster sauce and sesame oil. Marinate the beef for at least 15 minutes and up to a few hours in the refrigerator.

Heat a 9-inch nonstick skillet at medium-high and add 1/2 to 1 tablespoon butter. Allow the butter to melt and add beef  with 1/2 to 1 Tbsp of butter. Cook beef (& shrimp) along with a little bit of peppers and onions in small batches, about 3 to 4 minutes on each side, or until cooked through and browned. Repeat until you have cooked all of the meat. (You may need to wipe the skillet clean in between batches so you don't burn the beef.)

Roll into spring rolls with rice noodles, lettuce and cilantro along with the beef and shrimp (if using). Serve immediately.
Tips:
Be sure to not overfill the skillet, cook the beef in batches. If you overfill, the meat will not brown quickly and you will have overcooked your beef and make it tougher.

Always, watch the noodles very carefully, they cook very fast in some cases in just 3 minutes! Drain in a colander and drain. You definitely want to drain and rinse with cold water because you do not want them to stick together. Allow them to cool and I like to warm them up in the microwave for about 30-45 seconds before adding them to the rice paper.

If you want to do shrimp as well, marinate in a separate container from the beef. I often stir fry it along with the beef unless someone does not eat beef or is allergic to shellfish.