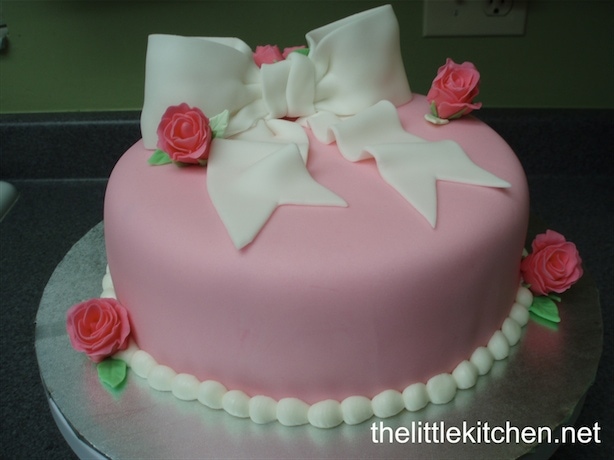 In 2007, I took some Wilton cake decorating classes at my local craft store. They were very informative and I had lots of fun. Here is a cake that I made for my Fondant and Gumpaste course. I actually learned how to make the bow from a youtube video done by Planet Cake. The roses are made of fondant and were done using the Wilton method of making fondant roses.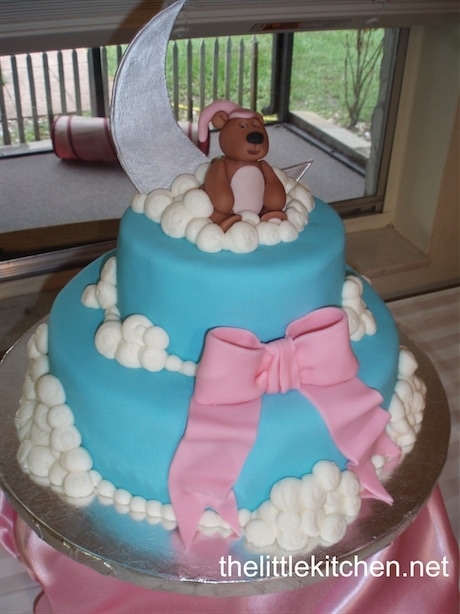 Not a very good picture because of the background but you can see the cake pretty good. This cake was for our good friend Angela's baby shower. The pink bow is the same bow I learned from that youtube video. The cake is covered in fondant with the clouds being buttercream. The teddy bear is made from fondant with tylose powder mixed in it. I learned how to make the bear from Lorraine's teddy bear hugs tutorial. The moon is made of gumpaste and painted with vodka and silver luster dust.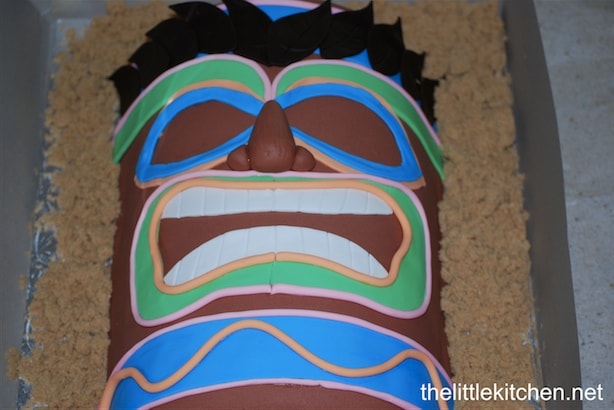 This cake was made for my friend Wendi's birthday. She had a luau themed party and it was very fun to make this cake for her. It is actually 4- 8 inch round cakes cut in half and laid down on the cut side. I did alternating layers of chocolate cake and white almond sour cream cake and used my favorite buttercream, Buttercream Dream. The decorations were actually inspired by a tiki platter I had from my wedding (which was also luau themed) and my husband helped me by making stencils. I cut out the decorations in fondant and laid them on the cake. It was kind of hard because the fondant stretches when you pick it up, the next time, I would probably add some tylose powder to the fondant before rolling it out and cutting them designs out. Allowing it to dry just a little bit before picking it up and putting on the cake would probably do the trick. Thanks to merissa on cakecentral.com for her help and advice on making this cake and inspiration as well.