I recently made a graduation cake for my cousin, Wendi. I wanted to try a cake that resembled books and I went looking for a tutorial online. I found a wonderfully detailed tutorial at The Frosted Cake 'n Cookie. Wendi loved the cake and I'm so glad!
I used a 10×10 pan because I didn't have a 13×9 pan. I cut four inches on one side to make it 10×6. I think next time I would try the 13×9 and cut it in half like Julie from The Frosted Cake 'n Cookie did.

I was a little inventive and used this sprinkle container, parchment paper and a measuring spoon to hold up the corner of the book. It did hold up and stay in place during the hour long drive but didn't make it the entire party. The weather was incredibly humid so it did start drooping after a while.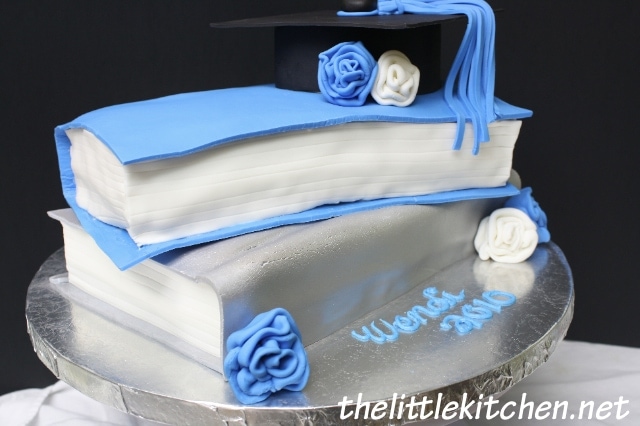 And here's the finished product! This was my first time doing ribbon roses! I learned them using this video.