Disclosure: This post is sponsored by Wilton Industries, Inc. in conjunction with the Kitchen Play Halloween SideCar Series. I was provided Wilton products to help me create this project and share with you. I received no monetary compensation. This post was written by me and the opinions are my own.
When I was invited to participate by Casey of TasteStopping to participate in this new series for her brand new website called Kitchen Play, I was excited! I love making and decorating cakes and I enjoy using many of Wilton's products. I took all four Wilton cake decorating classes a few years and had so much fun.
About Kitchen Play: it's site devoted to connecting food bloggers and PR professionals through sponsored events such as the Progressive Party, the SideCar Series, the Pampered Pantry and more. Congratulations and kudos to Casey for starting such a fun project, I know she has been working tirelessly on it and I'm honored to be a part of it!
I really wanted to go for a Halloween theme that's accessible even if you have never done any cake decorating. That meant little to no fondant and a buttercream icing that's easy to make and very tasty. So with that goal in mind and after seeing the molds for these candy tombstones, I had a little idea of what I wanted to do.
My plan was to make a graveyard cake complete with tombstones and bones! I also wanted to make some Halloween themed cookies to go with the cake that would make great party favors.
The first thing I do when planning a cake is to decide on a theme or a central element of a cake and then build around it. I will often make drawings and often plan aloud with my husband. He is way more creative than me and I love bouncing ideas off of him. Sometimes he'll grab the pen and paper from me and start drawing too. My drawings don't look all that great but they help me get my plans on paper and are often a guide for me when I start the cake.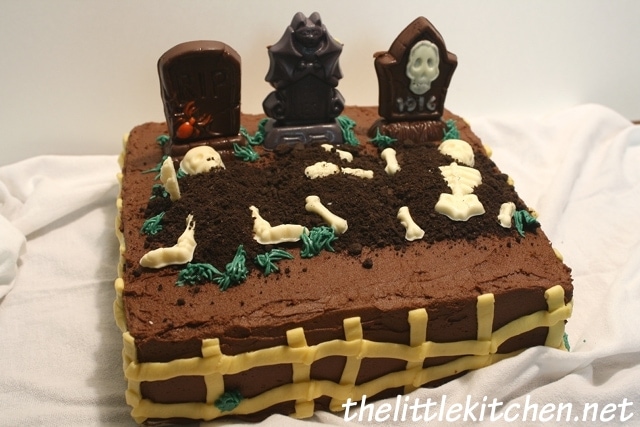 I will start out by showing you how I made the candy tombstones.
List of supplies for candies:
Candy molds – skeleton bones and tombstones
Candy Coloring Set – I used black from this set and orange from this set
Premium Candy Melts – I used white and dark cocoa
Candy Melting Plate
Glass bowl or any microwave safe bowl
Tapered spatula – that's just what I grabbed out of the drawer, a regular angled spatula would have worked just fine
Decorator bags
I started out making the tombstones. I used the black candy color from this set to make a gray color for the gargoyle type tombstone.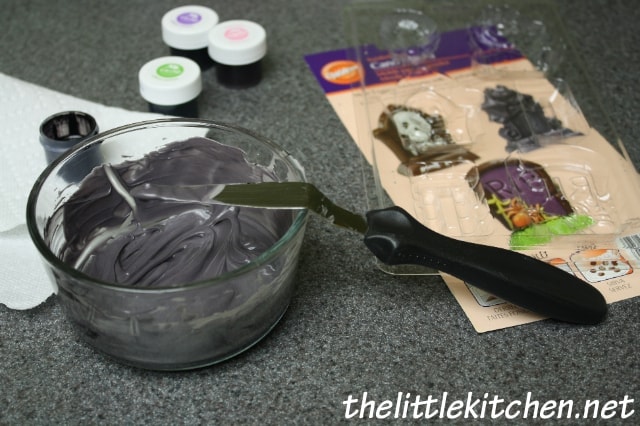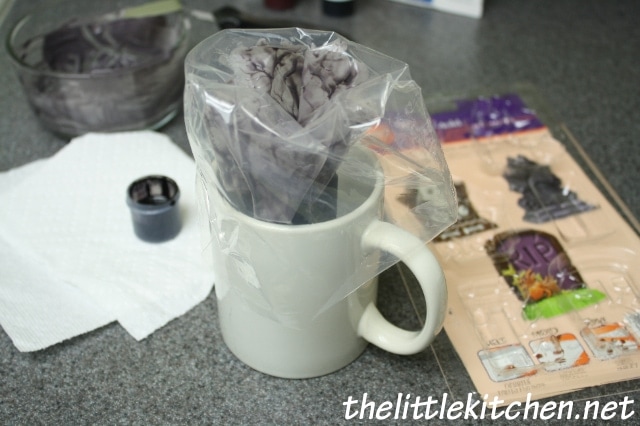 I use the same method to fill bags with royal icing for decorating cookies. When using the decorator bags with candy melts and molds, I did not use a tip or coupler. Fill the bag with the colored candy melts (already melted) or if you're using white or chocolate (without needing to add color), fill the bag with candy melts and microwave according to the directions on the bag. No need for tips or couplers unless the candy mold is very small and detailed. Do not put tip on the bag before microwaving!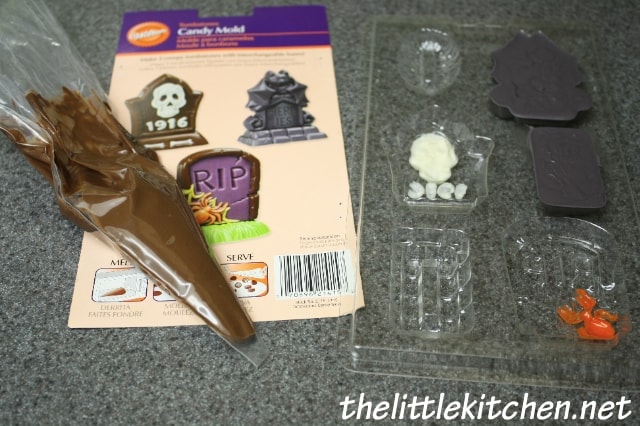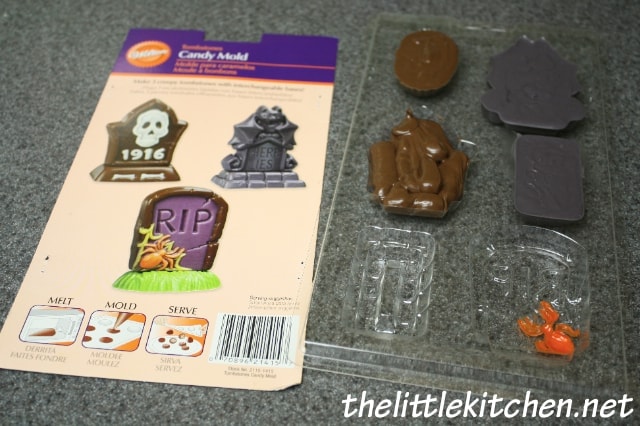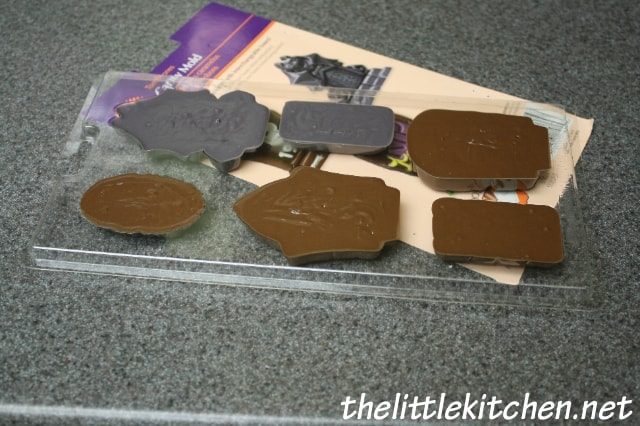 I also made the white chocolate skeleton bones but didn't photograph the process. I would say to cut the decorator bag really small or even use a small tip & coupler along with your decorator bag.
So here's the cake broken down: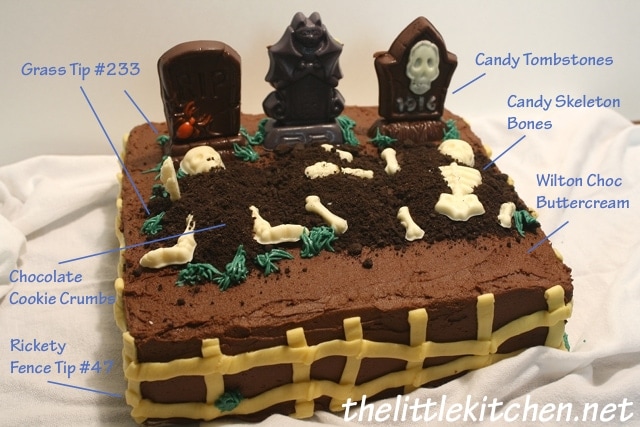 Here's some more details of the cake:
I doubled Wilton's chocolate buttercream icing (I used cocoa powder and the suggestion of coffee instead of milk) – it's a really yummy icing recipe!
For the fence, I used the flat side of the basketweave (#47) tip and it didn't matter if I got it straight since the goal was for it to be rickety looking
It's a 2-layer red velvet cake and I used the same chocolate buttercream icing as the filling
When planning a cake, I also plan when I'm going to do what, this helps make the process go smoother. Working a full-time job makes it really hard for me to make the cake and decorate it all in one day. Plan ahead and stay organized is my advice.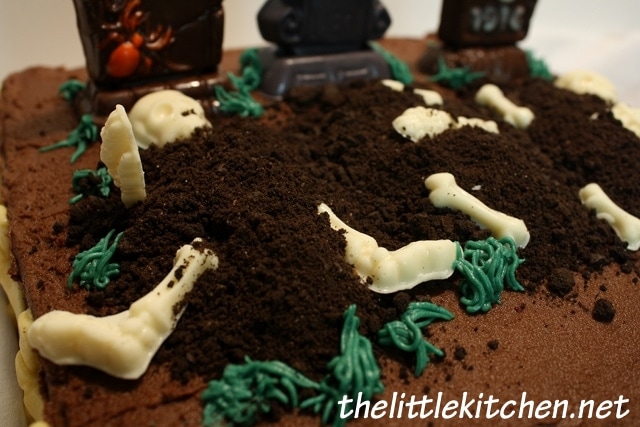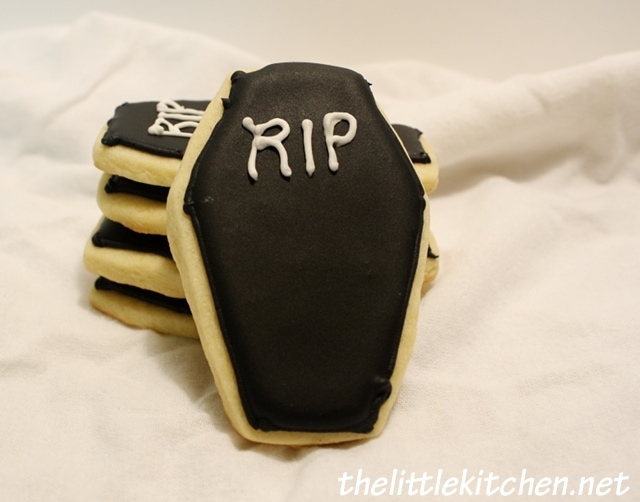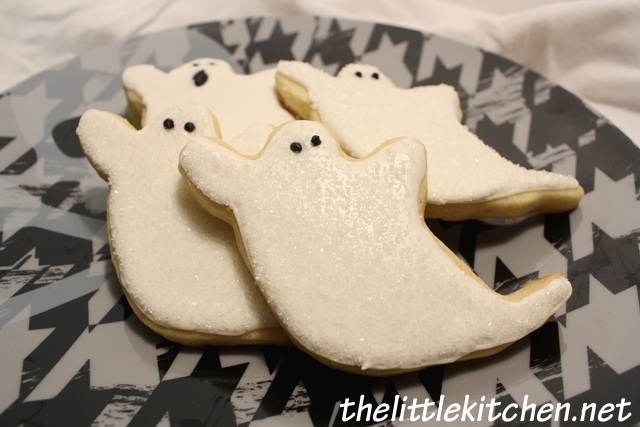 The coffin and ghost cookie cutters came from this 18-piece Halloween set.
See this post I did about Valentine's cookies for the recipes I used. I did use Wilton's royal icing recipe. I always double it. When doing decorated cookies, it's best to plan ahead. Figure out how many colors you want to do on your cookies, I often list them so it helps me stay organized. From there, I figure how how many batches of royal icing I'll need to make. Making the coffins and ghosts were easy as I only used two colors which meant two consistencies, 1 for flooding and 1 for piping the outline and eyes and mouth on the ghosts.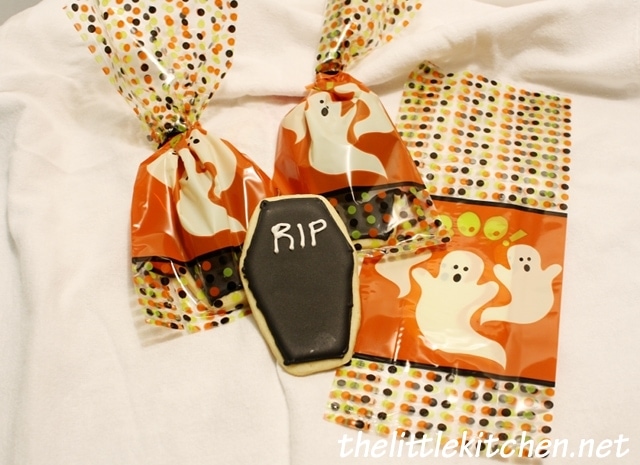 I hope you enjoyed this post and found it useful. Visit the other Halloween SideCar Series posts now!