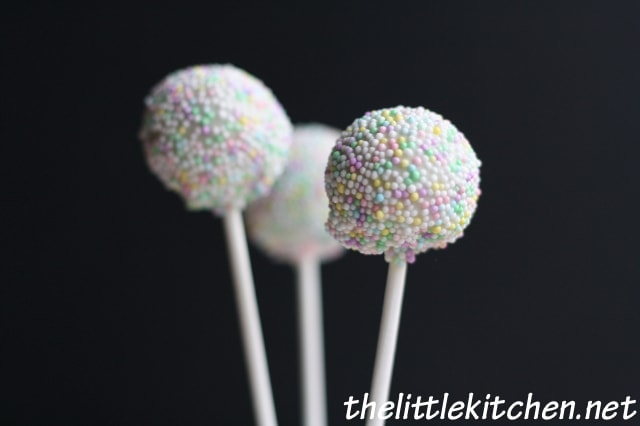 Cake pops are really popular! I haven been wanting to them for a while. Then, Wilton came out with their new book and I heard about Wilton's contest…and ooh they were sending out Pops kits to the first 40 bloggers who preregister for the contest. I had to give it a try!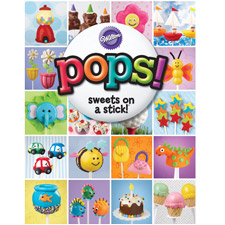 If you can stick it on a stick—it's a pop! Your favorite sweet treats are more fun to eat when you can just grab them and enjoy. The fun factor really goes off the charts when you decorate them with colorful candy and sprinkles! Here's just a sample of the treats you can transform into pops.
Wilton's book has so many ideas on how you can make different treats into pops. I opted for the classic cake pop. Although I do want to try a brownie pop next!
I actually found a box mix that is only 9 oz, which is half the size of a regular cake mix box and made two different flavors. Chocolate and yellow. I decided NOT to try to crumble the cake by hand. A few seconds in the food processor and I had the perfect cake crumbs!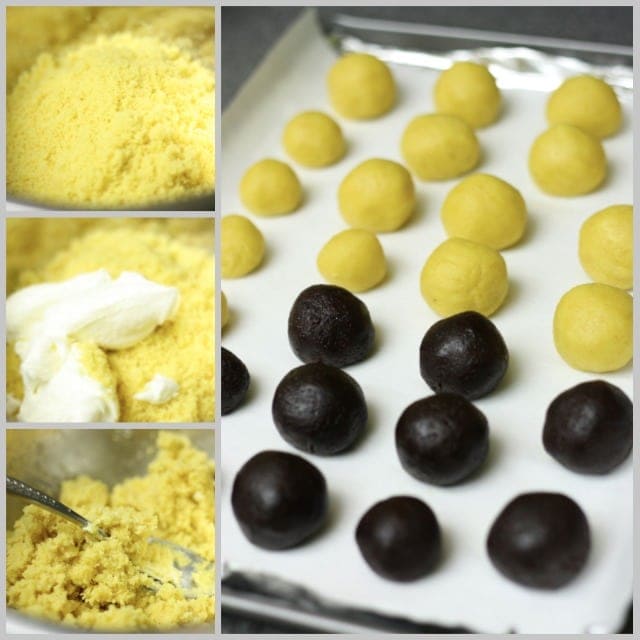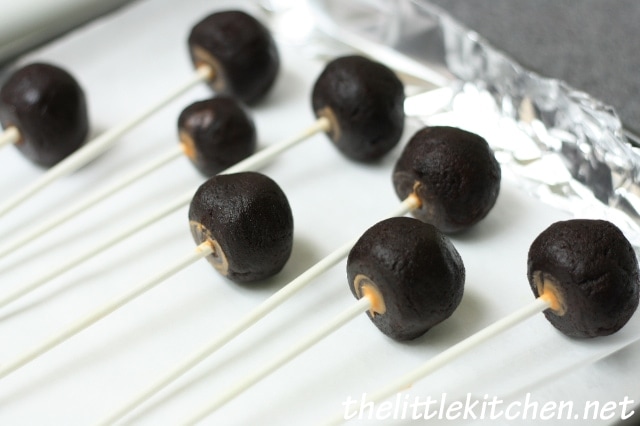 Recipe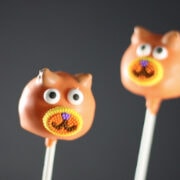 Print
Pin
Cake Pops
Ingredients
1/2

of a cake baked from an 18 oz. cake mix

,

crumbled up

1/2

cup

of frosting

candy melts

,

assorted colors

assorted candy decorations
Instructions
After you crumble the cake up, mix in 1/2 cup of your favorite frosting or buttercream icing until it turns into a dough-like consistency.

Roll into 1 Tbsp or 2 Tbsp balls. Then, chill in the refrigerator for at least 2 hours.

Once they have chilled for 2 hours, dip your candy stick one at a time into the candy melts (melted) insert into the bottom of your cake ball. Now it's a cake pop! I wiped away any excess and I chilled them overnight before dipping them into candy melts.
A couple of things I learned and some tips:
Don't use a buttercream that has butter in it. I'm a huge fan of buttercream that has butter in it but it's not very useful for cake pops. The candy melts are really warm and draws out the butter in the buttercream. They still taste fine but aren't very attractive if you're using this as a present or a party favor at a baby shower. Use store bought icing or a buttercream that only has shortening in it.

I was not able to get the candy melts into a good consistency for dipping without adding vegetable oil to the melted candy melts. Don't be afraid, I think I even had to add at least 1/2 cup of oil even.

To get evenly sized cake pops, I used a Tablespoon measuring spoon to measure out cake "dough" before rolling into a ball.

When covering cake pops in sprinkles, I found dipping them proved to be too messy. Holding them over my bowl of sprinkles and using a spoon to drip the sprinkles over them worked best.
Now onto the cake pops I made…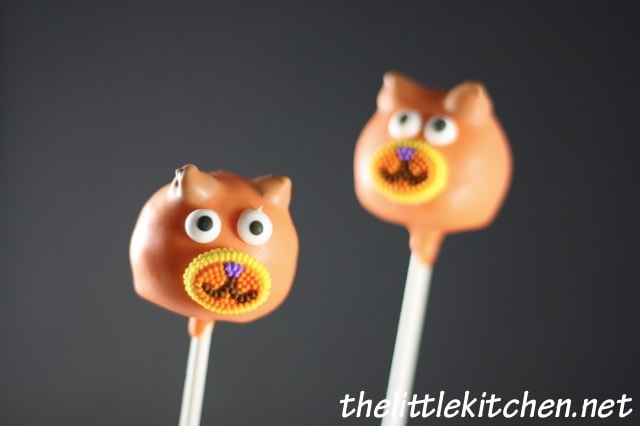 Kitty or pig, kitty or pig? I was trying to make an orange kitty that looks like my kitty Clone. Did I succeed? I used these candy eyeballs and for Clone's muzzle I used these decorations.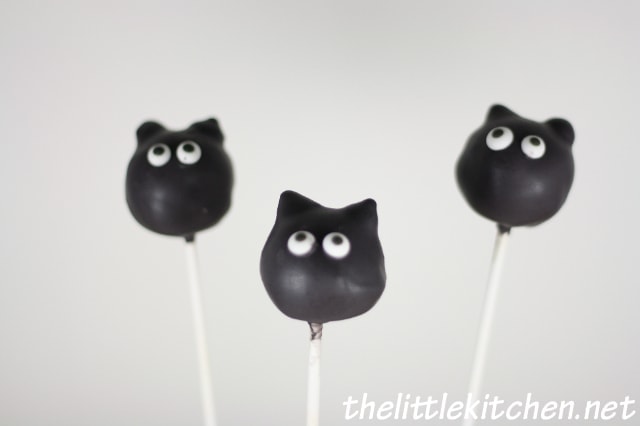 These are cute kitties are they? For both of the kitties I did, I used chocolate chips for the ears. I "glued" the ears down with candy melt and back into the fridge they went before dipping. I tried both chocolate chips and white chocolate chips. The white chocolate chips tend to melt a little and make the "ears" sink and round off a little. So if you need rounded ears for something, I would recommend the white chocolate chips. I used the black candy melts, I had one bag left from my Wilton halloween project.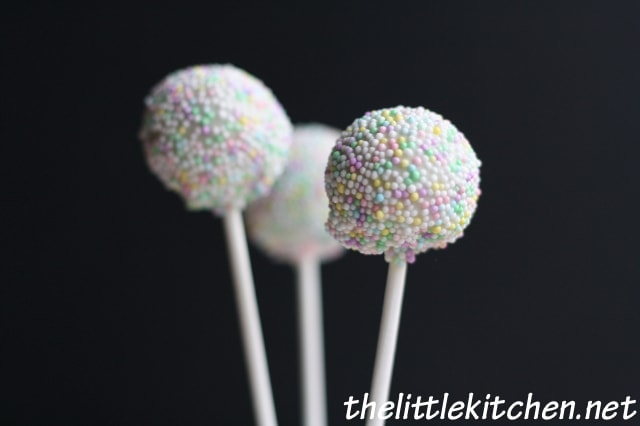 I made these with Wilton nonpareils I already had on hand and these are actually the 1 Tbsp size cake pops.
Verdict? Cake pops are fun to make once you get the idea and the routine down. I can't wait to try more detailed cake pops. I brought them into work and my co-workers loved them! I'm going to definitely make these for my niece's first birthday! Also, my favorite are the chocolate ones of course!
My favorite Wilton product out of all of the ones I received for this contest?


The Chocolate Pro™ Electric Chocolate Melter is awesome. If you follow the directions correctly, this is your friend when making cake pops. I only wish I had more of these for the different color candy melts. The chocolate melter is perfect for making cake pops as well as having out for parties…for dipping fruits and marshmallows. Party idea, yeah!
Disclosure: Wilton provided me with some of the products for the purpose of this contest and I received no monetary compensation. All opinions are my own. Some of these links may be affiliate links.