It's possible to have crackly and crispy chicken wings without a fryer. I'm in love. Ever since I saw Joanne's recipe and video on how to make chicken wings in your oven, I knew I wanted to try it! She visited me this week and we made them together.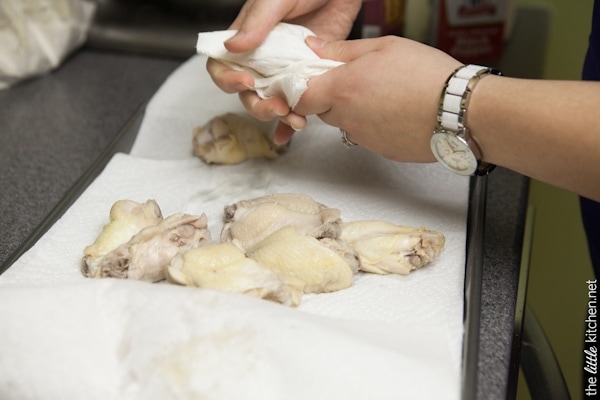 First boil the wings in a pot of boiling salted water. This is the key and secret to Joanne's chicken wings. It renders the fat. By the way, she has as fantastic video for the recipe too.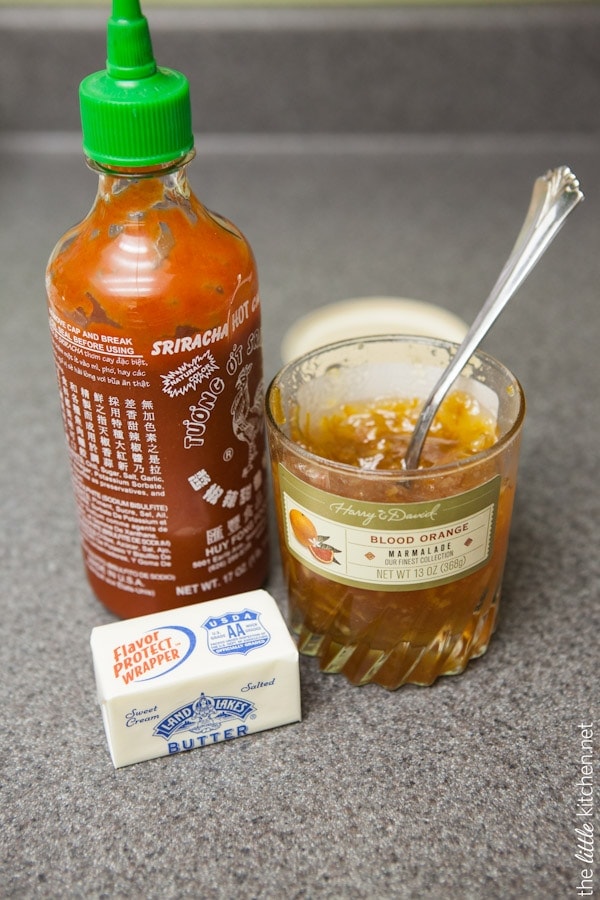 The sweet and spicy sauce for these chicken wings…is so easy and only requires three ingredients. I have to give credit where credit is due. A couple of months ago, I came home from Harry & David with a whole bunch of marmalade from their country store that I had bought. Let's say I went on a shopping spree! I came home with blood orange, orange and Meyer lemon marmalades. And to be quite honest, the jars sat on our coffee table (because I had yet to clear a spot in our pantry for them) for weeks. One day, Curtis said we should make a sweet & spicy sauce with one of the marmalades for chicken. Genius moment from Curtis. again.
I will take equal credit because I worked on the ratios and the ingredients to make this sauce just the perfect amount of sweetness and spice. It's not too spicy but the kick hits you in a different way than any other wing sauce and it's completely amazing.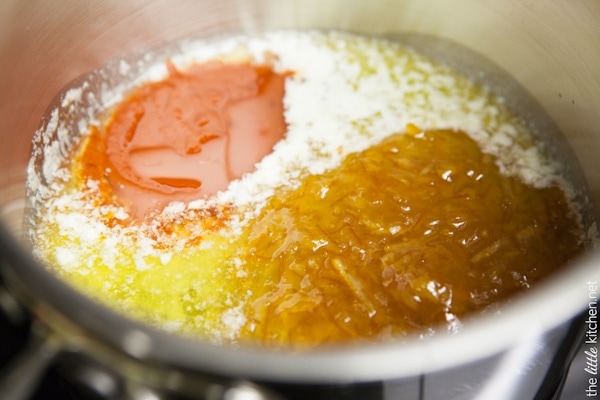 And there it is, the not so secret amazing sauce. I can bathe in this stuff, literally.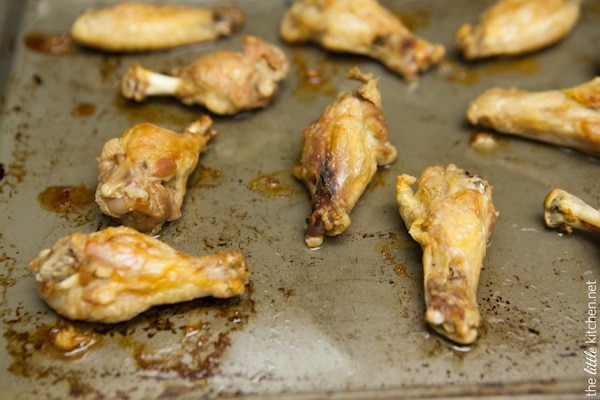 The wings after they come out of the oven. The skin is crackly, most of the fat from the skin is rendered and they are perfect!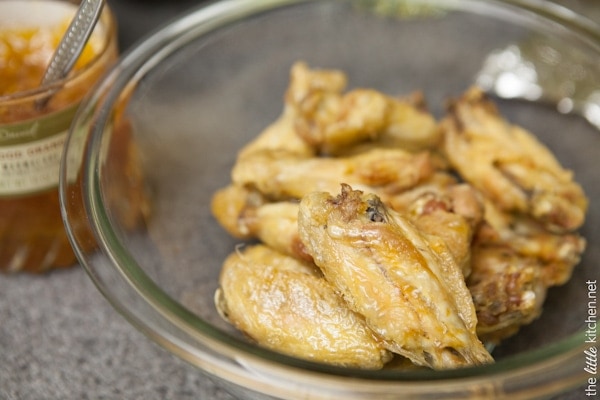 Getting ready for the sauce!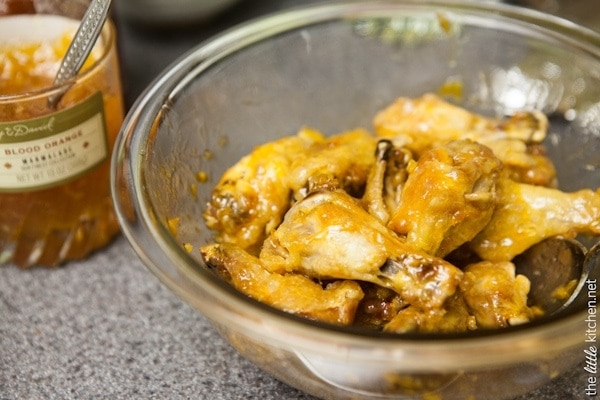 And done.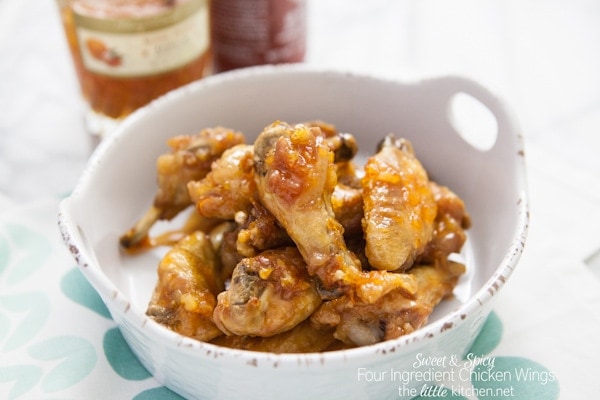 I'm not so sure you'll be willing to share these wings with your friends…but these are perfect for Super Bowl Sunday or for any game watching for that matter. And the sauce…it makes more than enough for the amount of wings so double the amount of wings or save the sauce to dip stuff in like egg rolls. Joanne figured that one out…I will have to share my Mom's egg roll recipe with you soon so you can make this sauce with it!
If you don't like bone-in wings like Curtis, try this sweet & spicy sauce with these boneless wings. Instead of using the buffalo sauce to coat the chicken, you can use this sauce instead. (Ignore the pictures please! Very old post.)
Recipe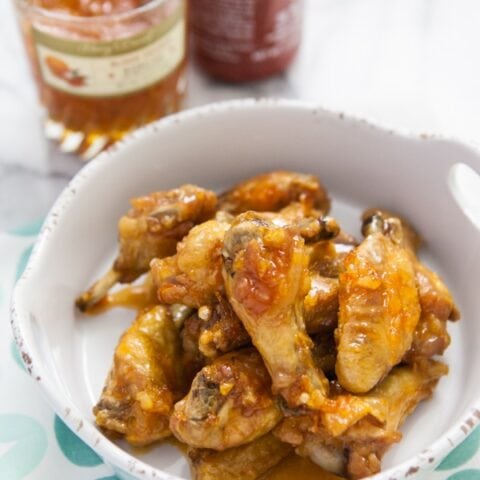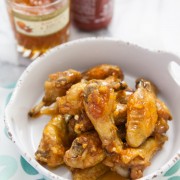 Print
Pin
Sweet & Spicy Four Ingredient Chicken Wings Recipe
Ingredients
1 1/2 to 2

pounds

chicken wings and drummettes

,

separated

1/4

cup

1/2 stick salted butter

2

Tablespoons

sriracha hot sauce

1/2

cup

plus 2 Tablespoons Harry & David blood orange marmalade
Instructions
Bring a large pot of water to a boil. Add at least 2 teaspoons of salt to the water. Heat oven to 400 degrees F.

Boil chicken wings for 8 minutes. Drain and place on an uncovered baking sheet. Use a paper towel to dry them completely. There should be no moisture left. Discard paper towels and place chicken wings 1/2 to 1 inch apart. Bake for 20 minutes and then flip each wing over. Bake for another 10 to 15 minutes.

While the wings are baking, add butter to a small saucepan. After the butter has melted on medium low heat, add sriracha hot sauce and marmalade. Mix and cook for about 5 to 8 minutes.

Remove wings from baking sheet and place into a large mixing bowl. Add sriracha-marmalade sauce and toss to coat. There will be leftover sauce, store in an airtight container in the refrigerator and use it as a dipping sauce for so many things!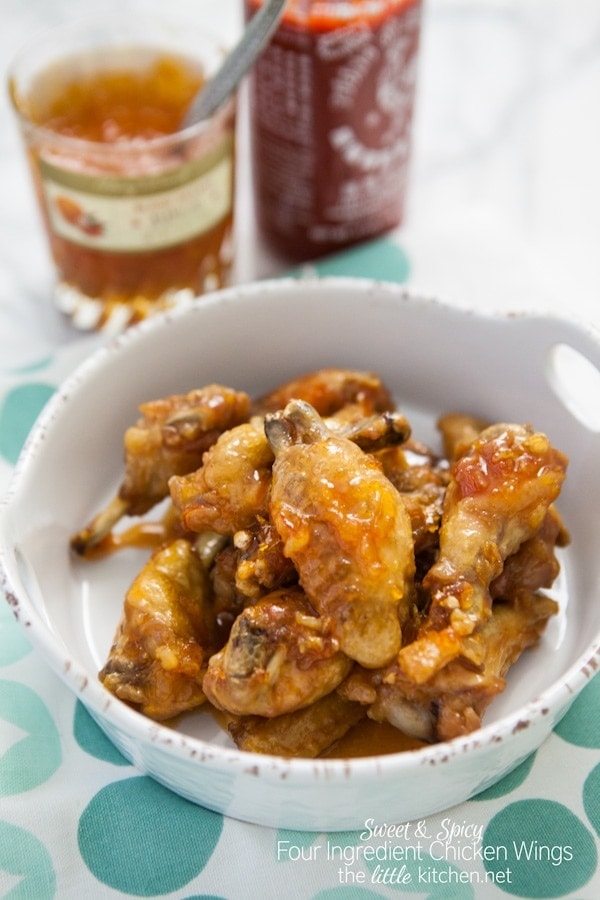 I bought the nifty bowl with handles at Marshalls.
Disclosure: Harry & David graciously sent me more jars of orange marmalade so that I could share this recipe with you. I did not receive compensation and as always my opinions are always my own and I only share with you products and brands that I love.