Chicken Parmesan with Zucchini Noodles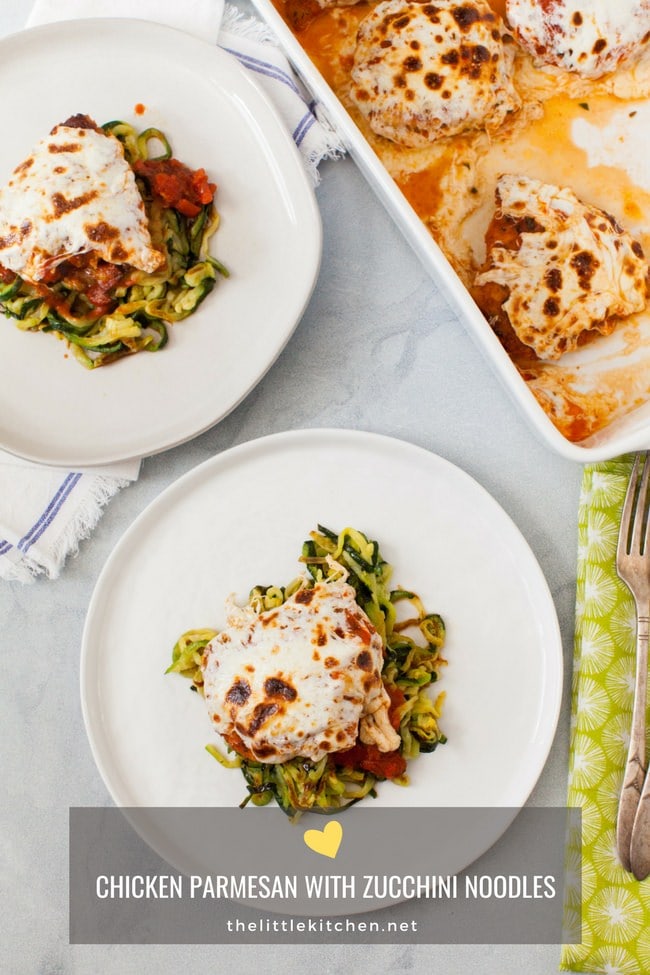 This post is sponsored by Green Giant.
Chicken parmesan has to be one of my favorite meals. I have fond memories of Curtis making me chicken parm one time when I came home from work really late. He had even had candles lit for me when I came home. Which he had never done before! I guess you can say it's a meal that's in my top ten favorites!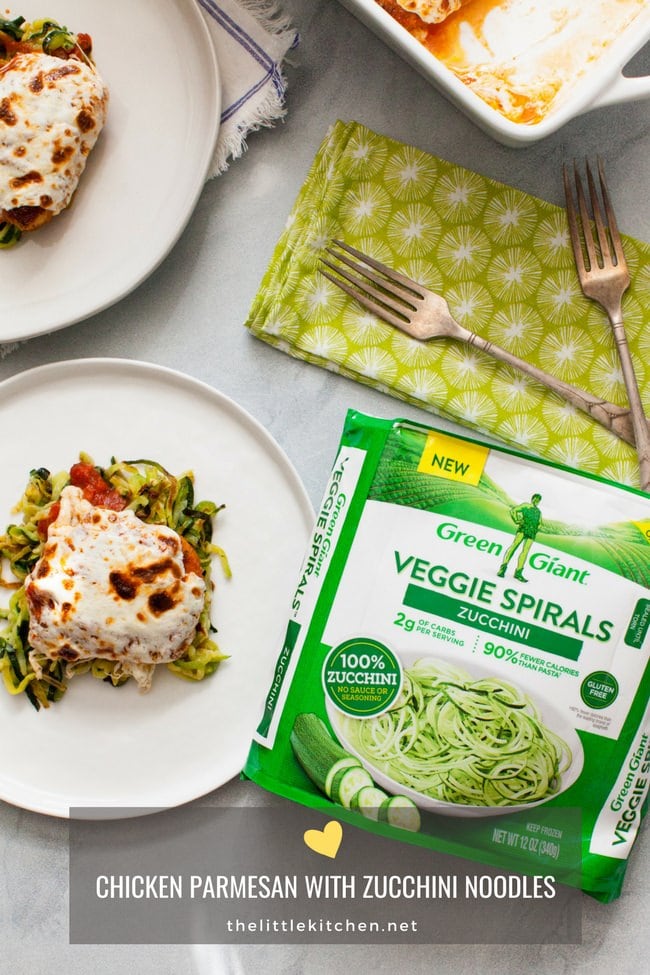 I'm excited to work with Green Giant to bring you this recipe. Instead of pasta, we are making it today with zucchini noodles! I love how convenient using the Green Giant Zucchini Veggie Noodles to make zucchini noodles to pair with this chicken parmesan recipe. It's so easy, I know YOU'LL LOVE IT!
I'm telling you, it's soooo easy to make!
Let's make this chicken parmesan recipe!
First, we'll prep the chicken. Then, make the breading.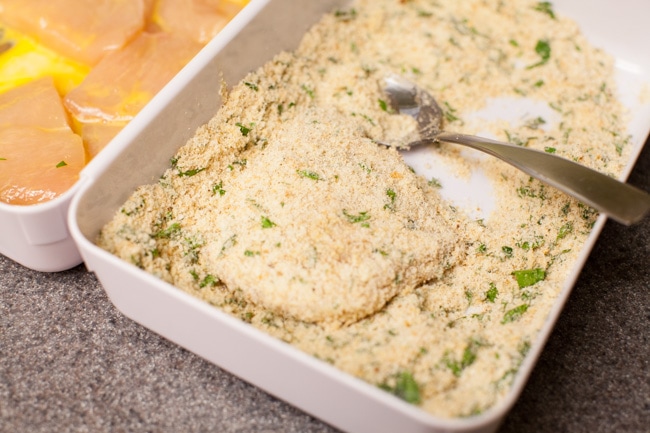 Coat the chicken in the egg and then in the breading.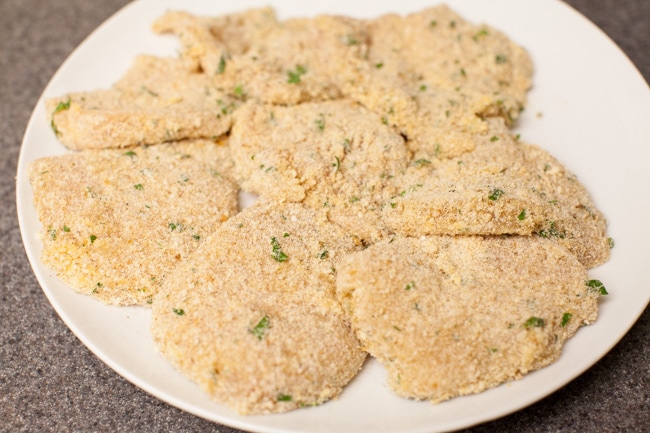 Place on a clean plate.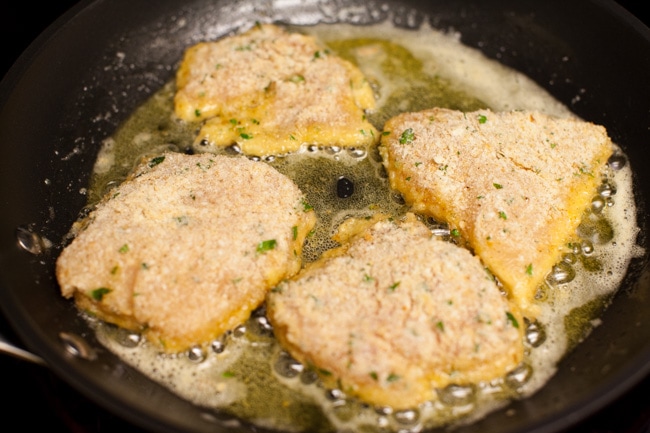 Cook in olive oil and butter.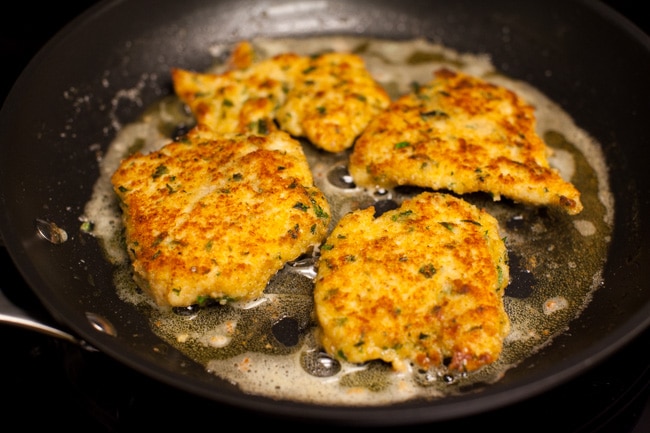 Almost done! Then, place on another clean plate that's lined with paper towels.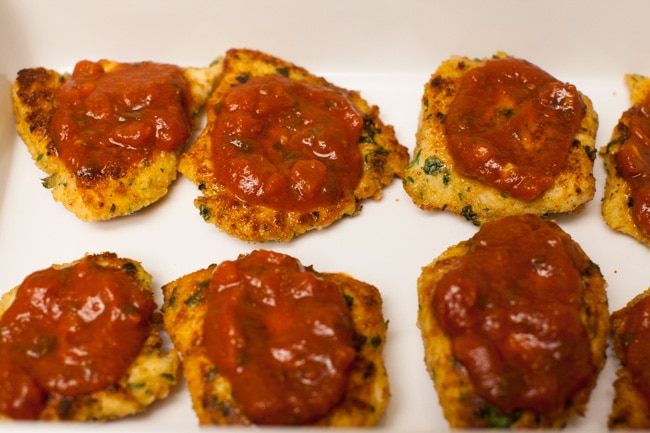 Add to a baking dish and then add sauce on the chicken.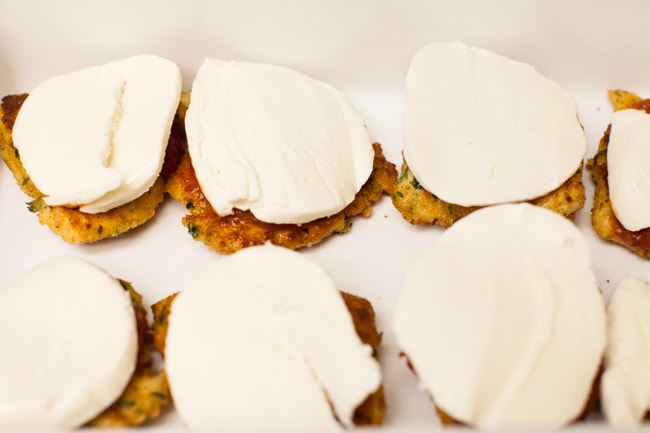 Then, add the mozzarella cheese on top. This is how we make our chicken parmesan recipe in our house!
While the chicken is in the oven, cook the zucchini noodles.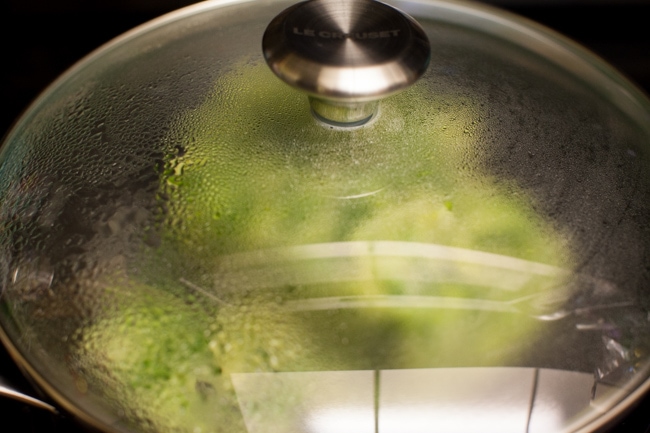 Place into a skillet and cover it.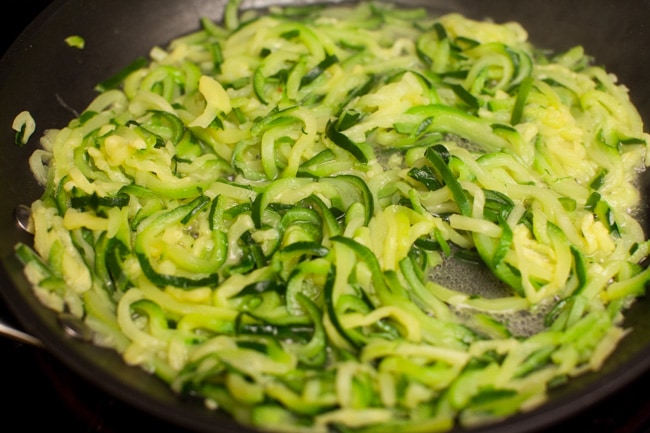 You'll notice some water, you'll want to drain it.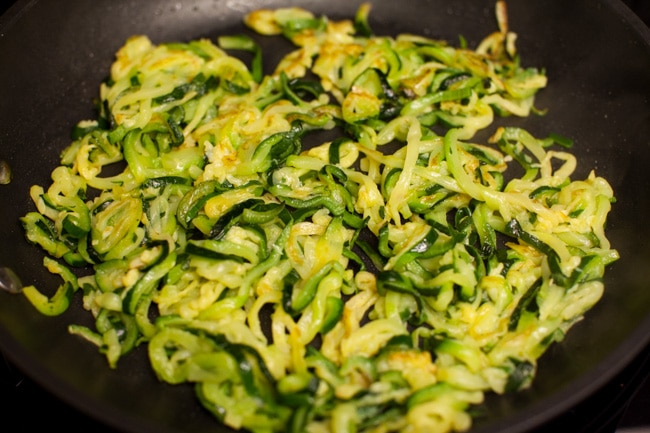 Then, add olive oil and sautee it and cook a little longer. I also added salt and pepper.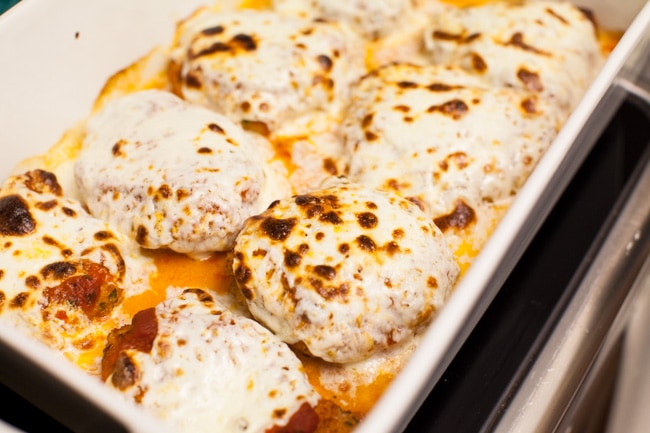 That's how the chicken looks right out of the oven!!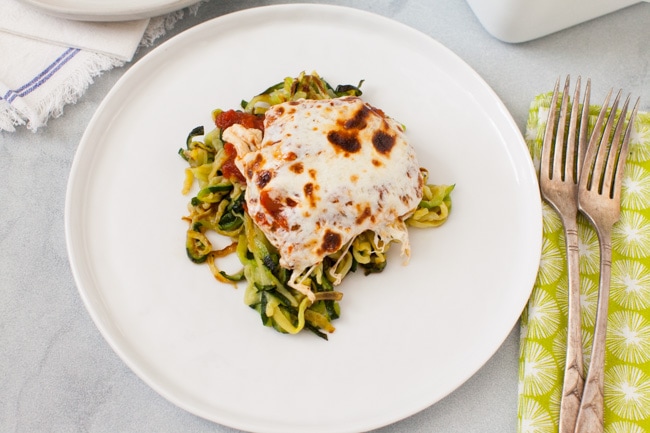 This meal is super convenient to make. The chicken parm recipe is soooo easy to make and the Green Giant Zucchini Noodles so easy to prep. I really like how this meal came out. We have made it a few times before you're seeing it here!
We bought the butternut squash veggie Noodles too and can't wait to try it! I'm totally going to try it with
Be sure to visit Green Giant to learn about the other Veggie Noodles they make and to get a coupon!
Recipe
Yield: Serves 4
Prep Time: 10 minutes
Cook Time: 30 minutes
Total Time: 40 minutes
Chicken Parmesan with Zucchini Noodles
Ingredients:
1 pound boneless skinless chicken breasts (cut into cutlets, cut length-wise in half and then in half, makes about 8 pieces)
1 large eggs, beaten
1/2 cup plain breadcrumbs (store bought)
1/3 cup parmesan cheese, grated
2 Tablespoons fresh Italian parsley, chopped
1/2 teaspoon garlic powder
1/4 teaspoon pepper
1/2 teaspoon salt
approx. 3 Tablespoons olive oil, divided for frying
2 Tablespoons unsalted butter, divided
marinara sauce, store bought or homemade (for baking and for serving)
8 ounce package fresh mozzarella cheese, sliced into 8 slices
12-ounce package Green Giant Zucchini Veggie Spirals
1/2 Tablespoon olive oil
salt & pepper
Directions:
Heat oven to 400 degrees F.
Prep the chicken.
Beat one egg in a shallow dish. In another shallow dish, add breadcrumbs, parmesan cheese, parsley, garlic powder, pepper and salt to make the breading.
Dip each piece of chicken into the beaten egg and using a fork or spoon, add the chicken to the shallow dish with the breading. Make sure each side of all of the chicken is coated with the breading. Place on a clean plate.
Heat 1.5 tablespoons olive oil and 1 tablespoon butter in a nonstick skillet for 3 to 4 minutes on medium high heat. Add half the chicken to the skillet and cook for 3 to 4 minutes on each side. Remove from skillet and place on a paper towel lined clean plate.
Clean skillet with a paper towel and add 1.5 tablespoons olive oil and 1 tablespoon butter. Once the butter melts, add the rest of the chicken and cook for 3 to 4 minutes on each side. Wipe skillet clean again.
Add chicken to a baking dish and on each piece of chicken, spoon about 1 tablespoon of marinara and add one slice of fresh mozzarella cheese. Bake for 8 to 10 minutes in the oven, until the cheese melts. Then, turn the broiler on and broil so the cheese browns a little for 2 to 3 minutes (be sure to watch carefully so it doesn't burn).
Cook the Zucchini Noodles
While the chicken is in the coven, cook the zucchini veggie spirals. Add the zucchini spirals to the the nonstick skillet and cover. Cook for about 8 to 10 minutes, stirring every so often with a rubber spatula. Drain the water. Add olive oil and sautée the zucchini for 2 to 3 minutes before flipping and cooking for another couple of minutes. Season with salt and pepper.
Remove from skillet and serve on a plate with more marinara topped with the baked chicken.
Note:  This recipe reheats really well. I store the chicken and the zucchini noodles in separate containers in the refrigerator.
We love that you love to share our recipes with others. If you have a blog or website and want to repost the recipe, we just ask that you reword the instructions (easy peasy) and link back to give us credit and to use your own images at the same time. Please ask us permission before republishing our recipes and images. And here's a great article on how to properly attribute a recipe.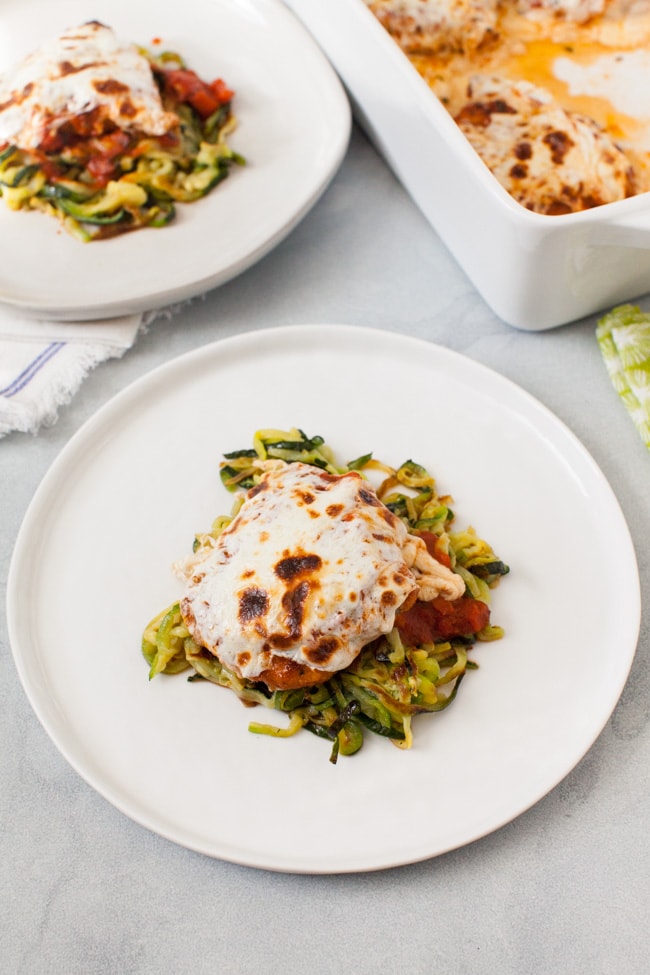 I'm sure you'll want seconds and thirds when you make this! 🙂 I'm totally going to try it with my recipe for slow cooker whole chicken too!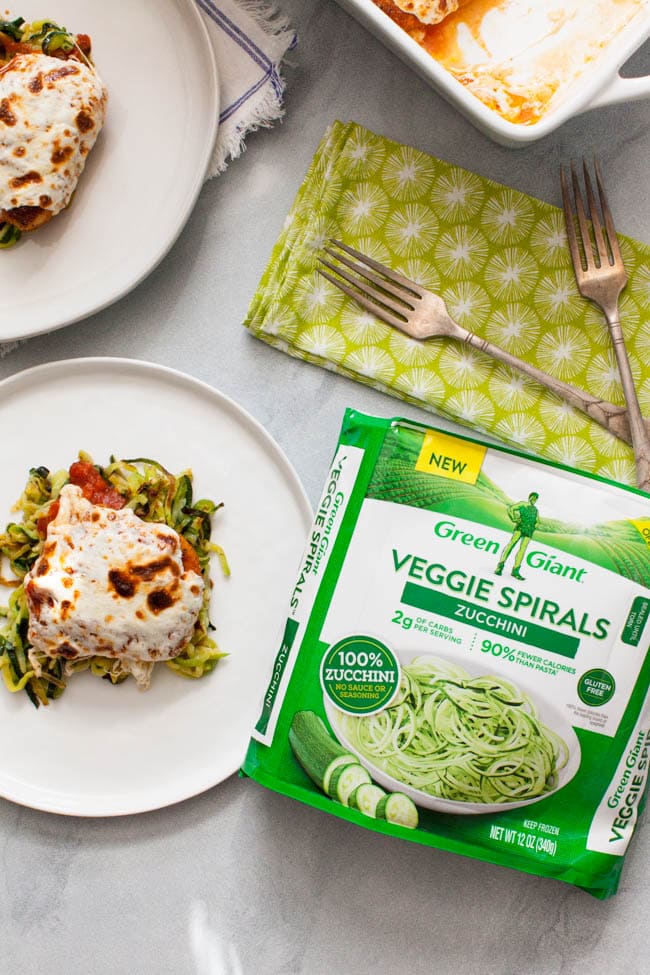 Disclosure: This post is sponsored by Green Giant. I always share with you my own opinions and I only work with brands that I love.