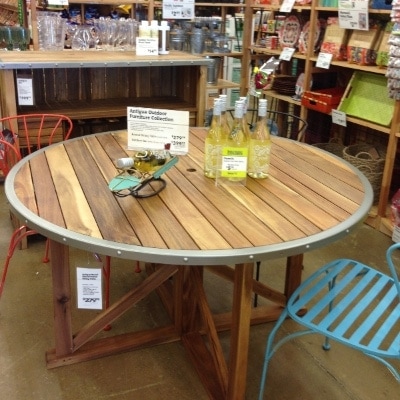 As someone who is completely, completely obsessed with World Market. I'm excited to get to work on them with this project! A backyard remodel! We have lived in this house for nine years and we don't have outdoor furniture suitable for guests or even anything that would make me want to get excited about hanging out in my backyard.
In comes World Market to the rescue. We went just to browse and picked out some great stuff! I loved this table but we weren't looking for dining furniture for outside, more like lounging furniture.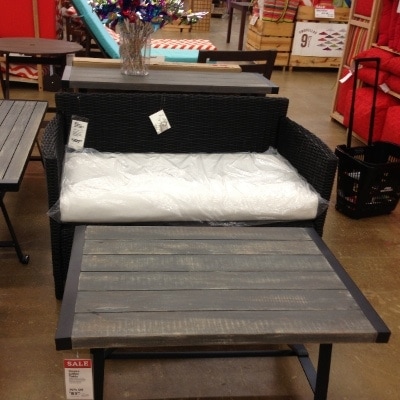 I'm kind of obsessed with this table. We have no room for it but I wonder if Curtis would yell at me if I just went and got it?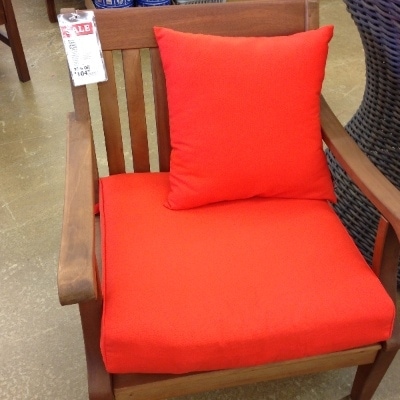 I feel like Goldilocks, just perfect! Curtis and I knew when we saw the Valencia outdoor furniture — that's what we wanted. The cushion is nice and perfect and the wood felt solid. Curtis really likes the spicy orange slipcover so we got that too!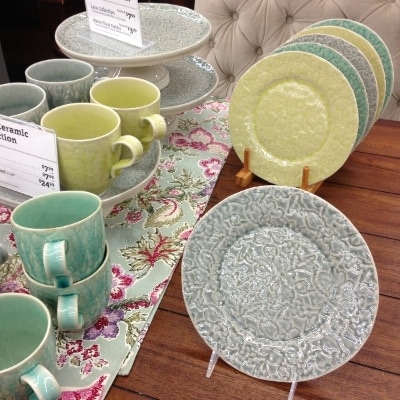 And of course I looked at plates! I have so many but I had to grab a few of these lace plates.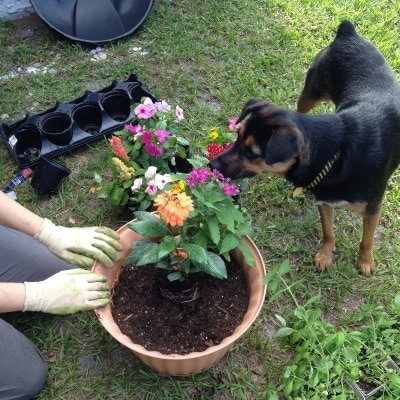 Getting the backyard ready, I wanted to spruce it up a little and pot some flowers. Angel was completely interested when I was working on this!
I wanted to share a bunch of the stuff we bought for our backyard remodel…see below!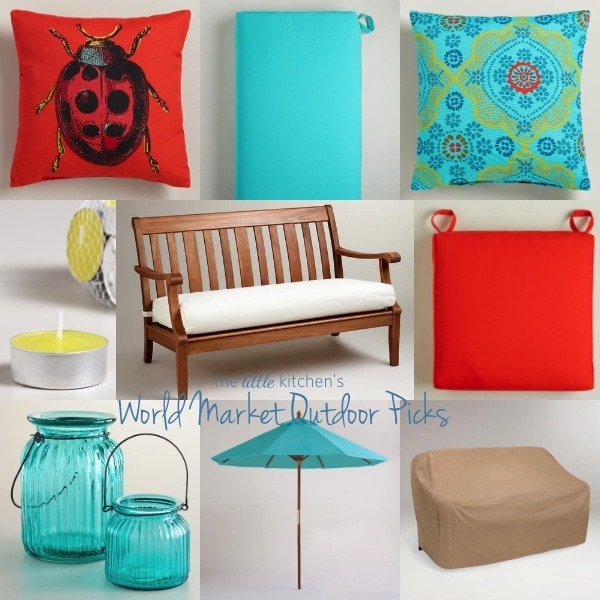 Since Curtis was all about the spicy orange color, I went with my favorite color blue to pair with the orange. I think it goes really well together! We got throw pillows and slipcovers for all of the cushions to go with our color theme.
Row 1: Ladybug Outdoor Throw Pillow | Turquoise Occasional Bench & Loveseat Slipcover | Mosaic Outdoor Throw Pillow
Row 2: Citronella Tealights (very much needed here in our mosquito-prone state) | Valencia Outdoor Furniture (the furniture we picked out!! love how comfy the cushions are and how sturdy it is) | Spicy Orange Occasional Chair Slipcover
Row 3: Glass Lantern Candle Holders (so cute, aren't they? I bought 2 different sizes, 4 different colors!) | 9′ Foot Blue Turquoise Umbrella (we got the umbrella and the umbrella stand) | Outdoor Bench Cover (these aren't available in the store so I ordered them online, will keep our furniture looking nicer longer)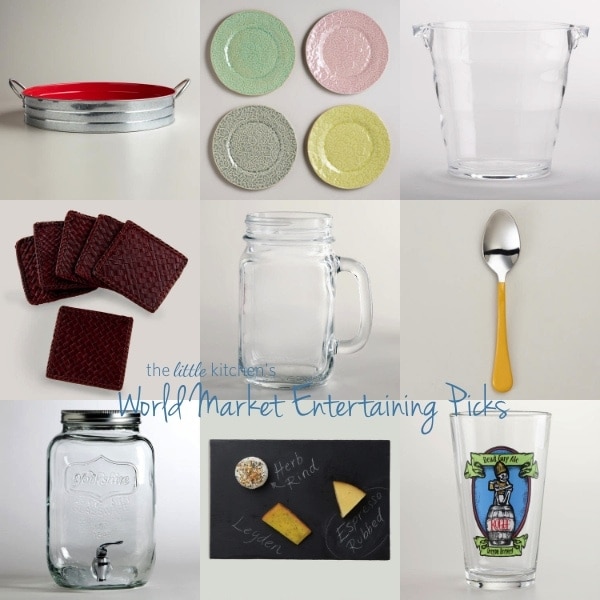 Row 1: Galvanized Tray (I just loved this tray and it's great for carrying a bunch of things from inside to outside) | Lace Plates (I will be using these in my photographs too!) | Acrylic Ice Bucket (always need an ice bucket)
Row 2: Pandan Coasters (I love these so much, perfect for every day use and entertaining) | Country Jar Glasses (Don't tell Curtis, I bought 12 of these for my next Bunko party! Ha!) | Enamel Utensils (just too cute to pass up! And they are 50% off right now!)
Row 3: Glass Drink Dispenser (similar to one I purchased) | Slate Cheese Board (similar to one I already own) | Beer Pint Glasses (we already have tons of these, Curtis loves them!)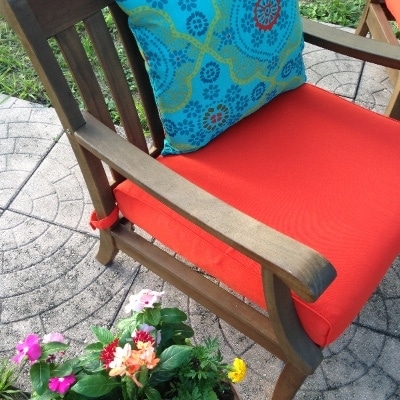 Here's a little peek at my remodel! I can't wait to share it with you! And a summer recipe as well as a super duper World Market giveaway…coming soon!
What about you? Do you love World Market? I hope this encourages you or inspires you to do a little remodeling of your own. I would love to hear about your plans if you're thinking about doing a backyard remodel!
Here are my World Market tips, sign up for their email list. I get notice of all of their sales and be sure to sign up for their World Market Explorer Program, there's a 15% off coupon available to explorer members right now!
Disclosure: World Market provided me with some of the products for my backyard remodel. Of course, as always, all opinions are my own and I only work with brands that I love.