French Onion Pot Roast (Slow Cooker)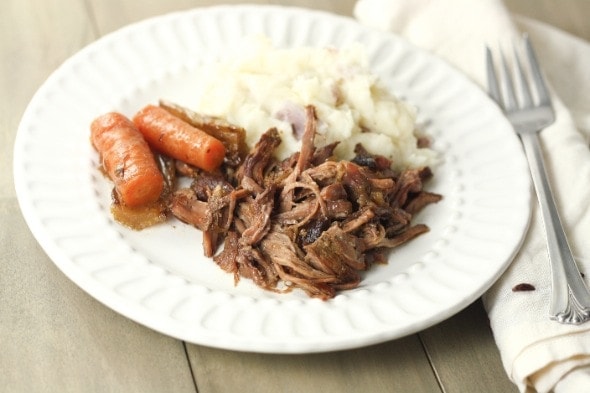 I love my slow cooker. Lately it's been my most favorite appliance because it's so nice to come home with dinner almost ready. On really busy nights and nights I work late, the slow cooker is my friend. This french onion pot roast recipe is something I have been making for at least a couple of years now. I have adapted the recipe and changed it up several times but this is how I make it now. My favorite cut of beef for this recipe is a boneless chuck roast that my grocery store calls a California roast. I love adding celery and carrots and even using them as a side dish when serving it.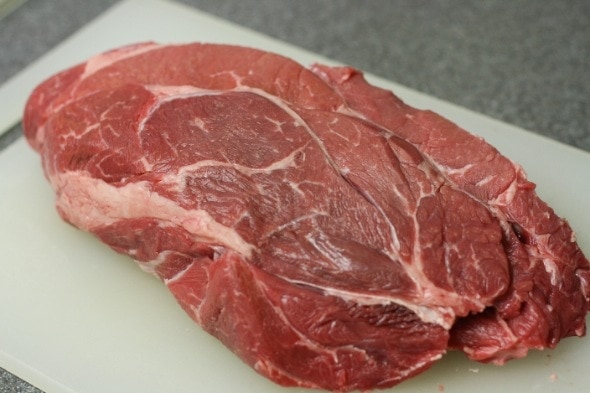 This is what a California roast looks like. It's flat unlike the chuck roast. I trim some of the fat off from the edges and pat it dry with a paper towel.


Cover the roast in flour, salt and pepper and then brown in a pan 2-4 minutes on each side at medium to medium high heat.


Place the roast in the slow cooker and add the french onion soup along with water. After 5 hours on high or 10 hours on low, you'll have a wonderfully moist and tender roast. I like to serve it in chunks and then shred it up on my plate. If you prefer, you can shred up the meat and put back into the slow cooker. I use the sauce from the slow cooker and serve it over the meat as well as my potatoes.
I'm a huge fan of comfort food, can you tell? This is a great dish for an easy Sunday dinner or just a quick weeknight meal and it's not too heavy for a summer dinner.
If you make any of recipes and decide to share them on instagram or twitter be sure to tag me @thelittlekitchn and use the hashtag #thelittlekitchenrecipes! I love seeing your posts and photos!
French Onion Pot Roast (Slow Cooker)
Yield: 6
Prep Time: 15 min
Cook Time: 5 hours
Total Time: 5 hours 15 min
Ingredients:
3-4 pound boneless beef chuck roast (I prefer the California roast)
3 Tbsp all purpose flour
1 tsp salt
1/4 tsp pepper
1-2 Tbsp vegetable oil
2 celery stalks, trimmed & cut into 3 inch pieces (I use Dandy Fresh)
4 carrots, washed & cut into thirds
10.5 oz can of french onion soup, condensed (I use Campbell's)
Directions:
Mix flour, salt and pepper together in a small bowl.
Trim any fat on the sides off the roast and rinse with water. Pat dry with paper towels. Add flour mixture to cover the roast.
Heat 1-2 Tbsp of oil in a non-stick or cast iron skillet on medium to medium high heat for 3-4 minutes. Add roast to heated pan and heat to sear for 2-4 minutes on each side. (Add more oil if needed and lower heat if necessary.)
Add carrots and celery to the bottom of the slow cooker and add roast on top of the vegetables. Add french onion soup and 1/2 to 3/4 can of water to the slow cooker.
Cook roast in slow cooker on low for 10 hours or high for 5 hours.
We love that you love to share our recipes with others. If you have a blog or website and want to repost the recipe, we just ask that you reword the instructions (easy peasy) and link back to give us credit and to use your own images at the same time. Please ask us permission before republishing our recipes and images. And here's a great article on how to properly attribute a recipe.
Disclosure: Dandy Fresh is a sponsor of mine. I always share my honest opinions and only my favorite brands. There are also a couple of affiliate links in this post.
Sign up today to receive exclusive content and news from The Little Kitchen:
40 Responses to "French Onion Pot Roast (Slow Cooker)"
Pingback: French Onion Pot Roast

Pingback: Slow Cooker Roundup | Baked by Rachel
Leave a Comment