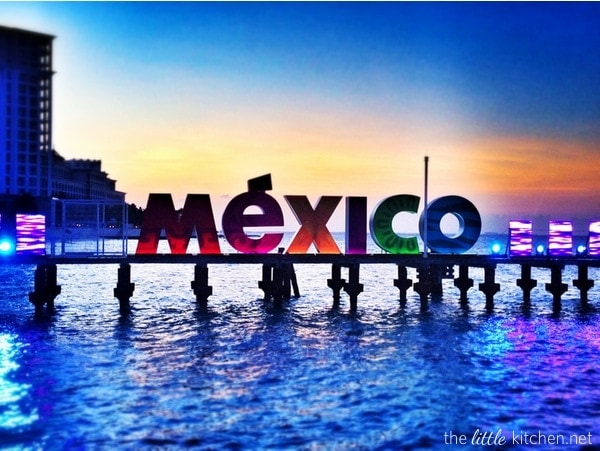 In May, I was fortunate to travel to Cancun, Mexico! Along with 53 other members of the foreign press, I attended the Tianguis Turistico Conference in Cancun. It's 39th year, this huge conference brings travel buyers and travel professionals from all over the world to a different city in Mexico to highlight the booming tourism industry in Mexico. It was my first time in Mexico, I ate a lot of amazing food and met some amazing people as well.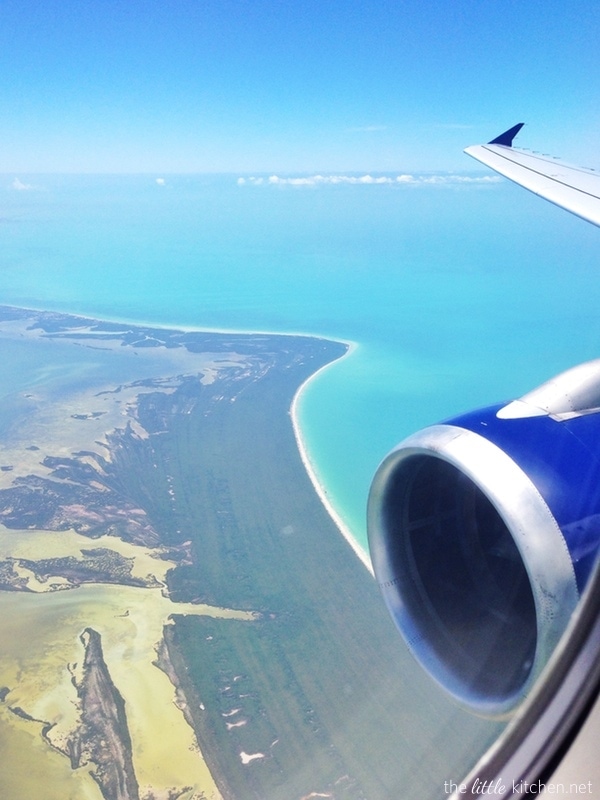 From Florida, I had a connection in Atlanta and was fortunate to have a first class upgrade. Sigh, it's so lovely. I highly recommend that if you travel at least several times a year, to be an airline loyalist and be sure to sign up for that airline's frequent flier program. I'm lucky enough to have had a few first class upgrades and it's totally worth it. I'm a huge Delta fan, if you're asking.
This was my view as we were landing in Cancun, the water is so beautiful!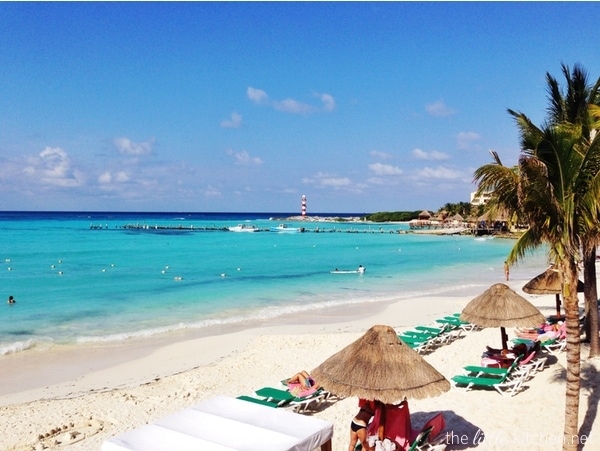 The first few nights, I stayed at the Fiesta Americana Grand Coral Beach Hotel.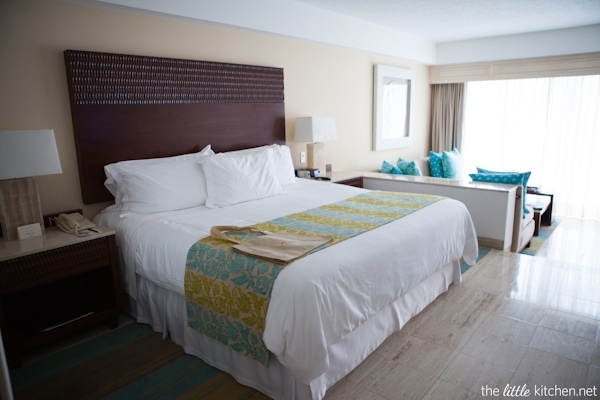 The rooms were nice and spacious.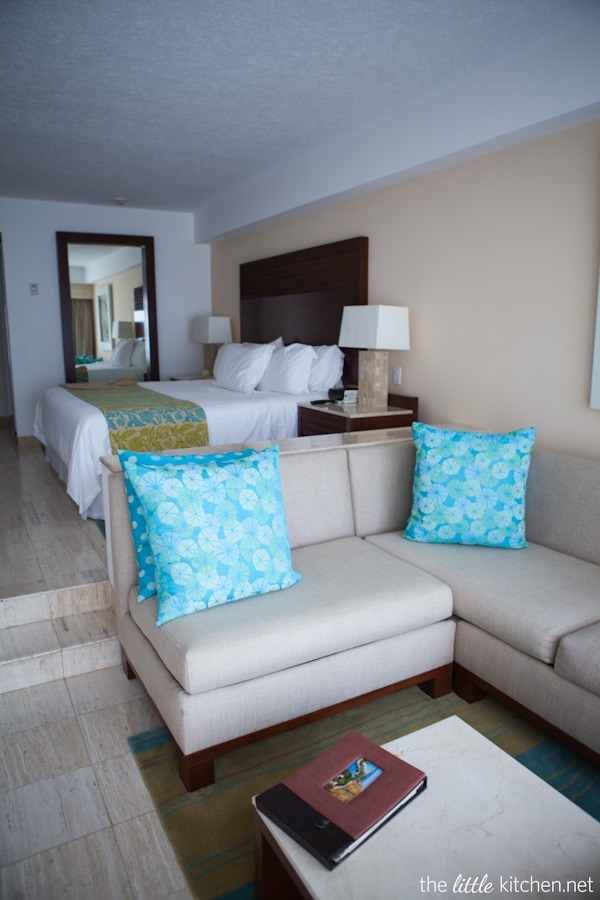 And had a nice seating area.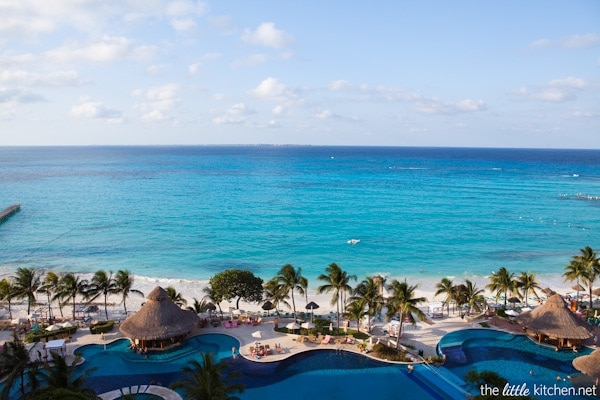 The views were gorgeous. Look at that water.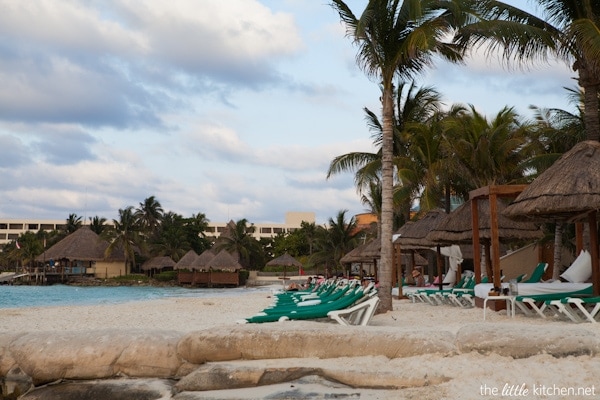 And the beach.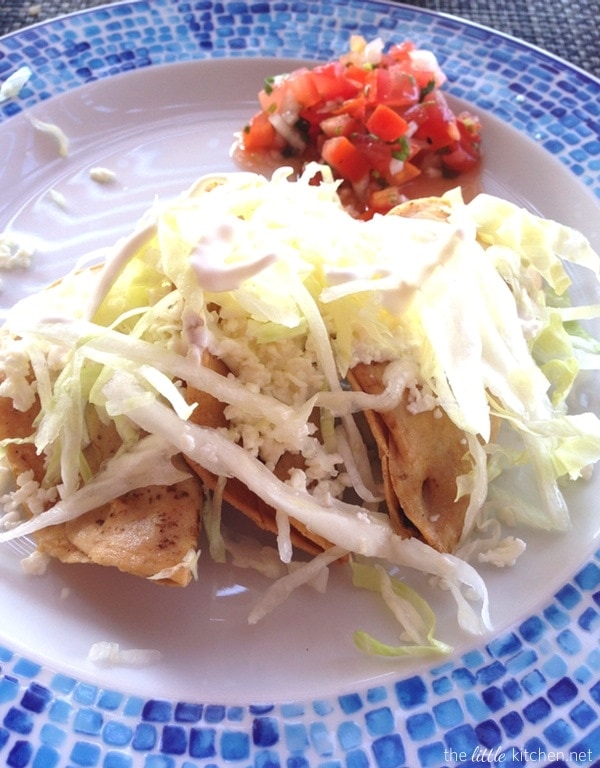 When I arrived, I was starving. We (as in Amanda and I), ordered lunch at their outdoor cafe (the Bikini Bar – I know it's a funny name!) and these pescadillas were amazing. This was the beginning of many amazing seafood dishes in Mexico. I also ordered the coconut shrimp, pretty much the best coconut shrimp I have ever had (my pictures were horrible though).
We enjoyed this view…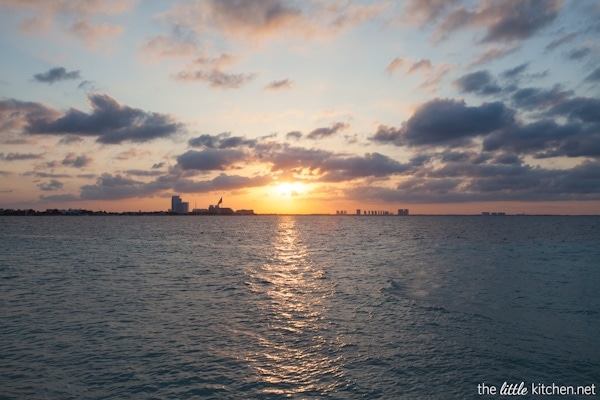 And then, Amanda and Sommer and I hiked it over to view the beautiful sunset at another resort.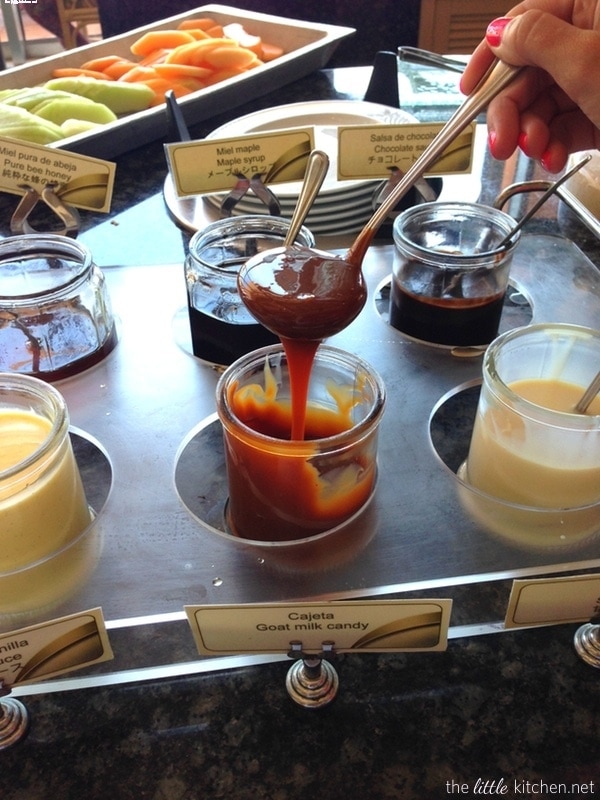 Breakfast at the Fiesta Americana Grand Coral is no joke…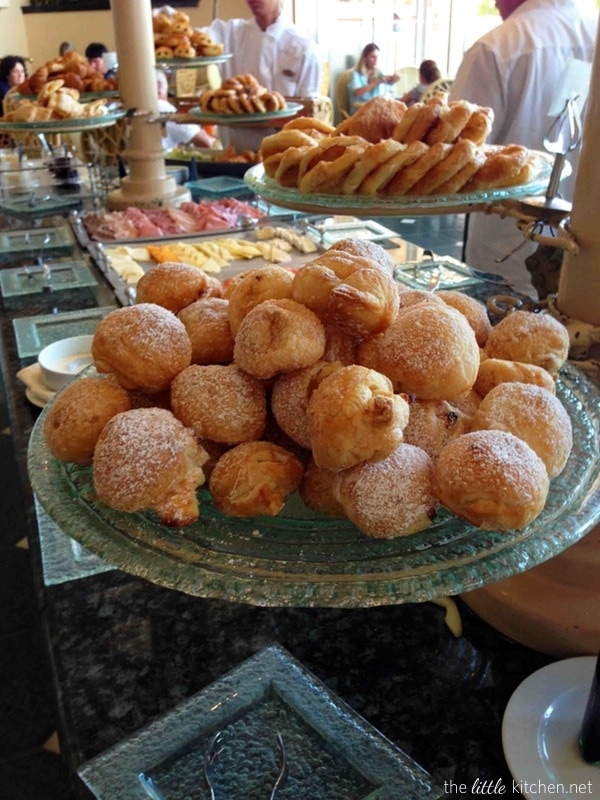 Sweets…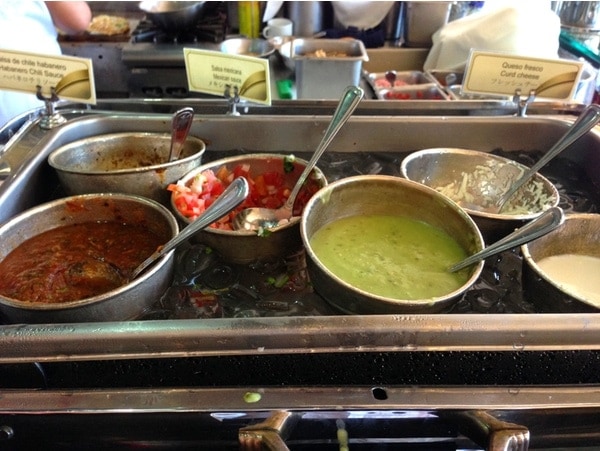 Tons of authentic Mexican food…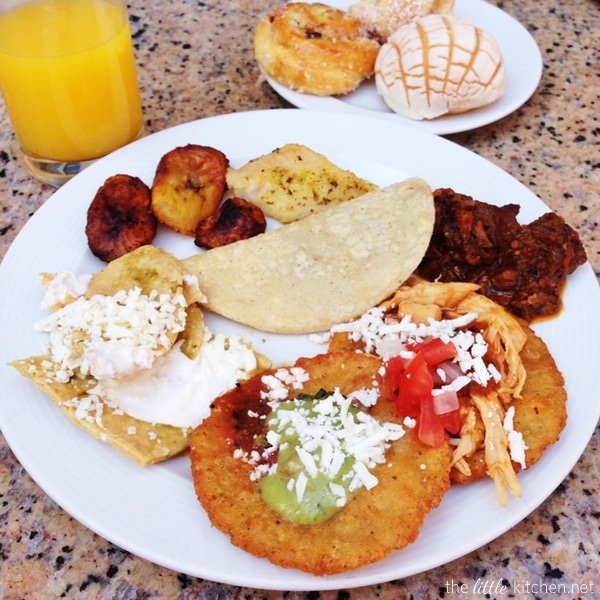 And this was my plate. The fried tortillas up front were my favorite!
I also ate a couple of times at La Joya – the Mexican restaurant at the hotel. Get the fried ice cream. I wish I could share with you a photo, it was amazing, the lightest fried ice cream I have ever had. But since the lighting was not so great, my images are just eh. I had it twice…so worth it!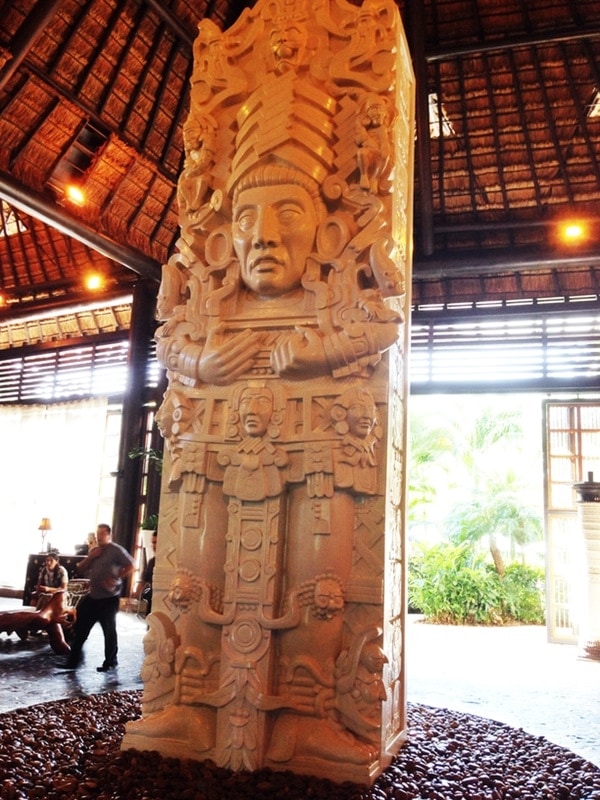 The next day, we traveled over to the Grand Mayan and this is the hotel lobby…amazing!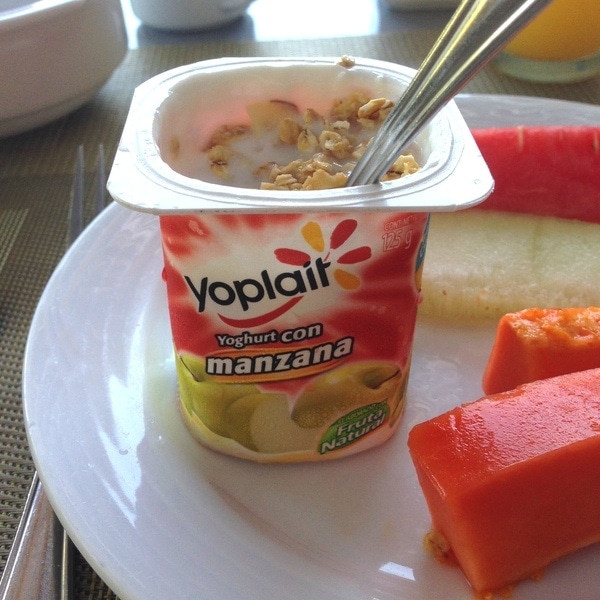 I had a quick breakfast at their little cafe…look at this yogurt…with apples. It was amazing! I wish we could get it here in the US.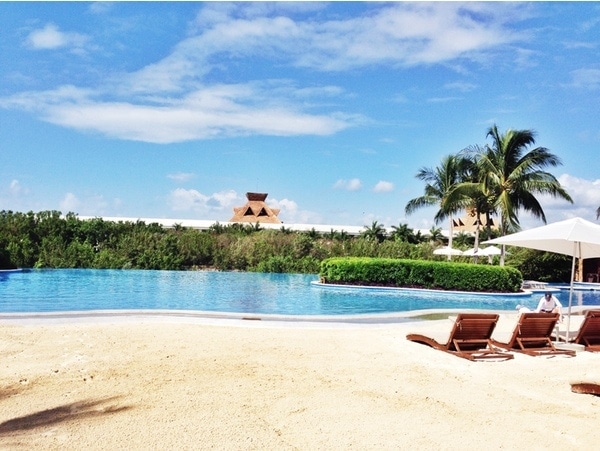 Beautiful views at the Grand Mayan, I want to go back…NOW.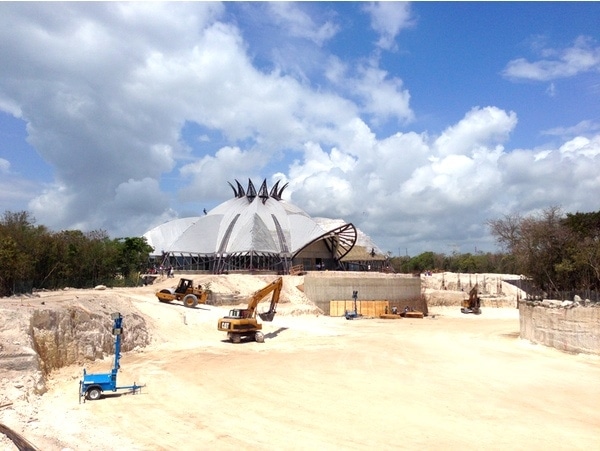 We heard all about the new Cirque du Soleil show called Joya that's coming to Riviera Maya. Here's the construction site we got to see. It's going to be amazing! It opens this November with different ticket options, including several that includes dinner. I have never seen a Cirque show! I would love to return and see Joya, it sounds amazing!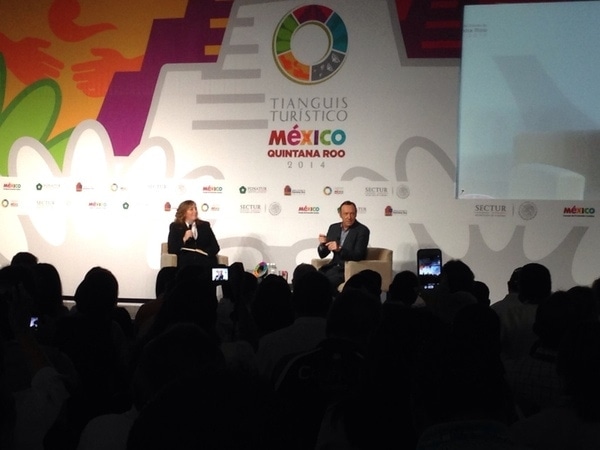 We returned to the conference and got to see Kevin Spacey speak…eeek! He wouldn't give us any hints about House of Cards (BTW, I just finished season 2 on Netflix oh my goodness!!). He kept talking about his mentor, Jack Lemon and his mom. His mention about giving back to younger actors and his tribute to Jack and his mom over and over again made him so endearing.
And then it was a long drive over to Rosewood Mayakoba in Riviera Maya. It's a gorgeous property.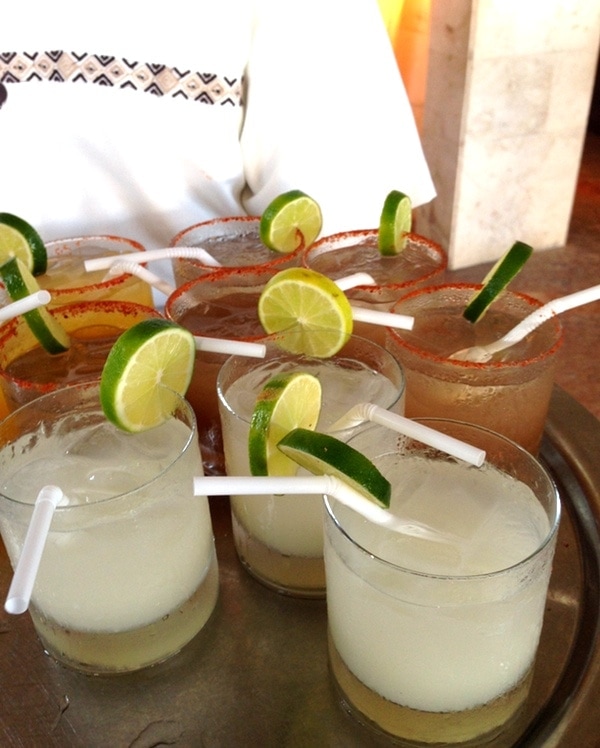 The best way to be greeted — with margaritas.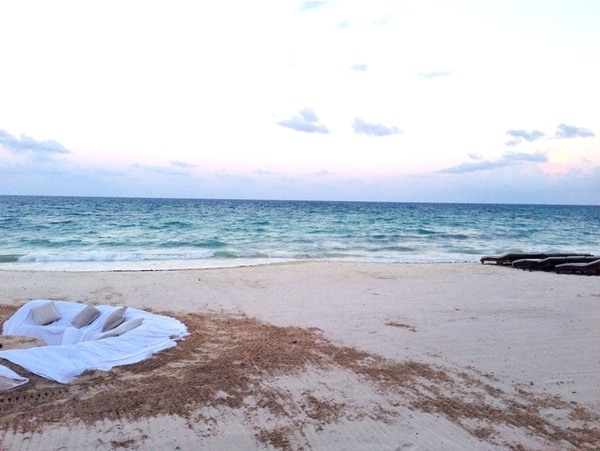 We had an amazing reception on the beach. Look at that view.
And a fire pit on the beach!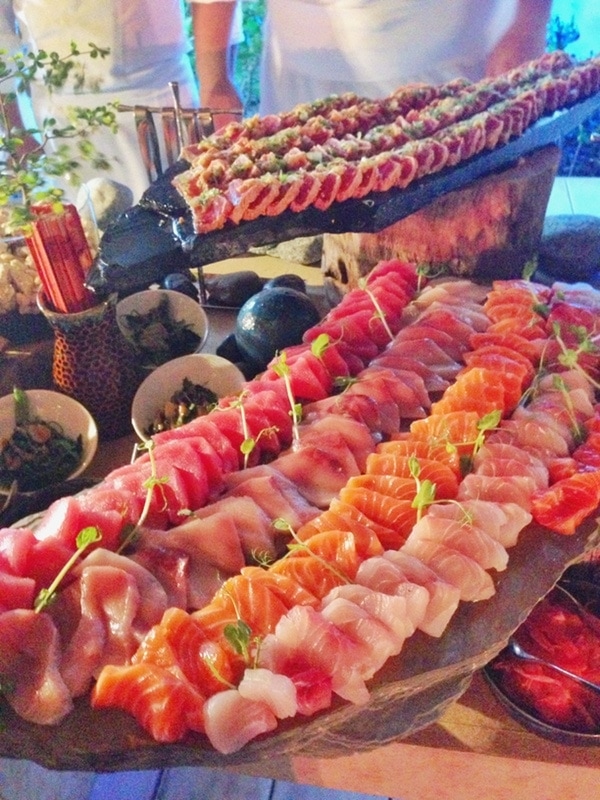 Tons of sushi and amazing food…dreamy. I have to return to the Mayakoba, for real.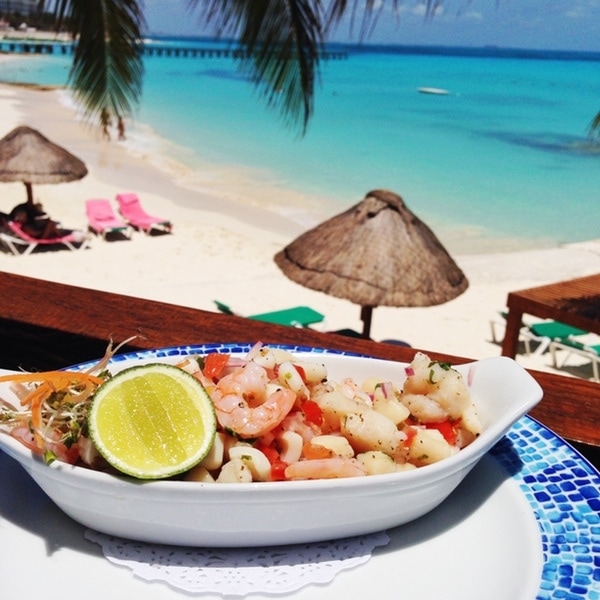 The seafood in Mexico is incredibly fresh. Ceviche with a view.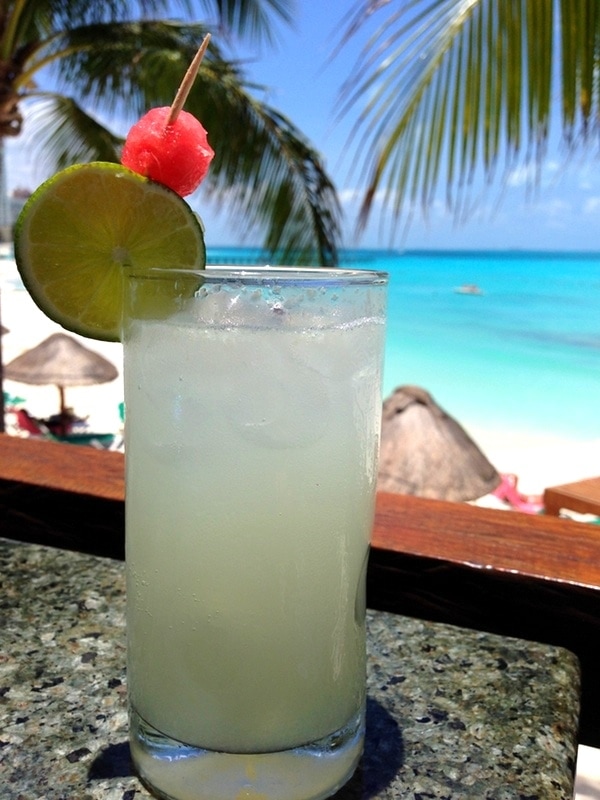 And cocktails…I could have gotten used to that.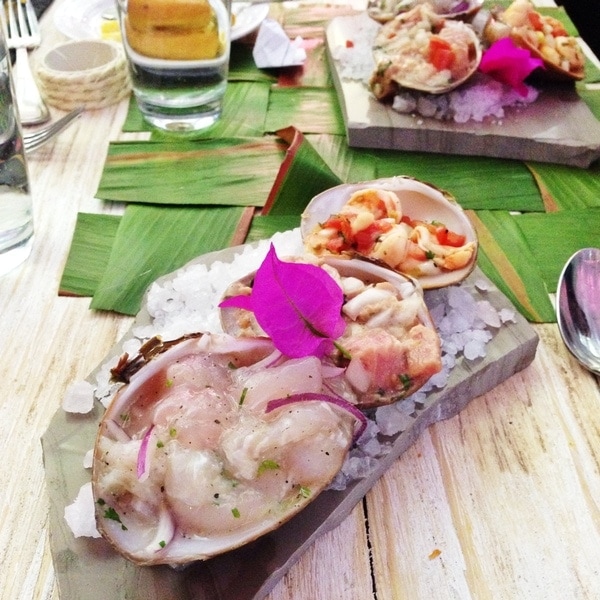 And then we went to the Moon Palace hotel for the closing of the conference. More ceviche! This was a super spicy but super amazing ceviche.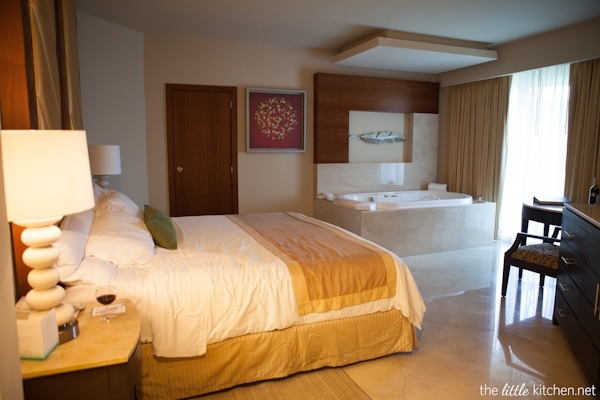 This is my room at the Moon Palace. It's a nice hotel with three different lobbies, it's a huge hotel. We stayed in the family-oriented portion of the hotel. The room was smaller than my room at the Fiesta Americana but it was still nice.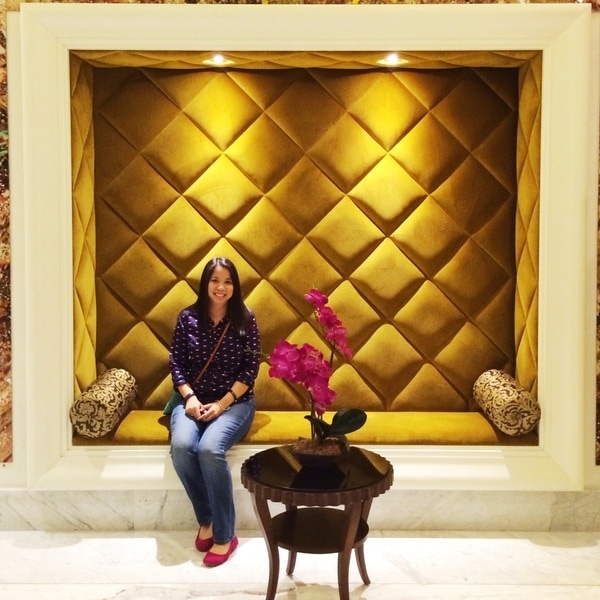 Thanks to Amanda for taking this photo of me. Before our sushi and hibachi dinner at Momo at Moon Palace. We had fried ice cream again!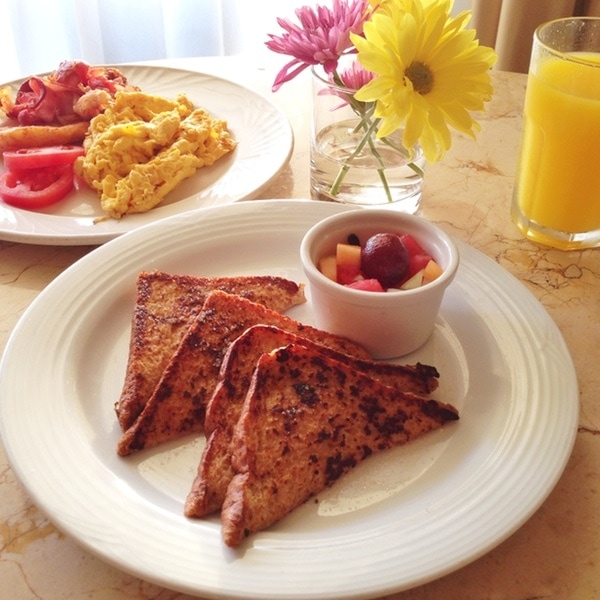 Room service the next morning. They gave me extra bacon! The flowers were a nice touch, the bell hop gave us flowers when we checked in the day before. I kept them and put them in water when I got to my room. It added a nice touch to the room!
We took a long drive to take a ferry over to Isla Holbox (pronounced Hol-bosh). NO WORDS. It was amazing. I didn't want to leave.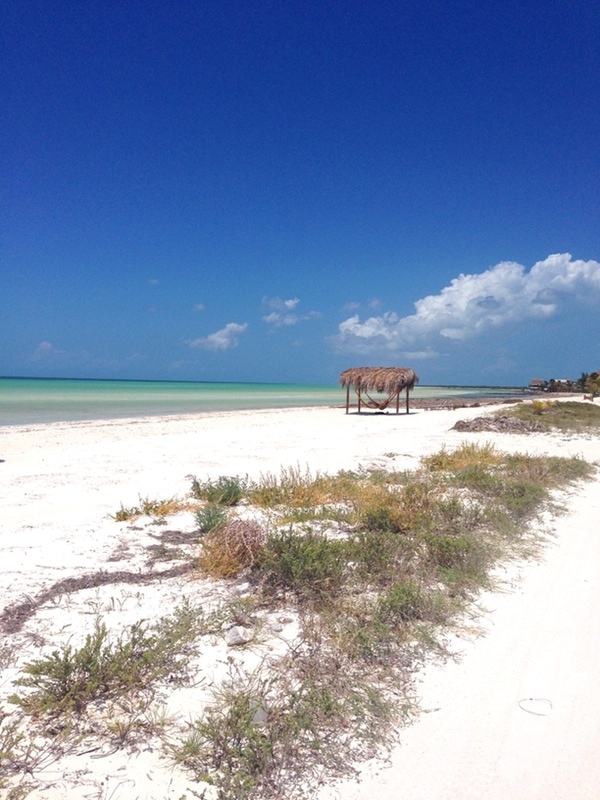 So serene and the largest hotel has 40 rooms! No cars — the only traffic comes from motorbikes and golf carts. I had a lot of fun driving those golf carts.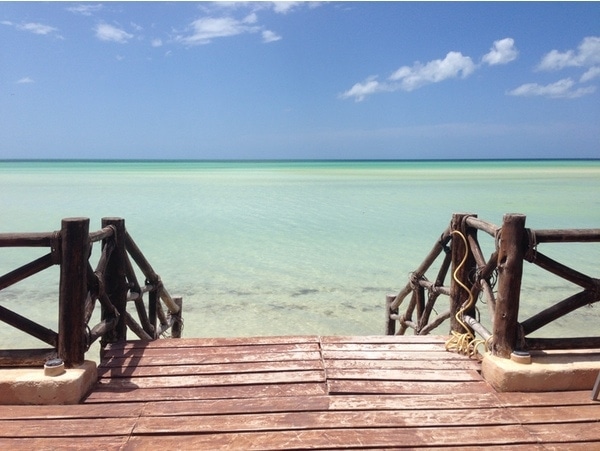 Just step right in…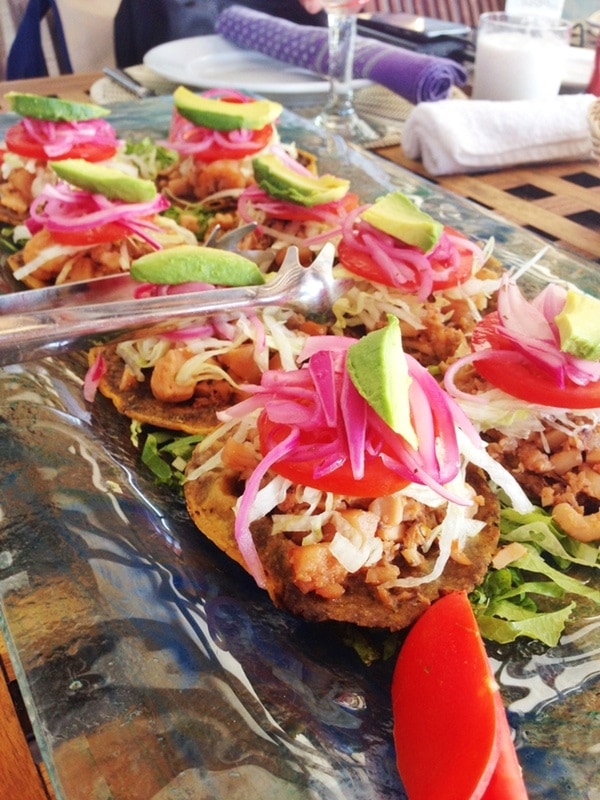 We had an amazing lunch with the owners of Hotel Las Nubes.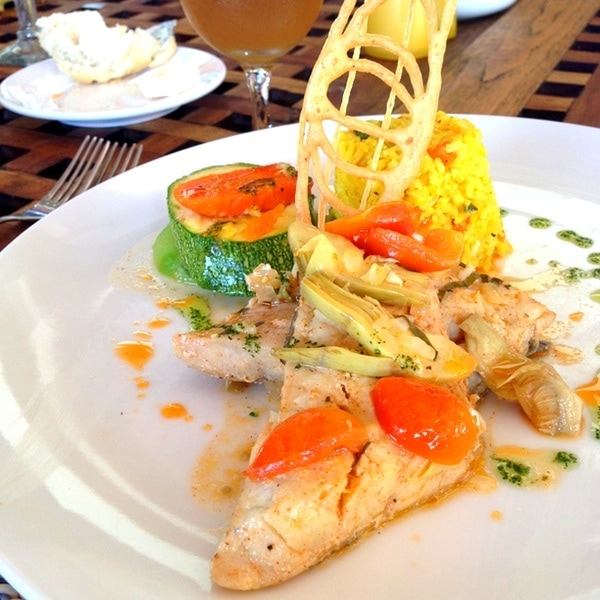 Hello, beautiful. An amazing fish dish with artichokes and zucchini.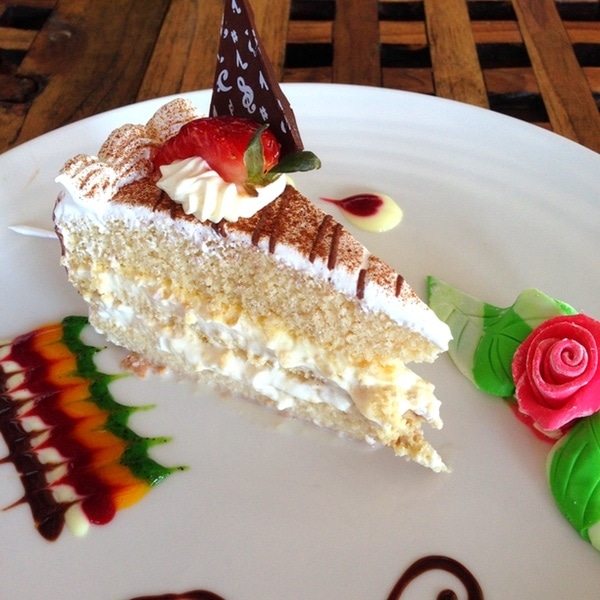 And one of the best tres leches cakes I have ever had.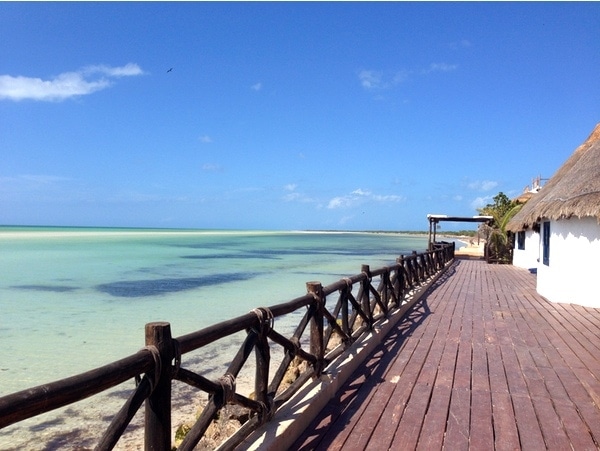 More views from Hotel Las Nubes.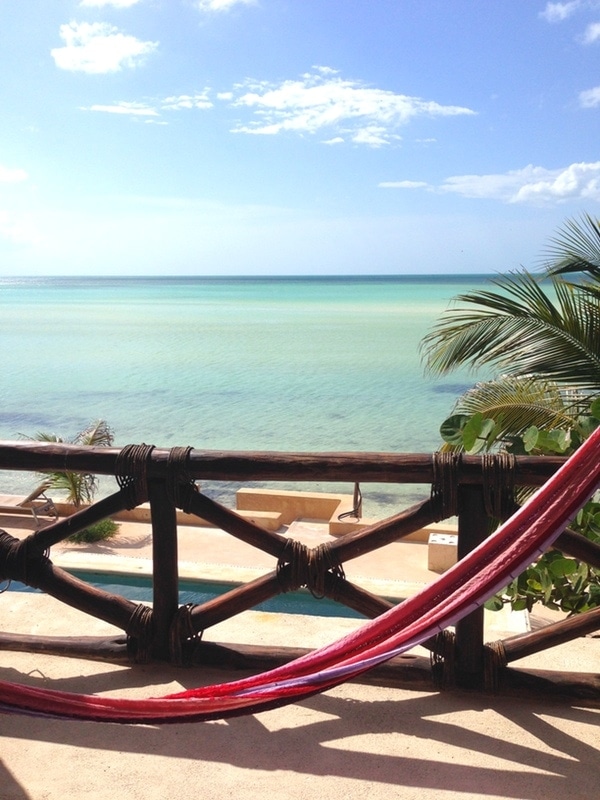 A view right outside one of the rooms…
And our tour guide, haha look at the dogs! They have great balance!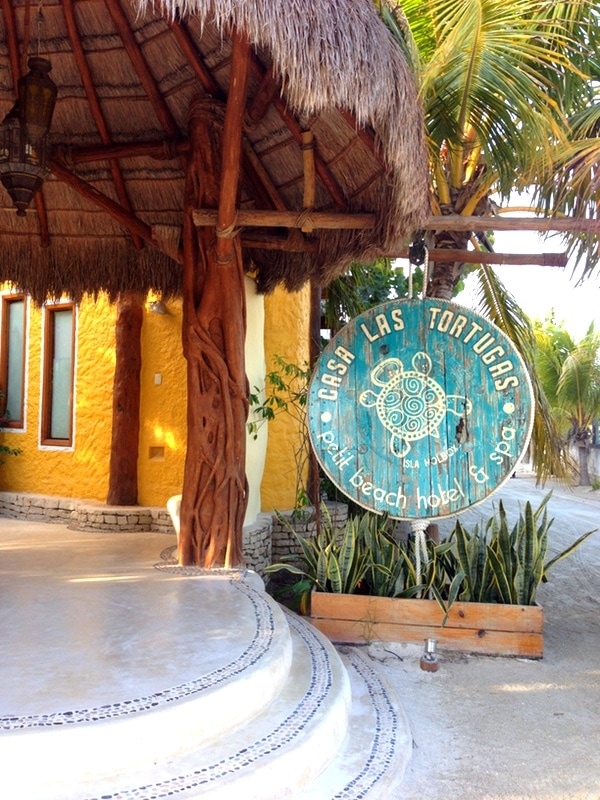 Isla Holbox, I promise you, I will return.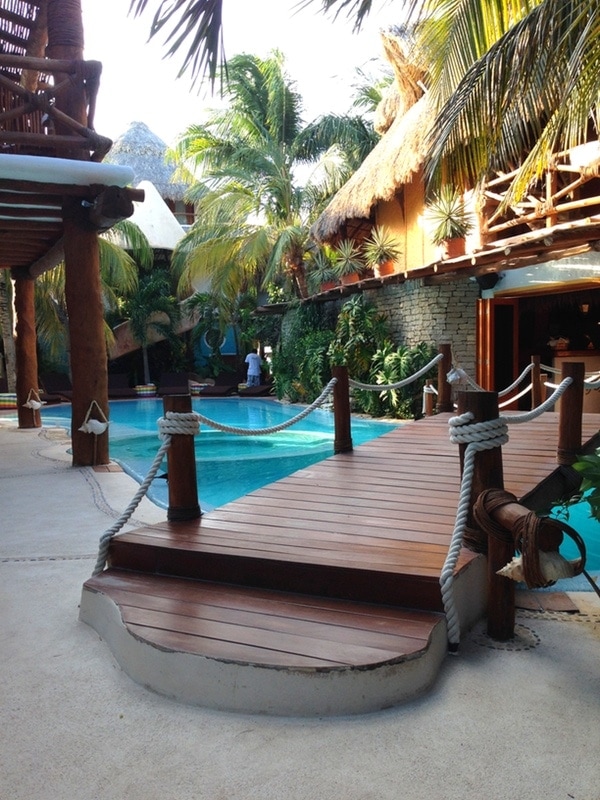 Gorgeous Casa La Tortugas Hotel.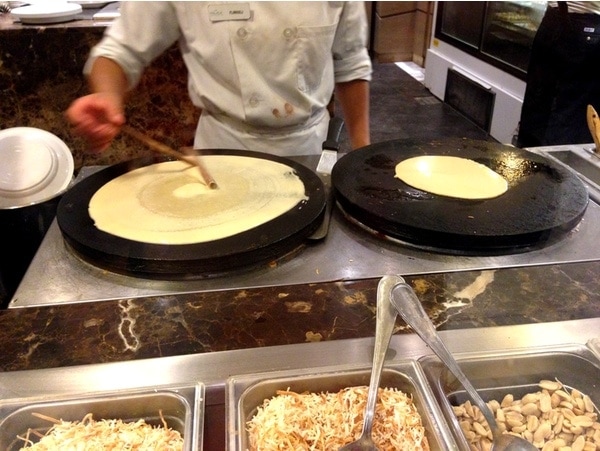 Back at Moon Palace, Amanda and I ordered room service and then went exploring. We found the little cafe that makes nutella stuffed crepes until late!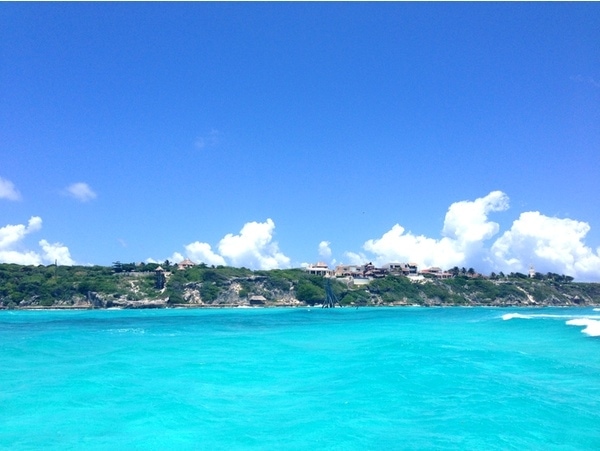 The next day we made the trek over to Isla Mujeres. I got a little seasick on the ferry ride over and didn't get to enjoy much of the day.
We did a little shopping though. I got myself a bracelet and I bought Curtis a ceramic sugar skull. He loved it!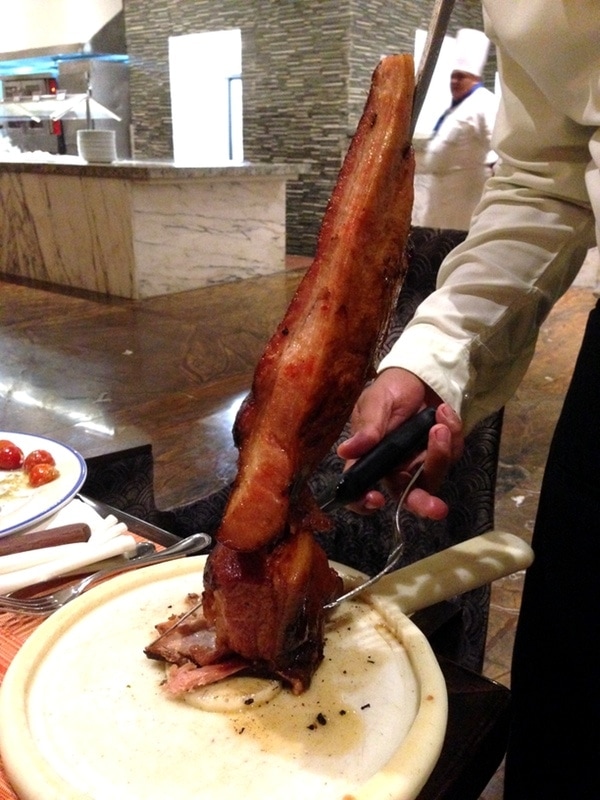 And then we enjoyed an amazing dinner at Arrecifes, the Brazilian steakhouse in the Nizuc lobby of the Moon Palace Hotel.
That's bacon!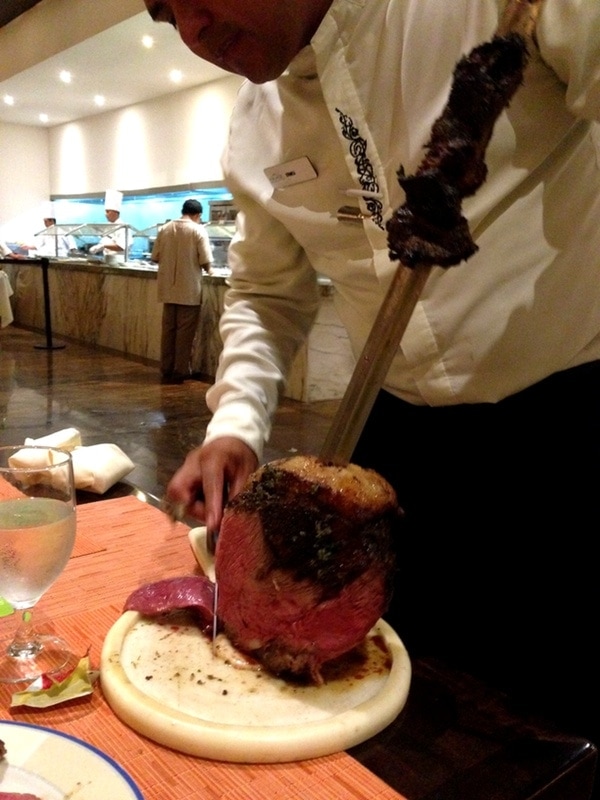 Let's just say we enjoyed it and ATE way too much.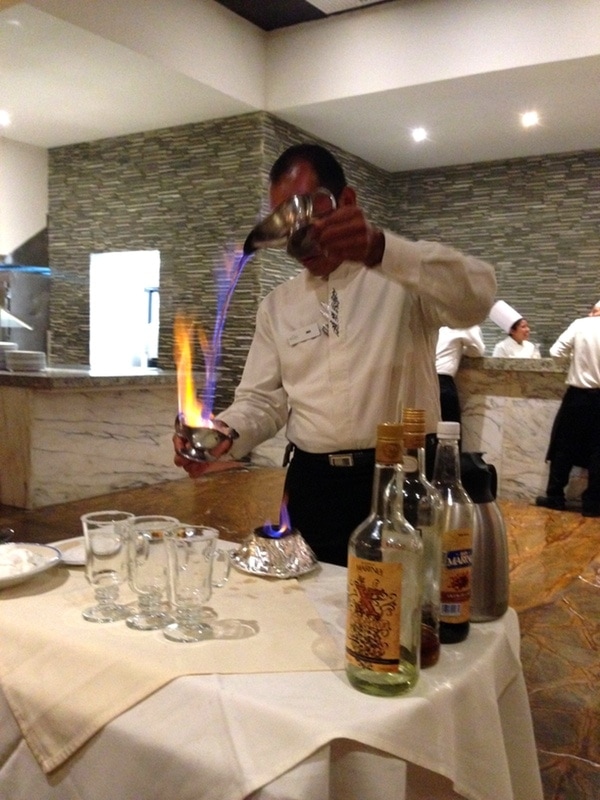 And then had Mayan coffee!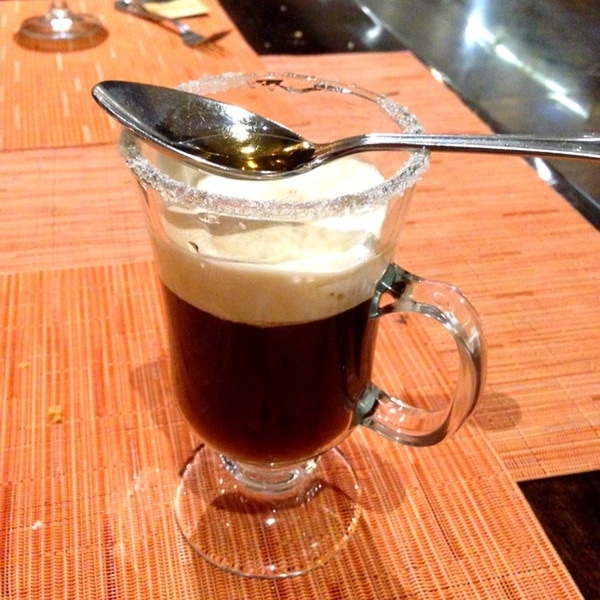 Amazing!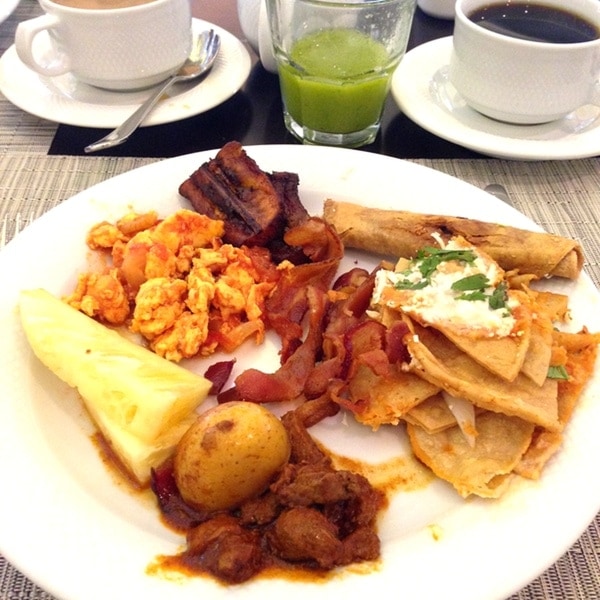 And then, I enjoyed one more breakfast at the Moon Palace.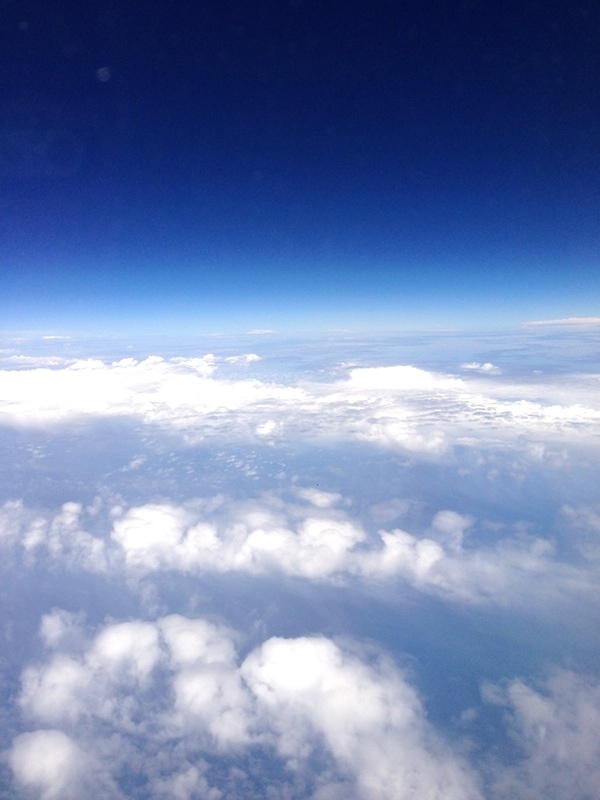 In the sky…on the way home.
I feel so fortunate I got to on this trip. I had so much fun, saw so much and ate SO MUCH amazing food.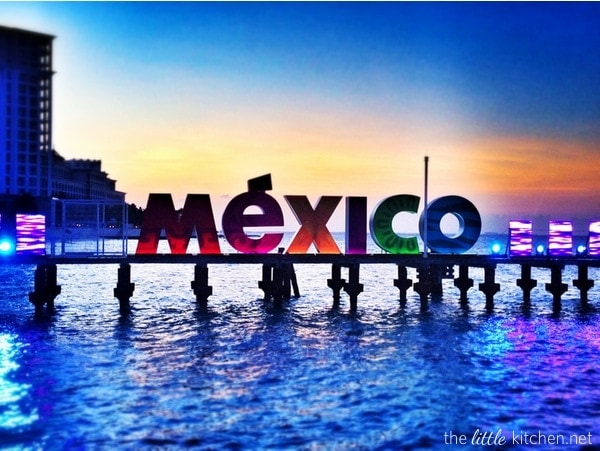 Mexico, I love you. I'll be back. Hopefully to see Joya the Cirque show, to see more of the Rosewood Mayakoba and to stay on Isla Holbox…that amazingly beautiful serene and peaceful island. I kind of want to go back to Cancun now!
Disclosure: My visit to Mexico was sponsored in part by the Mexican Tourism Board and the Cancun Tourism Board. I was not required to write this post, these opinions are my own and I only share what I love.