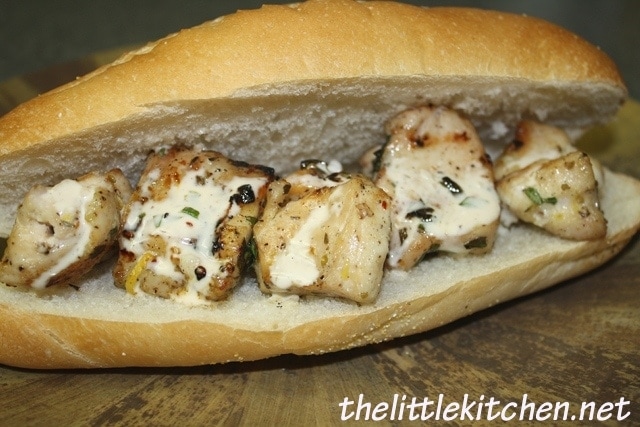 Spiedies, have you ever heard of them? I never had until I bought an America's Test Kitchen Best of 2010 magazine issue. According to the magazine, they are upstate New York's best kept secret. They are so easy to make, you won't believe and they pack so much flavor in each bite.
I guess these sandwiches are served with the sauce and served plain. My husband doesn't like sauces so he eats them out without and adds provolone cheese, lettuce and tomato. He loves these sandwiches. I have even had the grilled chicken (not on a sandwich) but with couscous complete with the sauce.
This dish is in my top 10 list right now. Hope you enjoy them! If you make them, I'll bet they will rank high on your list too!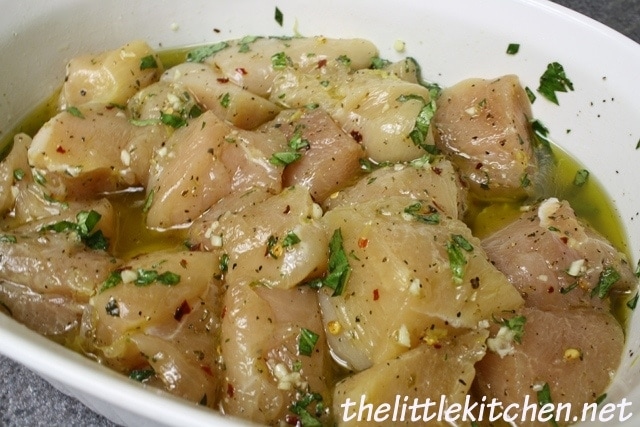 Recipe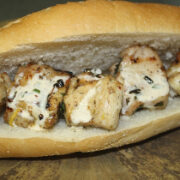 Print
Pin
Save
Chicken Spiedies
Ingredients
1/2

cup

olive oil

2

garlic cloves

,

minced

2

Tbsp

chopped fresh basil

1/2

tsp

dried oregano

2

tsp

grated lemon zest

1

Tbsp

fresh lemon juice

1

tsp

salt

1/2

tsp

pepper

1/4

tsp

red pepper flakes

3

Tbsp

mayo

1

Tbsp

red wine vinegar

1 1/2

pounds

boneless

,

skinless chicken breasts (trimmed)

6

6-inch sub rolls
Instructions
Mix the oil, garlic, basil, oregano, lemon zest, salt, pepper and pepper flakes in a large bowl.

Take 2 Tbsp of the oil mixture and place into another bowl and set aside.

Prick the chicken breasts with a fork all over on each side. Cut into 1 1/4 inch chunks. Add to large (first) bowl of marinade. Refrigerate and marinate for at least 30 minutes and no longer than 3 hours.

Whisk together mayo, vinegar and lemon juice with the 2 Tbsp of oil mixture set aside earlier.

Remove the chicken and thread onto metal skewers.

Heat your gril for 10 minutes on high.

Clean and oil your cooking grate. Place the skewers on the grill, turning frequently. Cook for 10-15 mintues.

Remove from grill and allow chicken to rest for at least 5 minutes.

Grill the rolls on grill for a few seconds each. Remove quickly or they will burn.

Remove the chicken from the skewers directly on the rolls. Drizzle with mayo sauce mixture.