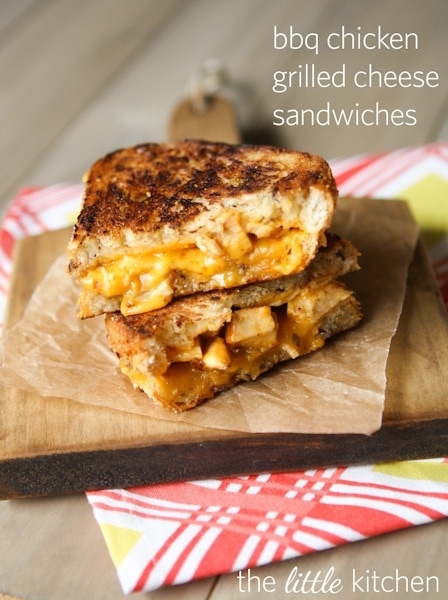 We love, love BBQ chicken. We're creatures of habit, we like to make BBQ grilled chicken all the time and have it with fries and usually some kind of veggie like corn or even grilled vegetables. The grilled chicken HAS to be boneless, skinless chicken breasts because Curtis cannot deal with bones. I know a lot of people are like him and in some situations, I just go with it. But when it comes to my whole chicken in a slow cooker or other recipes, he has to deal…well I carve the chicken and the turkey at Thanksgiving so I guess not.
Anyways, this recipe happened by accident. Curtis came home with way too much chicken for our BBQ grilled chicken and I made all of it. We had leftover chicken and were planning on making grilled cheese sandwiches (I don't think I have ever told you how obsessed we are with grilled cheeses) and Curtis suggested we combine it. It turned out A-MAZING and got added to the rotation.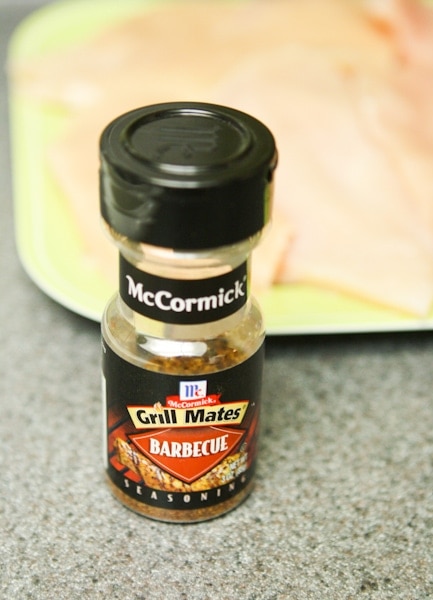 We love the McCormick Grill Mates for this recipe.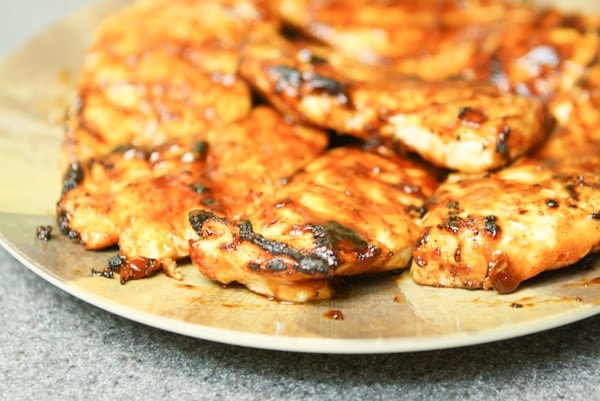 Chicken right off of the grill. You can use a grill pan and do this indoors but be careful of not having it too hot or the bbq sauce will burn!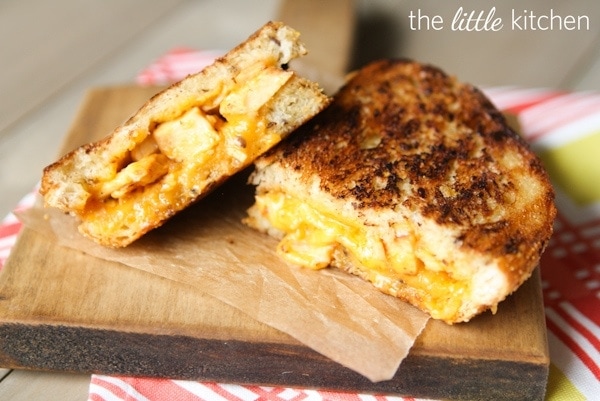 Cheesy, gooey and BBQy from the chicken, it's perfect. I like them with fries and Curtis prefers potato chips.
These BBQ chicken grilled cheese sandwiches are so gooood and you won't be able to resist them. I actually was going to try to get a photo with a bite taken out of the sandwich but once I took a bite, I couldn't stop and it was gone. Photos were done because I had nothing left to photograph.
Recipe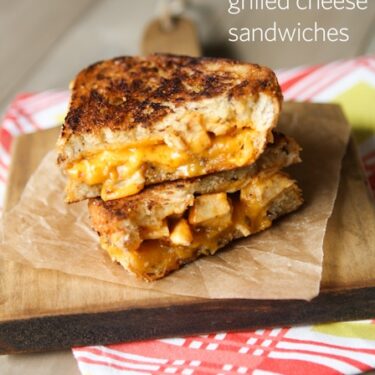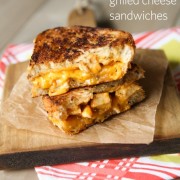 Print
Pin
BBQ Chicken Grilled Cheese Sandwiches
Ingredients
2

boneless

,

skinless chicken breasts, approx 1 lb, cut down the middle into 4 cutlets

2

Tbsp

BBQ rub seasoning

,

I used McCormick Grill Mates Barbecue

1/2

cup

bbq sauce

2

cups

shredded sharp cheddar cheese

8

slices

of sandwich bread

1/2

stick unsalted butter
Instructions
Prepare gas grill at high heat. Add rub seasoning to both sides of chicken breasts. Add chicken breasts to grill and turn heat down to medium high.

Grill for 3-6 minutes or until dark grill marks appear. Using grill-safe tongs, turn the chicken over and use a grill brush to slather bbq sauce on the chicken. After about 3-6 minutes, turn the chicken again and add bbq sauce. Turn over once again and remove chicken from the grill after 1-2 minutes. Place chicken on a plate and allow to rest for at least 5 minutes. Slice chicken into thin pieces or cut into 1 inch thick cubes.

Melt about a 1/2 stick of butter and set aside along with a brush.

Add a little bit of butter to a non-stick skillet and heat at medium. Once butter is completely melted and about to brown, 2-3 minutes, take one slice of bread and brush with melted butter. Add the bread to the pan and top with 1/4 cup of cheese, add 1/4 of the chicken and then another 1/4 cup of cheese. (Add even more cheese if you want!) Brush the second piece of bread with melted butter and add to the top of the sandwich.

Using a spatula, smash the sandwich down ever so slightly. Paying attention to the cheese (you want the cheese to melt) and the bread (don't let it burn), flip the sandwich over after about 2-4 minutes or when the bottom piece of bread is golden or dark brown. Again, using the spatula, smash the sandwich down a little. Remove from skillet after 3-5 minutes. Place on a plate lined with a paper towel so the bread doesn't get soggy. Repeat to make other sandwiches.