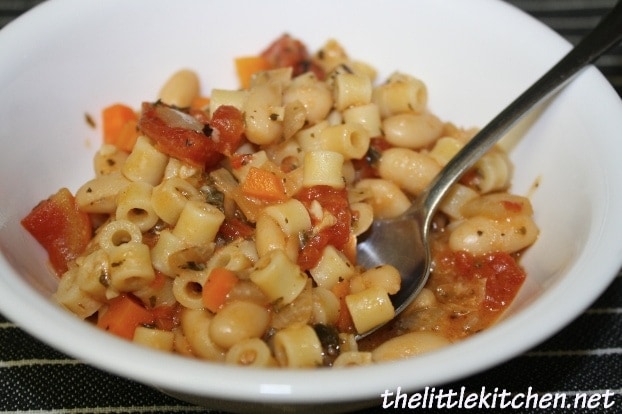 I have made the move over to WordPress from RapidWeaver. I had to manually copy and paste the old posts over and the comments will be moved over soon as well. I like it much better, WordPress is free and touts a 5 minute install process and literally is. Just in case you're wondering, it is not hosted on WordPress.com but hosted through KismetWebHost. I hope you like the new site. Let me know in the comments what you would like to see on the site and if you have any suggestions for the new site as far as recipes and layout. I hope it's easier to navigate and find things. Thank you very much and I'm excited about using WordPress!
Before we get to the recipe, I wanted to tell you about a giveaway from one of my favorite bloggers, Susan. She is giving away two KitchenAid mixers, one to a winner and one to their friend. So if you want to try to win a KitchenAid mixer, go on over to She's Becoming DoughMessTic and enter the giveaway and say I sent you! You have to leave a comment and please say I sent you, use my twitter username @juliebakes. You must follow her on facebook or twitter to win. Be sure to read her instructions carefully, if your name is drawn, she will check the entry out. We can win a pair of KitchenAid mixers together! Thanks!
Okay, now the recipe. I love this recipe because it's tasty and quick! The herbs and tomatoes and the saltiness of the parm cheese make it very rich even though it's very easy to make. I have made it a bunch of times and I like it to have more of a broth than the original instructions call for. It goes really well with salad and bread for a lighter dinner and comforting enough to have when it's cold.
Recipe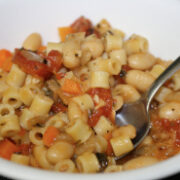 Print
Pin
Pasta Fazul
Ingredients
4

Tbsp

olive oil

3

cloves

garlic

,

minced

1

onion

,

chopped

1

carrot

,

finely chopped

2

Tbsp

chopped fresh parsley or 1 tablespoon dried parsley

2

tsp

dried basil

1

tsp

dried oregano

1

14.5 ounce can diced tomatoes

1/2 to 1

cup

of water

1

14.5 ounce can cannellini beans, drained and rinsed

8

oz.

macaroni

2

Tbsp

butter

1/4

cup

grated Parmesan cheese

salt and pepper to taste
Instructions
In a large skillet, saute garlic, onion, carrot, parsley, basil and oregano in olive oil until onions are tender.

Add the tomatoes plus juices and the salt and pepper to taste. Cover and stir frequently, simmering for 10 minutes or until vegetables are tender. After simmering for a couple of minutes, I usually add 1/2 to 1/3 cup of water.

Add the cannellini beans and cover. Simmer for 20 minutes.

During any of the above steps, cook macaroni according to package directions, drain and toss with butter and Parmesan cheese. Add to tomato and cannellini beans. Serve immediately with additional Parmesan cheese, if desired.