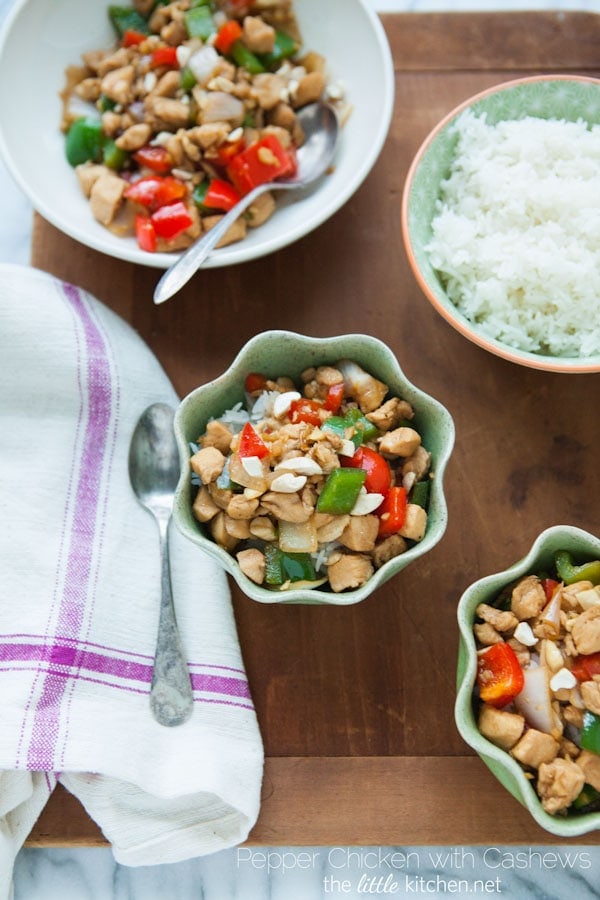 For the last week I have been nursing an upper respiratory infection and I'm happy to finally be getting better. Curtis kept telling me to go to the doctor and this time I was the unreasonable one. It didn't make any sense, I'm usually the one telling him to go. The first two days after I got home from a trip last week, I spent them in bed. I feel grateful that I'm on the mend now. And so is Curtis. Did I mention I got him sick too?
Things I'm looking forward to again: being able to taste my food and being able to have a restful night's sleep. I haven't been able to wear my CPAP (continuous positive airway pressure) while I sleep since I got sick. My CPAP is for my sleep disorder, sleep apnea. I actually stop breathing while I sleep and have been sleeping with the aid of a CPAP for about 8 years now. One of my favorite things that I encounter when traveling is the people I meet. On a trip last week to Las Vegas for the Pillsbury Bake-Off, I sat next to a kidney doctor and I'm not sure how we got into talking about this but I told her about my sleep apnea. She actually talked about her own concerns that she had it and promised to get checked out for it.
It's such an odd thing because my sleep apnea is such a part of my life, I'm so used it and once you get me started talking about it, I can't stop. It started with me figuring out something was very wrong when I doing a long commute (about an hour each way), I was nodding off while I was driving. My primary care physician told me I should get more rest when I complained of being tired all the time. It was my allergy doctor who finally said I should go for a sleep study. Talking to this doctor and a friend who recently was diagnosed with sleep apnea, I realized how much fear there is associated with sleep studies and with CPAPs. They really aren't that bad and the treatment, wearing a mask that's hooked up to a machine that brings continuous air pressure is worth it compared to the alternatives. High risk for high blood pressure, heart disease and not getting restful sleep.
To explain a little further, the CPAP machine is set to a level of pressure prescribed when I went in for a second sleep study. I sleep with a mask connected to a tube to the CPAP machine. Since I stop breathing in my sleep, my brain sends a signal to my body to wake up, to alert it — that it has stopped breathing. Whatever obstruction I have causes the snoring and the stopping of my breathing causes gagging noises. And the constant waking up makes it very difficult to have a full night's restful sleep. The CPAP takes air from the room and sends it through filters and a tube into a mask that I wear while I sleep. It's supposed to keep me from waking up when I stop breathing. The hope is that by sending the air at a constant pressure, if I do stop breathing, it's momentary and doesn't cause me to wake up. After I started using it for a few weeks, I noticed a huge difference. The big test was about 6 months after I was fitted with the CPAP and we went away for a weekend. I completely forgot to pack it, I noticed how really really tired I was all weekend. You don't realize how much your body has been coping with something for so long until it's "fixed" and then you have a relapse. I still recognize how important the CPAP is for me. If I fall asleep on the couch and nap without my CPAP, I wake up with a really big headache and often feel even more tired than when I fall asleep.
My research into sleep apnea also shed some light on sleep apnea sufferers, we are more likely to have hypertension and develop heart disease if left untreated. I believe tons of people live undiagnosed and it's a little scary to me because I read that if you have sleep apnea and need to go into the hospital for surgery, your doctors need to know this. So they can monitor you even more closely under anesthesia (since you stop breathing easily under normal sleep). The machine is a pain to travel with and something I have to take out for the TSA folks (in a separate tub) to look at just like my laptop but for me it's about quality of life. Luckily, the machine is not terribly noisy. It makes a small humming noise, almost like a whoosh of air and Curtis will often wake up if the mask has slipped off my face or if I unknowingly take it off in my sleep and will wake me up to put it back on. And more importantly, he can sleep and doesn't have to sleep on the couch anymore! Wow, I totally rambled. I have been wanting to share this here, in my little space on the internet because I feel so strongly about telling others about  my diagnosis and my sleep disorder because I know so many others go through the same thing I do. We don't have to be embarrassed, we don't need to live what I called living like the walking dead for so long. It's not healthy and in my case it was life-threatening because I was doing those long drives.
Here's more information on sleep apnea and I need to say and note that, I'm not giving any medical advice (I'm not a medical professional), I'm just sharing my story with you, in the hopes that it will help someone, maybe you! If you need medical advice, you should consult your doctor.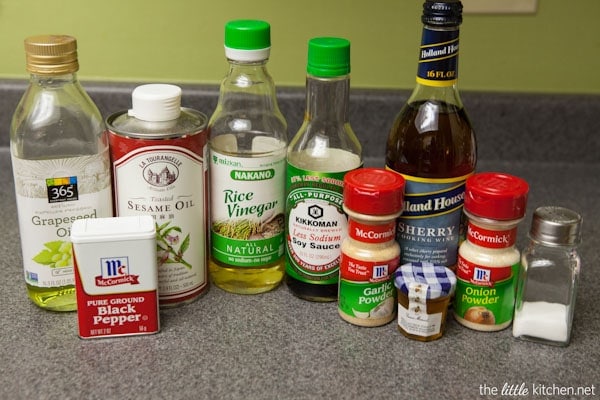 Now back to the recipe. Saying that Curtis loves stir fries is an understatement. He loves them! I get bored easily and like to try new things. This recipe started out as an experiment. I wanted to start making my own stir fry sauce that I could use in different dishes, just chaining out veggies and the meat. And Curtis wanted me to come up with a version of his favorite Chinese take-out pepper steak.
I have to say I'm not a huge fan of bell peppers but I yielded. Why not give this a try? Well guess, what it turned out really nicely. You can put this recipe together fairly quickly and it tastes great! I have made it so many times and finally got to photographing it so I could share it with you.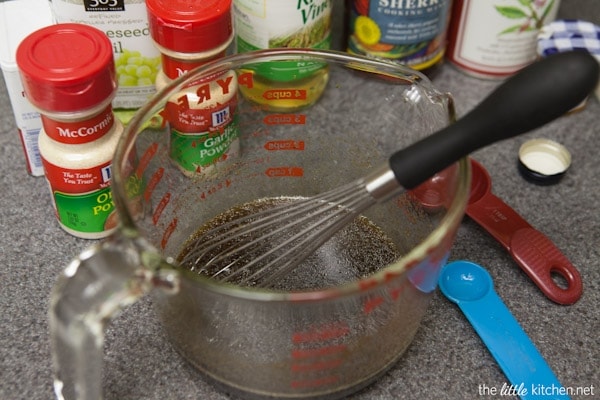 First, mix the stir fry ingredients together.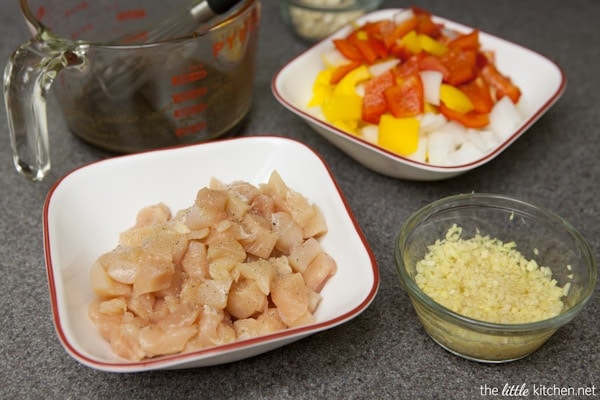 Prep the vegetables and the chicken. (When I photographed the step by step photos, I used yellow and red peppers. When I finally got to photographing the final shot, I used red and green peppers. We like using either or…use your favorites!)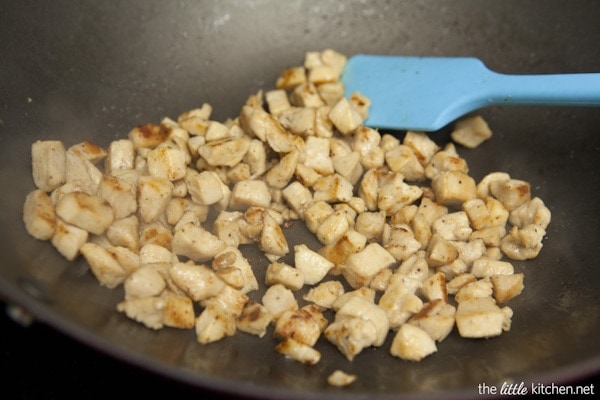 Cook the chicken in a wok on medium high heat and in the last couple of minutes of cooking, add 1/2 tablespoon of the stir fry sauce.
Remove the chicken and add the onions and peppers. Cook those for a few minutes and then move the veggies to edge of the wok, creating a circle in the middle.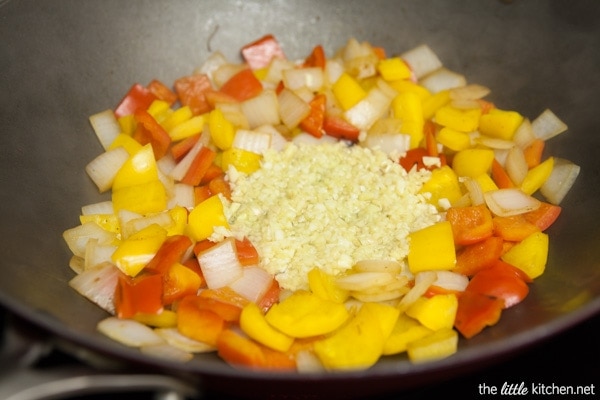 Add the ginger and garlic and cook for 60 to 90 seconds, pushing down with the side of your spatula while it's cooking.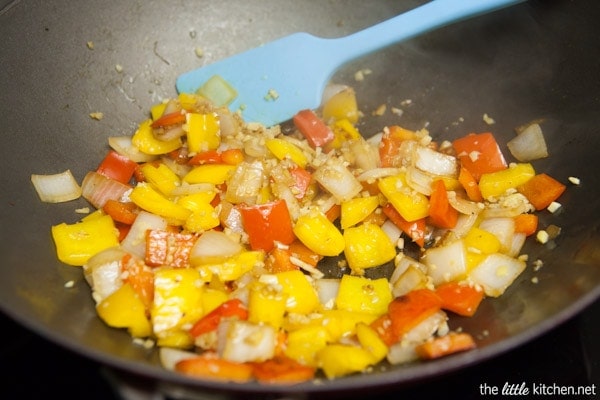 Then, mix it all up.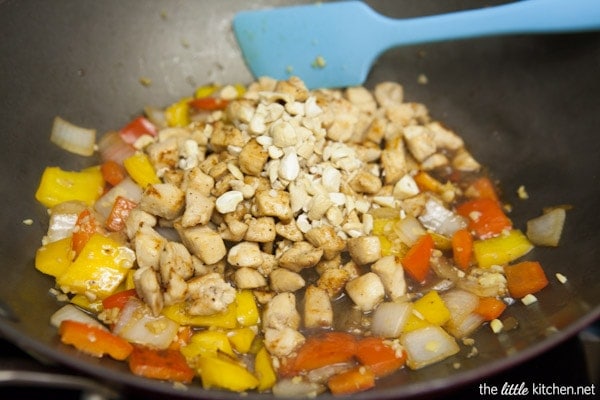 Add the chicken, stir fry sauce and cashews and cook for another 2 to 3 minutes.
And you're done.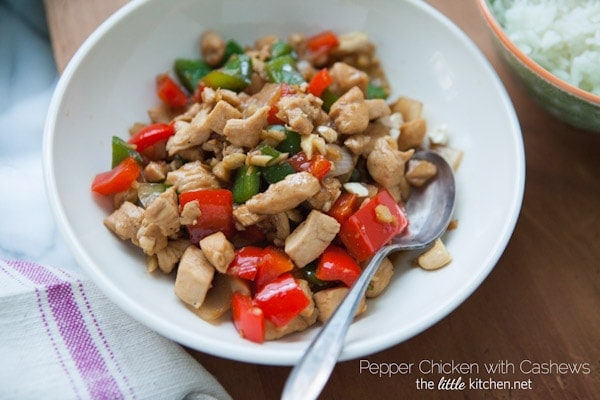 Recipe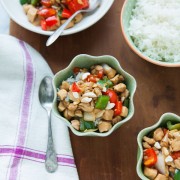 Print
Pin
Save
Pepper Chicken with Cashews Stir Fry Recipe
Ingredients
Jasmine rice

,

cooked according to package instructions
Stir Fry Sauce
1/4

cup

soy sauce

3

teaspoons

rice vinegar

1

Tablespoon

sherry wine

2

teaspoons

sesame oil

1/4

teaspoon

salt

1/2

teaspoon

pepper

1/2

teaspoon

onion powder

1/4

teaspoon

garlic powder

1/4

teaspoon

sugar or honey

1/2

teaspoon

grape seed oil

1

green pepper

,

chopped

1

red pepper

,

chopped

1

medium onion

,

chopped

2

Tablespoons

ginger

,

minced

2

large garlic cloves

,

minced (about 1 1/2 Tablespoons)

3

Tablespoons

grape seed oil

1

pound

boneless skinless chicken breast

,

cut into cutlets and chopped into bite-sized pieces

1/2

cup

cashews

,

roughly chopped (I used raw ones, be sure to get them unsalted)
Instructions
Whisk all of the stir fry sauce ingredients in a medium-sized mixing bowl. Set aside.

In a small bowl, add garlic, ginger and 1 Tablespoon grape seed oil and mix. Set aside.

Prep vegetables and set aside. Cut chicken into bite sized pieces and add salt & pepper.

Heat 1 Tablespoon of grape seed oil in a large wok on medium high heat. Add chicken. Cook for 8 to 10 minutes or until chicken is cooked through and browned, stirring occasionally. In the last minute of cooking, add 1/2 Tablespoon of the stir fry sauce. Remove chicken from wok and place in a clean bowl. Set aside.

Add vegetables and turn heat down to medium. Cook for 5 minutes, stirring occasionally. Move vegetables to the edges of the wok and then add garlic & ginger and smash down with spatula. Cook without stirring for 60 to 90 seconds.

Add chicken, stir fry sauce and cashews to the pan. Stir and cook for 2 to 3 minutes and serve with white rice.