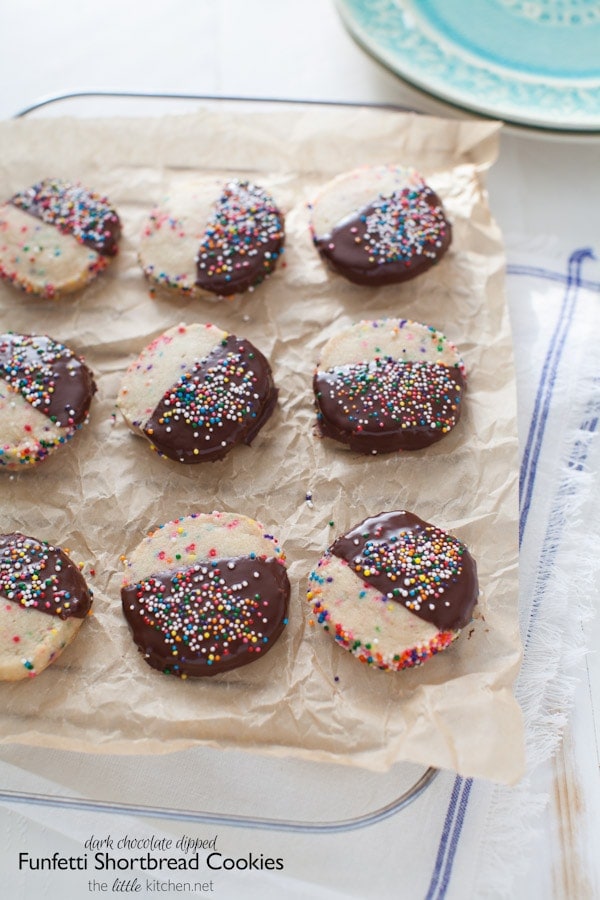 I'm on my way to Utah to spend time with friends and I wanted to share these cookies with them (I have some in my carry-on) and with you. I love love sending cookies to friends, been sending a bunch this year. For birthdays, just because, broken bones or just to say hi. I love sending cookies because it's like sending a little bit of myself to friends who live too far for me to pick up the phone and say let's get coffee, let's do lunch THIS WEEK…I can't be with them in person so I'm sending them a smile.
I love sending them so much, on a whim yesterday, I posted a giveaway on both facebook and instagram…one winner on each site and I'll send a dozen of these wonderful DoubleTree Hotel Chocolate Chip Cookies! PS If you're a food blogger, be sure to sign up for the Great Food Blogger Cookie Swap, sign ups are in full swing and we hope to beat the amount of almost $14,000 raised last year for Cookies for Kid's Cancer!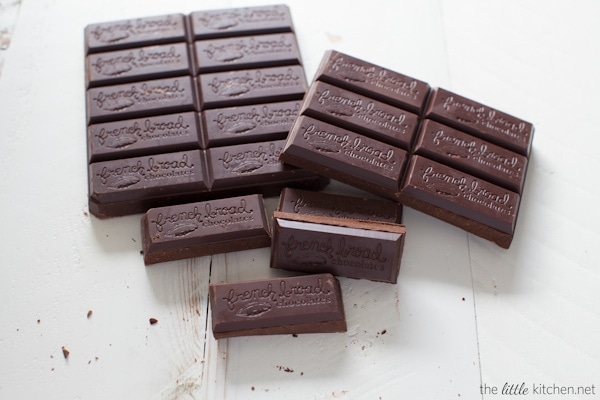 These cookies are a variation on Lindsay's cookies from the cookie swap last year. I tweaked them a little bit and added sprinkles! And chocolate!
A couple of months ago, I went to Asheville for Food Blog Forum and was fortunate to get to meet Jael (co-owner of French Broad Chocolates) and they gave all of the attendees a brick of chocolate. Seriously, amazing…they bring these cookies up another level! I told Jael I will return to Asheville and I will!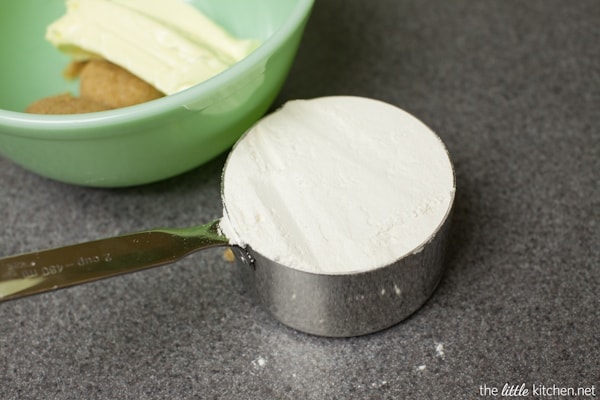 I'm seriously obsessed with this 2-cup measuring cup. I also bought a 1 1/2 and a 3 cup one too! Ever since I saw Ree mention it on her Food Network show, I had to get them. Saves a lot of time measuring!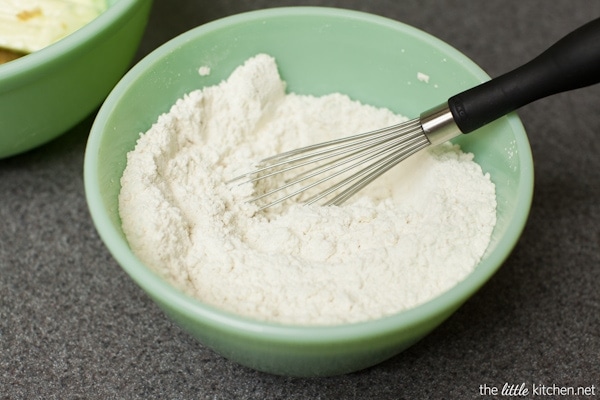 Whisk the flour, salt and cornstarch.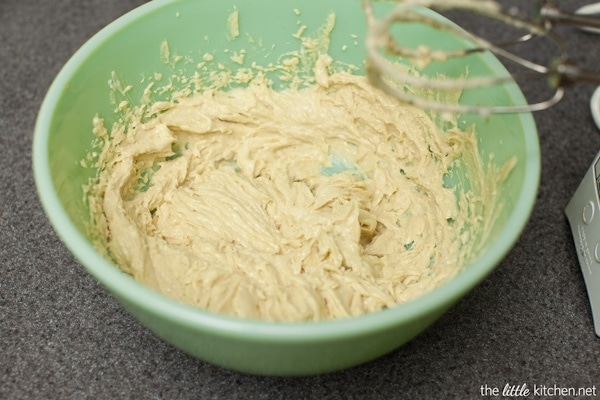 Beat the butter, sugar and vanilla extract.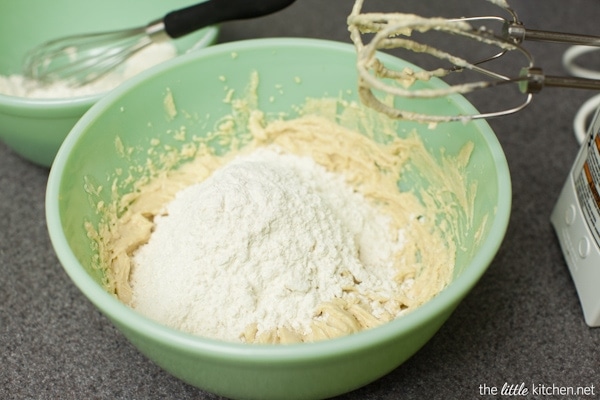 Add the flour in batches and mix with your hand mixer.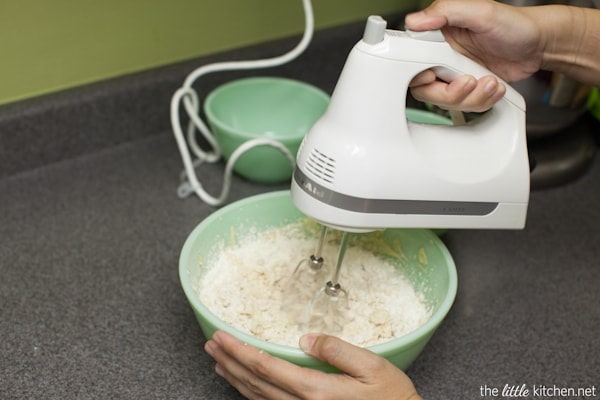 But just until combined, don't overmix it!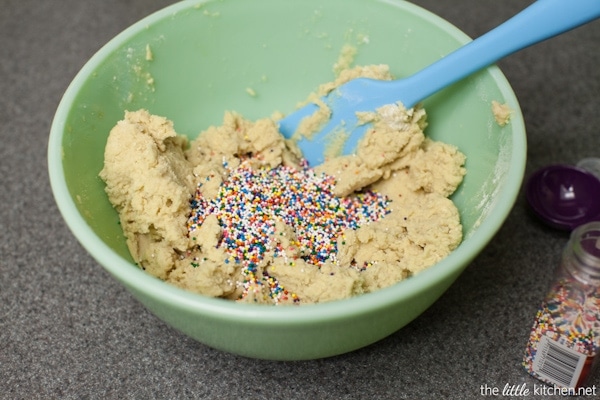 Add sprinkles! I use A LOT of them. Mix with a rubber spatula.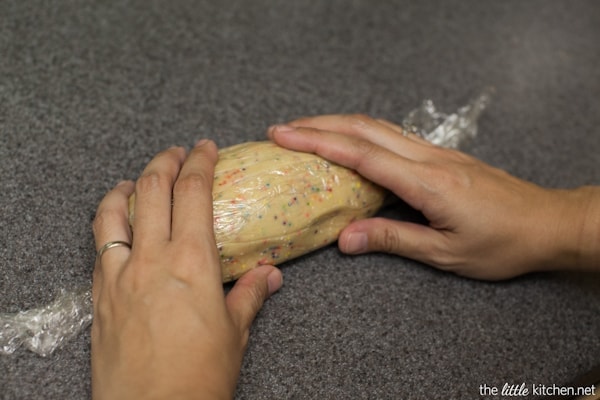 Split the dough in half and roll into rounded logs in plastic wrap.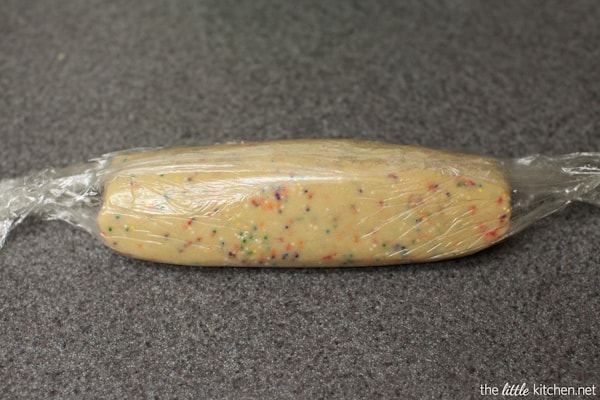 Once you have a nice log…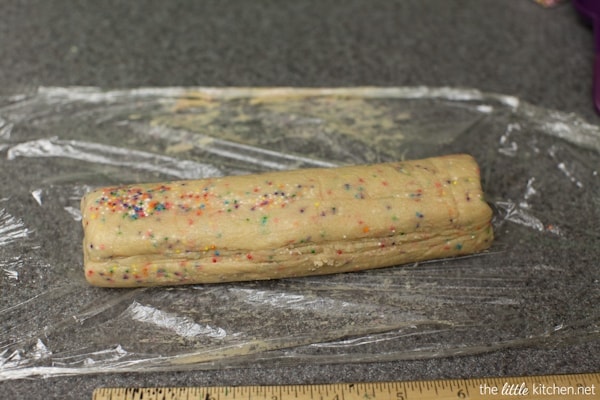 Peel the plastic wrap and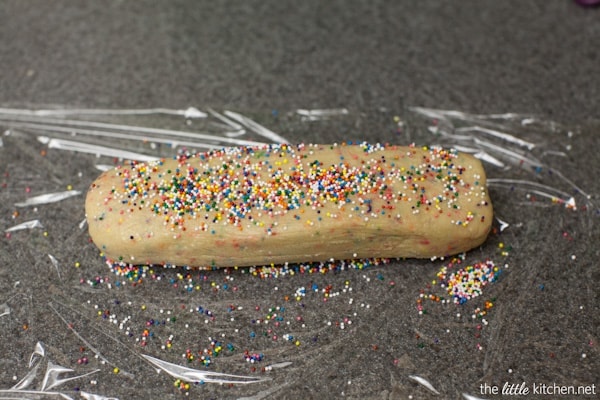 Get a new piece of wrap and add sprinkles…because you want sprinkles on the edges of the cookies.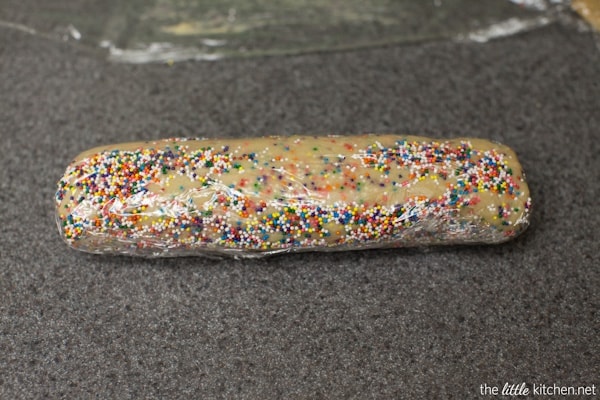 Chill the dough for at least three hours.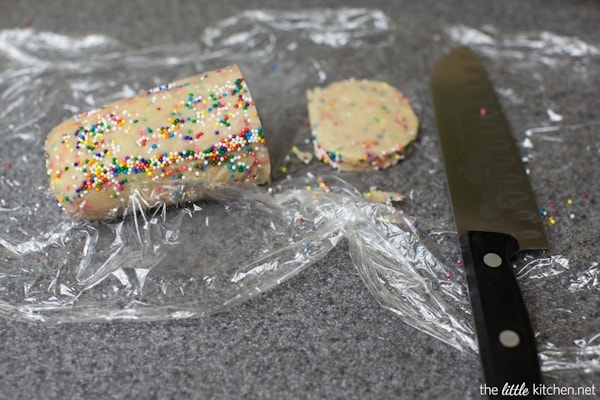 Cut them into 1/2 to 3/4-inch cookies. Place on parchment paper and bake for 10 to 12 minutes.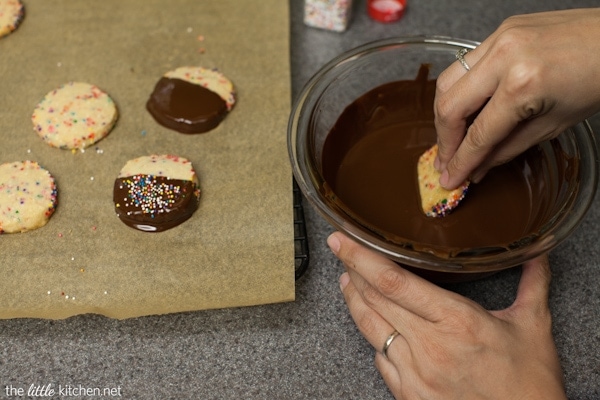 Let them cool completely before dipping them in chocolate!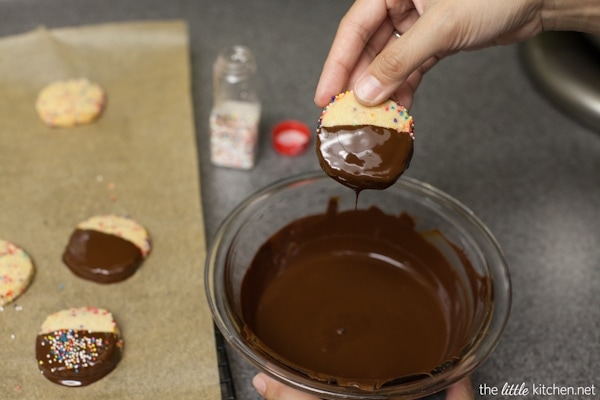 Let the excess chocolate drip back into the bowl. I put them in the fridge for at least 20 minutes and for transporting or shipping, I put them in the freezer for 20 to 30 minutes.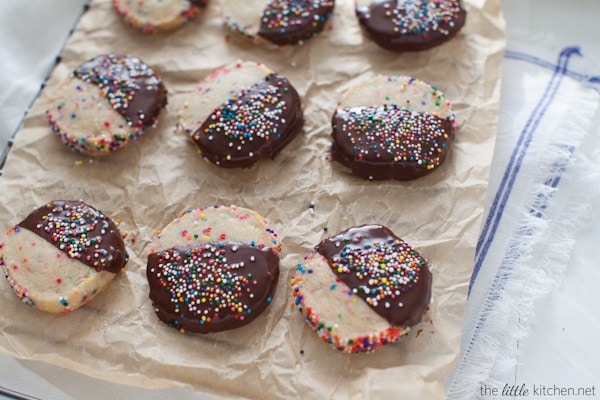 I'll bet you can't eat just one. These are my new obsession. I hope you'll make them and share them with a good friend or a family member who needs a smile.
Recipe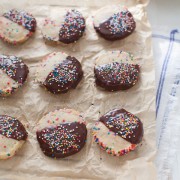 Print
Pin
Save
Dark Chocolate Dipped Funfetti Shortbread Cookies Recipe
Ingredients
2 1/4

cups

unbleached all-purpose flour

1 1/2

Tablespoons

cornstarch

1/8

teaspoon

salt

2

sticks

,

1 cup unsalted butter, softened

1/2

cup

packed light brown sugar

2

teaspoons

pure vanilla extract

approximately 5 to 6 Tablespoons sprinkles

,

nonpareils, divided (plus more for sprinkling on top of chocolate)

6

ounces

dark chocolate

1 to 2

teaspoons

vegetable shortening
Instructions
Mix flour, cornstarch and salt with a whisk in a small mixing bowl.

In a medium-sized mixing bowl, beat butter and sugar together (until creamed) using an electric hand mixer, about 1 to 2 minutes. Add vanilla extract and mix thoroughly.

Add dry ingredients in two batches to the butter and sugar mixture, mix until ingredients are combined (with hand mixer) but don't over mix. Add 2 1/2 Tablespoons sprinkles to the cookie dough and mix with rubber spatula.

Split cookie dough in half. Add first half to a long pieces of plastic wrap. Shape into 7-inch logs that are about 1 1/2 inches thick. Once shaped, remove the plastic and grab a new piece of plastic, add 1/2 Tablespoons sprinkles down the length of the plastic wrap, add cookie dough log and add more sprinkles so the outsides of the cookies have enough. Roll up and refrigerate both logs for at least 3 hours or overnight.

Heat oven to 350 degrees F. Cut into 1/2 or 3/4 inch thick slices and place on parchment paper lined baking sheets for 10 to 11 minutes.

While cookies are baking and cooling, melt chocolate and shortening in a microwave safe bowl on 50% power and in increments of 30 seconds at a time, mixing thoroughly between each heating.

Dip cooled cookies into chocolate halfway and allow the excess chocolate to drip back into the bowl. Dip a few cookies and then add sprinkles on top of the chocolate. Chill in the refrigerator to set the chocolate for 15 to 20 minutes.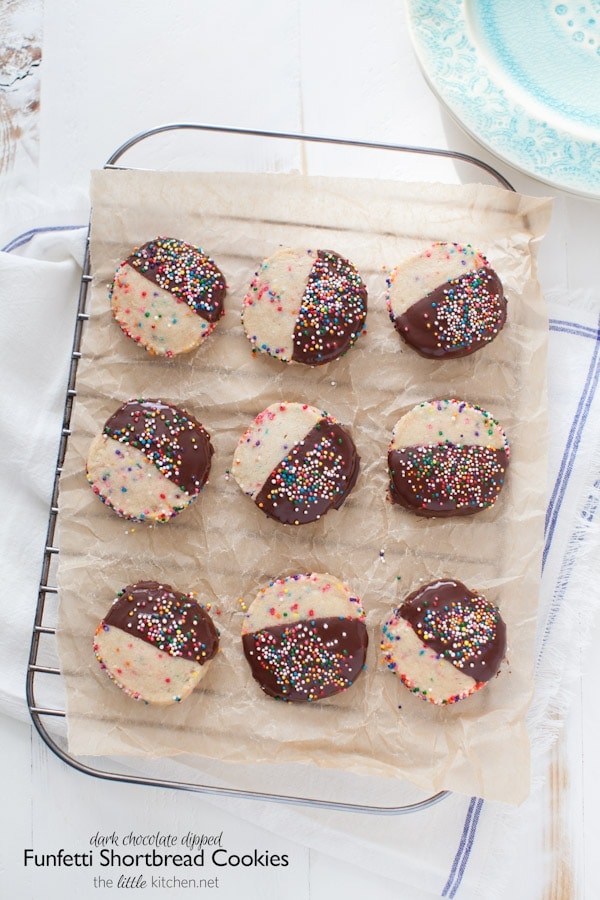 Disclosure: I was provided chocolate by French Broad Chocolates as a conference organizer & attendee of Food Blog Forum. Opinions are always my own. There are affiliate links in this post.