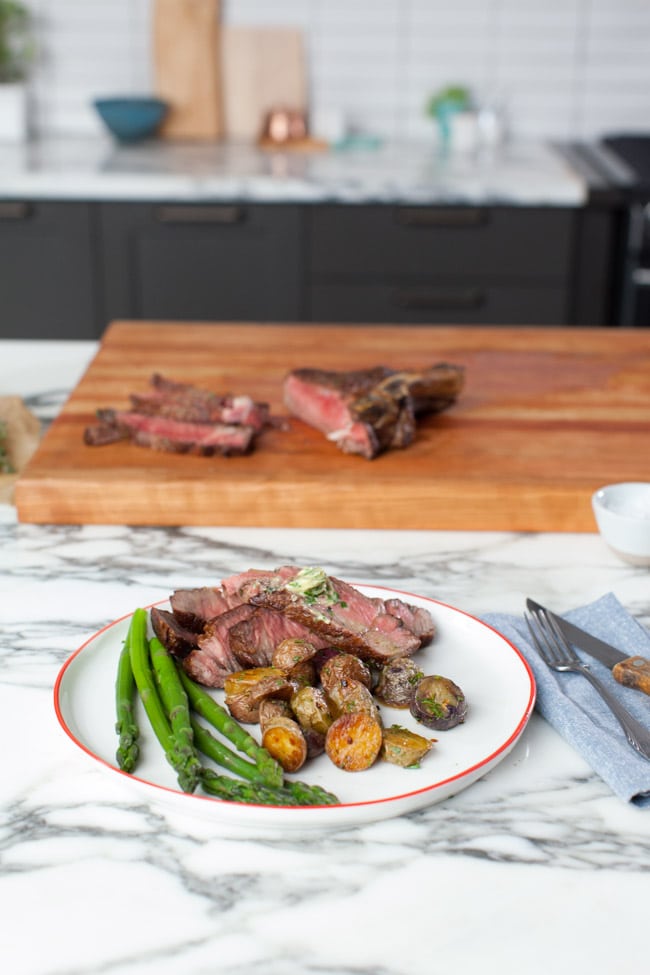 This post is sponsored by Samsung Appliances.
I love cooking steak at home. It doesn't take that much time and it's actually a lot more simple than many people believe.
Don't worry, I have some great tips for you so you'll make the perfect steak and you'll always know how to make steak like that!
Also, I have a video to share with you! So when you try your hand at it, you won't be alone. I'll be there with you, each step of the way!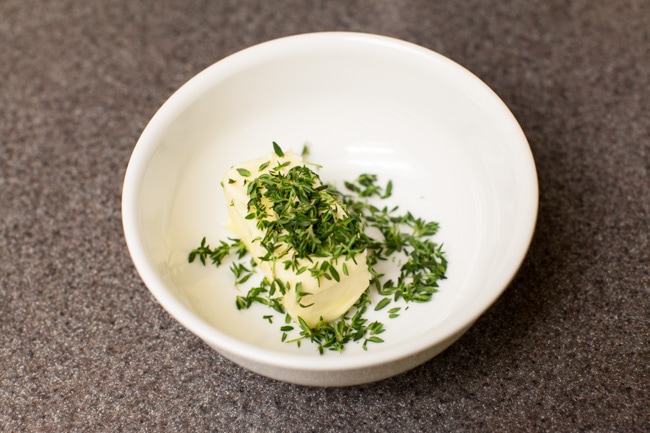 First make the butter. I soften it, then mix in the herbs and sea salt.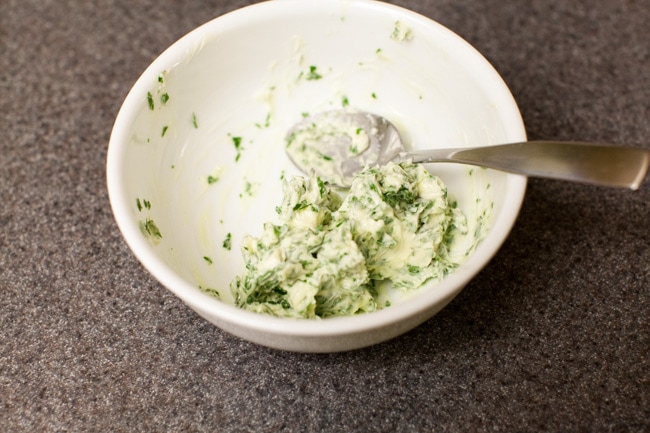 Mix it together.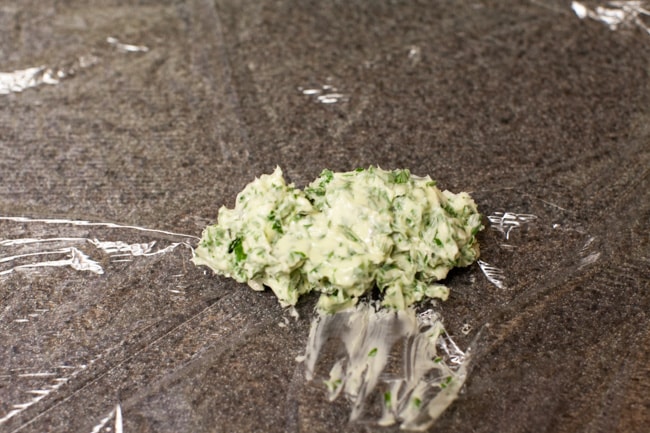 Then roll in a piece of plastic wrap or parchment paper and refrigerate.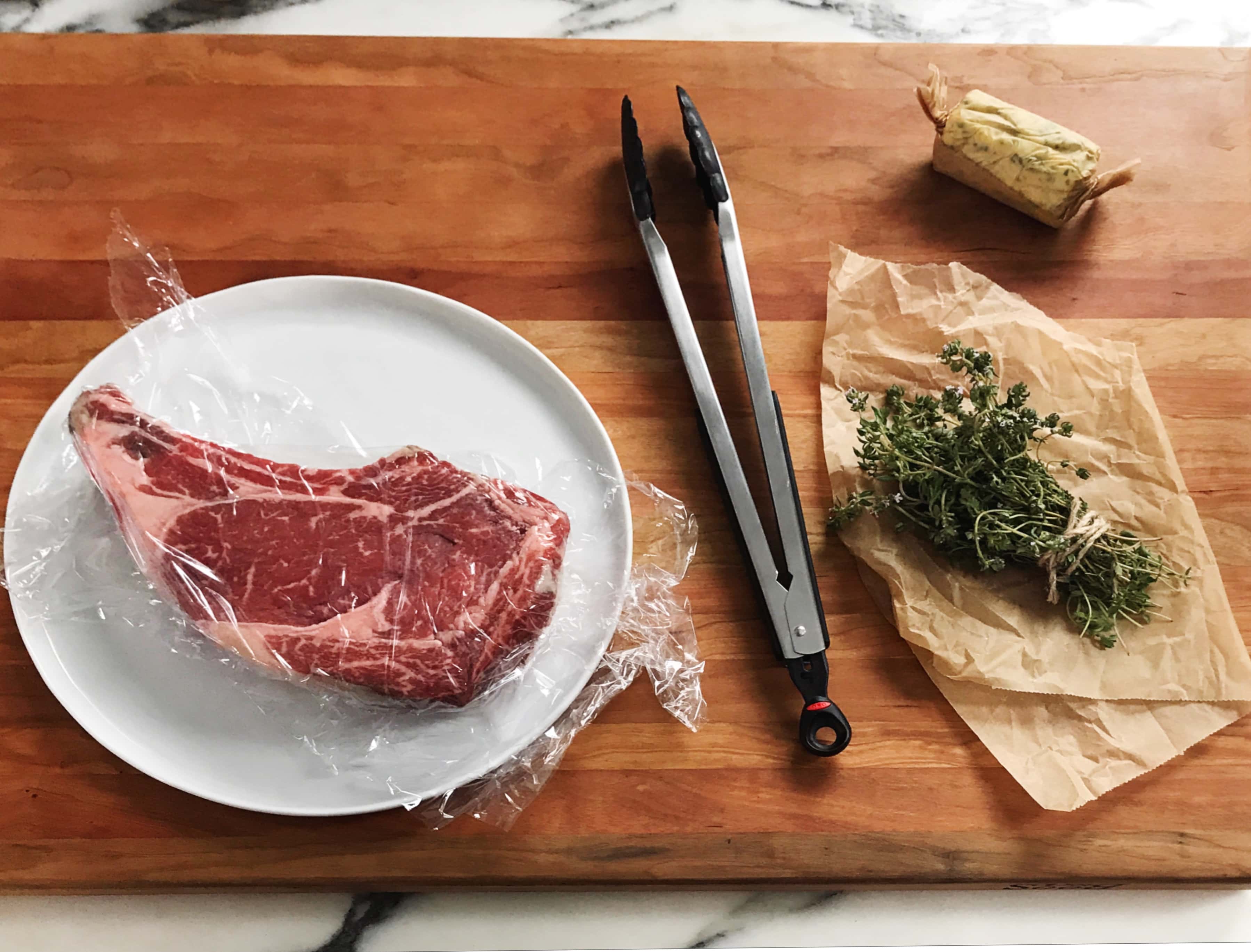 Allow the steak to rest for 30 to 45 minutes on your counter. Preheat the oven to 425 degrees. F.
While the steak is resting, heat a cast iron griddle. (If you don't have one, you can use a cast iron skillet.)
Prep the steaks by adding salt, pepper and oil on both sides.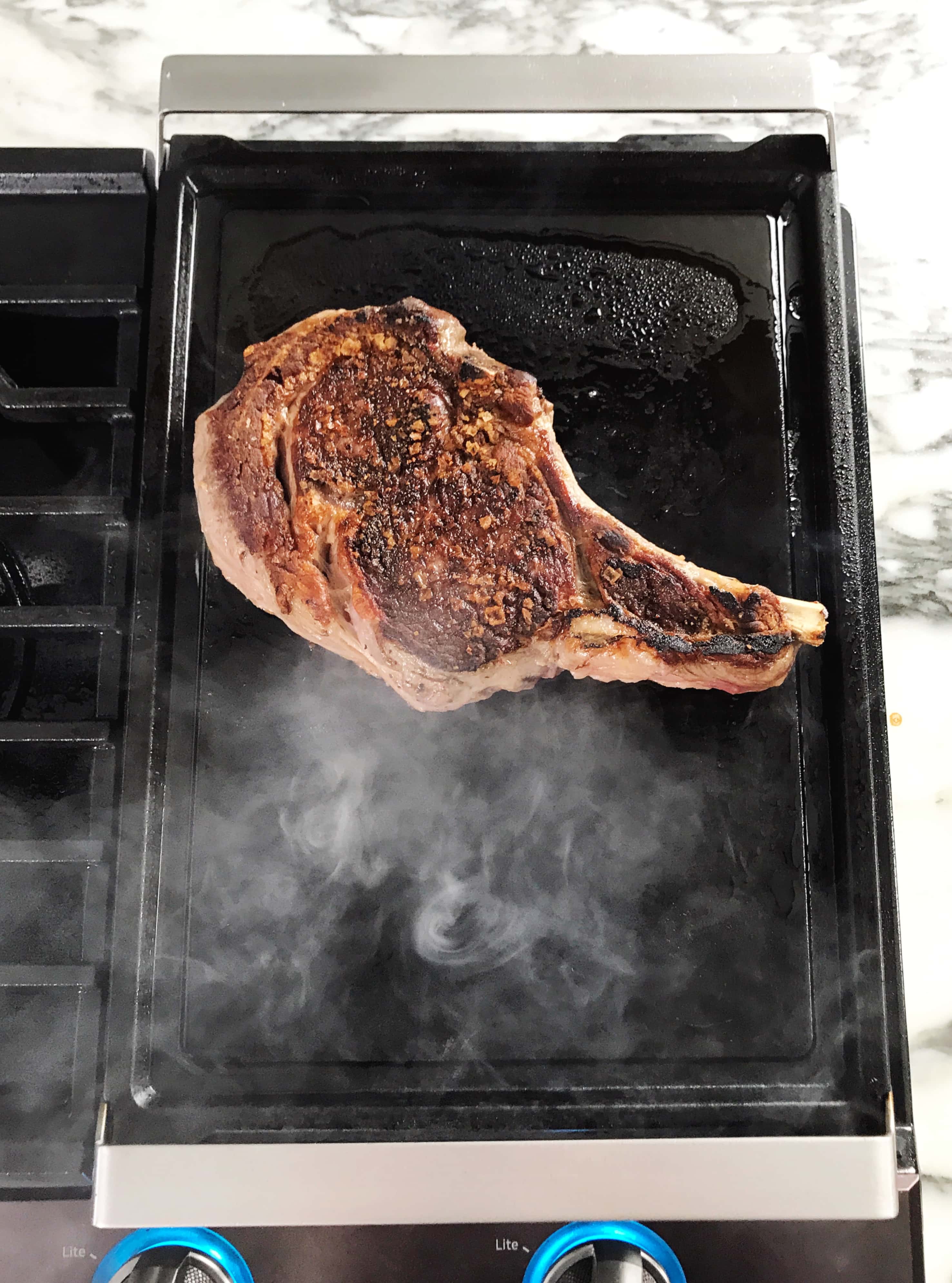 While you're searing the steak, you'll notice some smoking. Just check to make sure you're not burning the steak (also make sure you're not poking at the steak or moving it). This is a big mistake so many make. By messing with the steak, you won't get that perfect sear.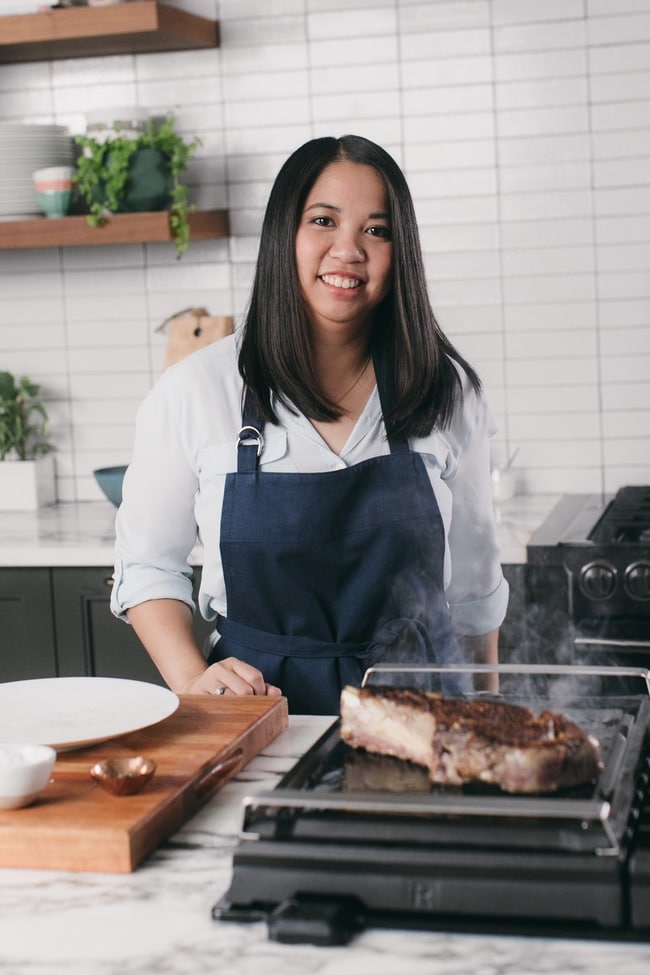 I love that you can easily clean the cast iron griddle of the Samsung cooktop. And you can remove it easily to put in the oven! It's perfect for this recipe!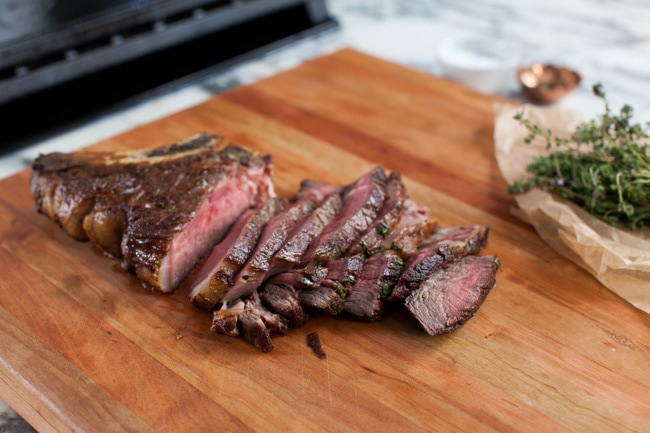 Once the steak's done searing, you're going to want to pick up the griddle carefully (with potholders) and place it in the oven to cook further.
The Samsung Double Wall Oven lets you get precise heat while it cooks the inside and preserves the sear on the outside!
When the steak is completely done, remove the griddle from the oven. Remove the steak and place it on a clean plate to rest. Allow it to rest for at least 5 minutes before slicing into it. This is so important! For a moist, juicy steak, don't cut it into it too soon!
Here's that video I mentioned. Watch it to see how to make steak!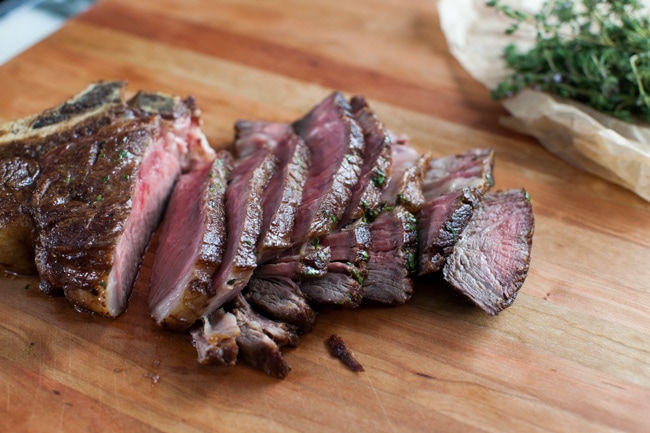 It's so easy, right? When you make it for family and friends, you'll make them feel so special!
I can't wait for you to try it at home! I know you can totally do it!
Recipe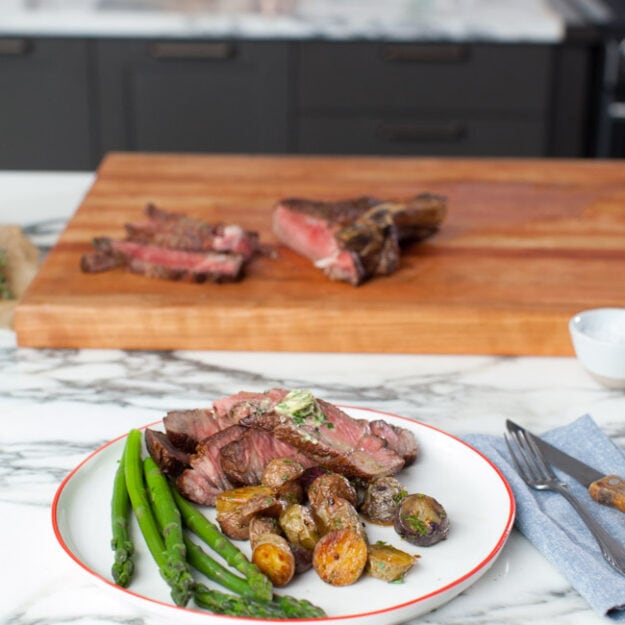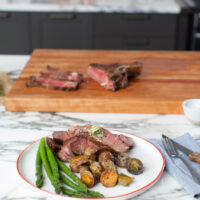 Print
Pin
Save
How to Make Steak
Ingredients
Compound Herb Butter

4

Tablespoons

1/2 stick unsalted butter, softened

5

sprigs of fresh thyme

1

Tablespoon

chopped fresh flat leaf parsley

sea salt

freshly ground pepper

2

teaspoons

vegetable oil

2

boneless rib-eye or filet steaks

,

at least 1.5 to 2 inches thick, place steaks on the counter for 30 to 45 minutes
Instructions
Soften the butter in a microwave or on your kitchen counter. Remove the thyme leaves and chop the parsley. Add to the butter along with sea salt. Mix together using a fork, then add to a piece of plastic wrap spread out on your counter. Fold the plastic wrap to cover the butter and mold into a cylinder. Refrigerate for at least 20 to 30 minutes.

Heat oven to 425 degrees F.

Heat a seasoned cast iron griddle (or skillet) on medium high for 7 to 8 minutes. After the steaks have rested on the counter, prep the steaks by spreading 1/2 teaspoon of vegetable oil on each side of both steaks. Add sea salt and pepper on each side as well.

The griddle should be smoking a little bit. Add steaks to a cast iron griddle and cook on the first side for 3 to 5 minutes (depending on thickness). Don't move the steaks and don't squish them or squeeze them. Flip the steaks over and cook on the second side for 1 to 2 minutes (depending on thickness).

Slice the compound butter and place one piece on top of each steak. Place the griddle in the oven and allow steaks to roast for 3 to 5 minutes (depending on thickness).

Remove steaks from the griddle and place on a clean plate. Allow the steaks to rest for at least 4 to 5 minutes before cutting into them. Sprinkle more sea salt on top and add more compound butter, if desired. Serve with mashed potatoes or rice and your favorite vegetable.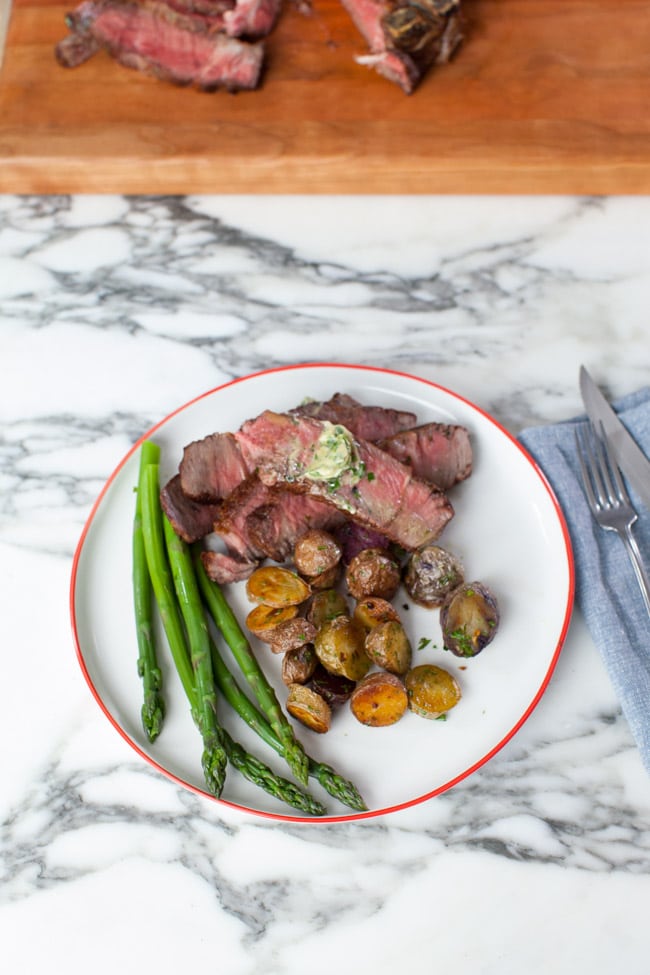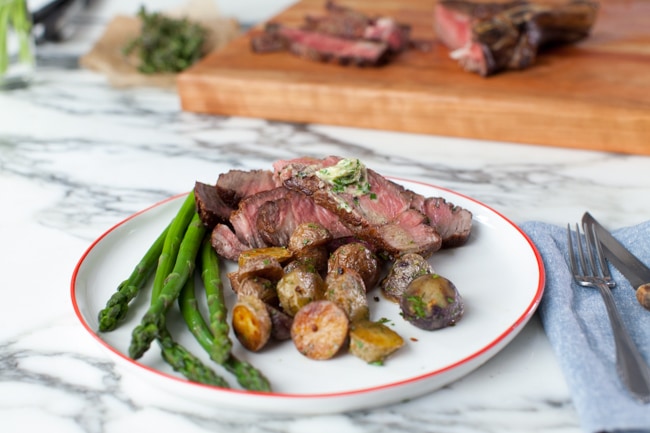 Disclosure: This post is sponsored by Samsung Appliances. I only work with brands that I love and only share with you my own opinions. Thank you for supporting the brands that make The Little Kitchen possible.