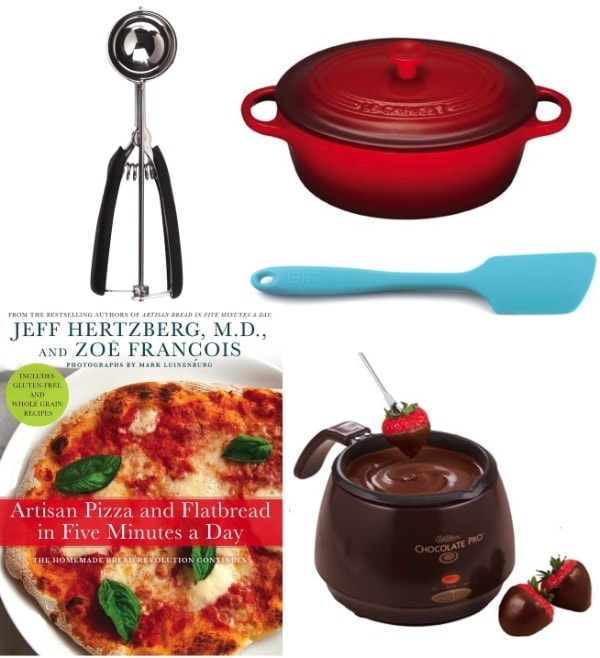 I know you all have gift cards to spend or returns you need to make…so what to get with those gift cards? Or do you have a couple of late late gifts you need to purchase? I have some items that are both new and old favorites in my kitchen that I think you should get…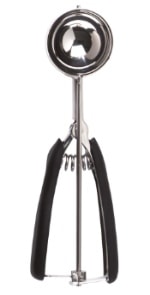 OXO Large Cookie Scoop – I seriously cannot live without my set of OXO cookie scoops, I use it for cupcakes, madeleine cookies, tons of stuff. I love that I can measure out cupcake batter, cookie dough or whatever uniformly. The only thing I would say is, I need one of those little teeny brushes to clean the metal release a little bit faster. It takes some time but I usually can get it. I have all three sizes and recently gave a set to my sister. In love and makes my life easier.
Retail: $14.99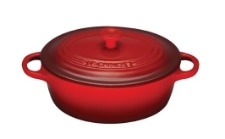 Le Creuset 12 ounce Oval Mini Cocotte – I also have the mini cocotte sets from Le Creuset and love them and love these oval ones, they hold a little more with 12 ounces. Great for gratins, mini mac & cheeses or you can even store spices or whatever you want in them. I love love all of Le Creuset's cocottes because they are so easy to clean and of course oh so cute!
Retail: $25.00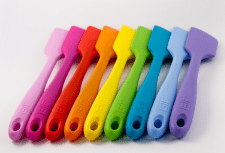 GIR Spatula – The last spatula you'll ever need. I was so excited to receive this spatula in the mail after my friend, Lindsay, said she loved it so much. It's pretty awesome. I use it to brown taco meat, make tomato sauce, scrape the bottom of my stand mixer and make cookie dough. It's ergonomic and it's versatile, very heat resistant and easy to clean.
Retail: $22.50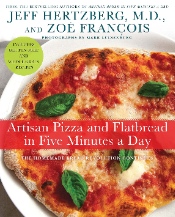 Artisan Pizza and Flatbread in Five Minutes a Day – We love love this book. At least once a month, I make the pizza dough recipe in this book and it literally just takes a few minutes and is the best tasting pizza dough recipe I have tried at home. I also own their Artisan Bread book and we love it too.
Amazon Price: $18.47
Wilton Chocolate Pro – Melt chocolate in a double boiler? I don't even bother anymore. I use this chocolate melter when I'm making truffles, cake pops or whatever. This little melter is great for a party too. I highly recommend this chocolate melter if you like to do a lot of dipped chocolates, truffles or cake pops!
Retail: $25.00
And one more thing…I got an email from Sur La Table about a new Le Creuset color, can I say I'm obsessed? Not only is blue my favorite color but so is yellow. Swoon!
If you were making this list for a friend, what would you have included? I want to hear about your favorite kitchen products under $25.
Check out my other five things posts.
Disclosure: I recently received the GIR spatula for review. I did receive the Wilton Chocolate Pro last year for a campaign with Wilton. Everything else on this list, I purchased myself. I was not asked to mention or promote any of these products or brands in this post. I always only share my honest reviews and opinions! And there are affiliate links in this post.