When I was asked if I would like to receive a copy of Cristina Ferrare's new cookbook Big Bowl of Love to review, I said YES! Cristina is host of the show Cristina Ferrare's Big Bowl of Love, on OWN (the Oprah Winfrey Network) and her cookbook was photographed by Diane and Todd of White on Rice Couple. Who would say no?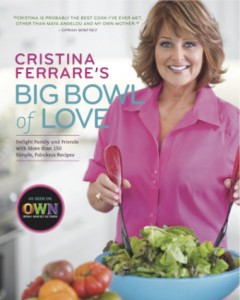 When I received the book, I really felt the Big Bowl of Love title throughout the entire book. It's filled with over 150 recipes that are wonderful, very doable and beautifully photographed. I can feel the love she has poured into the recipes, the same recipes she makes for her family and friends. And the photographs are just gorgeous. The look, feel of the book, her writing and the recipes, just makes me want to hang out with her while she's cooking and sharing her food. Wouldn't that be cool?
I like how the book is organized with sections like Appetizers, Soups, Fish, Beef and Lamb. Every section starts with a little story with how she shares these recipes with her family or even a childhood memory.
What are the recipes I want to try from this book? I can't name them all but here are a few: Steak Bruschetta, White Bean Puree (Spread), Linguine with Clam Sauce, Risotto, Beef Noodle Bowl, Gyros (oh my!), Broiled Fish Tacos and more!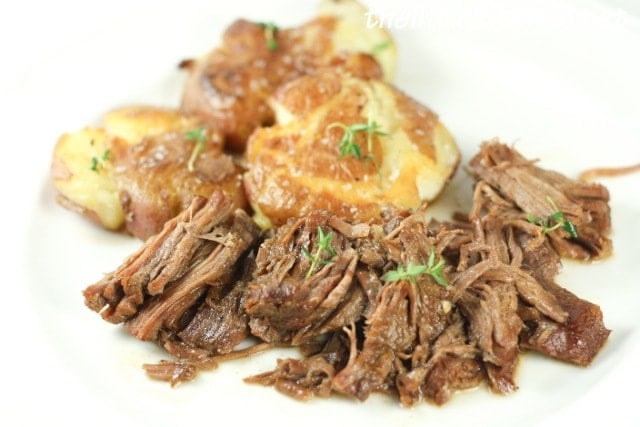 So, the recipe I gravitated towards is her Classic Roast Beef recipe. One of the ultimate comfort foods, it was very easy to make and the only hard thing about it is waiting the 4 hours it took to roast in the oven. I'm excited to share the recipe with you below.
I was going to make my favorite mashed potatoes with them and asked my husband to bring home a bag of red potatoes. He came home with a bag of small red potatoes, not exactly easy potatoes to peel when you're trying to get dinner on the table quickly. So I changed gears and made Cristina's Smashed Yukon Gold Potatoes with my red potatoes instead. Oh my goodness, it's my favorite way to have potatoes now. I can even see this dish being so good with my favorite scrambled eggs!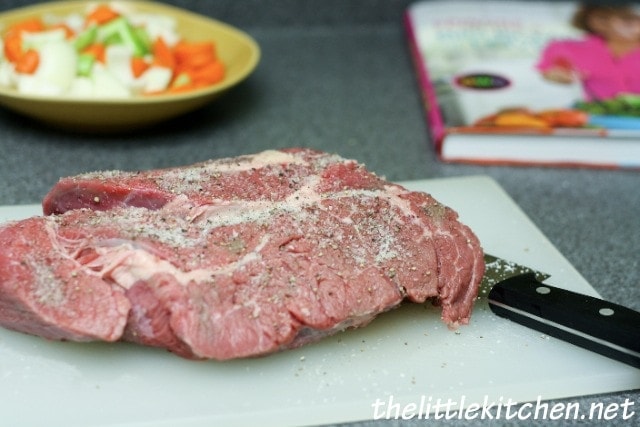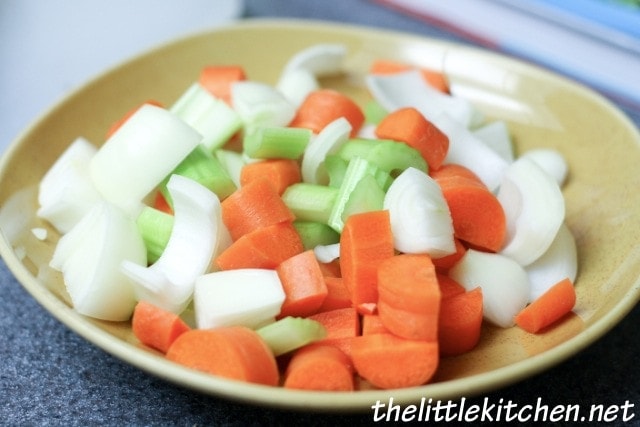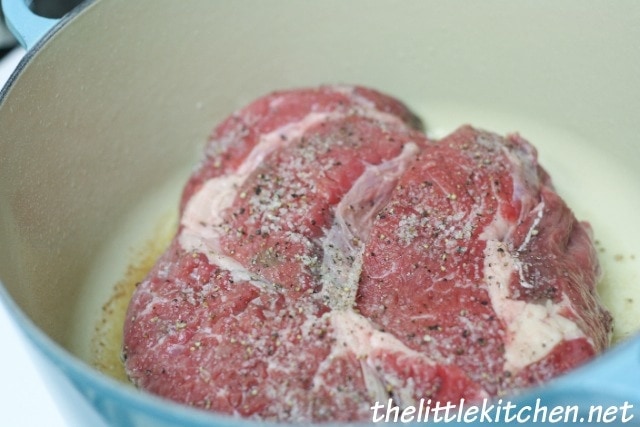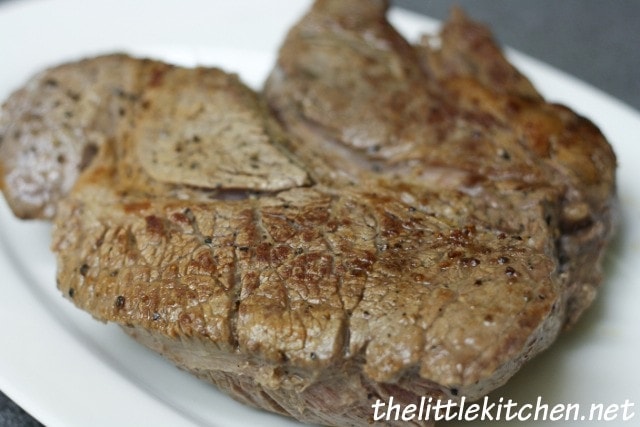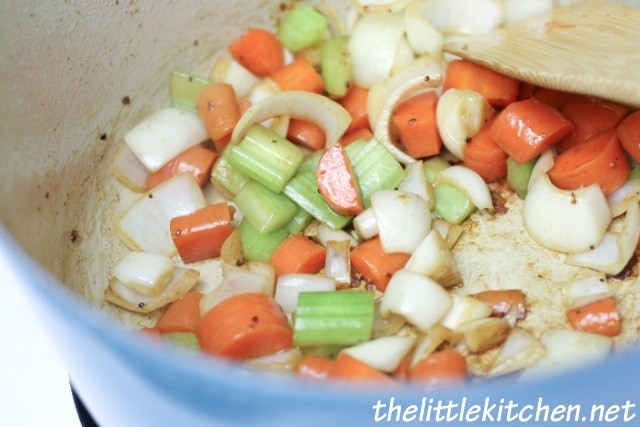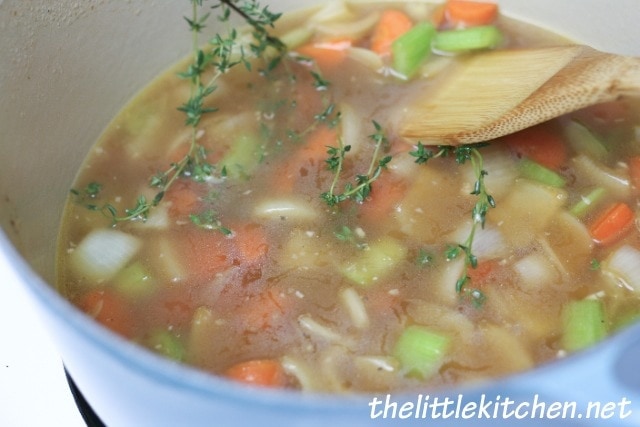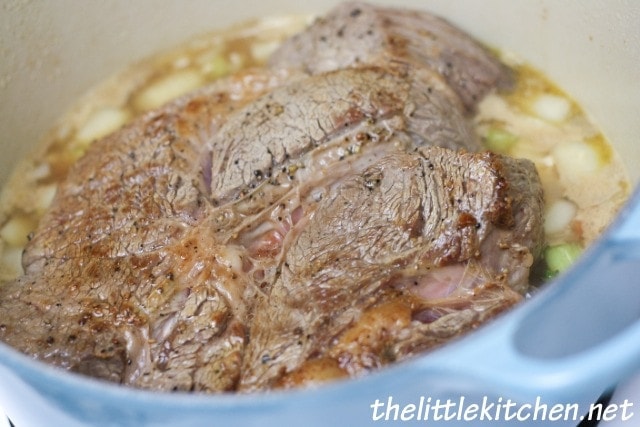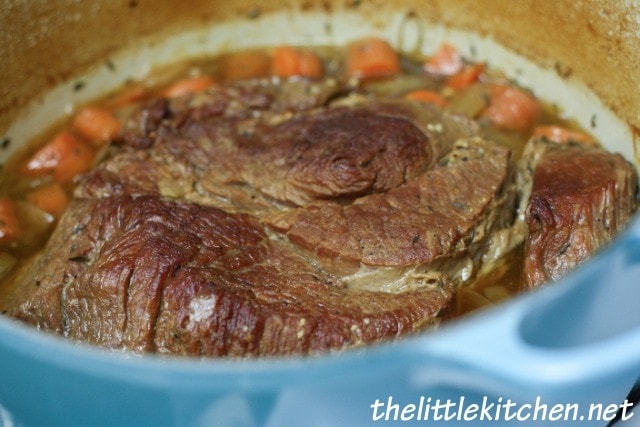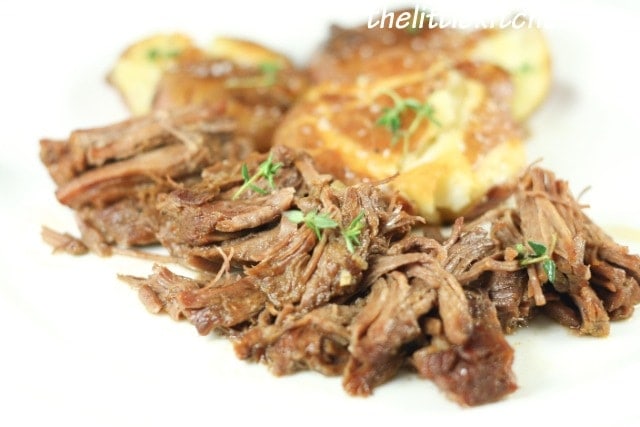 Recipe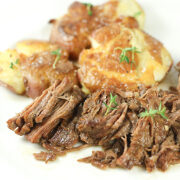 Print
Pin
Save
Classic Roast Beef Recipe & Smashed Yukon Gold Potatoes
Ingredients
Roast
1

3- to 3 1/2 pound chuck roast, no bone

kosher salt

cracked pepper

2

Tbsp

canola oil

1

onion

,

chopped medium

1

carrot

,

chopped medium

1

celery stalk

,

chopped medium

2

garlic cloves

,

minced

2

tsp

sugar

2

cups

chicken stock

,

homemade or store-bought organic chicken broth

1

sprig fresh thyme

1/4

cup

dry red wine
Smashed Potatoes
12

about 3-inch by 3-inch Yukon gold or yellow Dutch potatoes

1

quart

chicken stock

,

homemade or store-bought organic chicken broth

1/4

cup

canola oil

4

sprigs fresh thyme

,

one snipped into pieces

1

Tbsp

unsalted butter

Kosher salt

cracked pepper

pinch

of truffle salt

,

optional
Instructions
Beef
Preheat the oven to 300 degrees F. Sprinkle the roast generously with the kosher salt and cracked pepper. Heat a Dutch oven or roasting pan with a like over medium-high heat for 3 minutes. Add the oil and swirl it around the pan. Brown the meat on all sides, 5 to 8 minutes. If the meat starts to smoke, lower the heat. Transfer the meat to a platter.

Over medium heat combine the onion, carrot, and celery in the Dutch oven and cook, stirring occasionally, until they begin to brown slightly. Add the garlic and sugar, and cook for 30 seconds. Add the chicken stock and thyme, and with a wooden spoon, loosen the browned bits of meat that have collected on the bottom and sides of the pot.

Return the roast to the pot, cover, and bring the liquid to a slow simmer over medium heat. Place the pot in the oven and cook for 4 hours, turning after 2 hours.

Transfer the roast to a carving board and place some aluminum foil over the top to keep it warm.

Strain the vegetables and broth, discarding the vegetables. Let the remaining broth settle for 5 minutes; then skim off as much oil as you can. Boil the skimmed broth over high heat, and reduce to about 1 1/2 cups. Add the red wine and continue to boil, again reducing to 1 1/2 cups.

Pull the meat apart into pieces and shreds. Place it back in the pot with broth, and stir to distribute evenly.
Potatoes
Place the potatoes in a large saucepan and fill with chicken stock, making sure the stock covers the potatoes by 2 inches. (If you've run out of chicken stock, you can use water.) Bring to a gentle boil, and cook for 45 minutes, or until the potatoes are soft enough to fun a knife through the center. Drain the potatoes and pat dry.

With a wine bottle or olive oil bottle, gently smash the potatoes to flatten them slightly and break open the skins. Heat a skillet (preferably cast iron) for 5 minutes. Add the oil and let heat for 30 seconds. Add the smashed potatoes and fry for about 4 minute or until the bottoms become crusty. Gently turn over, add sprig of the snipped thyme and fry for 4 minute. Turn off the heat, add butter and sprinkle with kosher salt and pepper or truffle salt. Top with remaining thyme leaves and serve immediately.
The Little Kitchen Notes:
The roast beef recipe was awesome and we will definitely be making this dish again! I made it with my favorite red wine.

I actually had too many potatoes and I made them in batches, I didn't add the butter until I transferred it into another pan. I also only added the snipped thyme at the end. It's a surprisingly easy way to make potatoes and it's full of flavor!
Notes
Both recipes reprinted from Cristina Ferrare's Big Bowl of Love © 2011 by Cristina Ferrare. Permission granted from Sterling Epicure, an imprint of Sterling Publishing Co., Inc.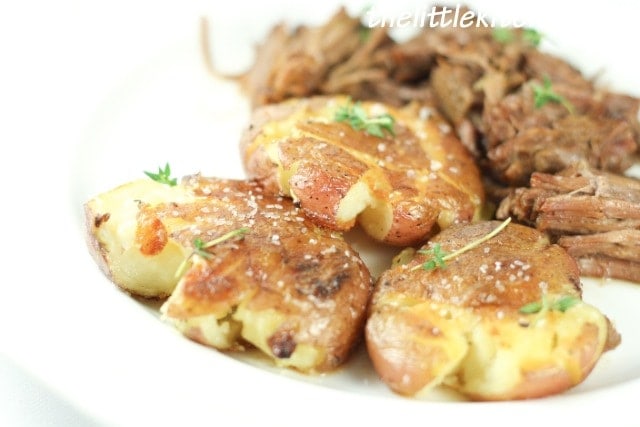 Disclosure: I received a copy of this cookbook and was not compensated monetarily for this post. All opinions are and will always be my own. Some links in this post are affiliate links.