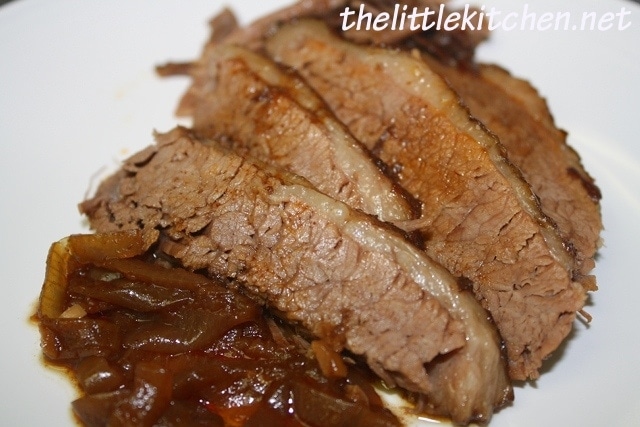 I don't remember what show I was watching on tv but they were making a brisket, maybe it was the Food Network. I had never had brisket before so I went looking for a recipe. As I mentioned before about kitchen fails, I have had many of them. It's only happened a few times but this is one of them, the first recipe I tried was a keeper! I found this recipe in 2007 and I have made it many, many times ever since. I made it once for Christmas Eve dinner for my family too. It's very easy, I mean really, really easy.
I went to Austin, Texas last year and had the best BBQ brisket at Rudy's so now I'm on a quest to find a Texas-style brisket recipe…anyone have one? 🙂
By the way, please don't forget to enter the giveaway for the America's Test Kitchen magazine and a KitchenAid spatula. It ends tomorrow!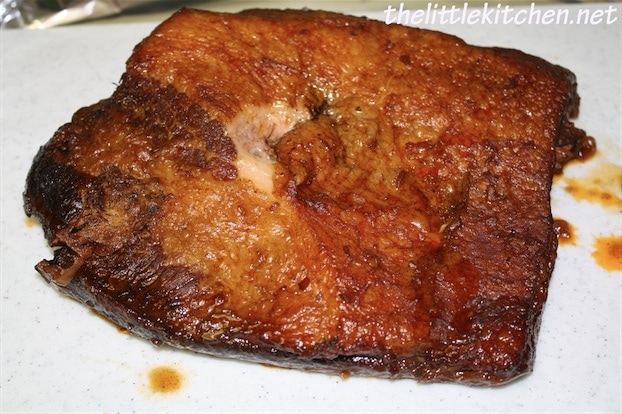 Recipe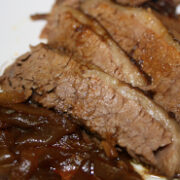 Print
Pin
Baked Beef Brisket in Red Wine
Ingredients
4

lb

beef brisket

,

whole, leave cap of fat on top, trim fat on the bottom or sides if necessary

3

onions

,

sliced thin

1 1/2

cups

red wine

,

I use Shiraz red wine either Talus or Yellow Tail

1/4

cup

white vinegar

1/4

cup

brown sugar

2

Tbsp

soy sauce

2

Tbsp

paprika

3

garlic cloves

,

chopped
Instructions
Arrange onion slices in bottom of roasting pan, then place the brisket on top (fat side up).

Combine red wine, vinegar, brown sugar, soy sauce and paprika and pour over the meat.

Cover tightly with foil and bake for 3-4 hours at 350 degrees until meat is fork tender. Every hour, using a spoon, pour pan juices on top of brisket.

Serve with buttered egg noodles and your favorite vegetable.
Tips:
I have found that briskets are more than four pounds- generally 5-7 pounds. I have asked my grocery store meat department to cut in half for me but I have found that they are not as good when cut up. The smaller the piece, the drier and less tasty it comes out. I prefer whole briskets that are NOT trimmed at the store. Always ask for a whole one. At the grocery store and the specialty meat stores I have bought them at, they are vacuum sealed.

It's very important that the fat side is on top when baking a brisket. The fat cooks down a little and drips back into the meat, giving it a lot of moisture and tenderness.

Depending on the size of your brisket, you may need to leave it in the oven longer. When I made the brisket pictured, it was 5.74 pounds and I baked it for four hours. I turned off the oven and left it in there for 30 minutes.

I have also prepared this dish, short of putting it in oven, the night before. Slice the onions, place in the roasting pan. Prepare the brisket and cover the roasting pan. Mix up the sauce and cover. Then all you need to do is pour the red wine sauce over the brisket and place it in your oven.