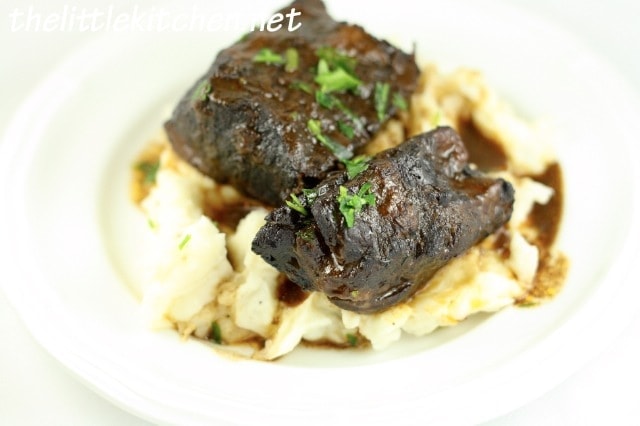 Enter in the giveaway for America's Test Kitchen's Slow Cooker Revolution cookbook – the recipe below came from this book!
I LOVE beef short ribs. It all started when I had a pasta dish at a restaurant that had braised short ribs in it (I have since made it!). After that, I wanted to try making them myself. At first, I couldn't find it in the grocery store but now it seems not all that hard to find in my local grocery stores. I can never find them boneless so when buying bone-in beef short ribs, I always look for the ones with a lot of meat on them.
I have made beef short ribs in a slow cooker several times now and when I was provided with a copy of Slow Cooker Revolution from America's Test Kitchen, I knew I had to try this recipe: red wine-braised short ribs. Who could resist that?
First things first, this recipe is not your run of the mill, throw all of the ingredients in the slow cooker and forget about it for 6 hours. There is a certain amount of prep work and we really wanted to have this meal on a weeknight. So when I read the directions, I knew it would be too much to try to do before going to work in the morning. So I did everything the night before, all of the steps up until turn the slow cooker on. I put the crock in the refrigerator so all we had to do was put it into the slow cooker unit and plug it in.
This recipe is amazing…we followed the instructions and cooked on low for 11 hours, well worth the wait! The depth of flavor was amazing and the tenderness of the beef so delightful. I have definitely noticed the difference in following slow cooker recipes when using the low setting and America's Test Kitchen recommends this if you have the time. If you don't have the time, you can still cook this recipe on high for 5-7 hours.
I will definitely be making more Slow Cooker Revolution recipes in the future!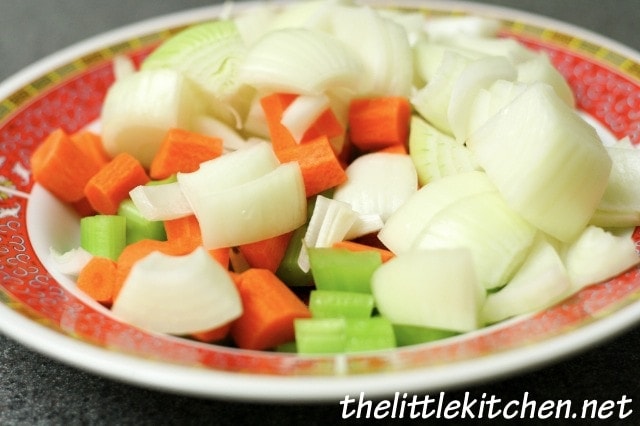 Onions, Carrots and Celery. I always cut my vegetables first before cutting any meats on my cutting board.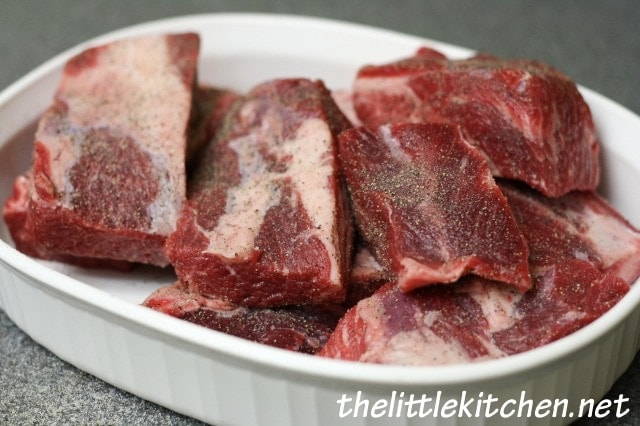 This is what they look like after I de-boned them. See how thick the pieces of meat are?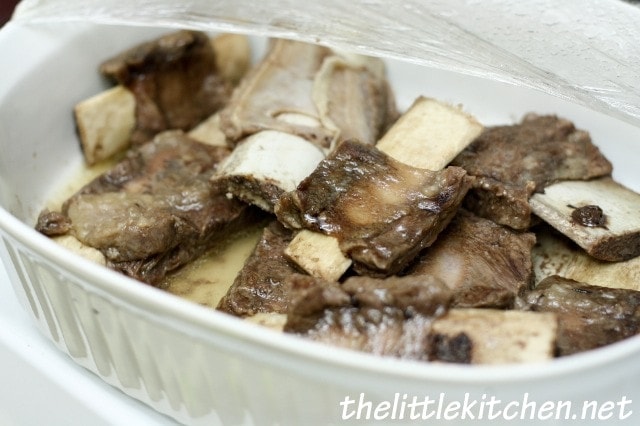 This is what they looked like after being microwaved. Microwaving the bones renders the fat and gives this dish the roasted flavor without having to use the oven.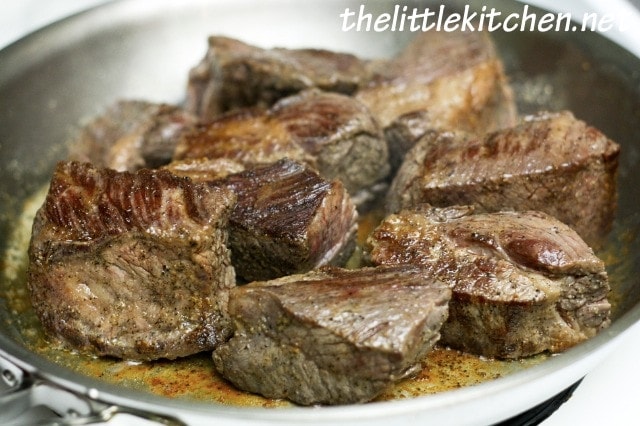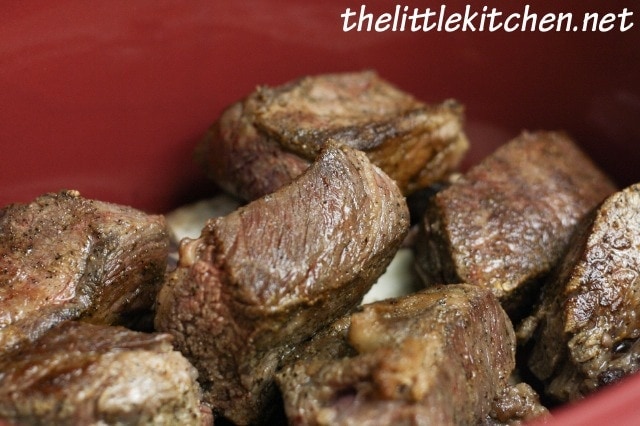 After browning the short ribs, place them into the slow cooker on top of the microwaved bones.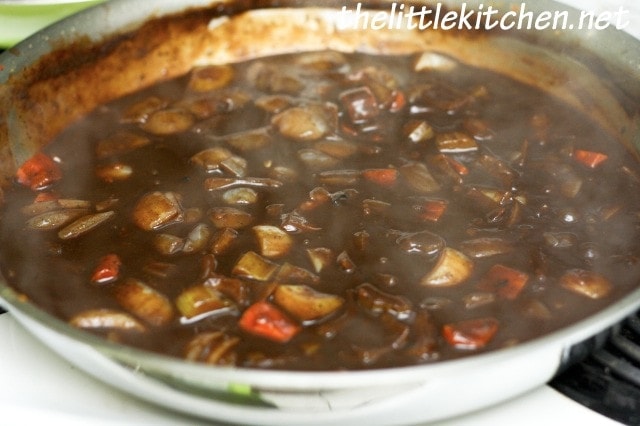 This is after the vegetables have been added and the sauce has been reduced.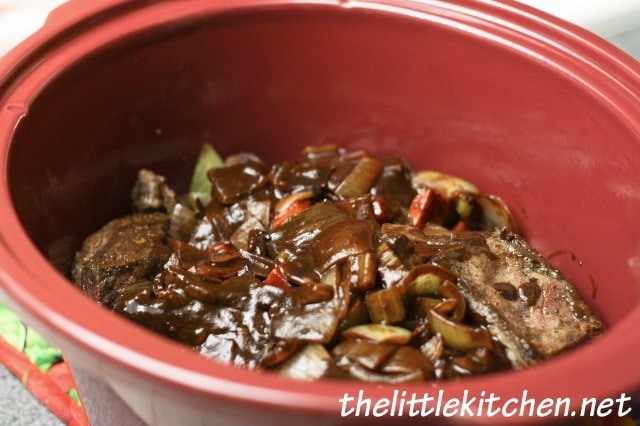 This is when I wrapped the crock in plastic and put it in the fridge. In the morning, I just removed the plastic, placed the lid on top. I did wipe off the crock to get rid of some of the condensation.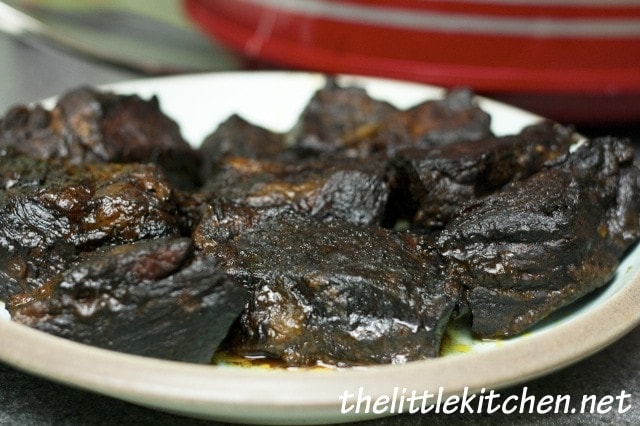 This is what they look like after coming out of the slow cooker before putting the strained liquid onto it.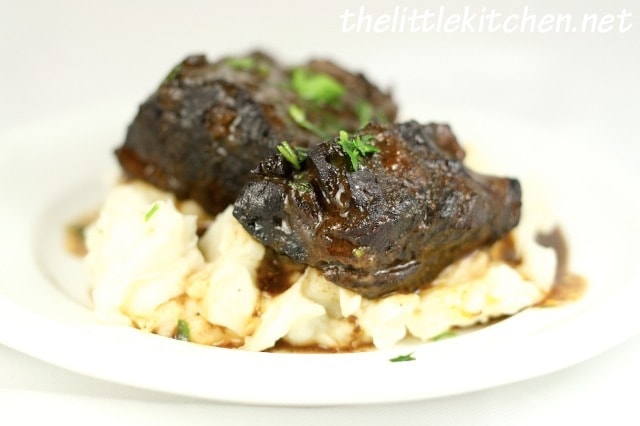 This recipe is a keeper!
Notes on the red wine: I used Como Sur Cabernet Sauvignon. My sister brought it over during the holidays. This is my new favorite Cabernet now.
Recipe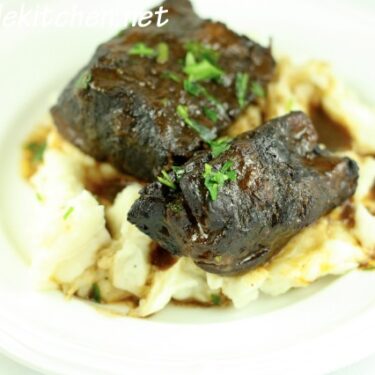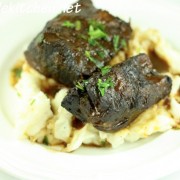 Print
Pin
Red Wine-Braised Short Ribs Recipe
Why this recipe works: Short ribs are all about the meat and the sauce, so to get a deeply flavored sauce, we first focused on the bones, which we knew were one key to flavor. Not wanting to roast the bones in the oven, we turned to the microwave, which helped in two ways: It rendered out unwanted fat (and short ribs are notoriously greasy), and it gave the bones a roasted flavor which in turn deepened the sauce during the long cooking time. One taste of these long-cooked ribs with their dark glossy sauce and you'll be glad you put your microwave and skillet to work first.
Ingredients
5

pounds

bone-in English-style short ribs

,

meat and bones separated

Salt and pepper

2

tablespoons

vegetable oil

2

onions

,

chopped medium

1

carrot

,

peeled and chopped medium

1

celery rib

,

chopped medium

2

tablespoons

tomato paste

1

tablespoon

minced fresh thyme or 1 teaspoon dried

3

tablespoons

all-purpose flour

2

cups

dry red wine

2

tablespoons

balsamic vinegar

2

cups

low-sodium chicken broth

2

bay leaves

2

tablespoons

minced fresh parsley
Instructions
Arrange beef bones in a dish and microwave (in batches, if microwave is small) until well browned, 10 to 15 minutes; transfer to slow cooker.

Dry short ribs with paper towels and season with salt and pepper. Heat 1 tablespoon oil in 12‑inch skillet over medium-high heat until just smoking. Brown half of short ribs well on all sides, 7 to 10 minutes; transfer to slow cooker. Repeat with remaining tablespoon oil and remaining short ribs; transfer to slow cooker.

Add onions, carrot, celery, tomato paste, and thyme to fat in skillet and cook over medium-high heat until onions are softened and lightly browned, 8 to 10 minutes. Stir in flour and cook for 1 minute. Slowly whisk in wine and vinegar, scraping up any browned bits and smoothing out any lumps. Bring to simmer and cook until reduced to 1 cup, about 5 minutes; transfer to slow cooker.

Stir broth and bay leaves into slow cooker. Cover and cook until beef is tender, 9 to 11 hours on low or 5 to 7 hours on high.

Transfer short ribs to serving platter and tent loosely with aluminum foil. Let braising liquid settle for 5 minutes, then remove fat from surface using large spoon. Strain braising liquid, discarding solids, and season with salt and pepper to taste. Stir in parsley. Spoon 1 cup sauce over short ribs and serve with remaining sauce.
Serve this over mashed potatoes and your favorite vegetable and you'll be transported to a wonderful world of flavor. Serve it with my best mashed potatoes recipe.
Verdict on the Slow Cooker Revolution cookbook? It's a keeper, even if I hadn't received it for me, I would have bought it. I can't wait to try tons more recipes in the book such as Chicken Vesuvio, Chicken Curry in a Hurry and Korean Braised Short Ribs! By the way, I'm giving away a copy of the cookbook right here on the little kitchen but hurry, it ends on March 1, 2011.
So what do you think? Are you going to try this recipe? Do you have any beef short ribs recipes you would like to share with me?
Disclosure: I received a copy of America's Test Kitchen's Slow Cooker Revolution cookbook. I was not compensated for this post. The opinions are my own and the recipe has been published here with permission. Some links may be affiliate links.