Recently, I was invited to a press event for a restaurant that opened last December at the Buena Vista Palace Hotel & Spa (located at Downtown Disney in Orlando, Florida) called Avu-Avu.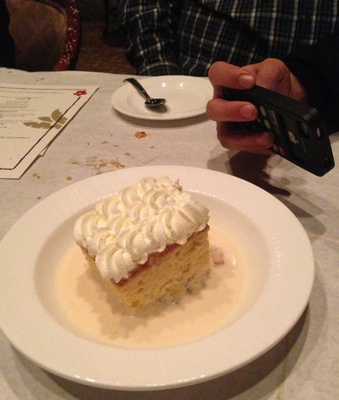 All iPhone photos okay, folks? I'm starting with dessert. Caramelized Pineapple Coconut Milk Cake – yes please. I could have eaten 3 pieces of this cake! Think tres leches cake with pineapple!
Avu-Avu is a cute little place inside the hotel. We were served a meal that was family style and focused on their signature flamed grilled meats on skewers. A huge plus for this place is that it's open later than most in the area, it closes at 10pm!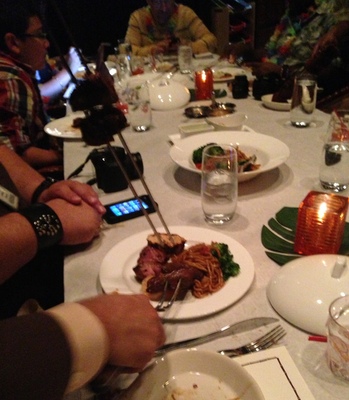 Meats cooked on skewers are delivered to the table, my favorites were the coffee colada chicken breast (the most tender and tastiest grilled chicken I have ever had) and the kalbi marinated sirloin (really tender and tasty).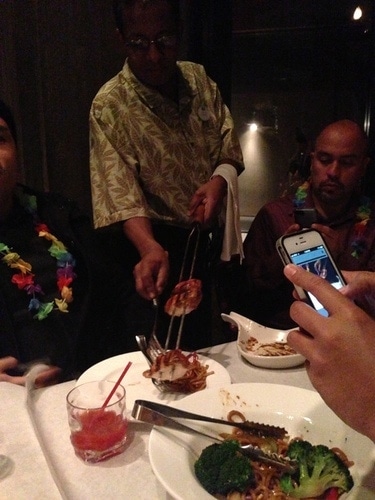 Here's another shot of the meats being served off of the skewers. Each meat skewer dish (check out the menu) is served with either Avu rice or stir-fried udon noodles with lemon garlic broccoli. We had the udon noodles…love love them!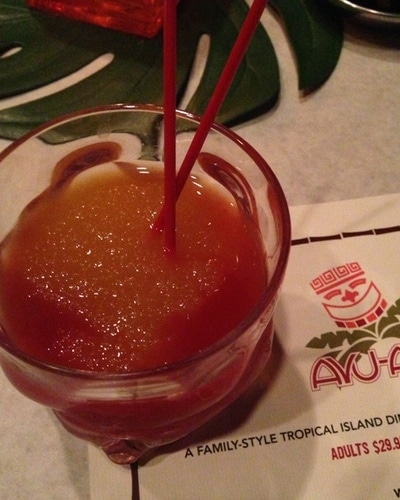 I told you I was going backwards. I had a non-alcoholic tropical drink, I totally want this again!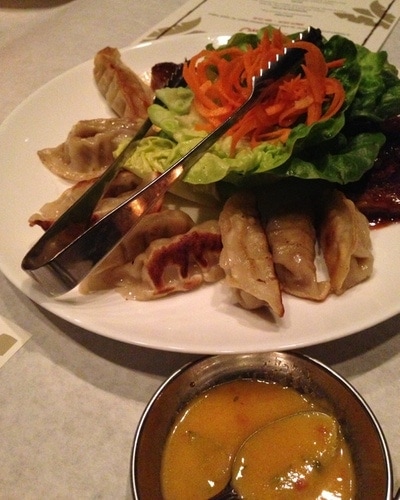 And hello, these chicken potstickers. so. good. And they came with a trio of sauces, my favorite the sesame soy caramel sauce. I got the recipe for this sauce…need to make it soon!
Overall, the price is right at Avu-Avu, I would go again and take Curtis, I know he would love the coffee colada chicken and he would totally try the root beer barbecued pork and good thing it's open late. Open later than most restaurants in the area and conveniently located across the street from Downtown Disney too!
And your lucky day, if you're planning a trip to Walt Disney World soon or if you're a local, check out the prize and enter below!
The prize is:
a $75 gift certificate to Avu-Avu Restaurant.
Gift certificate is valid until January 31, 2016.
Please use the form below to enter in the giveaway. Good luck!
This giveaway has ended.
Congrats to Yvonne H!
Disclosure: This giveaway is sponsored by Avu-Avu Restaurant. I was invited to join in on a media event and my meal was complimentary. Although it was complimentary, my opinions are always my own and I only share with you things I love!
Check out our other giveaways!