Top 5 Things at Walt Disney World's Epcot Food & Wine Festival 2014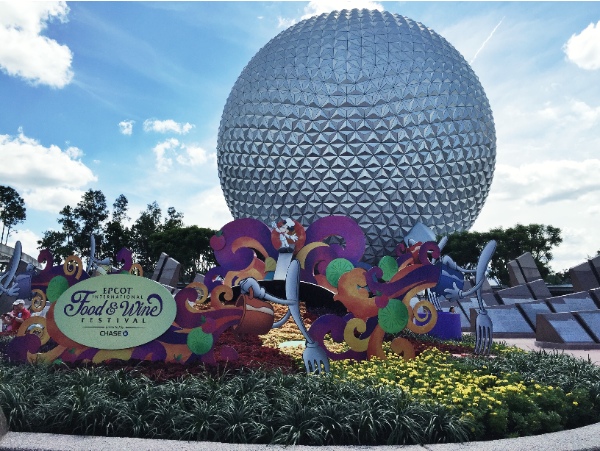 I love summer in Florida because of the sunshine, not because of the heat. My second favorite season in Florida is the Fall. It gets a tad bit cooler (sometimes, sometimes it's 85 degrees still) and because of the Epcot International Food & Wine Festival. Have you been before? If not, you need to go.
I can't believe a couple of years ago was just my first time. The food, the entertainment and getting to hang out with friends enjoying the great food, it's truly fun and magical. I have great memories sharing food with friends during the Food & Wine Festival. The food is world-class and the dishes are amazing, a lot of care and attention and detail goes into developing the recipes and the inspiration from around the world makes the event it this foodlover's dream come true!
This year, I was invited to the press preview (along with Julius) and I attended myself with my friend, Suzanne, and we had a blast! I finally became an annual passholder too! We love Walt Disney World and go all the time, it just was a given…I'm surprised we hadn't become passholders before! (You can blame my friend Lou and his new book on how to save for Disney on me becoming an annual passholder acutally, they have great deals for Florida residents and with the parking included, it's a great deal!).
Best way to attend the Food & Wine Festival: is with friends in a small to medium sized group, buy a few items from each Marketplace and share! 🙂
Soooo here are my top 5 items you need to get at the Festival this year, including a bonus item…in no particular order.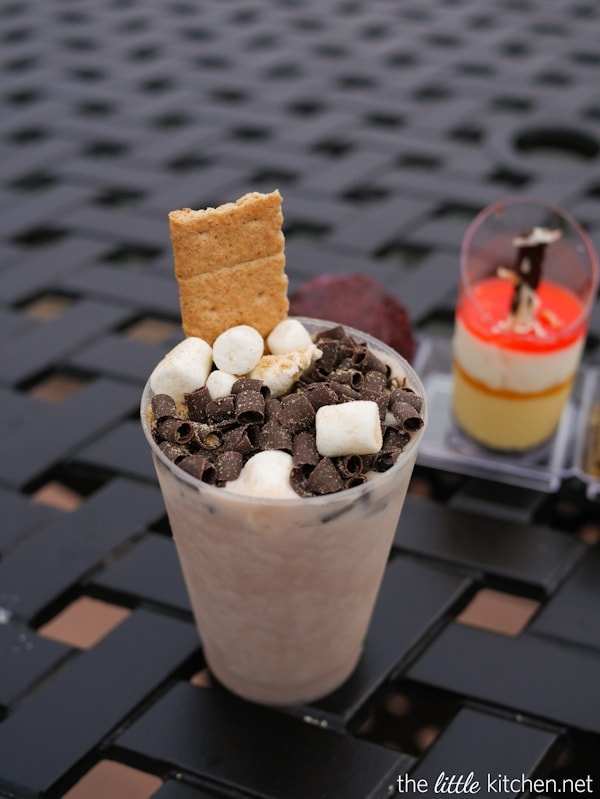 1. Frozen S'mores featuring Monin Toasted Marshmallow Syrup
I had this last year and loved it. I need to try to wrangle the recipe out of the Disney Chefs. 🙂 It's just as the title says, frozen s'mores in drink form!
Get it at the Desserts & Champagne Marketplace in Epcot and with the Dessert Trio, you'll thank me!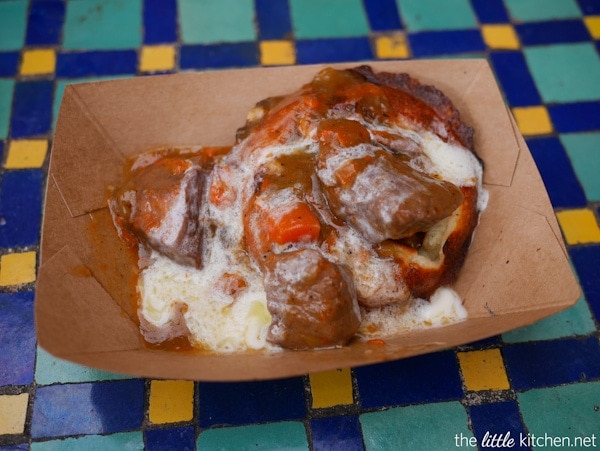 2. Potato and Leek Waffle with Beer Braised Beef
I almost didn't share this one. The photo…eh, right? It looks not so appetizing. BUT looks can be deceiving. Savory waffles and the beef, so tender and amazing! I want to make this one at home now!
Get it at Belgium Marketplace in Epcot.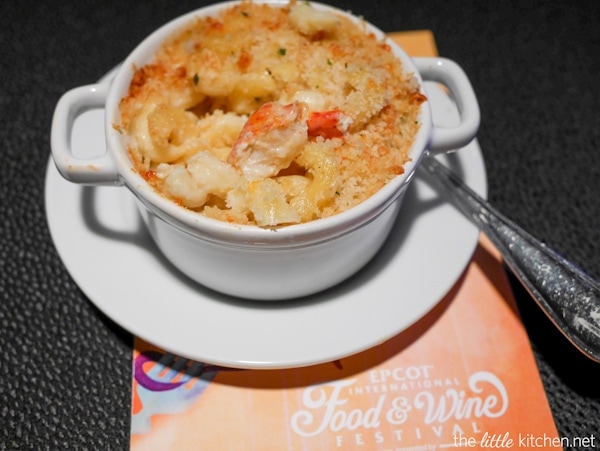 3. Baked Lobster Alfredo
Just like a lobster mac & cheese but with alfredo sauce. Seriously, I dream about this dish. I keep saying this but I'm definitely making this at home and looking forward to having this again at Epcot.
Get it at the Hops & Barley Marketplace in Epcot.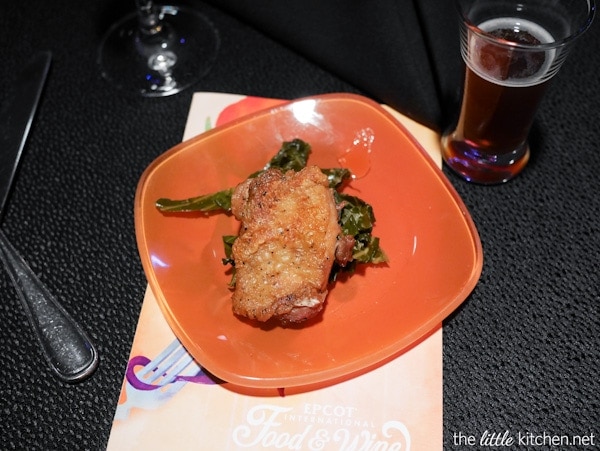 4. Griddled "Yard Bird" with braised Greens and House-made Habanero Sauce at .
Loved this chicken dish, the crispy skin is awesome and they removed the bones for us. The greens are amazing too. You can't miss with this dish!
Get it at the Farm Fresh in Epcot.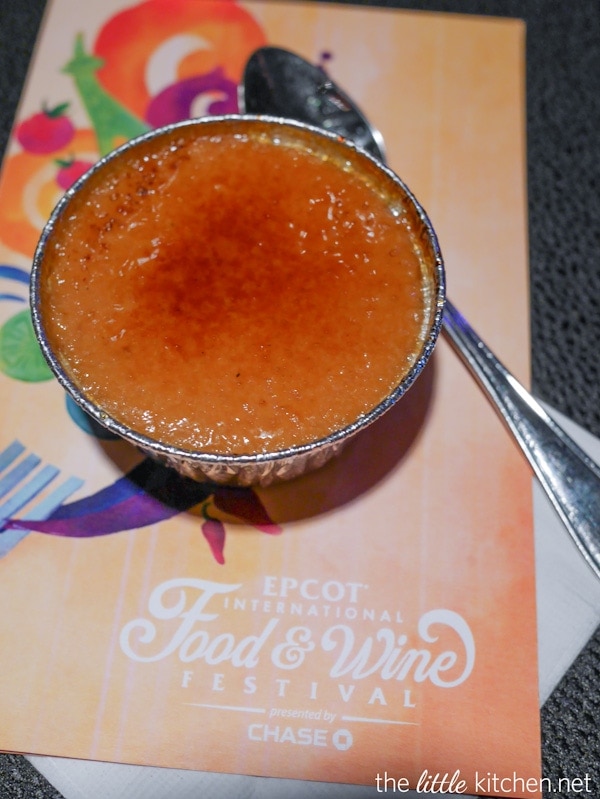 5. Creme Brulee Caramel fleur de sel – Sea Salt Caramel Creme Brulee topped with Caramelized Sugar
Seriously, nothing I can say about this that wouldn't seem like I'm gushing. I love creme brulee and salted caramel even more so this is was a perfect marriage.
Get it at the France Marketplace in Epcot…and get it with the bonus item below!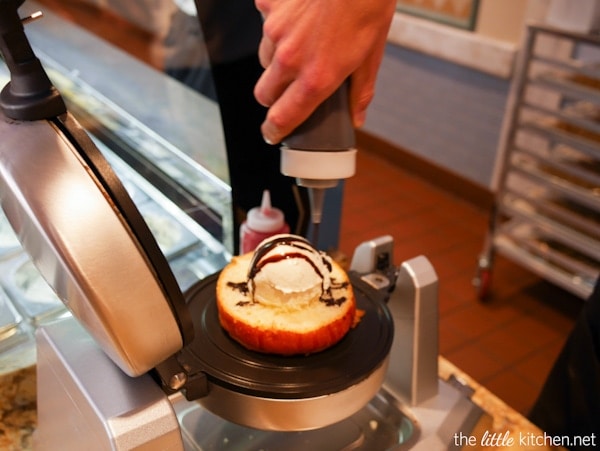 Bonus: Pressed Brioche Ice Cream Sandwich at Epcot's L'Artisan des Glaces
Yes, that's a bricohe bun with ice cream (we chose white chocolate coconut) and their chocolate sauce.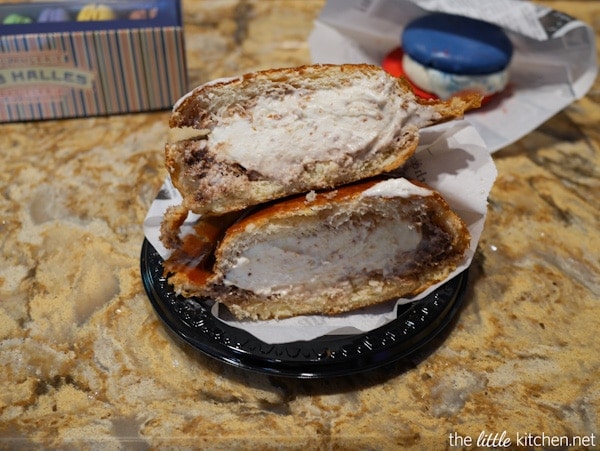 Get it, it's amazingly genius and of course tastes amazing. You get to choose your ice cream and whether you want the chocolate sauce or not. I received a tour of the kitchen and love love that they make the ice cream from scratch on the premises. Every time I go to Epcot, I have to go to the French bakery or the ice cream, every. single. time.
Get it in the France pavilion in Epcot.
Disclosure: I was invited by Walt Disney World to attend a press preview for the Epcot International Food & Wine Festival. I also attended the Festival on my own dime as I'm an annual passholder. This post is a mix of both the press event and me attending on my own. I would only share with you with brands that I love and only share with you my own opinions. There's an affiliate link in this post.