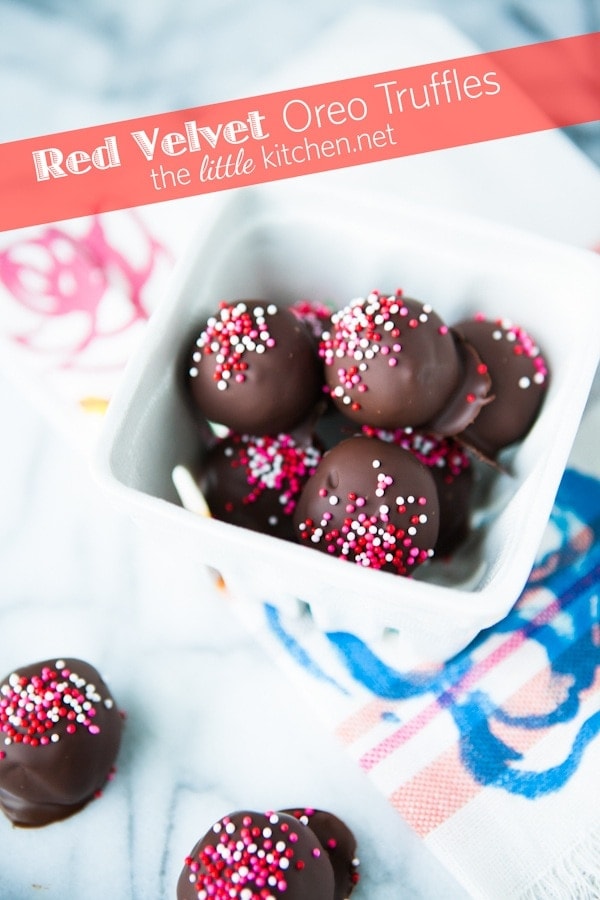 A few months ago, I woke up from a dream about these red velvet oreo truffles, yes I dreamed about these truffles. I have made them twice since then and wanted to make these again for Valentine's Day to share with you. I did dream them with the red velvet on the inside but they worked a lot better in reverse. My bunko friends loved them and I hope you do too!
There's been a lot going on in our household, our older dog, Charley, who's 9 years old needs hip surgery. He was diagnosed over a year ago with hip dysplasia and we were told that he was probably going to need surgery but it wasn't urgent at the time. Well, last week, we were told it was urgent because the level of pain and his limping has gotten a lot worse over the last couple of weeks. There are so many fears and worries we have but we know if everything goes well, he will be less painful and his quality of life much better. So he's scheduled to have this surgery on Tuesday (tomorrow). I'm bringing his vets these truffles as a thank you…thank you for taking such good care of our guy, who we love so much.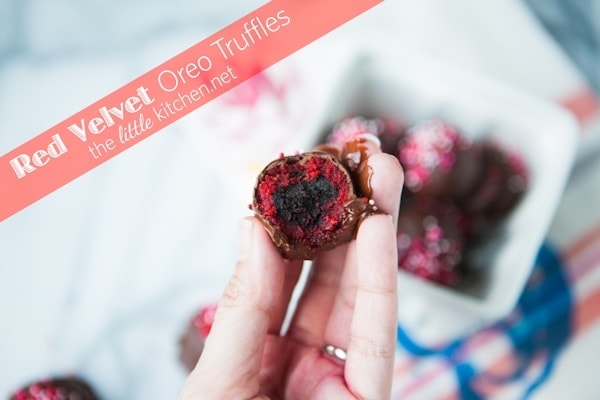 These red velvet oreo truffles are red velvety and oh so chocolatey and remind me of a different take on the red velvet cheesecake pops I made a couple of years ago. Of course, you can make these truffles into pops if you'd like to!
I made a quick video and included some pictures of the steps to make the filling for these truffles. It's super simple!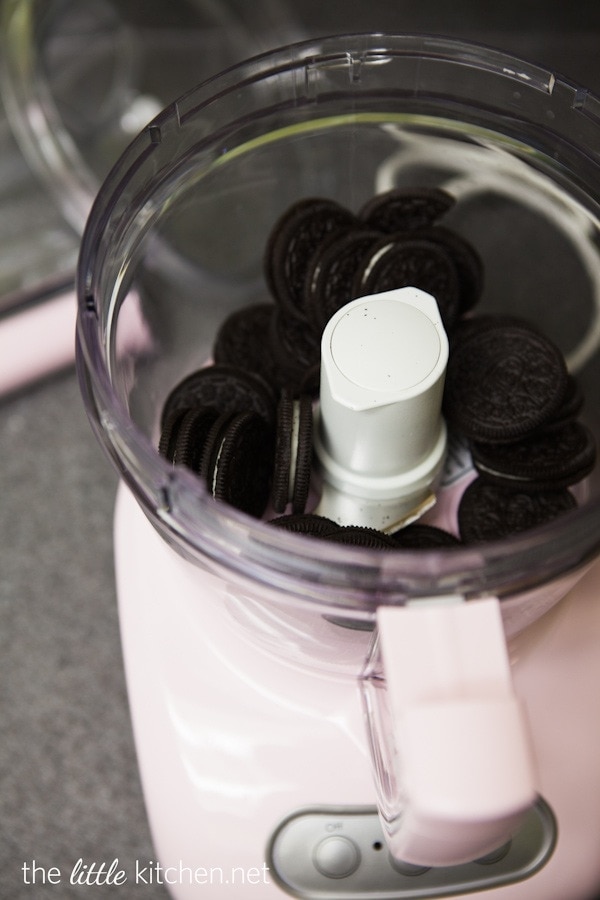 First things first, I bake the red velvet cake and while it's cooling, I pulse the oreo cookies in my KitchenAid food processor. It takes only seconds to turn the oreo cookies into crumbles perfect for the oreo truffle centers!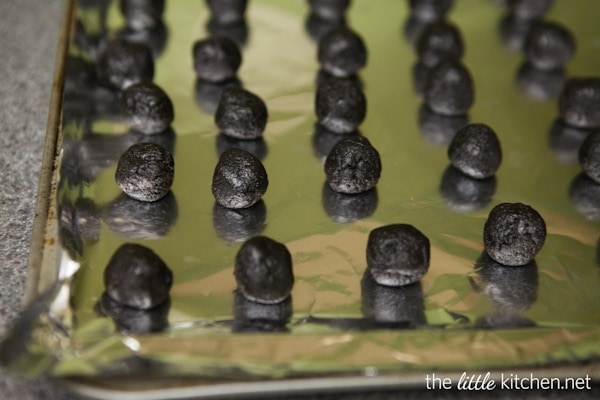 Then, roll up the oreo-cream cheese mixture into little balls and refrigerate for at least 15 minutes.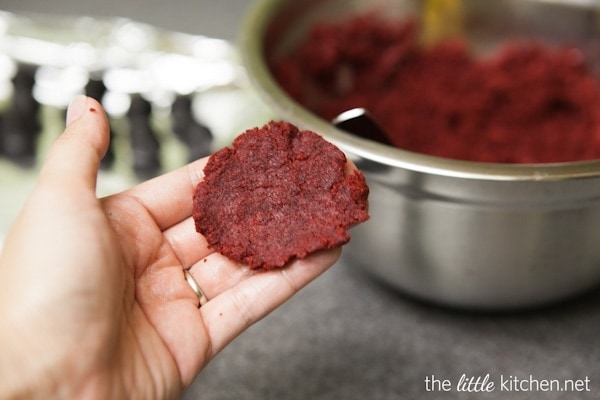 I baked half of a red velvet cake mix and then when it cooled, crumbled the cake. Mix the red velvet cake crumbs with some frosting.
Then, taking some of the red velvet cake mixture into your hands, flatten it over your fingers.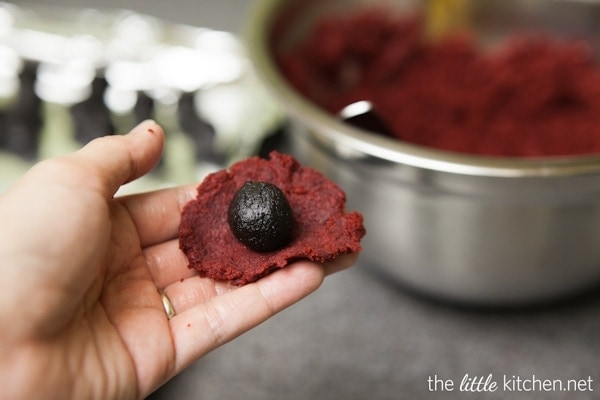 Place an oreo ball on top of the red velvet cake.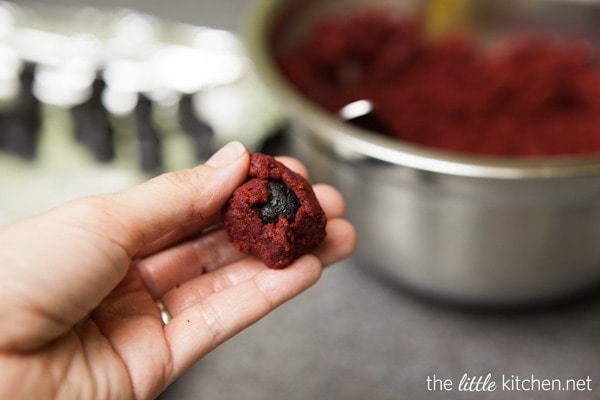 Then, wrap the red velvet cake around the oreo ball.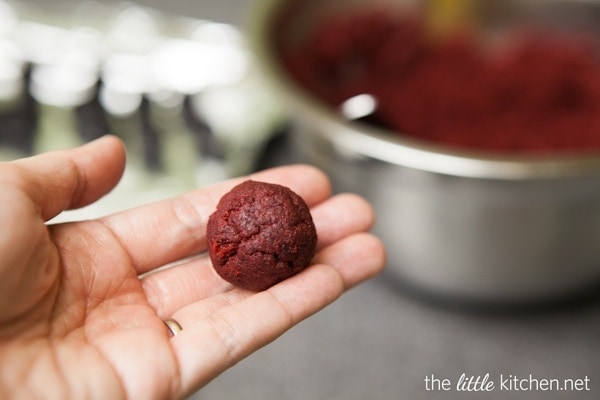 And using your fingertips, create a closed seal. Pinch with your fingertips to close. You may need to roll it into a ball in the palms of your hands.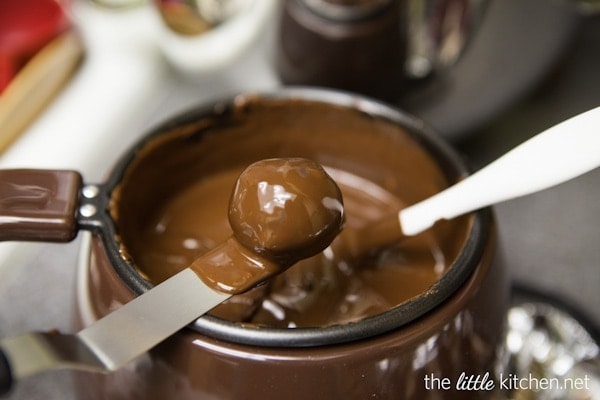 I love the Wilton Chocolate Pro when I'm melting chocolate for truffles like this. Drop the red velvet oreo truffle in the chocolate and using an offset spatula, pick it up. Tap the spatula against the chocolate melter. Using a second spatula slide the truffle off onto a parchment paper lined cookie sheet.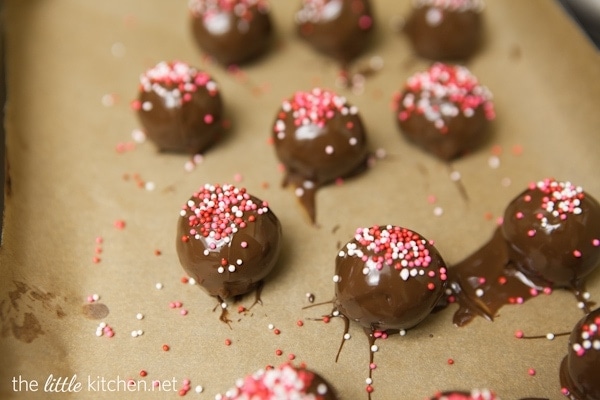 Before the chocolate completely cools, add sprinkles or drizzle white chocolate or whatever you want on top!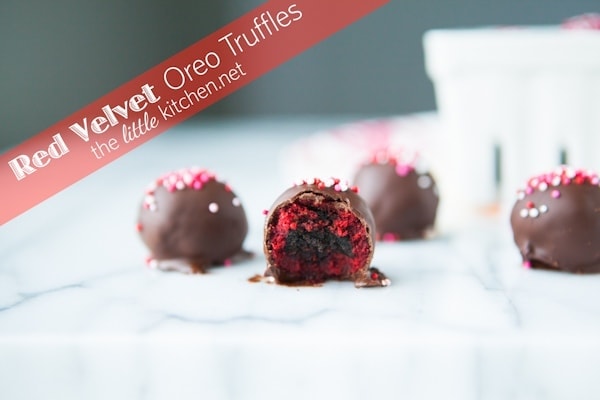 And there you go. These little truffles are little pieces of heaven.
I used a cake mix and store bought frosting because these things are little time consuming but feel free to use your favorite red velvet cake recipe and your favorite homemade frosting recipe – to make it less effort when you go to make the truffles, make the cake and the frosting the day before.
Recipe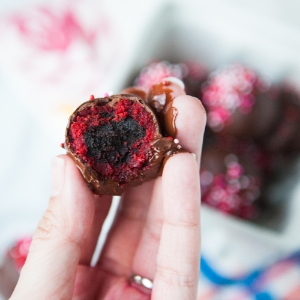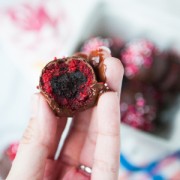 Print
Pin
Red Velvet Oreo Truffles Recipe
Ingredients
1/2

of a 15.5 ounce package of Oreo cookies

,

about 19-20 cookies

4

ounces

cream cheese

1/2

of a 18.25 box of red velvet cake mix and the ingredients to bake it

,

cooled and crumbled by hand (feel free to use your favorite homemade cake recipe)

3-4

Tablespoons

frosting

2

cups

semisweet chocolate chips

1/2

cup

milk chocolate chips

1/2 to 1

Tablespoon

oil

Sprinkles

,

cookie crumbs or chocolate melts for toppings
Instructions
Using a food processor, reduce the Oreo cookies to crumbs. Mix with cream cheese (you'll probably need to use your hands). Measure out 1 teaspoon of the oreo truffle mixture and roll into a ball. Place on a foil-lined cookie sheet. Refrigerate for at least 10 to 15 minutes.

Mix the red velvet cake crumbs with the frosting (you'll probably need to use your hands). Once you got it to a consistency that is a little moist but still crumbly, measure out 1/2 Tablespoon of cake truffle mixture and roll between the palms of your hands. Flatten it against your fingers and add one oreo truffle ball to the middle. Wrap the red velvet cake around the oreo center and pinch it closed with your fingers. You may need to roll it between the palms of your hands if it needs to be rounded into a ball. Chill red velvet truffle balls for at least 25 minutes in the refrigerator.

Melt the chocolate in a microwave safe bowl in 30 second increments or in a chocolate warmer. Mix in oil and use to dip the truffles. Add sprinkles or whatever you would like on top of the truffles before they cool. Chill in the fridge for at least 30 minutes. Store in an airtight container in the refrigerator. These truffles should hold up in the fridge for at least a week.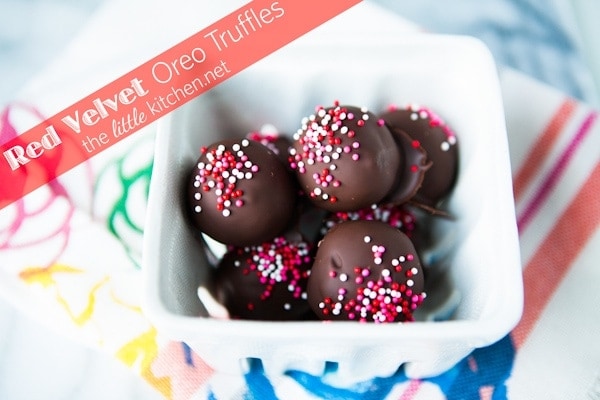 Disclosure: There are affiliate links in this post.