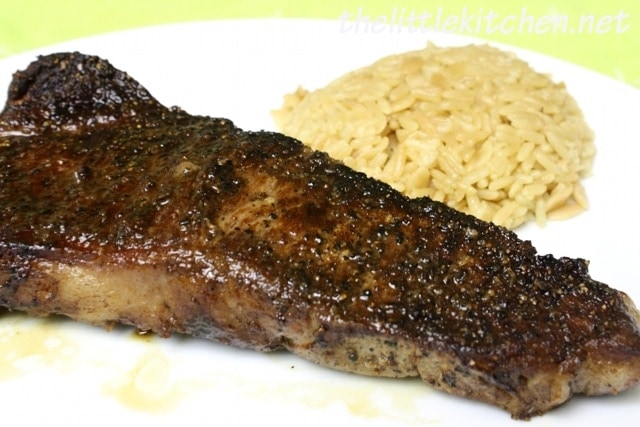 This recipe is inspired by a Cook's Illustrated recipe. It's very easy! I have only made this in a cast iron skillet so I hope you have one. My sister, Connie, got me one this past Christmas and I love it! Thanks, Connie! I use it at least once a week. And I have heard it's good to use because it releases iron into your food while you're cooking.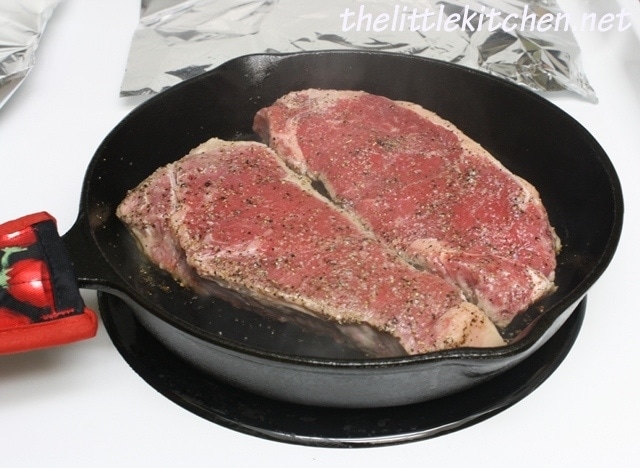 I'm going to have a very exciting giveaway coming up next week, so stay tuned!
Recipe
Print
Save
Pan-Seared Steaks
Ingredients
2

New York Strip Steaks

,

about 6-8 ounces each, about 1 to 1 1/4 inch thick

kosher salt & ground pepper

2-4

tsp

vegetable oil
Instructions
Heat your cast iron skillet at high for 3-5 minutes.

Rinse your steaks and dry with paper towels. Salt and pepper each side (apply generously).

Add 1-2 tsp of vegetable oil on each side.

Place steaks in your cast iron skillet and reduce heat to medium-high. I cook a 1 1/4 inch steak for 6 minutes on the first side and for 5 minutes on the second side for medium. I would adjust up or down depending on your preference.

After both sides are seared, sear the thin sides of your steaks using your tongs to hold them up, for 30 seconds to 1 minute each side.

Remove steaks from skillet and allow to rest for 5-10 minutes.
Tips:
Allow your steaks to sit on the counter for at least 15-30 minutes (or even longer). I have read this and seen on a lot of Food Network cooking shows. The colder your steak when you cook it, the more it will seize up when it hits the hot skillet, causing it to be tough.

Don't move your steaks until the allotted time is up, you want those great sear marks, you won't get them if you move your steaks a lot.

If your steaks are different sizes, you may need to flip one before the other and remove one from the skillet before the other.

Always, always allow your meat to rest after cooking (before cutting or slicing). This allows the meat to retain its juices and stay moist. If you cut too early, you may have a dry steak.