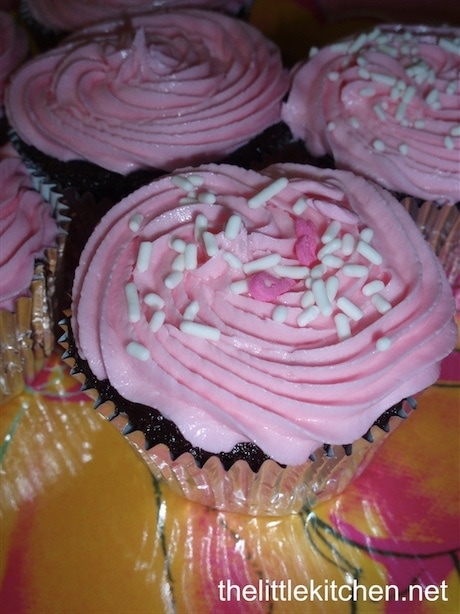 Welcome to my new blog! I have a little kitchen (hence the name) and I'm always trying some new recipe or baking something up. I hope you find my blog helpful and informative.
I first tried this cake when our friends, Joe and Tricia, made it for a Thanksgiving pot luck at my office and they called it the best homemade chocolate cake ever. I totally agree with the name and I think what really makes it moist and very tasty is the interesting ingredient of coffee and also the buttermilk.
Joe and Tricia happily shared the recipe with us and I have been making this recipe for a few years now (my family loves this recipe). A family friend shared the recipe with them. One day, I was watching Barefoot Contessa on the Food Network and saw her making this exact recipe! She had a different recipe for the icing though. When Joe and Tricia shared the recipe, they had an icing recipe for a whipped icing that I will share at a later date.
When I made these cupcakes, I used a buttercream icing called Buttercream Dream that I found on cakecentral.com. This is a very popular and versatile icing. I really like it because it's not as sweet as many other buttercream recipes. If you use less milk in it, it will be thicker so you can actually decorate with it. Buttercream Dream is the icing I use almost all of the time when I decorate cakes. I used tip #22 to do the rosette and sprinkled these wonderful pink ribbon sprinkles on them.
Recipe
Print
Pin
Save
Beatty's Chocolate Cake aka the Best Homemade Chocolate Cake Recipe
Ingredients
1 3/4

cups

all purpose flour

,

I always use unbleached flour

2

cups

sugar

3/4

cup

baking cocoa

2

tsp

baking soda1 tsp baking powder

1

tsp

salt

2

large eggs

1/2

cup

vegetable oil

1

cup

black strong coffee

,

1 Tbsp coffee with 8 oz boiling water - I use Starbucks Breakfast blend always!

1

cup

buttermilk OR combine 1 Tbsp vinegar with 1 cup milk OR 1 cup equivalent of buttermilk powder & water

1

tsp

vanilla

, I use Vanilla Bean Extract 'Crush' which I learned about from Cassie from How to Eat a Cupcake when she guest blogged on Cupcakes Take the Cake.
Instructions
In a mixing bowl, sift all dry ingredients together. Then take a rubber spatula and thoroughly mix the dry ingredients together.

Mix in all of the wet ingredients and do a quick mix with your rubber spatula and then mix with an electric mixer until well blended.

Grease a 13 x 9 inch cake pan (or two 9 inch round pans for round cake or makes about 36 cupcakes).

Bake at 350 degrees F for 30-40 minutes (my oven usually takes about 28-30 minutes).
Tips:
The first thing I do when making this recipe, is to brew the coffee. That way it's mostly cooled by the time I mix it in and it doesn't start cooking the eggs.

This cake batter is a lot wetter than most other cake batters, just for your information.

I usually put the buttermilk in a measuring cup and then measure the oil in the same cup, that way the oil isn't stuck at the bottom of the measuring cup when you pour it out.

Be sure to crack the eggs in another small bowl before adding to your cake, that way if you drop in any shells, it's easier to fish out (yes, I'm speaking from experience).

This recipe makes about 30-36 cupcakes depending how much you like to put in each liner.

I use a 1/4 cup ice cream scoop with trigger handle to fill my cupcake liners, I got this tip from Cassie from

How to Eat a Cupcake

when she guest blogged on

Cupcakes Take the Cake

(the same entry mentioned above). I had a hard time finding one that said 1/4 cup and surprisingly enough I found one at my local grocery store (Publix). I bought a couple of sizes and measured it by pouring water into the scooper and pouring into a measuring cup to see which one was a 1/4 cup. This is a great time saving tip, filling cupcakes are still messy (because this is such a wet recipe) but as Cassie says, you get more uniform cupcakes this way!

A great time saver tip (that I learned from a

CakeCentral.com

forum and use ALL of the time) is to mix all of your dry ingredients ahead of time and put in a plastic zip bag or a plastic container, this way when you're ready to bake, you just pour into your mixing bowl and add wet ingredients. It's kind of like making your own cake mix. Be sure it's sealed tight and you date the container so you know when you mixed it.
Notes