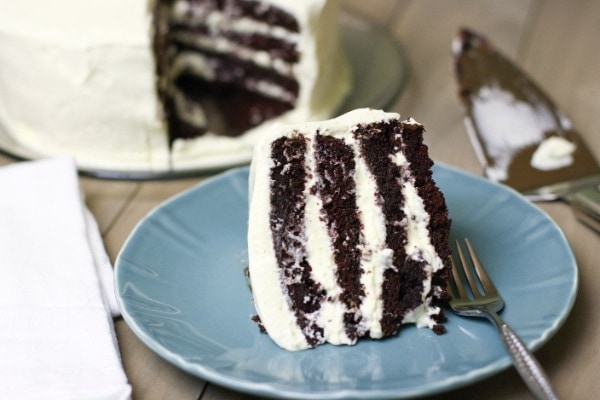 It's my birthday today and I made myself a chocolate cake…a cake I call the best chocolate cake ever.
After having a facebook conversation, we all agreed it's not sad at all when you make your own birthday cake. It started after my husband told how sad it was when I told him my plan. I didn't think it was at all…I get what I want! Don't you agree?
What makes this cake so amazing and the best ever? I really think it's the coffee and the buttermilk. Coffee in chocolate cakes just brings the chocolate flavor to a new level and it doesn't taste like coffee AT ALL. The buttermilk lends to the moistness of this cake. The frosting is the perfect ending to this cake. It's fluffy and tastes amazing. Remember though because there's cream cheese and milk in the frosting, the frosting and the cake (after it's frosted) has to be refrigerated.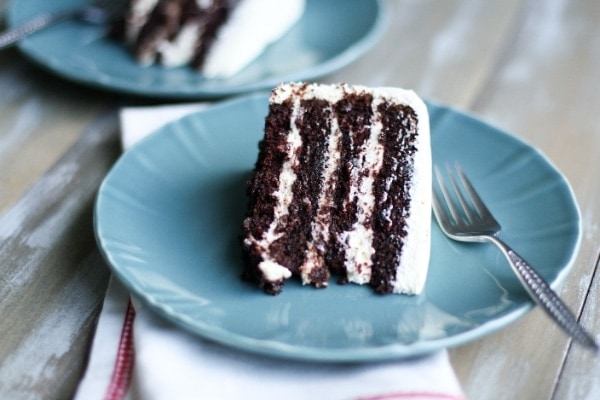 I have posted this chocolate cake recipe before…it was the first ever post on The Little Kitchen. If you go looking at that post, please don't make fun of those pictures! I already know how bad they are!
In that post, I talked about a whipped frosting (made with pudding) that I would share and I realized I never did so when I told myself I'm baking my own birthday cake…I thought I would share that recipe along with some of my tips for baking cakes.


I learned this from my Wilton cake decorating instructor. I cut out pieces of wax paper that measure the same size as the bottom of the cake pans. Using a silicon brush, I spread Wilton Cake Release on the sides and inside bottom of the pan. Place the wax paper inside the pan and you have a non-stick surface. This cake batter is very wet and if you don't do this, you're likely to have the cake stick on the inside of your pan.
Once the cakes are done, allow them to cool inside the pan on a cooling rack for 10-15 minutes before flipping them onto the cooling rack. Once you remove them from the pan, be sure to peel off the wax paper and allow the cakes to cool completely before adding the frosting.

I usually don't have buttermilk on hand but I always have buttermilk powder in my fridge. The brand I use, it's 4 Tbsp of buttermilk powder to 1 cup of water. A tip to keep the oil from sticking too much in your measuring cup, I measure the water first then add the oil.
I actually measure all of my wet ingredients first and have them set aside before I start sifting the flour.


I always sift the flour and cocoa powder. Something else I usually do when I make this cake is measure enough out for several more cakes…in separate bowls and then place my newly made "cake mix" into plastic zippered bags with labels for what it is and date it. Homemade cake mix makes it way convenient later for making cupcakes or a tasty cake in the future…all you have to do is add the wet ingredients and bake!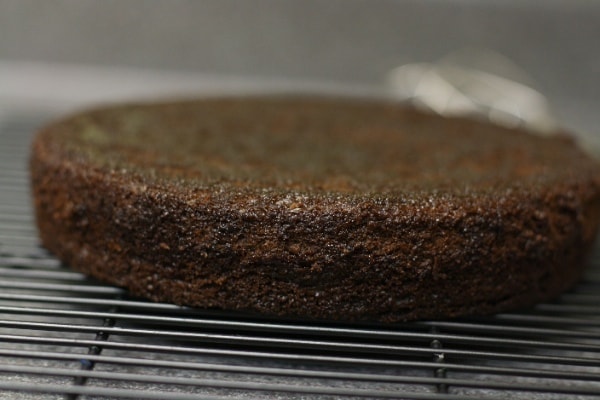 Doesn't that cake look super moist?


I love this frosting. First mix the instant vanilla pudding mix with milk. In a separate bowl, whip the cream cheese and then add the cool whip and mix thoroughly. Then add the pudding and mix thoroughly.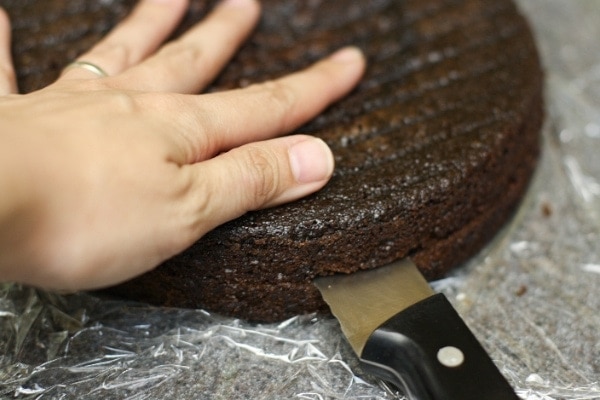 Torting (cutting the cake length-wise to create multiple layers) this cake is necessary so you get more frosting per square inch of cake. 🙂 I usually use a cake leveler but I haven't been able to find it since we have our office torn upside down during a remodel. Using a knife and just being very careful, slice the cake lengthwise to create two layers. When I finished, I had a four layer cake.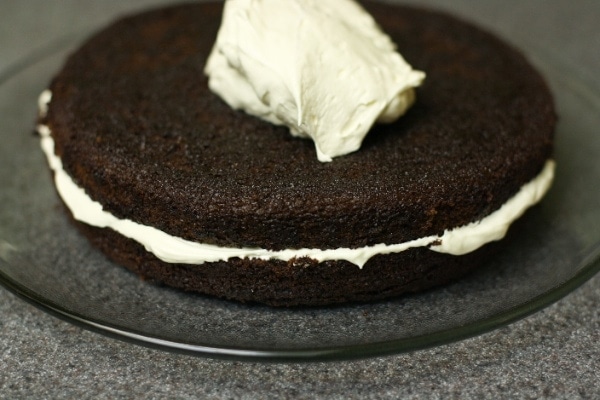 Here are some frosting shots…it looks like buttercream, doesn't it? Nothing like it…it's very fluffy and creamy. Don't get me wrong, I love buttercream but I love a good whipped frosting too.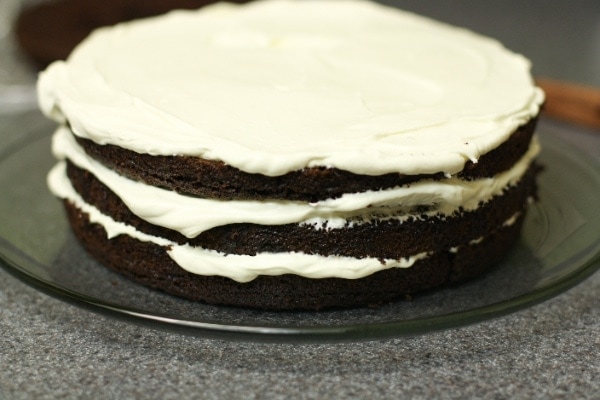 Almost there.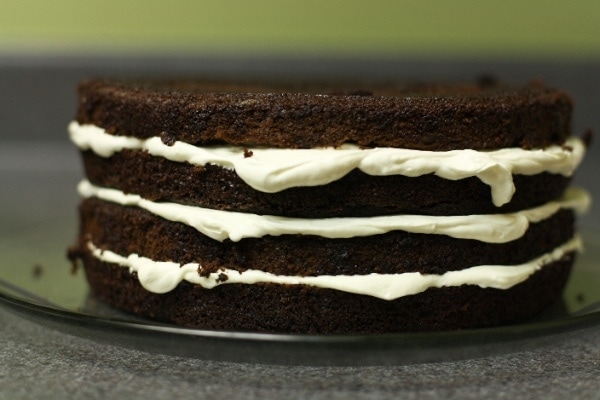 Nice, huh?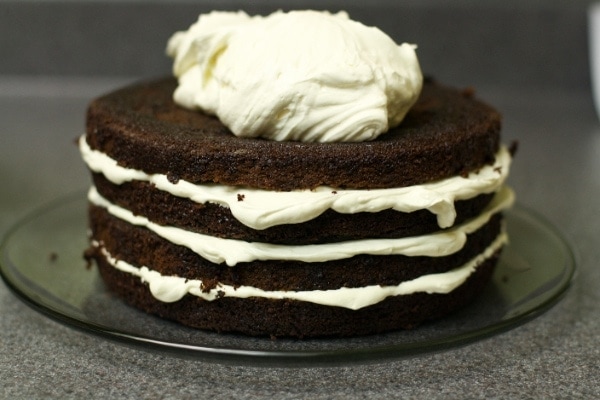 Almost done…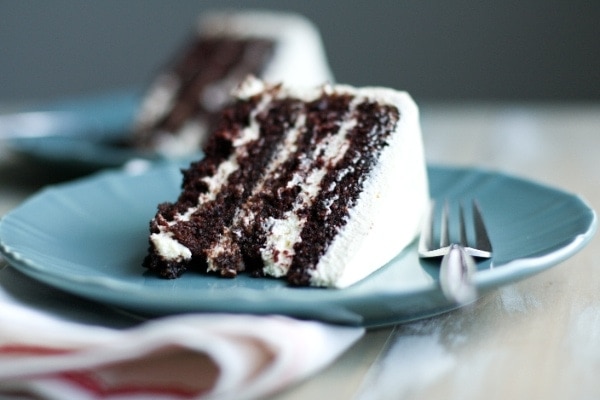 This is seriously the best chocolate cake ever. My co-worker calls me a cake snob…I'm sorry I guess I am.
I have some other news to share too. I got a new job! This is really bittersweet for me. I really love some of my co-workers, I'm going to miss them. I have worked for this company for almost 8 years and it feels like a family. But I have this awesome opportunity in this new company, I'll have a lot of flexibility and will get to learn a whole lot. I love learning new things and I'm really excited about the work. I'm really excited that I'm going to get to travel a little bit too…I just can't wait to start next month! But today, I'm sharing this cake with my co-workers whom I'm going to miss.
Recipe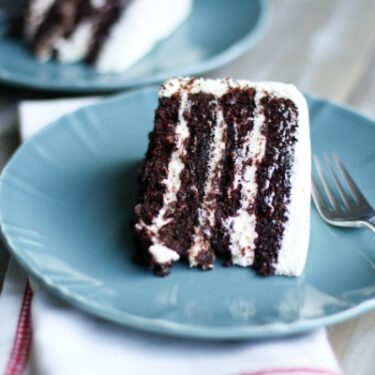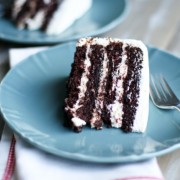 Print
Pin
Save
The Best Chocolate Cake Ever with Pudding Frosting
...the best, that's all I have to say.
Ingredients
Chocolate Cake
1 3/4

cups

unbleached all-purpose flour

2

cups

sugar

3/4

cup

baking cocoa

2

tsp

baking soda

1

tsp

baking powder

1

tsp

salt

2

large eggs

1/2

cup

vegetable oil

1

cup

black strong coffee

,

1 Tbsp coffee with 8 oz boiling water

1

cup

buttermilk OR combine 1 Tbsp vinegar with 1 cup milk OR 1 cup equivalent of buttermilk powder & water

1

tsp

vanilla extract
Pudding Frosting
1

cup

milk

1 3.4 ounce box instant vanilla pudding

8

ounce

cream cheese

,

room temperature, leave out for at least an hour or two

12

ounce

tub of Cool Whip

,

put out on the counter 10-15 minutes before making the frosting
Instructions
Chocolate Cake
Grease a 13 x 9 inch cake pan (or two 9 inch round pans for round cake or makes about 36 cupcakes) and line the bottom of the pans with wax paper cut to size.

In a mixing bowl, sift all dry ingredients together. Then take a rubber spatula and thoroughly mix the dry ingredients together.

Mix in all of the wet ingredients and do a quick mix with your rubber spatula and then mix with an electric mixer until well blended but don't overmix.

Pour evenly between pans and bake at 350 degrees for 28-30 minutes or until after inserting a toothpick into the center of a cake, it reveals just crumbs.
Pudding Frosting
Mix vanilla pudding mix with milk in one bowl, using an electric mixer, until pudding sets. In another bowl whip up cream cheese using an electric mixer. Add cool whip to the cream cheese and mix together well.

Add vanilla pudding to the cream cheese-cool whip mixer and mix together well.

Store in the refrigerator until the cake cools. After frosting the cake, the cake will need to be stored in the refrigerator.

For best results, after frosting the cake, refrigerate the cake for at least 30 minutes before serving.
Tips:
The first thing I do when making this recipe, is to brew the coffee. That way it's mostly cooled by the time I mix it in and it doesn't start cooking the eggs.

A great time saver tip (that I learned from a

CakeCentral.com

forum and use ALL of the time) is to mix all of your dry ingredients ahead of time and put in a plastic zip bag or a plastic container, this way when you're ready to bake, you just pour into your mixing bowl and add wet ingredients. It's kind of like making your own cake mix. Be sure it's sealed tight and you date the container so you know when you mixed it.
One more thing, I wanted to say happy birthday to my friend, Julie. We have the same name and birthday!
And huge thanks to our friends, Joe & Tricia, who introduced me to this recipe. I actually never really liked chocolate cake until I had Tricia's cake!
For more awesome chocolate cake recipes:
Blackberry Red Wine Chocolate Cake
Chocolate Cake with Vanilla Frosting
Disclosure: This post does contain affiliate links.