Grilled Shrimp
You won't believe how easy these grilled shrimp are. I went looking for an easy recipe when my husband said he would like to have grilled shrimp for dinner. And these hit the mark. I dare you find an easier grilled shrimp recipe.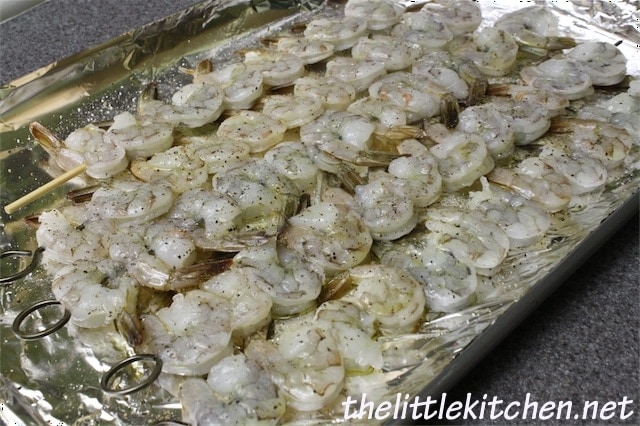 Grilled Shrimp
Ingredients:
1 pound of medium-sized or large easy peel shrimp, deveined and peeled except for the tail
@ 1/4 cup of extra virgin olive oil
coarse sea salt and freshly ground pepper
1 lemon halved
Directions:
Heat your gas grill at high heat.
Skewer the shrimp on metal or wooden skewers (be sure to soak wooden skewers in water ahead of time).
Drizzle olive oil on both sides of the shrimp. Salt and pepper generously.
Place the shrimp on the grill for 1-2 minutes on each side. Add the lemon to the grill as well.
Take the shrimp and lemon off the grill and squeeze the lemon over the shrimp before serving.
Please do not republish our recipes and images without prior permission. We ask that you do not copy & paste recipes and share them elsewhere. If you liked the recipe and would like to share it, we just ask that you REWRITE the instructions entirely and provide a link back to give us credit and be sure to use your own images when doing so. Here's a great article on how to properly attribute a recipe.
Serve with your favorite rice and vegetables and enjoy! Do you have any grilled shrimp or shrimp recipe you would like to share with me?
Don't forget about the special giveaway I'm doing that's going on right now!
Sign up today to receive exclusive content and news from The Little Kitchen:
5 Responses to "Grilled Shrimp"
Leave a Comment