The auction is now closed, I want to thank everyone who offered up a bid and a huge thank you to Nichole, the highest bidder at $75! 100% will go to Jennie!
I have been throwing around the idea of creating a little space here on the little kitchen to share with you my favorite things, finds and other bloggers' recipes that I can't wait to try. Basically, it will be a space to share a round-up of links or whatever I want to, once a week. I'm calling it the little nook and I'll try to share something every Wednesday.
I was talking to my friend, Aggie, about my idea this past weekend and wasn't exactly sure what I was going to share this first time but then Bloggers without Borders was launched this past Monday with a campaign for a fund for Jennie's daughters and I knew then what I would write about.
I don't know if you saw my Peanut Butter Pie for Mikey and Jennie post but Jennie recently lost her husband to a massive heart attack while they were bike riding with their girls and the food blogging community rallied around her after she requested that we make peanut butter pies and share them with our loved ones.
But as others have said and what you can guess, this isn't enough. Mikey's health insurance for the family runs out at the end of December and the cost of insurance will equal or be more than Jennie's mortgage, all which she will have to maintain by herself. She also mentioned on twitter that she doesn't qualify for Social Security survivor benefits because she makes more than the paltry maximum of $14K.
Bloggers without Borders, borne from the amazing crew of Aimee, Erika & Maggy, is organizing an effort called #AFundForJennie, in order to raise money for her and her girls. Please donate whatever you can, even $5 will help. It's been discussed that if every blogger who made a peanut butter pie donated $25, the fund would have at least $25,000!
To help the fund along, amazing, inspiring food bloggers are auctioning up amazing goods and services, such as beautiful cookies from Gail, a cooking class/tasting menu with Pam Anderson, a day of photography with Penny De Los Santos, a custom blog design from Lindsay (she did my blog redesign) and many others.
I wanted to help in some way in addition to donating, what could I do? Well, I can bake and I made these cookies earlier this year for Frosting for the Cause and what better cause right now than #AFundForJennie?

When I read Jennie's latest post today, I cried and my heart broke for her a thousand more times. She talked about how Mikey was her muse, how every recipe she developed and made was inspired by or made for Mikey. I cried because I feel the same way. I cook for my husband and my family. Food is how I show my love.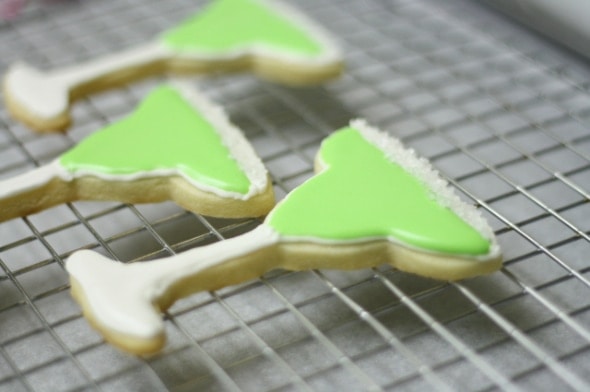 Food is sometimes how we gain comfort, how we share with our family during the holidays and always how we nourish our bodies. If you don't read anything else today, please read this. In Barb's peanut butter pie post, she referenced that post and I remember reading it back in June. I cried when I read it and made a promise even to Jennie in a comment that I have yet to fulfill but will now with fierce intensity because my Mom is the reason I cook and she is the reason I love to cook.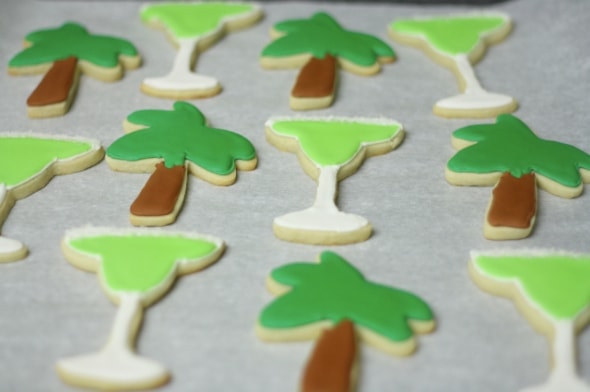 Now for the auction, up for bid is 2 dozen cookies. 1 dozen margarita decorated sugar cookies and 1 dozen palm tree decorated sugar cookies (pictured above) to be shipped to the highest bidder within 2-4 weeks donation is received. Donation will be made directly to Bloggers without Borders for the #AFundForJennie fund with 100% of the donation going directly to Jennie and her girls. (Complete listing of ingredients.)
Let's start the bidding at $40. Leave a comment below with your bid and if you're bidding after someone else, please just make sure that your bid is at least $1 more than theirs.
Bidding will end at 11:59 PM EST on Sunday, August 28th.
*A note about donating, if you do donate via the button above and use PayPal, Bloggers without Borders is asking you to use the instant transfer via your bank account. This will allow them to avoid the PayPal fees and will allow your entire donation to go directly to Jennie and her girls.
One more thing, I can guarantee you that these cookies will be made with so much love. Thank you in advance to everyone who donates to #AFundForJennie.