Sake-Steamed Mussels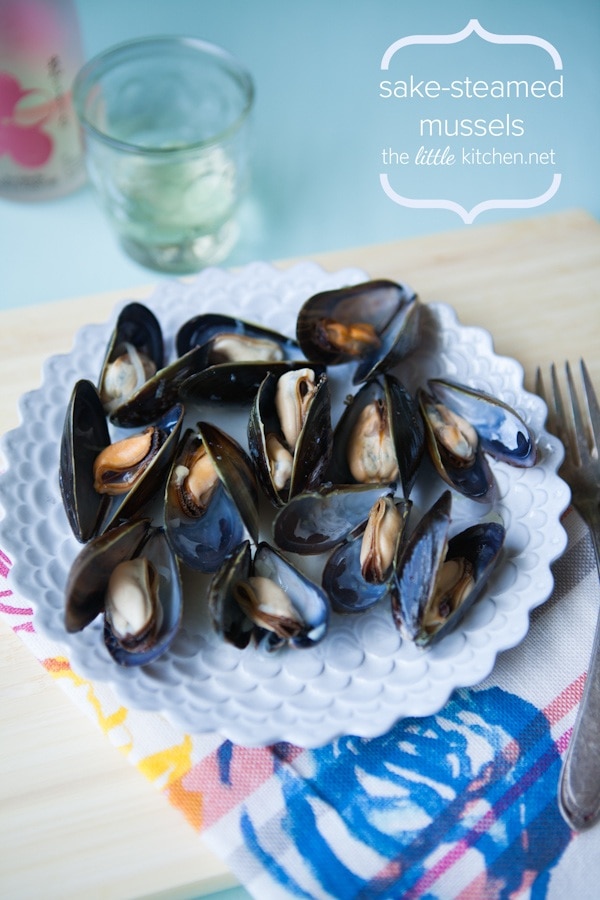 I'm so excited to share this recipe with you and this cookbook! First of all, I love mussels. Tell me if I'm not alone in this? When we go out to eat at restaurants, I refuse to order chicken. I cook so much chicken at home, I feel like splurging and that means ordering seafood or steak. Pasta with mussels is my favorite…to me it's definitely comfort food and I never knew how inexpensive mussels were until I tried making them at home last year. You can get two pounds for around $10! (Don't quote me on that, that's how much I paid for two pounds yesterday.)
Second, I have something to admit, I got a sneak peek at Jaden Hair's cookbook, Steamy Kitchen's Healthy Asian Favorites, before it went to press. I helped a little doing some editing and when I saw the photos and the recipes, I couldn't wait for the book to be released. There are so many great Asian recipes that I want to try…such as, her Kimchi omlete & her blackened tofu with ginger-ponzu sauce. And I love that they are healthy. I love Jaden and her blog too, she cooks and entertains effortlessly, she's a dear friend who's super supportive — this cookbook is gorgeous and a must for anyone who wants to take up Asian cooking.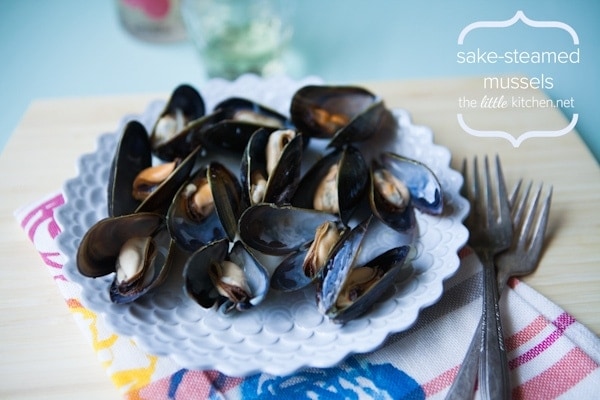 This was one of the first recipes I wanted to make when I saw Jaden's cookbook — of course because of the mussels but also because I have never cooked with sake before. I love that this dish is so simple and easy…and doesn't take that much time to prepare. You can easily prep the ingredients for a quick appetizer for a family and friends get together and they will think it took tons of effort.
Hop on over to enter to win a copy of Jaden's cookbook!
Recipe
Sake-Steamed Mussels Recipe
Yield: Serves 4
Total Time: Under 30 Minutes
Ingredients:
2 pounds fresh mussels
11/2 cups sake or dry white wine
2 teaspoons finely grated fresh ginger
2 cloves garlic, finely minced
1 shallot, sliced into very thin rings
1 handful fresh basil leaves
Directions:
Scrub the mussels under cool water, discarding any with broken or cracked shells.
Heat a large sauté pan, deep soup pot, or wok over high heat with the sake, ginger, garlic, and shallots. When the mixture comes to a boil, add the mussels and cover. Cook for 5 minutes, or until the mussels open.
Toss in the basil and serve immediately.
Reprinted with permission from The Steamy Kitchen's Healthy Asian Favorites, by Jaden Hair, copyright © 2013. Published by Ten Speed Press, a division of Random House, Inc.
Have you tried this recipe?
Disclosure: I received a copy from the publisher but my opinions are always my own. There are affiliate links in this post.