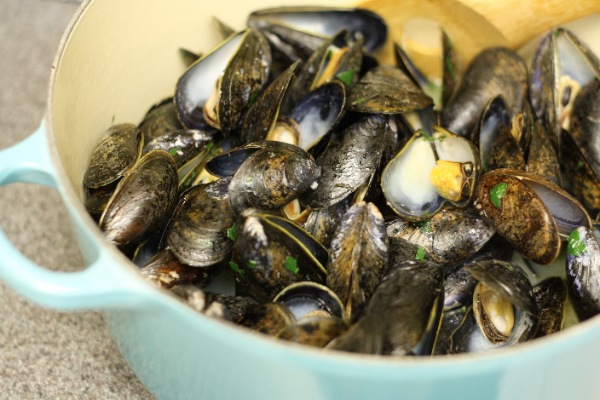 I love, love mussels and I love ordering them as an appetizer or with pasta when we go out to eat. I have been scared to cook them for a longgg time. But not anymore! I feel so fortunate that the folks at the Mussel Industry Council contacted me several months back and asked me if I would like to have some blue mussels to experiment with.
Here's what I learned about mussels from Atlantic Canada:
They are amazingly inexpensive! I found blue mussels from Atlantic Canada sold at Whole Foods and they are sold in 2 lb bags.
They are cultured/farmed in the ocean on ropes so there's no disruption or dredging of the ocean floor which makes it environmentally friendly and sustainable.
Blue mussels are harvested year-round which is why they are so affordable.
They are good for you! They are low in fat, high in protein and Omega 3s.
They are quick and easy to cook!

I made this Steamed Mussels in White Wine dish for my sisters and brother when we hung for our sibling retreat in November. It turned out fantastic and they all loved it! When I tried mussels at home for myself, I wanted a quick and easy recipe and use olive oil. This dish turned out great and in less than 20 minutes I had it completed.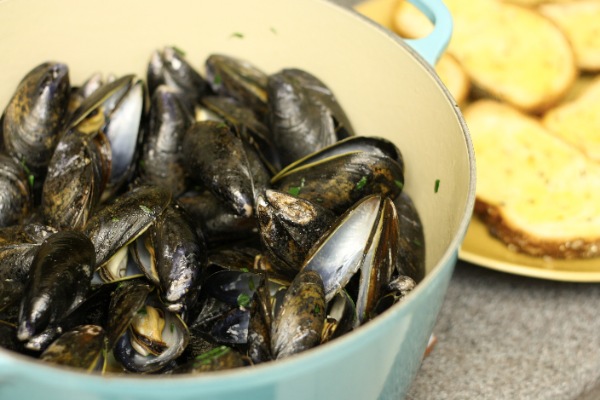 Serve with butter-garlic bread and dip it in the sauce made from the steaming liquid! It's so good and makes a light dinner! I made this whole pot and ate it all by myself…don't judge, okay?
Recipe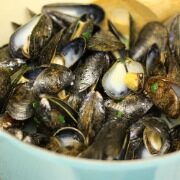 Print
Pin
Save
White Wine and Olive Oil Steamed Mussels
This appetizer or light meal can be made in less than 20 minutes and tastes amazing! Serve with butter-garlic bread and enjoy!
Ingredients
1/4

cup

olive oil

1

clove

garlic

,

minced

3

lbs

Atlantic Canadian mussels

,

rinsed & scrubbed, if necessary

1/4

cup

white wine

1/2

tsp

cayenne pepper

1

bunch of fresh parsley

,

finely chopped

1/4 to 1/3

cup

of water
Instructions
Heat olive oil in a French oven or heavy-bottomed pot on high heat for 1-2 minutes. Add garlic and cook for 30-45 seconds.

Add mussels, wine, cayenne pepper, parsley and water. Stir with a wooden spoon and cover. Cook 5-7 minutes, until all mussels open. Discard any unopened mussels. Serve immediately with broth.
I love seafood and I always say I could have seafood almost every day of the week. I'm definitely going to cook with blue mussels more this year…I would love to hear about your favorite seafood and/or mussels recipes! Do you have a favorite?
Disclosure: Mussel Industry Council provided me with Atlantic Canadian mussels for this recipe. I received no compensation and all opinions are always my own!