Three years ago today, on December 7, 2009, I uploaded my site theme and hit publish on my first post…and it all started from several conversations with my sister and I even reflected upon this earlier this year.
Three years…it's hard for me not to get all sentimental on you. I started The Little Kitchen to just share recipes with family and friends. Never in a million years did I think this would turn into a career for me nor did I ever think that a number of food bloggers would become my best friends. It's been so amazing and fun and inspiring…so I hope you bear with me as I reflect…
1. comments
Bloggers love feedback in the form of comments – I love hearing from people who try the recipes I develop and post. It's really neat to hear all about it and always great to get constructive criticism. I wanted to share with you the best ever pinterest caption I have got when someone pinned one of my recipes but I can't seem to find it so I dug up this comment I received last year on peanut butter cup cupcakes I posted. I chuckled out loud and seeing it again makes me laugh even harder.

To everyone who has left a comment whether it's here, on facebook or twitter or elsewhere, thank you!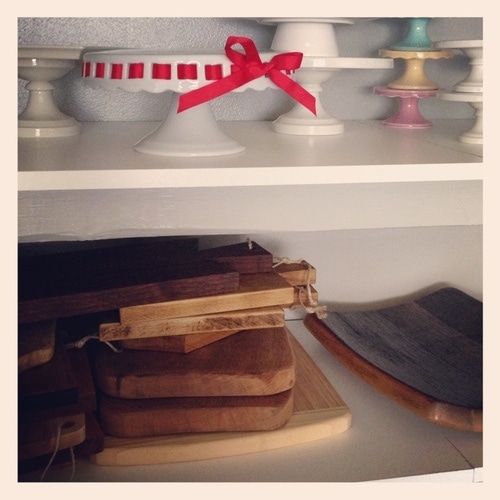 2. cake stands vs. wooden boards
I adore cake stands…you can blame Martha Stewart for that. Watching her show when I was still in school (probably middle school), I remember an episode where she showed a bunch of her vintage cake stands. I think that's when it started. Before I started this blog, I had maybe 2 or 3? Now it's up to 17 but wooden cutting and bread boards outnumber them, thanks to my friends, Todd & Diane, I'm completely obsessed. I need to start a self-help group for them. Who wants to join me?
3. cupcakes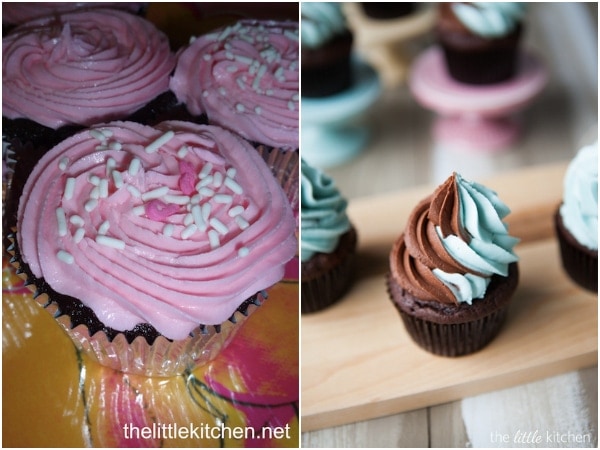 If you know me well, you know I make a ton of cupcakes. I was going to try to figure out how many dozen cupcakes I have made in the last three years but I can't even imagine…I'm sure it's way more than 50-80 dozen.
See the picture on the left in the collage? That's the photo from the very first post here on The Little Kitchen and the ones on the right, ones I posted for Buick in October. One of my goals last year was to improve my photography and really push myself. The big thing for me this year was to attend a food photography and styling workshop and it really helped me to take better pictures (and less of them) as well as edit better. I'm not saying I'm some sort of expert now but I'm happy with my progress and I want to continue to grow.
4. it's always about the food and the recipes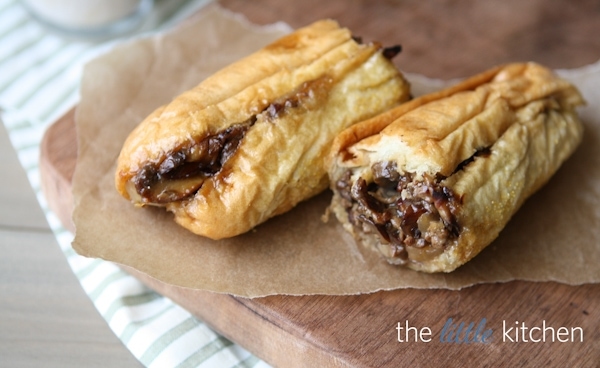 I hope you really know how obsessed I am with food and it always comes back to the food for me. When I'm coming up with new ideas, trying a new twist on a classic or brainstorming with my chief taste tester, Curtis…it has to taste amazing. One of the most popular recipes this year has been these cheesesteaks. I love the riffs others have done on them too.
Other huge favorites that get a bunch of views are my Whole Chicken in a Slow Cooker recipe and this recipe for Loaded Baked Potato Soup.
5. what's next?
I usually end by making goals for the next year. My ultimate goal would be to have my photography published in a print magazine. And I want to definitely try my hand at those foods/recipes I'm scared to try. I want to continue to challenge and push myself with my photography and to not sweat the small stuff.
So what about you? Do you have any goals or resolutions for 2013? Anything you want to be sure to try or make in your kitchen?